As we all know the pandemic hit 2020 has created a ruckus in the life of millions, whether in terms of health and lifestyle challenges or financial and business outcomes. Businesses throughout this year tried to cope up with the challenges by incorporating new technologies, tools, and approaches. For example, remote collaboration and communication tools have been a massive hit this year as most employees had to work from their homes.
Among the cutting-edge technologies and enterprise software suites that are playing a key role in pushing digital transformation, Netsuite ERP software for retail comes at the forefront. No wonder, NetSuite retail software suite has been a mainstay among the retail trends 2020.
Here, as a NetSuite partner, we are going to explain the key ways Netsuite spearheading the retail digital transformation trends in 2021 and years beyond.
How NetSuite Is Pushing The Retail Trends In 2021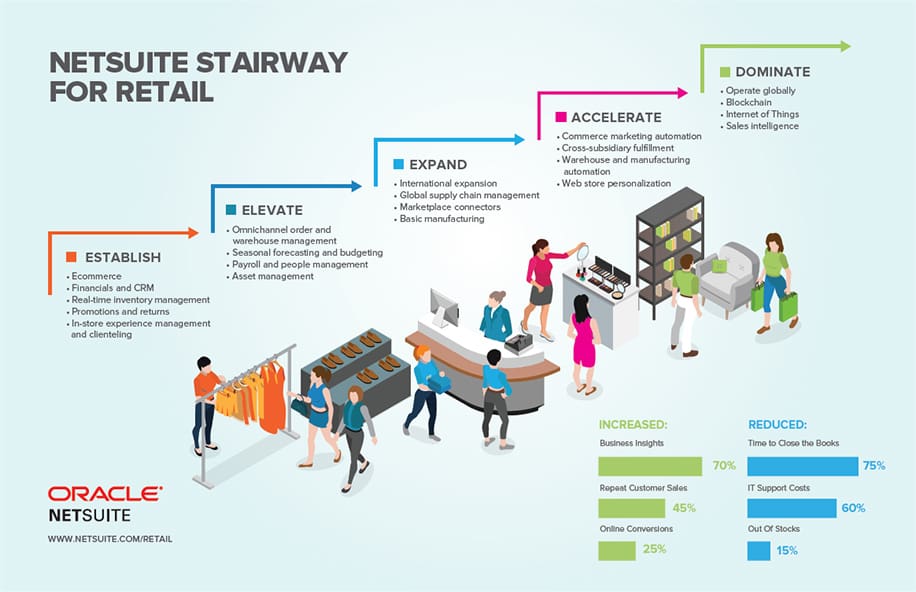 Creating One Brand Presence Across Multiple Channels
The retail customers of any brand expect the same seamless and consistent shopping experience. They want a highly personalized shopping experience irrespective of the channels so that they can shop anywhere, make payment anywhere and get their merchandise delivered anywhere.
This helps retail businesses to go beyond the segregated systems and instead get a comprehensive and overall view of the customer, shopping journey, orders, and the entire retail business process across the channels.
This is where NetSuite ERP software for retail adds more value to the retailers in terms of fulfilling expectations by using an end-to-end solution and a single commerce cloud-based platform combining eCommerce, Point of Sales (POS), retail order management, and back-office processes.
Any retailer dealing with multiple channels, business brands, and business models and businesses having an operational presence across multiple locations around the globe can thus be benefited. Thanks to Netsuite retailers with multifaceted models, locations, and channels can manage everything through a unified single cloud-based system that can be accessed anytime and anywhere.
Fulfilling The Needs Of Modern Retailers
Don't allow your lack of knowledge and technology expertise to prevent you from availing the innovations and exposure to improvements that your business should get. In order to ensure a satisfactory market presence for the customers and in order to make a clean brand identity in a fast-transforming market, you need to embrace Software as a Service (SaaS) tools and solutions like Netsuite. Netsuite offers cloud-based, highly customizable, and fully mobile-optimized solutions helping retailers of all sizes and types to ensure profitability and customer satisfaction.
As the entire retail sector and the whole e-commerce industry needs to cope up with fast-paced changes, the business requires more adaptability. NetSuite retail ERP software allows making your retail business equipped to deal with future changes. Netsuite is a cloud-powered solution that can also be configured and customized to address all your specific retail business needs while helping you with optimum flexibility to integrate new channels, locations, brands, and business models.
Let us now have a look at the key advantages offered by NetSuite for retail business management and operation.
Benefits Of NetSuite For Retail Business Management
A Comprehensive Omnichannel Presence
Any retail business these days looks forward to staying adaptive to the increasing business demands from the customers and maintaining agility and a proactive approach in the fast transforming market. NetSuite facilitated many innovations in retail as far as the operational needs and management are concerned.
NetSuite comes as the leading cloud-based SaaS solution provider in the world for addressing all business management needs. It comes loaded with business management technologies such as ERP (enterprise resource planning), CRM (customer relationship management), and eCommerce solutions.
Netsuite offers a great choice to retailers willing to facilitate exceptional customer journeys involving easy customer interaction, in-store product recommendations, and post-purchasing support.
Personalized Shopping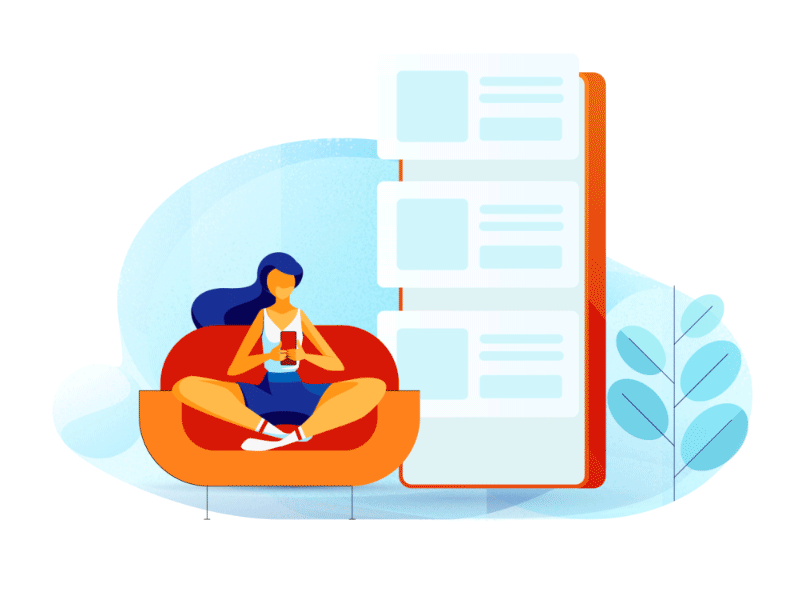 As all your retail customers expect a streamlined, smooth, highly personalized shopping experience irrespective of the channels for shopping, flexibility to purchase and receive products anytime anywhere is a crucial advantage. Netsuite helps a retail business to fulfill this expectation perfectly.
The customers even can create a wish list using one retail channel and complete the purchase on another channel. On top of that, it allows visibility of the entire inventory in real-time. Within the same transaction, customers can make orders from different channels while paying against a consolidated bill generated instantly.
Optimum Scope To Boost Digital Sales
NetSuite offers an end-to-end cloud software solution that can easily integrate eCommerce and order management with back-office operations and systems. This helps retailers to replace the disconnected, segregated, and standalone systems and deliver a consolidated sales platform.
As a retailer, you can operate through multiple channels and sell a multitude of brands across different regions and countries. For such retailers, NetSuite makes things easier by helping you to manage all the channels, brands, and models across locations through a single cloud-powered system. Such consolidated sales management makes up-selling and cross-selling easier for retailers across locations. On the other hand, this also ensures visibility of the inventory and store figures and statistics in actual time.

Pushing Mobility And Growth
In a fast transforming market innovation and modernization remain to be key factors to ensure growth. This is another area where Netsuite can play a vital role by allowing your brand to stay adaptive to the growing demands of customers.
While the traditional retail software comes loaded with a lot of complexities and issues to manage the software solution across devices, NetSuite offers a cloud-based and fully mobile-ready solution that can completely take care of these complexities while ensuring easier access to software functions to address customer demands.
Netsuite offers a touch-enabled mobile interface that offers highly intuitive digital sales communication across all types of devices and thus your support staff and sales professionals can engage with the customers anywhere, anytime. On top of that, the agile platform of Netsuite offers real-time data-driven insights on customers, inventory, and sales. Thanks to Netsuite, a business can fast adapt to the evolving business scenario.
Great Customer Relationship Management
NetSuite comes with an integrated CRM suite that works alongside other tools to help business brands in respect of driving growth. NetSuite retail solution provides a comprehensive, 360-degree, and real-time view of the customers, products, inventory, and business channels.
Netsuite allows a business to keep a tab on all customer activities, loyalty points, historical data on sales and returns, requests for support and services, transaction amount, the time gap between transactions, etc. When a retail business can have comprehensive access to all the customer data, it can deliver a truly personalized shopping experience to the customers and ensure optimum customer satisfaction.
Conclusion
From the above, it is clear that retailers can find Netsuite as the ultimate software suite to transform their businesses. Like in many other industries, NetSuite can actually push the transformation and set new growth benchmarks with its innovative and cutting-edge solutions. It is advisable to hire any of the top NetSuite implementation services to get the best of this software suite for your retail store.