Summary: In this blog post we are going to explain the following differences between Oracle Netsuite vs Oracle Fusion platforms:
Definition and Key Characteristics
Features and Functionalities
Licensing Costs
Target Audience
Ease of Use & Adoption
When you look for a robust and comprehensive ERP solution to run your business smoothly, two ERP platforms offered by Oracle come as the first choices.
Having an understanding of the Oracle NetSuite vs Oracle Fusion comparison and the respective value propositions is important before choosing any of these ERP systems. Both ERP solutions are robust and comprehensive enough to facilitate business process automation across all processes and departments.
The popularity of ERP systems is no longer limited to large-scale businesses and an increasing number of small business enterprises are embracing ERP solutions to take the growth opportunities created by ERP business automation. The global ERP market in 2019 achieved a whopping 9% of growth. The market for ERP automation systems is growing at a rapid pace. Another study reveals that the expanding ERP market is going to cross $49.5 billion by the year 2025.
Global market share of NetSuite ERP across sectors -
Source: Statista
Oracle led the ERP system market with its flagship Oracle ERP system followed by other systems such as NetSuite Cloud ERP and Fusion Cloud ERP. The latter two came with many value additions and automation capabilities that modern enterprises need. But these two ERP systems also have significant differences that we are here to explain.
What Is the Key Difference Between Oracle Netsuite and Oracle Fusion Cloud ERP?
Oracle Fusion comes as the most comprehensive Cloud ERP system from Oracle offering end-to-end business automation and management software with everything required by mid to large enterprises.
Oracle Fusion Cloud offers a comprehensive range of software tools across departments such as financial planning and accounting, material planning, business intelligence, and others.
Fusion Cloud being equipped with robust analytics, self-service reporting, and AI-powered business intelligence helps companies to stay ahead of the competition through precise identification of data-driven marketing insights and trends.
Oracle NetSuite is the most flexible, customisable, and integration-ready ERP automation suite with everything small to mid-sized enterprises need to streamline their business operations.
NetSuite offers all the crucial metrics and tools to help businesses get optimum visibility of their operations, financials, inventory, storefronts, warehouses, order management, supply chain, and all other aspects. NetSuite is also unique in its capability to allow small businesses to embrace business process automation through the integration of existing legacy business software.
In the NetSuite vs oracle fusion, the former has an edge because of targeting wider small business markets. There are tons of custom NetSuite implementation services to help you garner the advantages of custom NetSuite ERP for your business. The key difference between these two ERP systems can be summed up with the following points.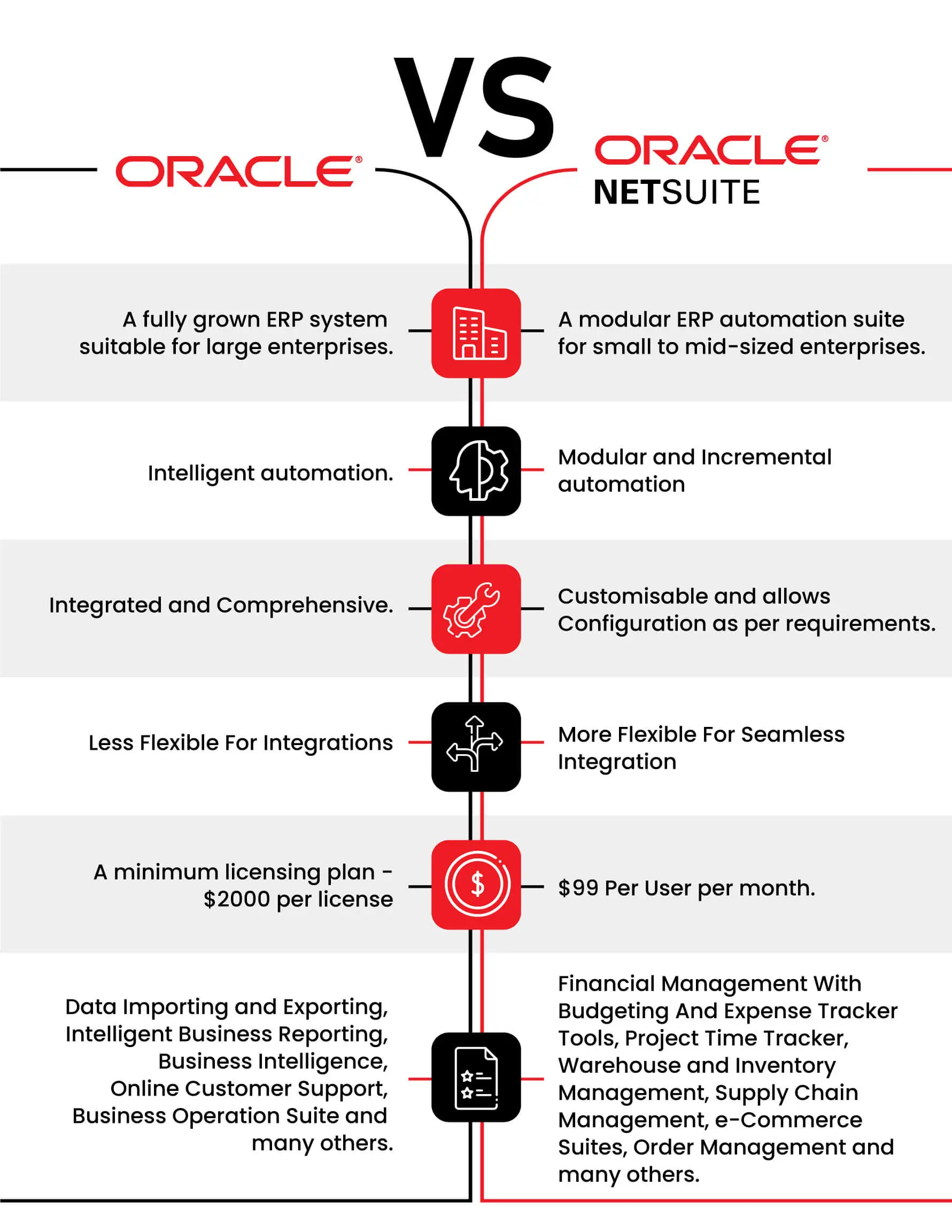 Oracle Fusion is a fully grown ERP system with powerful, intelligent automation suitable for large enterprises. Oracle NetSuite on the other hand offers a modular ERP automation suite for small to mid-sized enterprises with rapid growth aspirations.
Oracle Fusion Cloud is more focused on large-scale and intelligent automation. Oracle NetSuite is more focused on modular and incremental automation based on customisation and integration.
Oracle Fusion Cloud is more integrated and comprehensive. Oracle NetSuite is more customisable and allows configuration as per business-specific requirements.
Oracle Fusion Cloud is less flexible in allowing the integration of legacy software systems. Oracle NetSuite is more flexible in allowing seamless integration of existing software suites used by businesses.
Oracle Fusion Cloud charges a minimum licensing plan costing $2000 per license. Oracle NetSuite plan starts at $99 per user per month. While both are cost-efficient ERP systems with no hidden costs, Oracle NetSuite comes as a more affordable ERP solution than the two.
All these basic differences apart, in the Oracle Fusion ERP vs NetSuite comparison, what we get is the quintessential Oracle attribute of intelligent business process automation covering all business processes starting from accounting and financials to order management to e-commerce suites to inventory and warehousing and supply chain to CRM to reporting and analytics.
Comparing The Features: Oracle Netsuite vs Oracle Fusion Cloud ERP
Now that we have a basic understanding of the key differences and market positioning of these two ERP automation software, we should bring in their respective features and functionalities in the Oracle NetSuite vs Fusion Cloud comparison.
Oracle Fusion applications cover data importing and exporting, intelligent business reporting, business intelligence, online customer support, business operation suite, and many others.
NetSuite applications range across financial management with budgeting and expense tracker tools, project time tracker, warehouse and inventory management, supply chain management, e-commerce suites, order management, and many others. 
Comparing The Target Audience: Oracle Netsuite vs Oracle Fusion
Oracle Fusion targets a broader audience covering the requirements of all sizes of businesses. But due to its high licensing cost, it is mostly adopted by large enterprises. NetSuite ERP, particularly targets small and medium enterprises who want a comprehensive ERP system to streamline their day-to-day operations and processes with the flexibility to integrate existing legacy software systems.
Ease of Use & Adoption: Oracle Netsuite vs Oracle Fusion
Oracle Fusion is a bit complex but it offers robust scope to cover more data for intelligent automation and strategic decision-making. Particularly regarding robust, intelligent automation capabilities in large enterprises, Oracle Fusion Cloud has an edge. Oracle Fusion Cloud offers intelligent AI-based reporting and real-time business intelligence capabilities. This is why large corporations with already business process automation in place, find Fusion Cloud more appropriate.
But when small and medium enterprises and startups require more modular infrastructure resulting in a consistent and user-optimized experience, NetSuite comes as the ideal choice. NetSuite is tremendously flexible and customisable and helps businesses step up their automation capabilities over time with business growth. Because of the incremental, modular, and ground-up scalability, NetSuite is more adaptable for small and medium enterprises.
Conclusion
From the above comparison, it is understandable that both Oracle Fusion Cloud, as well as Oracle NetSuite, have their value propositions, strengths, and drawbacks. Whether your business can benefit more from Oracle Fusion or Oracle NetSuite can be best decided by an expert Oracle ERP partner. Experienced Oracle alliance partners can guide you to make the right choice.