These days, businesses make use of marketplaces to automate their business with ease and in an effective manner. The online marketplace comes as an e-commerce platform accommodating several third parties to market their products and services to the target customers. The role played by NetSuite for Ecommerce is much akin to marketplaces such as Amazon except the key difference of focusing on business to business segment.
The online marketplaces work as a channel to improve search engine optimization (SEO), bring in more customers, enhance brand presence, and boost sales. Apart from the B2C companies, the online marketplace also facilitates wholesale trading by B2B companies and ensures the best shopping experience for buyers. These marketplaces bring down expenses while minimising the risk of developing and maintaining a global e-commerce portal. On top of everything, marketplaces can benefit business enterprises that are just hitting a new market and are trying to expand worldwide.
NetSuite SuiteApps Marketplace comes with useful applications to extend NetSuite benefits for your industry and specific business requirements. Whether you need to use NetSuite for streamlining processes on your manufacturing business or need to adhere to the EDI requirements or need easier sales tax calculations, for all needs you have a SuiteApp ready.
Thanks to the SuiteApps NetSuite marketplace management you can easily integrate NetSuite features and functionalities with third party software. Since the vast majority of SuiteApps work fully inside the NetSuite with the same servers and database, the entire process becomes smooth and streamlined.
Single Source of Data
NetSuite is highly effective in making the marketplace the central hub for dealing with all your company data. Thanks to the NetSuite platform you get a single, locally integrated cloud-based business solution with different applications for CRM and ERP, ecommerce, point-of-sale (POS), order management and inventory management.
Just because NetSuite eCommerce module drastically minimises integrations of disparate systems, multiple data sources are now incorporated into a single repository. This finally allows providing a single source of information for products, customers and items.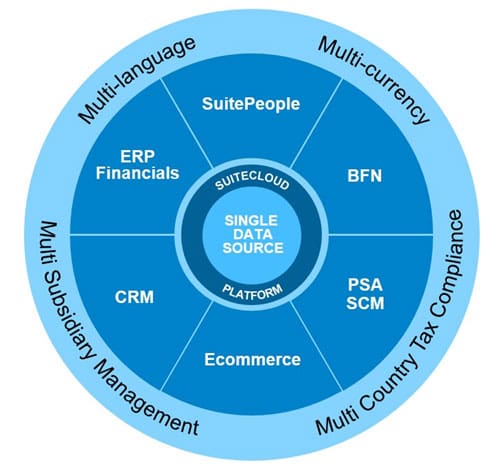 When NetSuite works as the item organiser you can do an array of things such as below.
Manage all product data centrally and attribute the data to appropriate channels.
Handling all product details such as categories, pricing in different currencies, eligibility of promotion, linguistic details, location and product marketing content in a streamlined manner.
From one single source, manage consistent and brand-specific product information across multiple channels.
Because of a single source of data, content creation can be done once with subsequent syndication to different marketplaces. Businesses simply need to specify the given product details and images within the NetSuite ERP and the same can be shared across different channels and marketplaces. Because of the use of this single source of factual truth, the repetitive tasks that are tremendously and time-consuming in nature can be reduced to a minimum. Making use of this benefit can be further extended through expert Suitecommerce implementation services.
The syndication of data takes place by using a connector created by a leading NetSuite partner listed in SuiteApp.com. This connector is activated within the NetSuite core system and it allows smooth data flow by synchronising the stock levels, by replicating the sales orders and by updating customer information. All of these things take place in just real-time within the NetSuite platform and the output is relegated back to the marketplace channel where the customer is busy transacting.
Streamlined Customer Service
NetSuite also comes as a powerful and highly equipped marketplace management software to help companies streamline their customer service and support. NetSuite is highly effective in delivering streamlined customer service just because support executives have access to a single, consolidated view of all customers irrespective of the channel they are busy transacting with. Thanks to this unified and transparent access to data, back office executives can easily check how many times a particular customer has bought things on specific marketplaces. They can easily check the order status any time.
Thanks to NetSuite, ecommerce marketplace management allows more streamlined, effective, efficient and highly predictable management. Businesses have one single efficient system to manage multiple things including customer inquiries, orders, order changes, returns, refunds and exchanges. Most importantly, any order update carried out in the process is reflected in real time in the designated channel. This ensures keeping everyone ion the same page regarding any piece of information.
Smooth Engagement with the Marketplace Shoppers
There are many marketplaces that from time to time release customer data for the purpose of retargeting with the aim of boosting future sales. This data gives a business the opportunity to push engagement with the marketplace shoppers and make positive efforts in bringing them back to the website.
To make this thing possible in a more efficient manner NetSuite provides a marketing automation tool and by using this marketers can easily segment customer groups and push retargeting campaigns further. For instance, whenever a customer purchases any of the products from platforms such as eBay, the business can instantly send them a thanksgiving email related to the purchase and can invite them to again come to the website for shopping. NetSuite thus can play a great role in tracking email consents and detecting opt-in preferences of various customer profiles.

This awesome ability to keep everyone synced and informed about inventory, customer records, order management and customer service inputs makes marketplaces management as easy as carrying out regular sales operations from an ecommerce site. The unified and single platform approach of NetSuite helps saving a humongous amount of time and completely eliminates the need to make use of a variety of systems. Thanks to this streamlined process, businesses now can give their attention to the core aspects of your business.
Conclusion
NetSuite as the leading cloud-based ERP system is capable of managing a multitude of processes including sales, marketing finance, purchase, inventory, customer support and relationship, and human resources. of a company. For managing marketplaces also this unified and consolidated approach pays off hugely.