In our time cloud-based business processes, communication, integrated services, and software applications have become reliable tools for boosting efficiency and productivity across establishments. Google apps with their easy-to-access cloud-based solutions, need no introduction. As the cloud-based ERP platform, Oracle NetSuite has also become synonymous with business process automation for many companies worldwide. Now think about the awesome possibilities when connecting NetSuite, And Google Apps Integration takes place.
When these two cloud platforms join, we look forward to some era-defining value additions on offer. Yes, you have guessed it right. Now businesses have direct access to the Google Suite apps from the NetSuite ERP system. Still, most companies access Google apps like Google Drive, Gmail, Google Docs, and others by independently registering as a Google account holder. But with the Google apps being integrated into a robust cloud ERP system like NetSuite, we can expect a never-before acceleration and streamlining of many processes. The best thing is that a business doesn't need to hire any NetSuite integration services for accessing Google apps from the NetSuite platform.
An Overview Of G Suite
G Suite represents a set of Google apps that used to be referred to earlier as "Google Apps for Work." The suite offers all key apps from Google that, over the years, became staple tools for communication, collaboration, navigation, document creation, and sharing. Some of the most popular Google apps within G Suite include Gmail, Google Drive, Google Maps, Google Hangouts, Google Sheets, Google Calendar, Google docs, Google Meet, and a few others.
An Overview of NetSuite
NetSuite represents the most popular cloud-based ERP and business automation system, offering extended capabilities and features to take care of all business processes and management requirements. NetSuite, besides providing a comprehensive range of ready-to-use business tools such as CRM, inventory management, supply chain management, e-commerce and retail management, Human Resource Management, and many others, also ensures optimum customization and third-party integration per specific business needs.
An Overview of NetSuite and Google Suite Integration
Oracle NetSuite, the industry-leading ERP system, now declared an in-depth integration with G Suite or Google Apps as well as the Google Apps Marketplace. Integrating the Google apps with the NetSuite ERP system will help business users get things done at an accelerated pace.
By working closely with the NetSuite SuiteCloud Developer Network (SDN) partner Celigo, the developers responsible for this integration ensure highly contextual access to several Google Apps components based on the business process needs. For example, the new Gmail integration will help business users with real-time access to email communication and help them easily send email updates to the target customers. The integration will also help businesses collaborate and create Google Docs within the NetSuite ERP environment.

Making Things Easier For Businesses With Google Suite Integration
When facilitating data sharing among disparate systems, business users face several issues. This integration between NetSuite and G Suite will help address many of these issues faced by business users corresponding to data import, export, and collaboration. Apart from addressing these issues, integration also helps achieve several objectives. A NetSuite Alliance Partner with expertise in third-party software integration can help you customize access to Google Apps from NetSuite as per your business needs.
Let's look at some of the key benefits of this integration.
Thanks to this integration, just a single user sign-in can allow users to have access and reach for all Google apps when using NetSuite. Users can also move from Google Apps to NetSuite without signing in separately for NetSuite.
Thanks to this integration, users can now access all NetSuite data through Gmail. The users can also search all over the NetSuite data based on the content of the Gmail message. This allows business users to complete several NetSuite tasks while still accessing Gmail.
The integration ensures syncing all Gmail messages with the corresponding NetSuite records to allow easy tracking of Gmail correspondence and the attachments consisting of NetSuite data.
The NetSuite and Google Apps integration also ensures easy access to Google Docs for NetSuite business users. All users, while using NetSuite, can create documents and collaborate on Google Docs files.
The Google Calendar within the NetSuite environment will help business users manage different schedules more efficiently.
The integrated Google Contacts will help business users access shared contact details within the NetSuite environment.
Google Maps and NetSuite Integration
Besides the integration of GoogleSuite and NetSuite, there is another essential value addition that needs to be discussed separately. Now NetSuite and Google Maps will be synced, opening several usage opportunities for businesses.
Google Maps is still the most popular GPS navigation map application with a full range of useful features for tracking real-time locations and navigating in different places on earth.
The Google Maps app offers several key features like street views of places, satellite imagery, aerial photography, and real-time traffic information. This NetSuite Google Maps Integration opens up the incredible possibilities of accessing these features right within the NetSuite environment.
NetSuite Google Apps Integration: The Key Benefits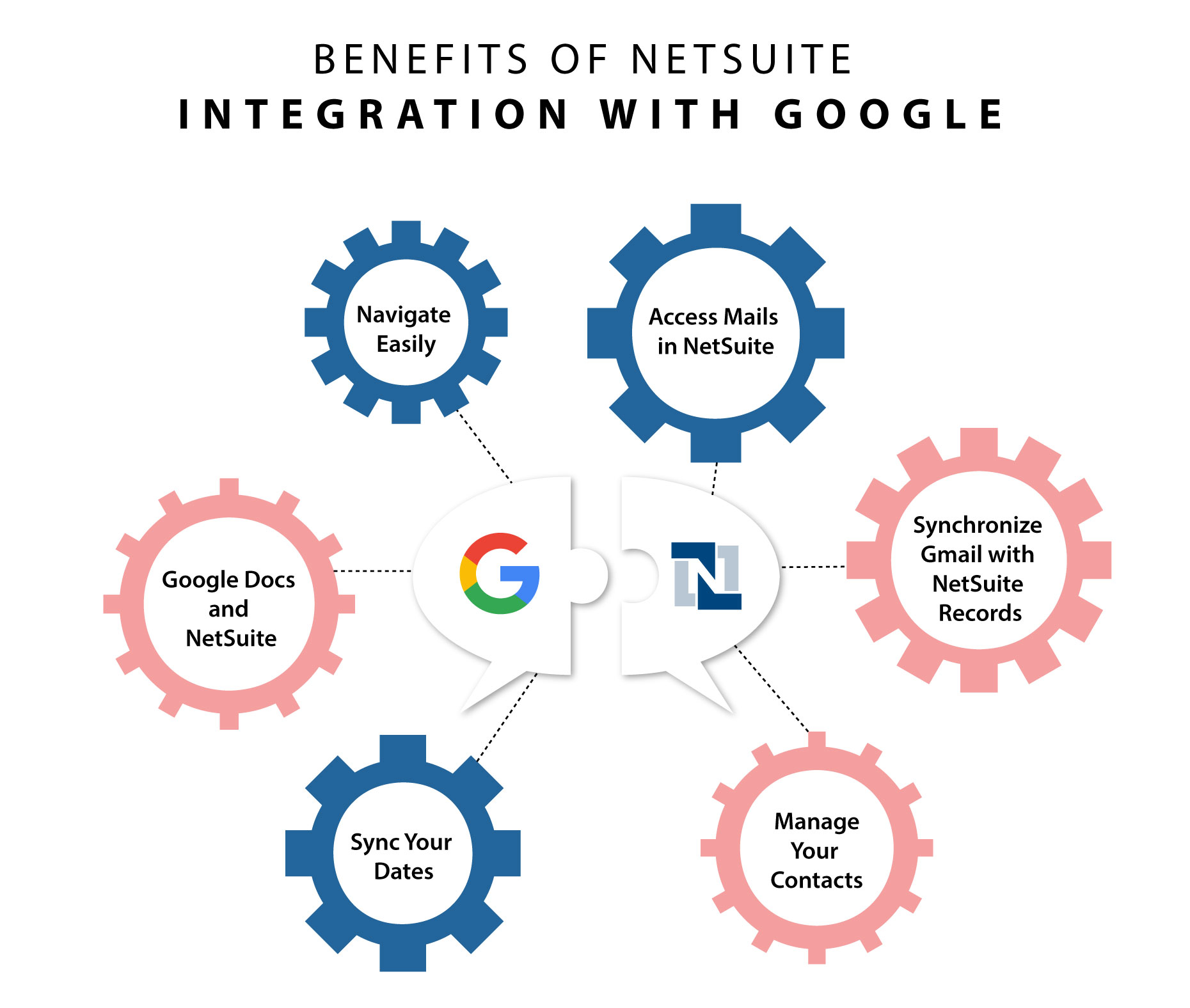 Google map the most popular app from Google Apps, offers a range of features that pioneered location tracking and real-time satellite navigation. When the same app is integrated with the robust cloud ERP and business automation suite of NetSuite, their combination becomes even more powerful.
Let's quickly look at some of the benefits of the NetSuite and Google Maps integration.
With its ability to determine the precise and real-time location of a business or service provider, Google maps can allow NetSuite users to track vendors right within the NetSuite environment. This will ensure even more control and visibility to the NetSuite users.
Companies and their customers feel relieved with the ability to track shipments and transport. This is where Google Maps offers the most valuable feature. Thanks to Google Maps, NetSuite users can track the responsible staff's shipments and location in real-time.
From the perspective of NetSuite users who rely on this ERP platform for accessing relevant business details, the integration can ensure linking Google Maps to the NetSuite record of business and individual addresses. This helps track people and vendors easier and in a streamlined manner.
As NetSuite ERP is focused on ensuring optimum customization, integrating Google Maps with the ERP platform will allow business users to color-code shipment routes for easier access to the relevant location data.
By integrating NetSuite with Google Maps, a business can also boost activities corresponding to monitoring and tracking goods in transport and the productivity of employees on the move. The NetSuite record of vendors, vehicles, and staff can be updated with exact location information to ensure precise monitoring and communication.
The i t'égratigna can hugely positively impact businesses operating with concerns over shipments, a fleet of vehicles, business tours of employees, field workers, and remote processes. For these organizations, the integration will help fulfilling several location-specific goals. The instant and real-time display of location information will help businesses streamline processes more precisely than ever before.
Another innovative way Google Maps can be utilized within the NetSuite environment is through the NetSuite dashboards. By integrating Google Maps, the NetSuite dashboard can provide access to different maps, with every map destined to serve a particular purpose. For any business operating across locations, this dashboard access to multiple maps can be tremendously effective for enhancing productivity and output.
Conclusion
From Google map integration to the NetSuite integration for all other Google Apps, the NetSuite users will have awesome advantages thanks to the minimized workflows. This will overall measure, boost productivity, streamline business processes, and ensure optimum visibility of the business operations across multiple locations. Google Apps and Google Maps integration will add to the sophistication and capabilities of the NetSuite platform in a never-before manner.