Real-time statistics are becoming more and more important to company executives in today's market. Thus, for smooth data integration across all levels of the organization keeping track of data is crucial. A NetSuite integration platform is a handy answer for NetSuite customers who are frequently compelled to hunt for NetSuite Integration Tools to fulfil the demands of their expanding enterprises.
According to a study by Anderson Frank, 68% of end customers choose NetSuite because it makes their company processes simpler and combines enterprise resource planning (ERP) and customer relationship management (CRM) technologies into a single cloud-based package. As soon as a business migrates to the cloud, it may personalize its cloud-based user experience by using the SuiteApps-compatible NetSuite plug-ins and add-ons.
Although NetSuite's ERP and CRM solutions are robust, it is practically hard to create an application that can manage the complete firm. Various platforms and software are used by businesses to optimize back-office operations depending on their particular company requirements and demands.
Additionally, combining numerous apps enables businesses to select the best-in-class alternatives for each circumstance: the finest CRM, ERP software, e-commerce platform, campaign automation system, HR system, etc. Reliability and traceability are frequently compromised in the need to simplify procedures across various contexts. Integrating clients, backend operations, data, and numerous apps throughout a whole organization may therefore be beneficial for firms.
Should you go for NetSuite Integration?
Our NetSuite Partner is aware that the proper interfaces are essential to your NetSuite deployment. Companies have been known to have sluggish or halted data exchange across departments and software platforms. And to be honest, no business wants to spend time manually entering data into different applications. By integrating your processes with NetSuite, you give NetSuite the authority to do the manual tasks on your behalf.
By connecting NetSuite with other technologies your company already uses for marketing automation, sales processing, and other purposes, it is possible to make use of the full potential of NetSuite. You must consider the ecosystem in which your organization works, including all the parties and activities your business interacts with on a daily, weekly, and monthly basis, in order to decide which connectors you require for NetSuite.
Top 8 Best NetSuite Integrations For Your Business
Here, this blog brings you the top five NetSuite Integrations according to NetSuite Integration Partner which you can set up for your eCommerce site: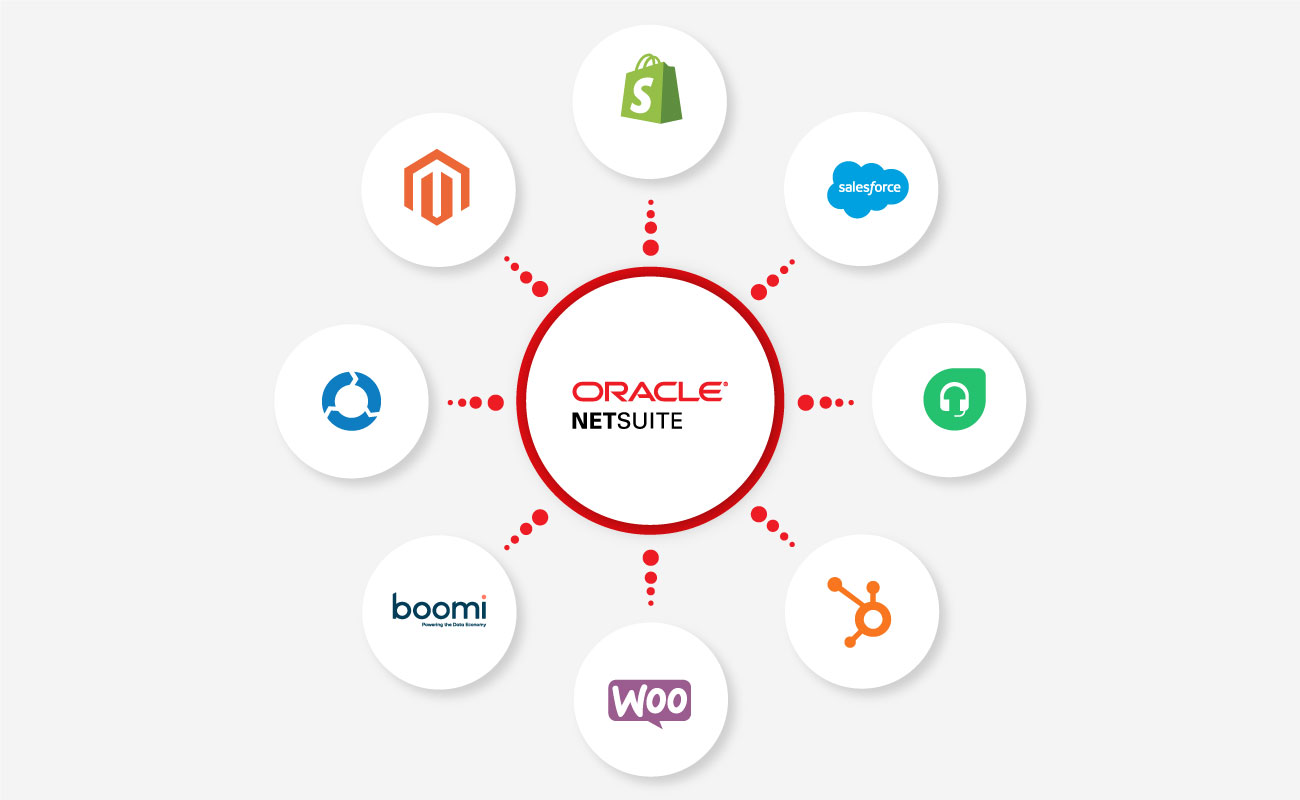 1. Boomi NetSuite Integration
Both cloud and on-premises apps and data are effortlessly connected with Dell Boomi, an on-demand platform for cloud integration. In essence, it makes it possible for businesses of all sizes and industry sectors to integrate data across their critical applications without having to buy or maintain hardware or software. NetSuite Solutions Specialists may transmit data between cloud-based and on-premises apps using Dell Boomi and develop cloud-based integration procedures known as Atoms.
This makes utilising Dell Boomi to integrate with NetSuite a no-brainer. Dell Boomi enables NetSuite to connect numerous apps, data sources, users, and gadgets. It ensures that all the data about your clients, goods and employees across all departments are aligned by connecting NetSuite with your eCommerce, POS, and back-office apps.
Features of Boomi:
Using automated work streams, productivity and effectiveness were maximized.
Improved cross-team cooperation with less complexity
Complete data synchronization and updates for precise progress tracking
Quicker decision-supporting insights
Little to no retooling of current technologies
Salesforce NetSuite Integration
Salesforce is a top CRM platform that promotes sales while managing client interactions to assist firms in expanding. It offers a comprehensive perspective of client data, their journey, and the complete sales pipeline.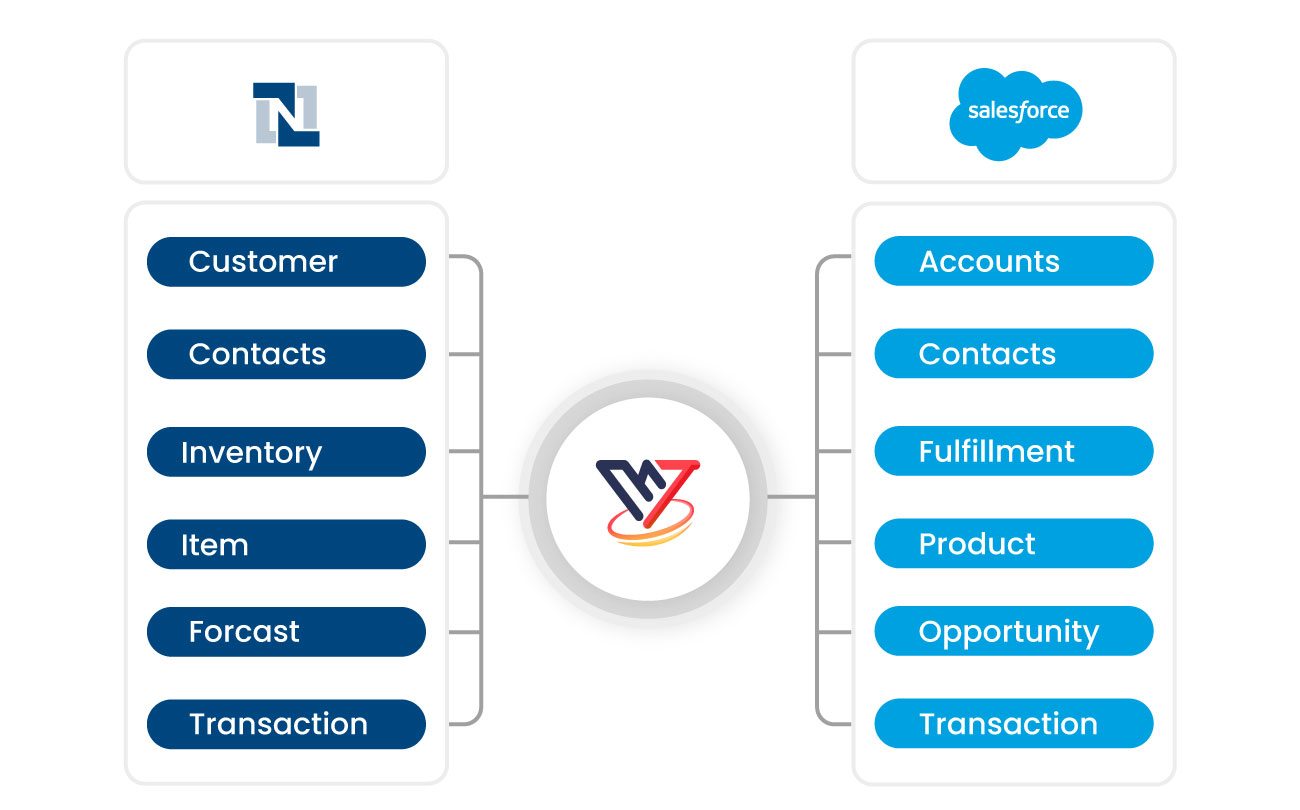 With this information, businesses may effectively foster client connections and spot upsell chances. Salesforce can be useful on its own for some customers, but when combined with NetSuite, users can gain even more advantages. Notably, NetSuite offers a robust CRM platform of its own that enables users to handle both sales and customer support in the same system. NetSuite integration with salesforce, however, can help users obtain more value from NetSuite.
Salesforce and NetSuite work nicely together. Users now have access to data, business processes, and consumer information from a single source thanks to the integration. On the NetSuite dashboard, users can control every step of the sales process, from lead management to closing. The integration's main goals are to increase cash flow and simplify corporate operations. Although NetSuite and Salesforce each offer unique value propositions, using both of them at once can help customers streamline their operations.
Features of Salesforce:
Merging CRM with ERP for effective sales
Automating the transfer of sales leads into NetSuite Accounting and vice versa
A 360-degree perspective of consumer data
Fault-free and real-time data updates
Information architecture for e-commerce transactions
Improved cash flow efficiency
By granting team access to important sales and financial data, businesses can easily align their teams. By eliminating silos and giving a single picture of consumer information, this capability. By minimizing mistakes, increasing efficiency, and transmitting intelligence within their team, users may also increase teamwork.
Putting workflow automation into place enables users to concentrate their time on more important tasks, like expanding your business. Salesforce offers a variety of features that may be used to automate important business activities.
Shopify NetSuite Integration
Among the various eCommerce systems now on the market, Shopify is a top option that gives consumers the ability to design stunning storefronts and sell things online. With Shopify's vast built-in feature set, users can easily manage their whole process—from looking for product opportunities to finalizing the sale—while creating stunning content.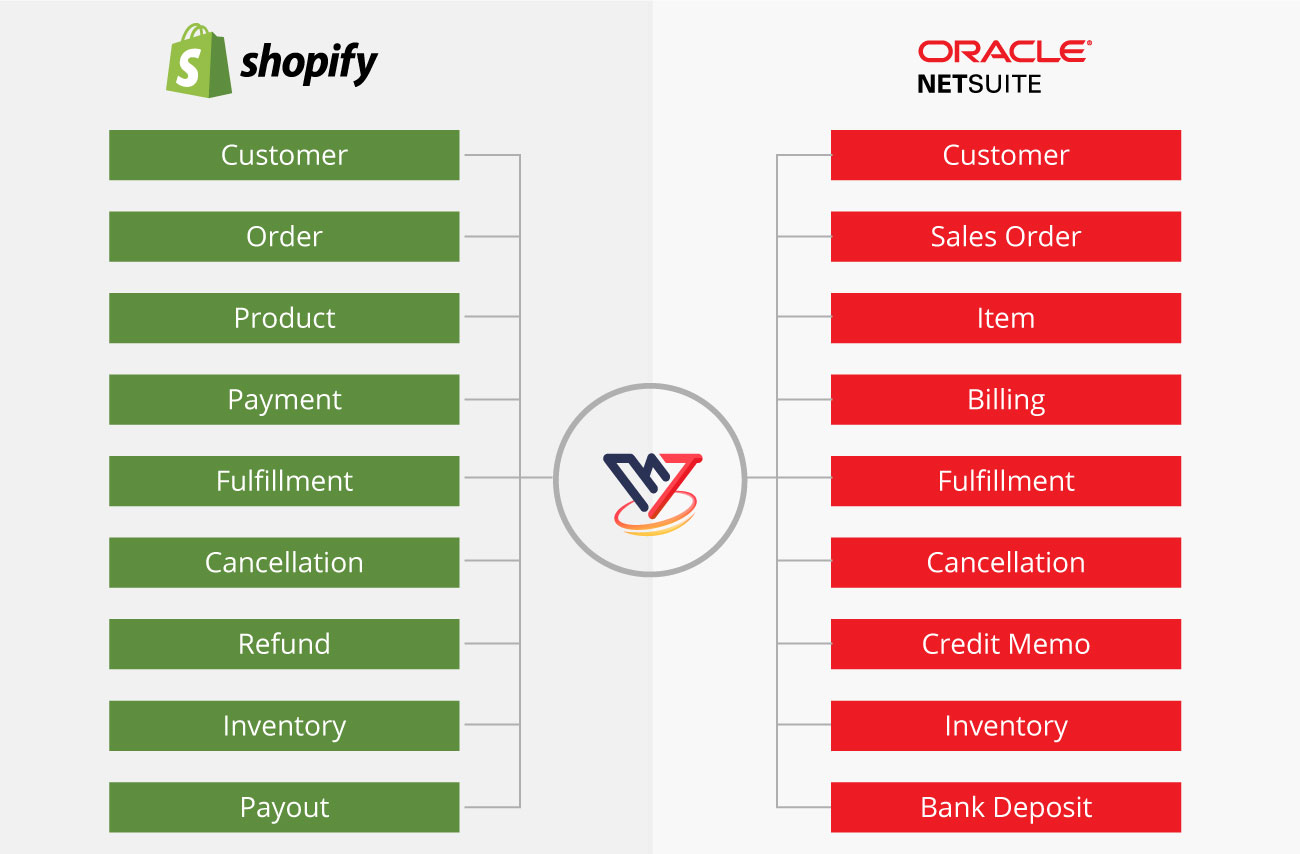 Users may unlock more advantages by NetSuite integration with Shopify. Data synchronization is made possible by this, giving consumers the chance to control their complete procedure with ease. With the Shopify and NetSuite interface, order administration is seamless. It enables the export of billing data from Shopify's online store to NetSuite, enabling a quicker and more precise order-to-cash procedure.
The integration is made more convenient by the capability of numerous warehouses. Real-time access to the inventory in any warehouse is advantageous for businesses. Items, quantity, and fulfilment status may all be readily tracked.
Features of Shopify:
Effective inventory control
Simplified order management procedure (Across POS)
Faster synchronization of data
Various media, a consistent consumer experience
More effective business analytics
A better warehouse management system
Improved understanding of CRM data
It has never been simpler to automate the generating of invoices. Users may submit invoices straight from NetSuite to Shopify using integration, which helps them eliminate mistakes and produce accurate reports on schedule.
Do not forget that you may link different Ecommerce profiles to the same NetSuite account. You will have total visibility thanks to the self-service board, which will help you run your company in any way you see fit. To guarantee that everyone has a consistent user experience at all times, any adjustments introduced on one Shopify account will synchronize with the others.
HubSpot NetSuite Integration
HubSpot is one of the best NetSuite apps for integrated marketing and advertising solutions through link-building automation. It enables users to increase lead generation, turn visitors into customers, and cultivate enduring bonds with their clientele.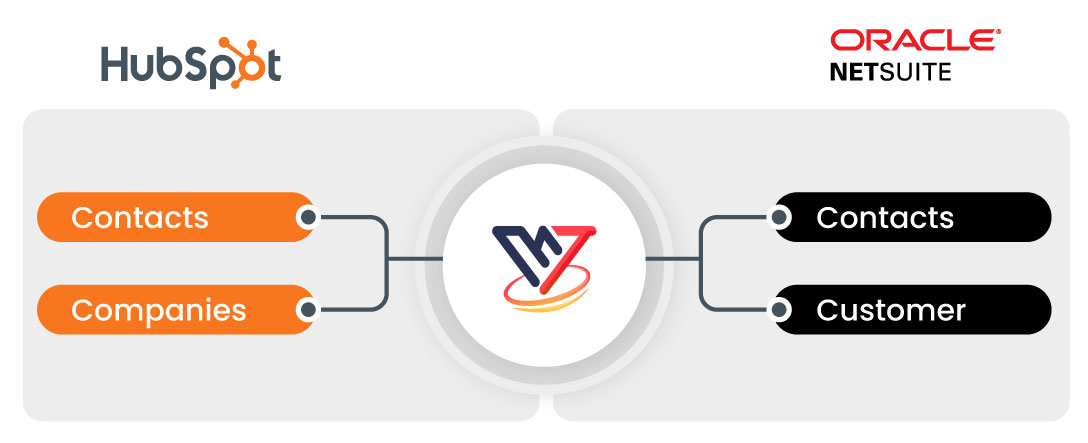 Users can manage their complete marketing and sales process in one system by integrating NetSuite with HubSpot. By seamlessly synchronizing data across the two systems, the connection can help businesses find new prospects and gain a deeper understanding of their current clients.
Once users turn their leads into customers, they may benefit from useful reporting and automation features. They can track the effectiveness of their sales and marketing processes and learn more about the return on investment of their campaigns.
Features of HubSpot:
Users of NetSuite CRM+ get access to HubSpot's Lead Intelligence, which enables sales teams to better evaluate and interact with leads.
HubSpot's social media tools assist you in keeping an eye on your brand and attracting new customers.
Online sales from NetSuite E-commerce are sent back to HubSpot, which aids marketing in identifying the campaigns that drive traffic, cart abandonment, and purchases.
The content management system (CMS), blogging, search engine optimization (SEO), and social networking tools from HubSpot aid in attracting visitors to your NetSuite E-commerce site.
HubSpot's web pages, lead following, and online marketing solutions aid in increasing the number of leads and revenues generated from traffic.
Users can view all pertinent client data in one location thanks to HubSpot's integration with NetSuite CRM. Data on leads are accessible, together with information on their origins, activities, geography, and websites. The connection of HubSpot with NetSuite for e-commerce is another noteworthy feature. Utilize HubSpot's social media tools to keep tabs on the reputation of your company and differentiate yourself in the fiercely cutthroat eCommerce market.
FreshDesk NetSuite Integration
Businesses utilize Freshdesk, a cloud-based customer service tool, to manage and arrange their communication lines. Customers may use the user-friendly interface to look up information, read notifications in real-time, and immediately communicate with NetSuite Support agents.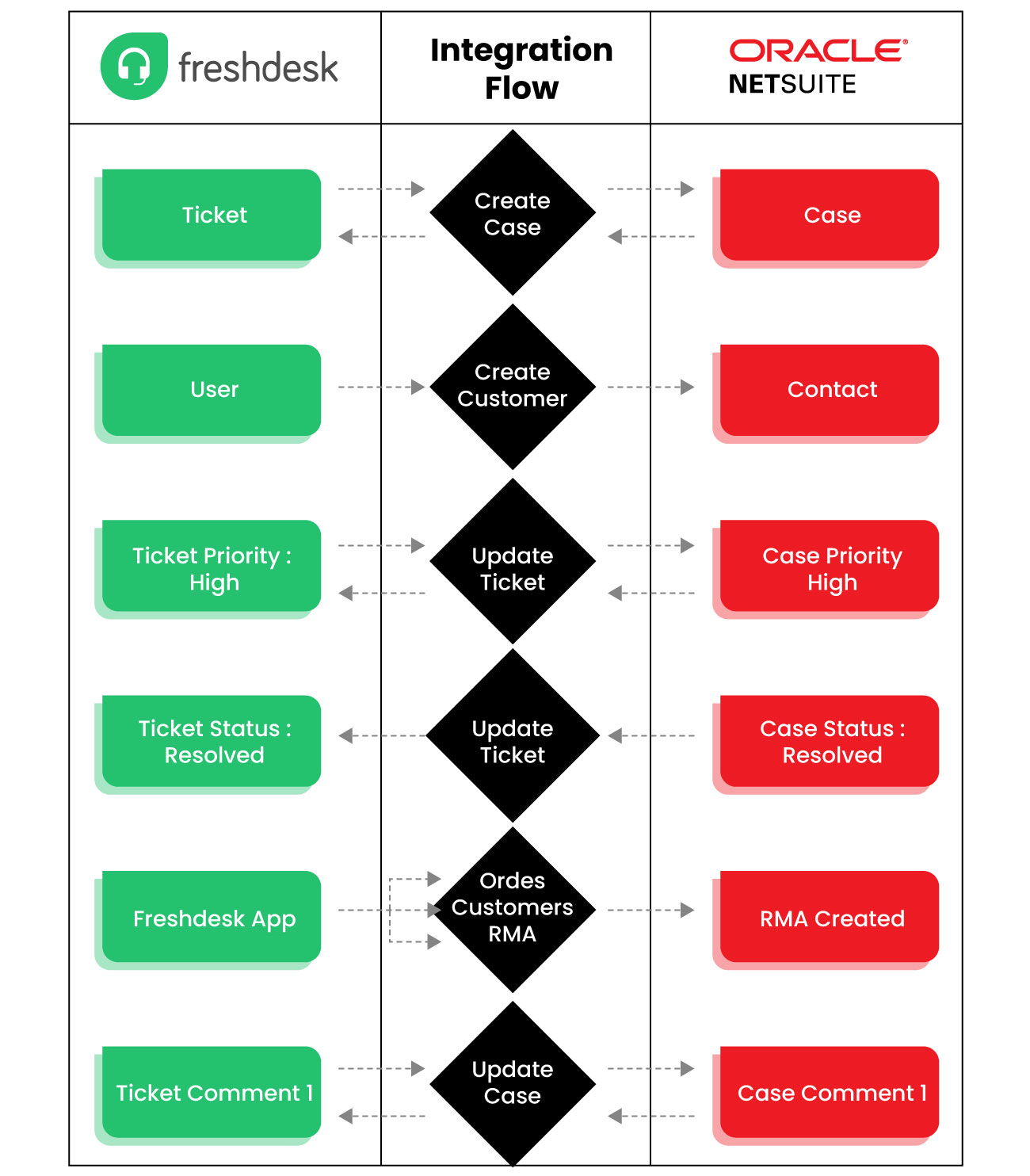 Business organizations may handle all of their support tickets in one location by connecting NetSuite with Freshdesk. Users may effectively assign and handle issues from the NetSuite dashboard because of the solution's flawless integration with the accounting software.
Due to the connectivity, managing support tickets is made easier, allowing support staff to handle client concerns more quickly while using the NetSuite user interface. The fact that all of the procedures are cloud-based makes them even better because you can follow your tickets and communicate with team members from any location.
Features of FreshDesk:
The capacity to use input
Quicker problem solving
Synchronizing data in real-time
Enhanced customer service results in higher customer retention
Effective communication with the NetSuite team
Customers can simply and quickly find solutions to their queries thanks to the Freshdesk and NetSuite connectivity. Businesses may create enduring relationships with their customers by customizing customer experiences and simplifying contact.
Celigo NetSuite Integration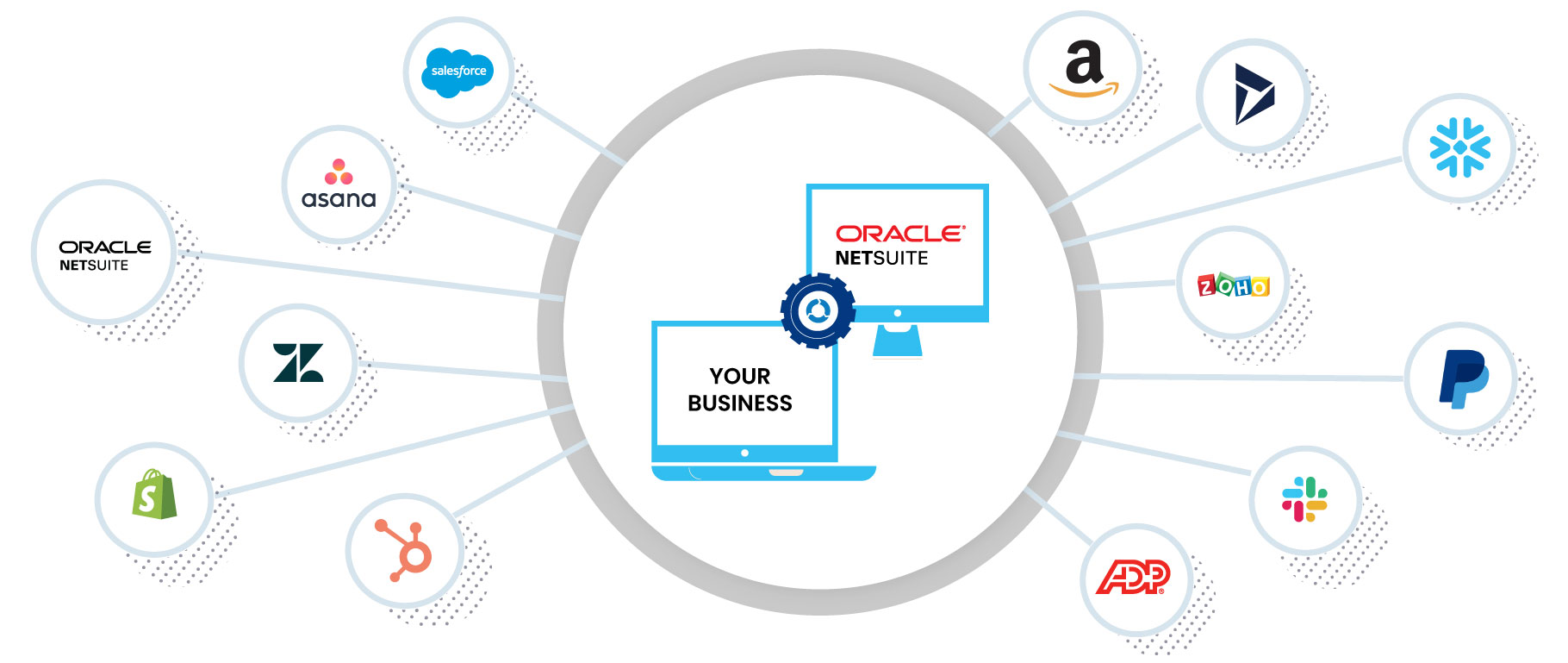 Celigo is an all-in-one Integration Platform as a Service (iPaaS) that automates critical business processes across your front and back-office systems. Systems can be configured, deployed, and maintained with fewer technical resources.
Celigo SmartConnectors are pre-built, robust, and highly customizable integrations that allow disparate cloud-based applications to work in unison. Essentially, Celigo is a perfect fit for NetSuite.
In fact, NetSuite was Celigo's first "Smart Connector." Celigo has always been linked to NetSuite. For NetSuite, Celigo has nearly two dozen fully functional, out-of-the-box smart connectors, over 50 templates, and 70 app assistants.
Celigo specializes in NetSuite and has strong NetSuite support from the community, so the two complement each other perfectly.
Features of Celigo:
Allows for an event or transaction-based integrations that respond to changes in real-time.

A web-based interface for designing, documenting, and testing APIs are provided.

Supports integration development via visual development of integration logic flows using a drag-and-drop user interface.

API development and integrations are made easier with pre-built connectors, templates, and examples.

Allows you to build connectors from existing services and APIs in the catalogue.

Pre-built, reusable connectors, and workflows are provided for all user integration needs.

Allows multiple tenants (customers) to share physical computing resources in a secure manner.
The "marketplace" is possibly the best feature of the Celigo IO platform. Third-party developers can use Celigo's framework to create smart connectors, templates, and app assistants and then publish those apps for other users to use.
Templates are pre-built integration flows that typically address a common and simplest business use case. Depending on the app you're attempting to connect, one or more templates may be available to assist you in getting started with your integration project.
Magento NetSuite Integration
If you want a fully functional eCommerce site, you must integrate all your different systems so that your front and back end work flawlessly together. The level of integration will determine what your customers see, what your administrators see, and the workflows you create.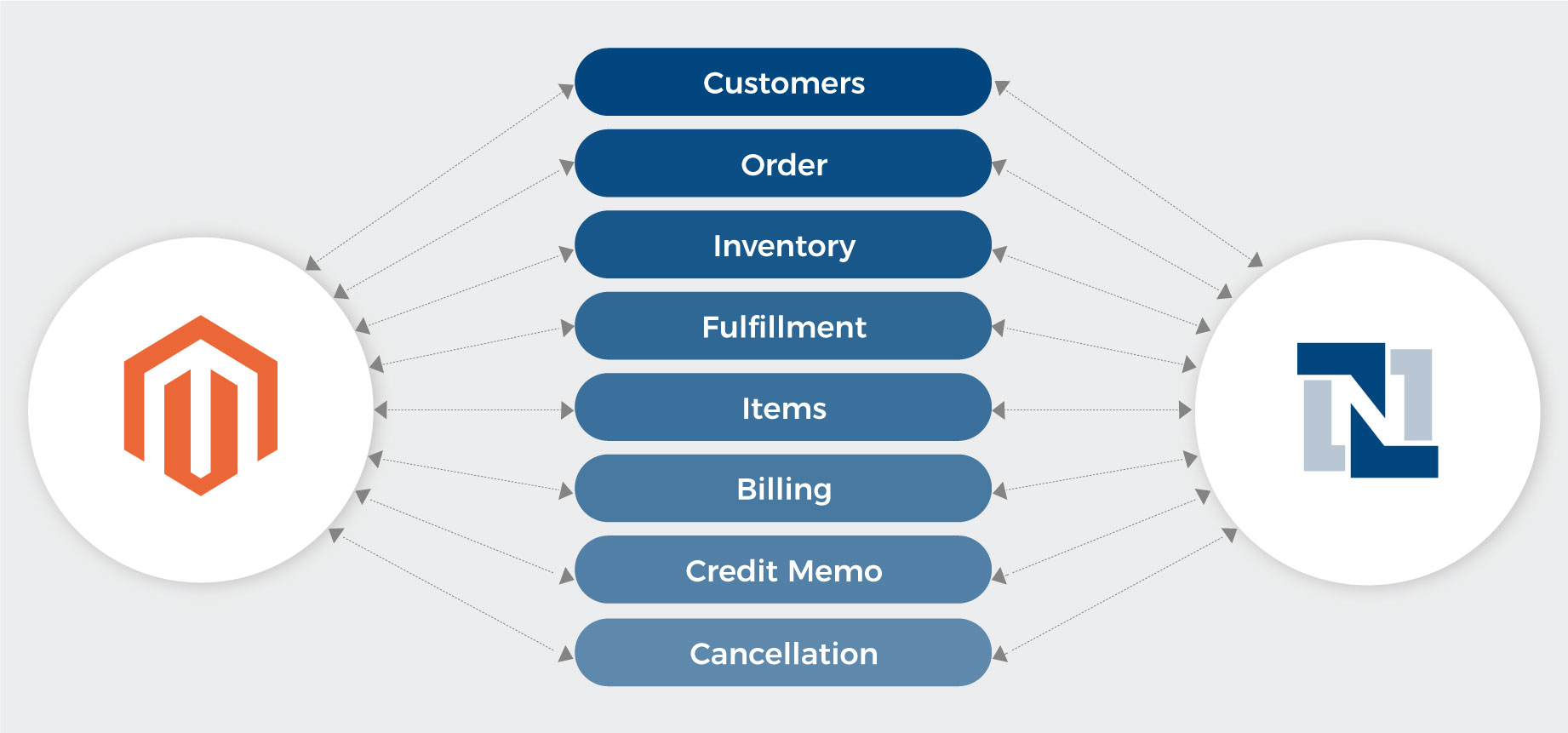 The eCommerce platform determines the ease with which your integration can be facilitated and ERP you are using. It also depends on your willingness to invest in a Magento NetSuite integration solution designed to help you fully leverage your data for seamless brand experiences.
Sellers who run Magento and NetSuite independently aren't getting the most out of their platforms. Instead, sellers spend the majority of their time manually moving critical data between platforms, such as online orders and fulfilment, which easily leads to data errors. Teams are then unsure about the accuracy of their data and spend too much time correcting their own mistakes for customers.
To overcome these challenges, sellers must integrate their Magento web store with their NetSuite ERP. Integration automates your business processes, allowing you to focus on growing your company rather than policing it.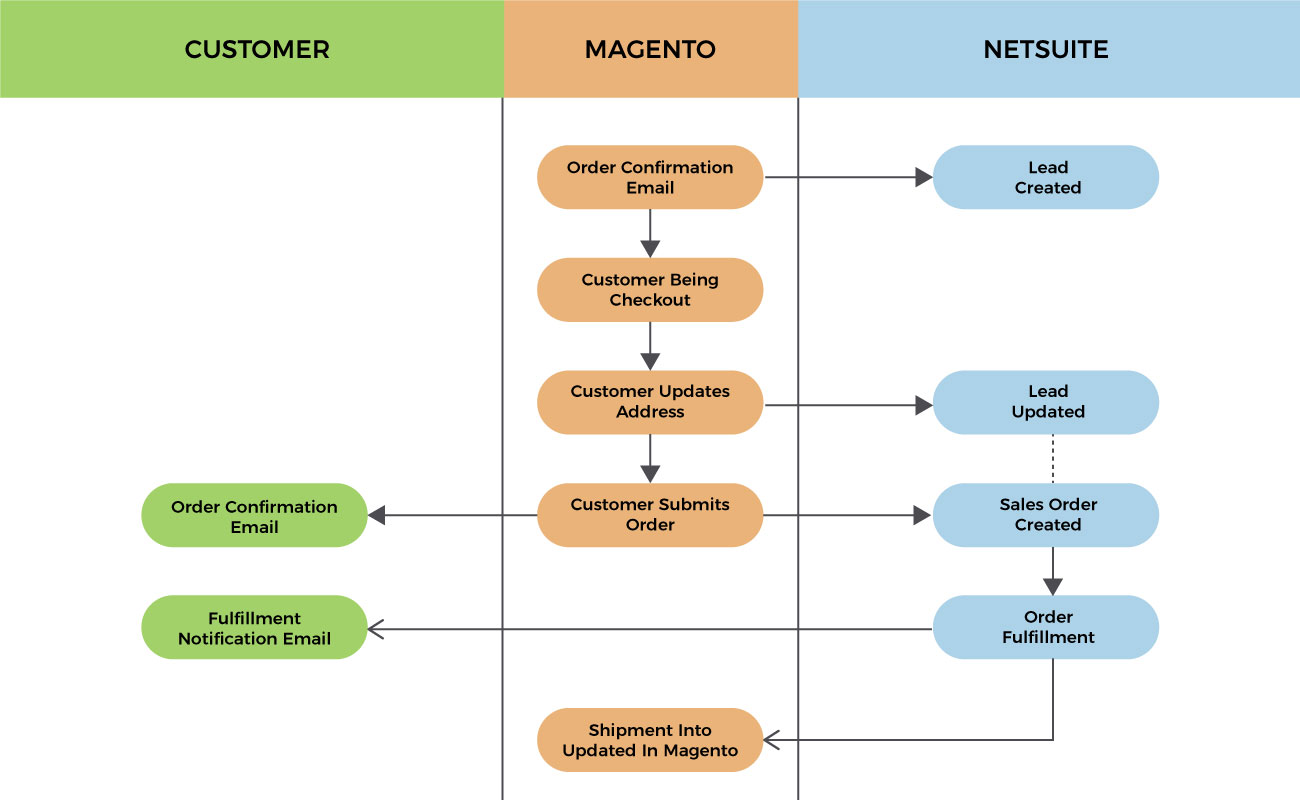 Features of Magento:
Connects data from all sides of your eCommerce business in real-time.

Match data across your channels to improve visibility.

Proactively share order information with clients.

Take advantage of high-level reporting and data segmentation.

Follow your customers from the moment they place their order until they receive it.

Reduce the number of duplicates and errors caused by manual data entry.
The Magento NetSuite integration will provide Magento (Adobe Commerce) with access to customer data stored in NetSuite. For instance, order status, customer purchasing history, and other information. This means you'll have access to all customer interactions with your brand in one place. It will also give you access to the data from your online transactions. This will offer you a clear picture of your overall business performance.
WooCommerce NetSuite Integration
Managing disparate systems is not only a difficult task but also a significant amount of time and money. Integrating WooCommerce with NetSuite allows you to streamline eCommerce operations and increase productivity by saving time and money.
WooCommmerce NetSuite Integration automates workflows by synchronizing orders, customers, products, and other critical data, allowing you to make the best business decisions possible. The NetSuite-Woocommerce integration automatically syncs orders, customer data, inventory levels, products, billing, fulfilment, and other data, allowing you to automate internal processes while improving productivity with real-time stock and inventory visibility.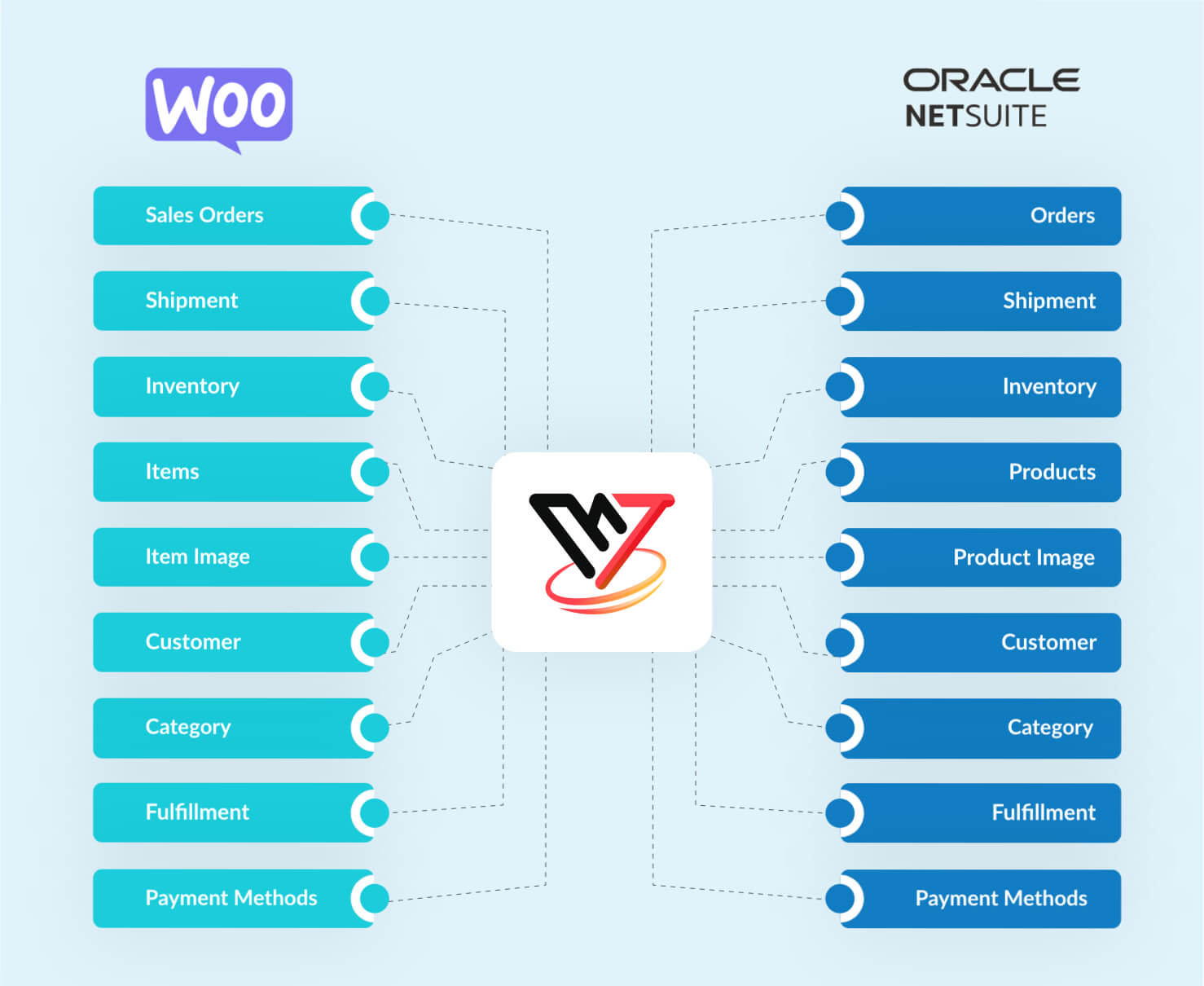 The combination of WooCommerce's powerful front end and NetSuite's proven back-office features allows online retailers to import customer data and orders from WooCommerce to NetSuite and export fulfilment data from NetSuite back to WooCommerce, and more.
Features of WooCommerce:
Provides real-time order alerts for obtaining information about store activities, new orders, and product prospects.

Order management provides effective business services to WooCommerce merchants by handling order fields such as customer information and shipping information.

Offers customizable backgrounds, built-in blogging fields, product ratings, reviews, and other customer relationship management tools in the WooCommerce store.

Manage WooCommerce coupons and discounts by automatically applying the mapped discount item to sales orders.

Configure stock level syncs to take into account purchase orders, back orders, availability dates, and offsets.

Inventory stock levels are synced on a regular basis.

Manage promotions in NetSuite by syncing them in real-time with WooCommerce.

You can configure any shipping method you want.
WooCommerce is highly customizable and simple to use, and you should expect the same when integrating it with your other systems. Similar to WooCommerce, this Integration works right out of the box, with customization options and powerful features to assist you in adjusting the integration flows to fit your needs. Build and deploy the integration quickly without wasting resources on development time - it's designed to be simple and painless for everyone from store owners to system administrators
5 Benefits of NetSuite Integration Systems And Applications
According to our NetSuite integration guide, workflow efficiency is the main advantage of linking NetSuite to other systems. By merging NetSuite with third-party apps, you may provide your company access to data without moving between tools. Other benefits of integrating NetSuite with different applications include: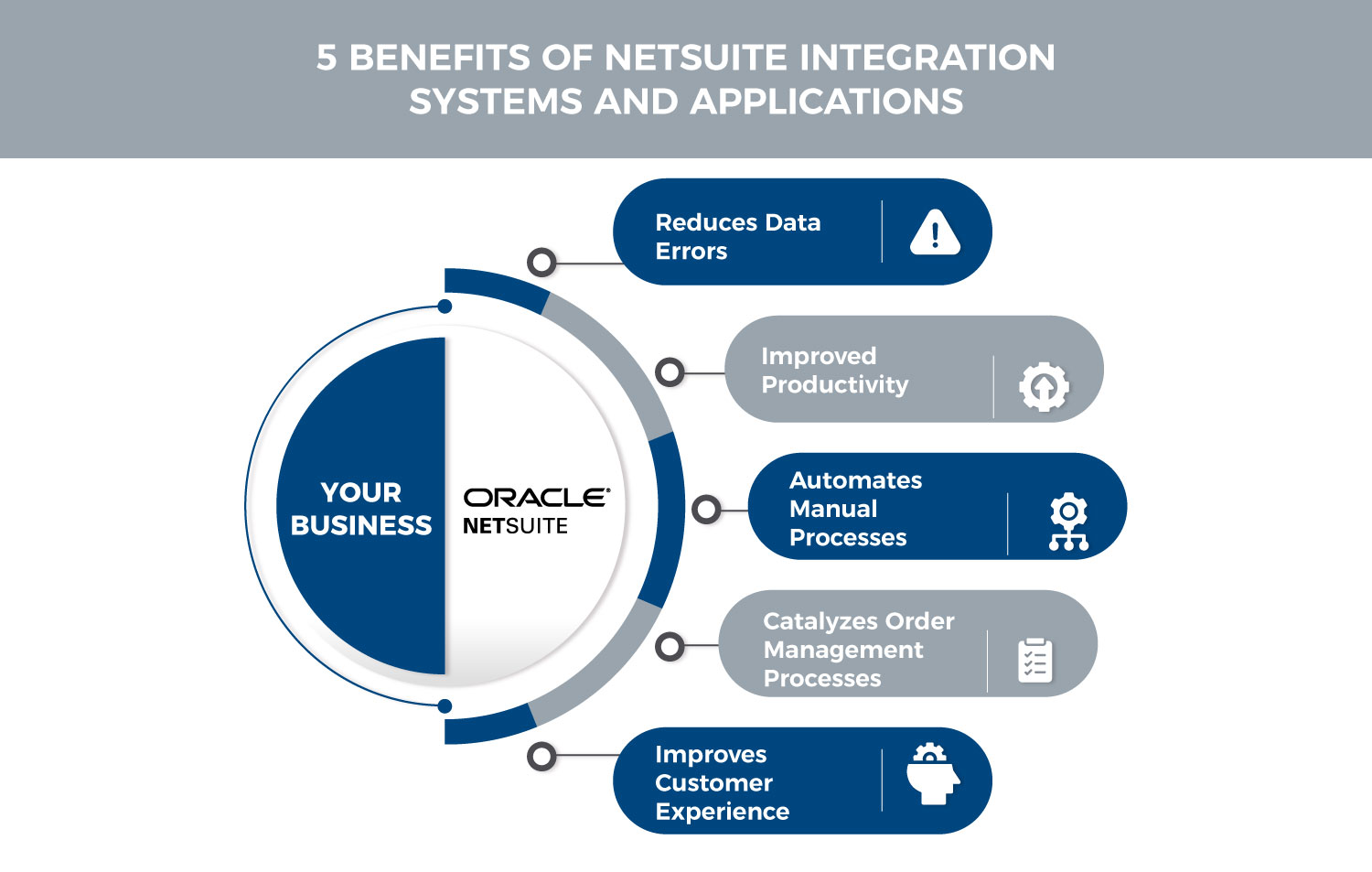 Companies employing several platforms and systems have a greater chance of entering information into the incorrect system. By integrating NetSuite with services like Google Suite and Dropbox, you can make sure that your company always has exposure to error-free, reliable data.
Instead of wasting time jumping between tools to get information, employees can concentrate on their tasks with an efficient data flow across the whole business process. Integrating data from several systems guarantees that staff members have access to information from a single source, promoting quicker answers and more productive work.
Automates Manual Processes
Manual data input is needed for regular commercial tasks like order processing and billing. By connecting NetSuite with other programs, you can boost automation, cut down on mistakes, and increase productivity.
Catalyzes Order Management Processes
Processing customer orders is simplified when third-party apps are integrated with NetSuite. Through your online store, customers may make orders, and the integration you put up will handle the rest by transferring information to your NetSuite system for stock, administration, and banking.
Improves Customer Experience
Customers may easily order goods or services if your online shop and NetSuite have smooth omnichannel integration. Customers are kept informed about their orders using an integration that offers real-time order status information.
Wrapping Up!
The finest NetSuite Integrations to use are ones that work well with your existing infrastructure, satisfy your business needs, and are simple to maintain. HubSpot, Shopify, Salesforce, ADP workforce, and Workday are some of the greatest connectors. Despite the fact that certain connectors can need a little tweaking, they provide smooth interaction between NetSuite and other apps.