For a multitude of small and medium businesses around the world, the inventory management system used by them represents not a comprehensive system at all. Mostly in the name of the inventory system, they get access to an amalgamation of inefficient data exports and Excel spreadsheets with multiple tabs. They fail to get a comprehensive understanding of the stock movement.
Let us be clear that irrespective of the size of your business, the process of managing inventory is never less complex. Small businesses can be relieved now by knowing that they can make use of cloud-based inventory management software that ensures end-to-end inventory visibility for any business irrespective of the size or niche.
But before you decide to choose the right inventory management system for your business, let's have an understanding of the inventory management basics.
What Exactly is The Inventory Management System?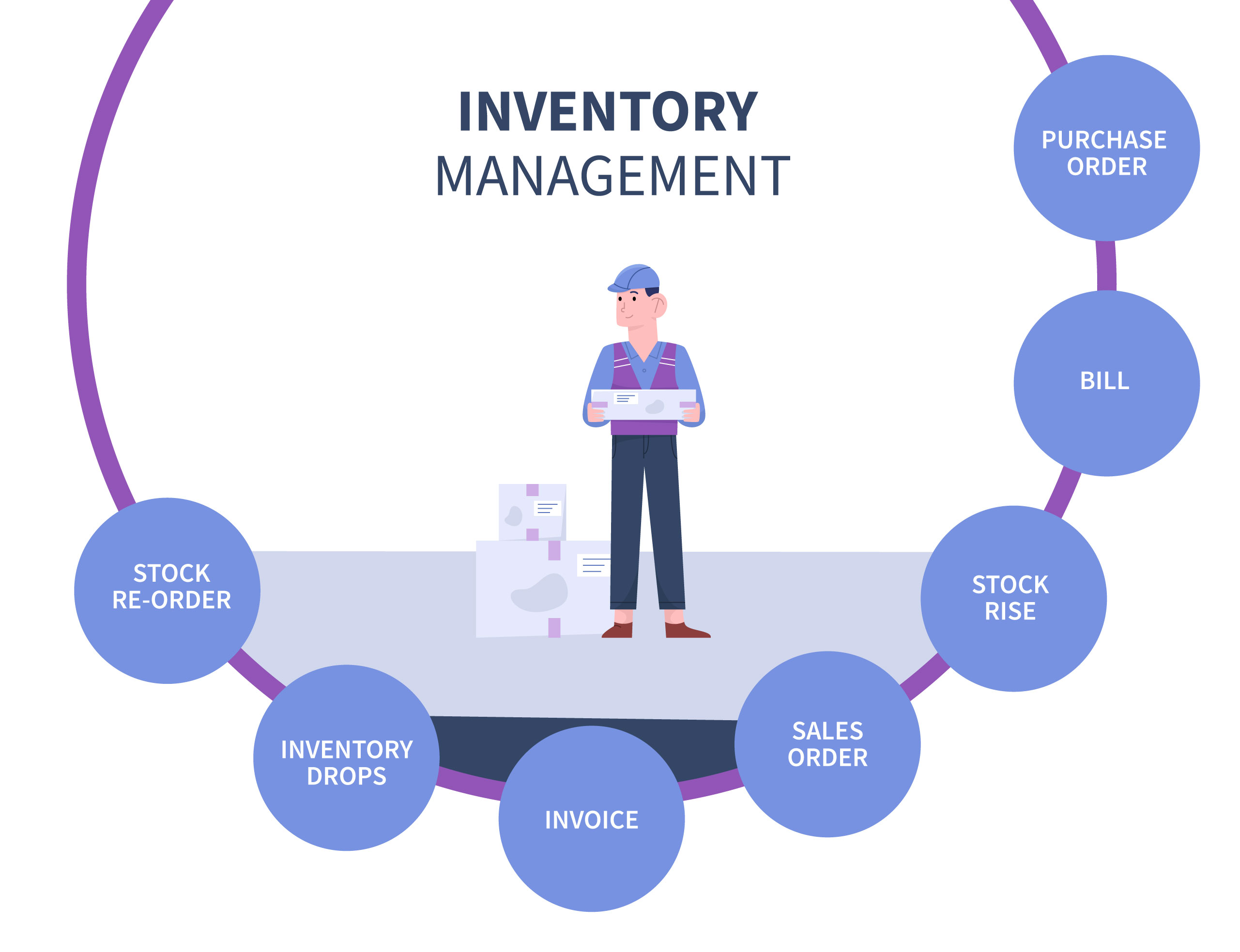 The inventory management system allows companies to track all incoming and outgoing stock in order to meet the customer demands in a timely manner and at the same time reduce expenses for overstocking or losses incurred due to stockouts.
Key Challenges Faced By Inventory Management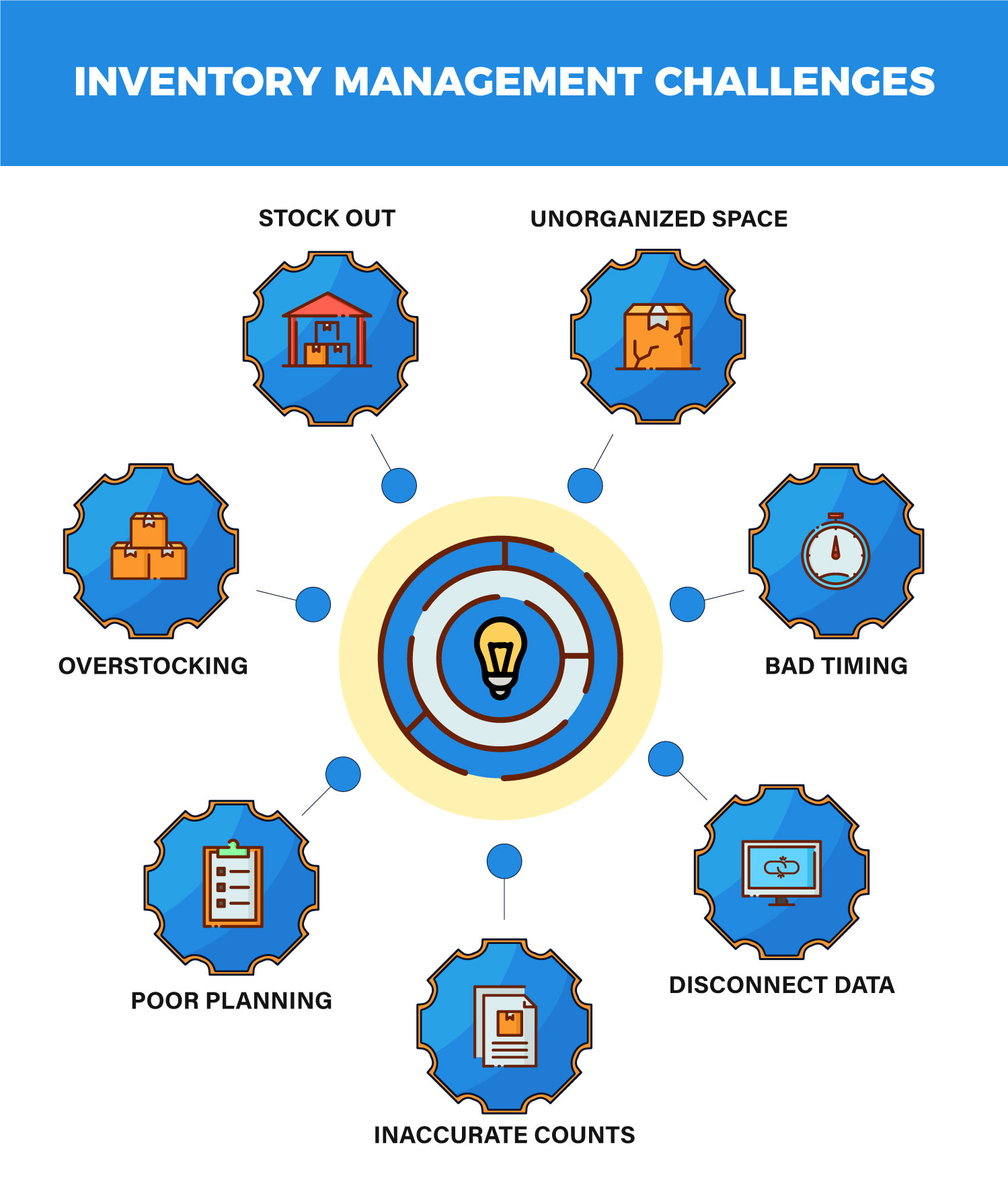 Companies for inventory management face a lot of challenges. The primary stumbling block is the enhanced volume of inventory stock that a company is not able to sell. The second challenge is the lack of stocks and the third is the lack of visibility of stock to make them available in time. Let's have a quick look at the key inventory management challenges.
Having accurate information on available stock.
Poor inventory management process resulting in the slow movement.
Fast-changing customer demands result in piling of stocks or unavailability.
Lack of space management in the warehouses.
What is NetSuite Inventory Management?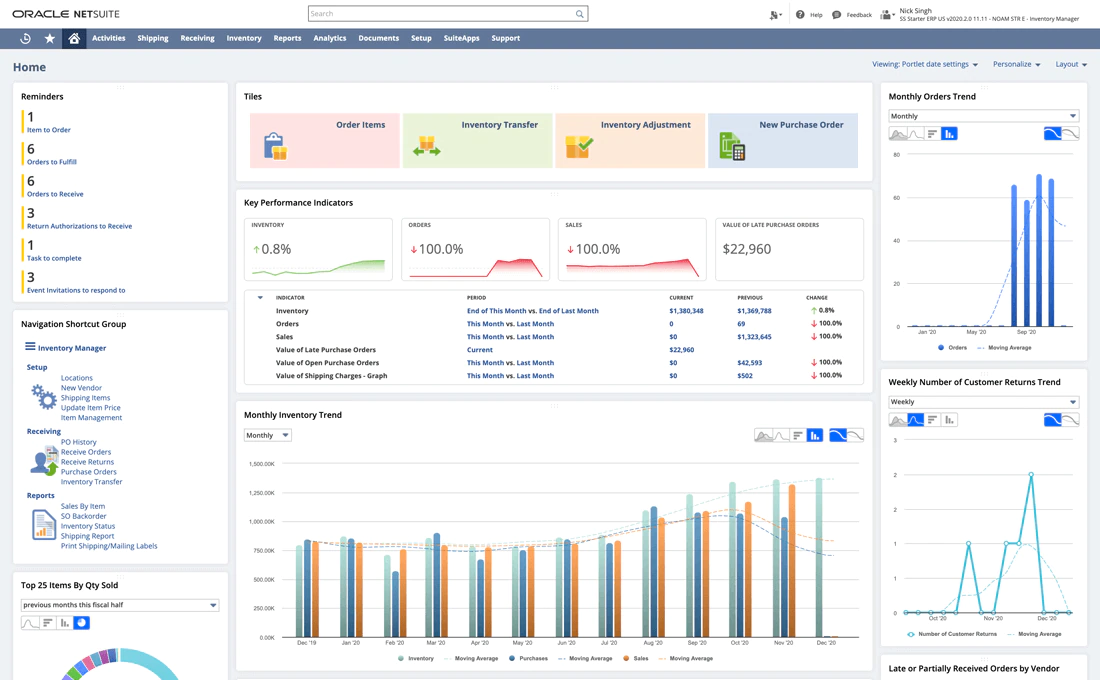 NetSuite Inventory Management offers a single, unified, real-time visibility to inventory across multiple channels and locations of a business ensuring companies' maintenance of just the right stock level based on the demand.
Key NetSuite Inventory Management Features

NetSuite inventory management system comes with a comprehensive range of features allowing to manage, track, control, and plan inventory to make the right stock available at the right place.
Here are the key NetSuite inventory management features.
Inventory control: Inventory control looks after the existing stock at the warehouse and ensures smooth movement of products through a supply chain.
Inventory Tracking: This feature helps track the status of stocks and goods moving in the supply chain. This gives real-time visibility of stocks.
Inventory Barcoding: Barcoding helps track inventory without data entry errors while automating business processes by communicating the data on the status of inventory.
Inventory Alerts: The inventory alerts are triggered to sensitise the company about reduced stocks or stock overboard to prevent wastage or unfulfilled sales.
Cloud Infrastructure: Cloud-based inventory management software such as NetSuite helps manage the inventory data and computing in the cloud. This gives the company relief from manual processes and efforts.
Internet of Things (IoT): The IoT integration further allows streamlining and automating the inventory controls and managing stocks through digital labels, GPS tracking and RFID tracking.
Machine Learning and AI: The AI and machine learning technologies can ensure intelligent stock management based upon perpetual demand monitoring.
Key Benefits Of NetSuite Inventory Management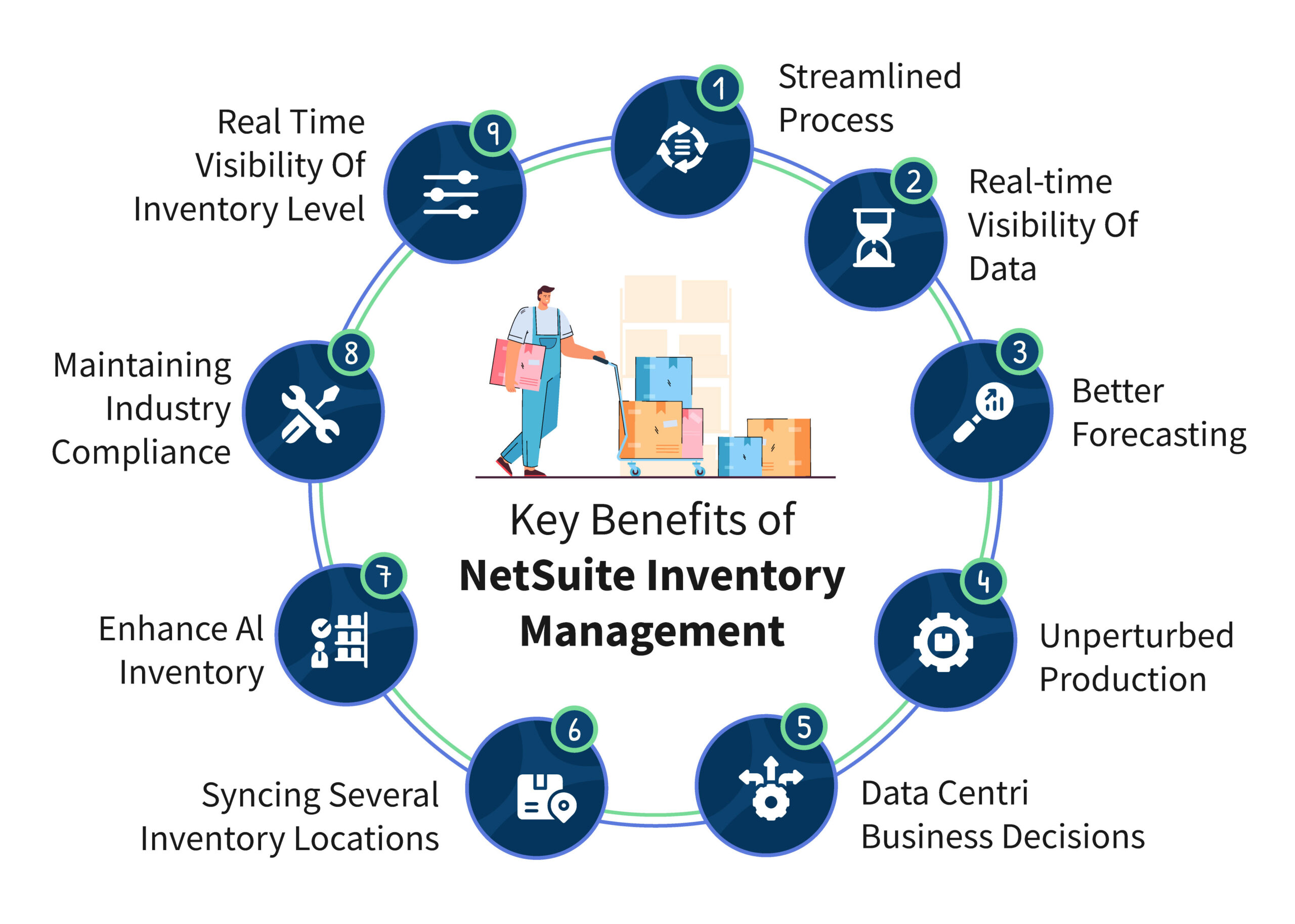 NetSuite Inventory Management coming loaded and integrated with the NetSuite ERP systems ensures ultimate streamlining of inventory resulting in increased savings and proper stock maintenance. A company can get a lot of additional benefits when an ERP system comes equipped with inventory management features and capabilities. This is where NetSuite as an ERP system with robust inventory management capabilities comes as the ideal solution.
Let us have a look at the key advantages offered by NetSuite inventory management for businesses.
Getting real-time visibility of inventory levels across the channels and locations is the biggest advantage offered by the NetSuite ERP system. NetSuite can ensure end-to-end visibility of all orders processed across departments, different channels and locations. Starting from the sales process to accounting to order fulfilment, the NetSuite system offers complete visibility of the product movement. It also allows integrating the inventory data with accounting and back-office processes.
Streamlining processes: With the help of integrated barcode scanning and RFID scanning modules, NetSuite allows faster stock-taking, stock data receiving and order fulfilment. NetSuite streamlines the task to reduce manual data entry errors and relieves employees from an unproductive repetition of tasks.
Real-time visibility of data: NetSuite as the most well-equipped inventory management software integrated with an ERP system allows real-time data access across all channels and locations.
Better forecasting: NetSuite ERP loaded with an inventory system ensures smooth and streamlined data collection and allows analytics to deliver relevant insights into market and demand trends. By understanding these data-driven trends and demand patterns, businesses can easily improve their stock forecasting.
Data-centric business decisions: Thanks to the integrated data analytics and robust reporting capabilities of NetSuite inventory management businesses are able to make data-driven decisions regarding stocks more swiftly. This results in increased savings from reduced stockholding and carrying costs.
Unperturbed production: Thanks to data-driven accuracy in demand forecasting and in the forecasting of lead time, a manufacturing business can ensure unperturbed production without really experiencing any shortage.
Syncing several inventory locations: An integrated ERP system like NetSuite offers a complete overview of stock levels in different warehouses, distribution facilities and various retail stores as well as supplier locations.
Enhance all inventory: A powerful and feature-rich inventory management system like NetSuite also helps maintain the perfect mix of the required stocks in required quantities while availing the cheapest carrying cost. This will ensure that a business has never too much of stocks or too few of them. This also helps scale up the inventory with ease when your business grows.
Maintaining industry compliance: NetSuite as the globally leading ERP system and inventory management solution fully adheres to the global compliance regulations and standards to ensure optimum financial transparency.
Conclusion
NetSuite Inventory management module as part of the NetSuite ERP suite has already become the most popular solution thanks to its flexibility, customisation and scalability. If you want to give your business the power of a robust cloud-based inventory management solution, NetSuite offers you the ideal answer.