There has been a continuous shift in attitude among businesses regarding ERP solutions and cloud computing for some years. The vast majority of IT managers just until recently used to rely more on local infrastructure instead of a cloud ERP solution. But the scenario has changed and their businesses are now relying on cloud-based systems for practically every software solution of their needs.
In this respect, the shift from traditional Enterprise Resource Planning (ERP) software to cloud-based ERP solutions are worth considering. Traditional ERP solutions are heavier, loaded and large in size while they play a central role in managing the core business of a company. Now with the emergence of cloud ERP, there are leaner and low footprint solutions with more advanced features.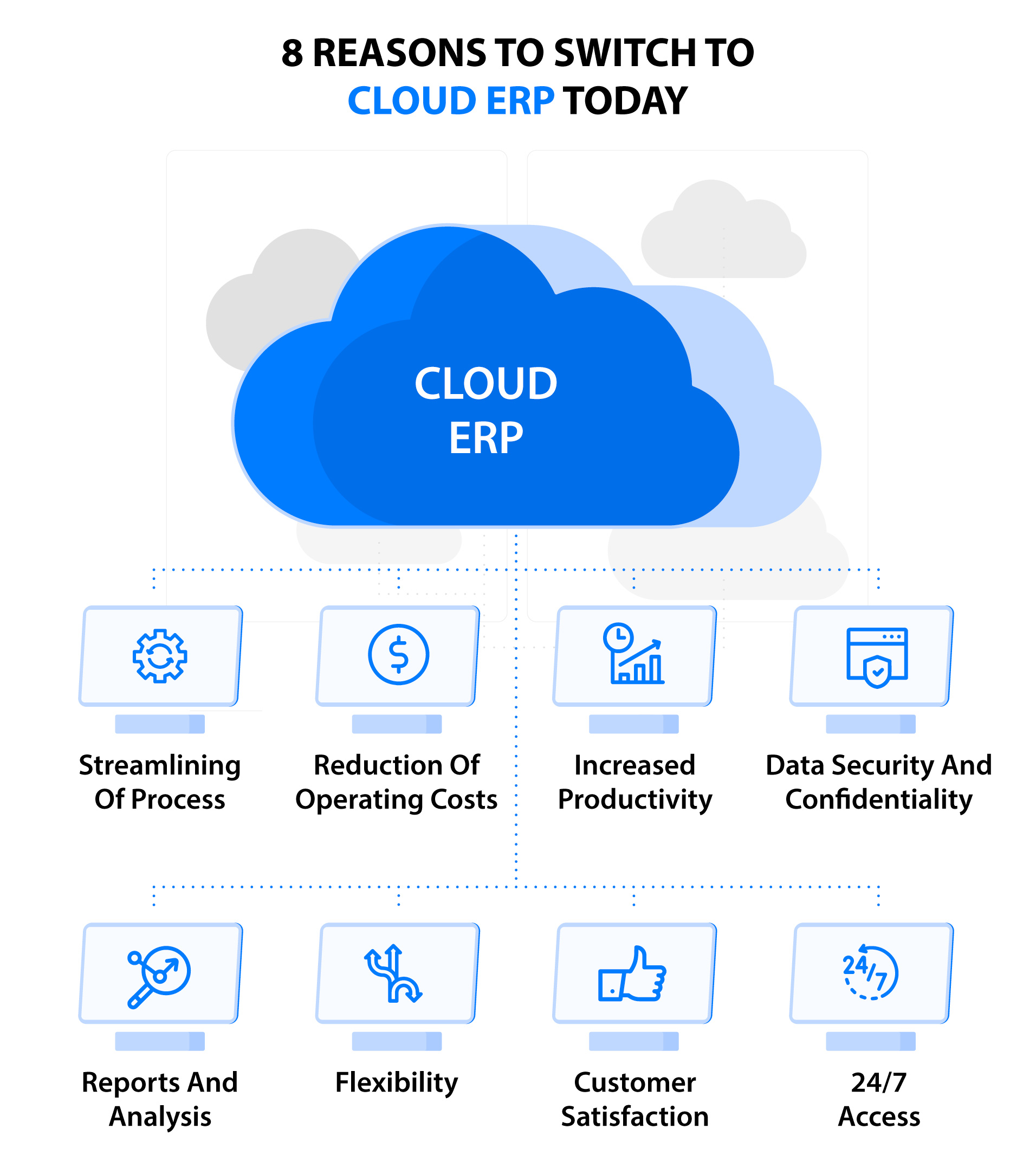 The business attention has switched to cloud-based ERP primarily because of the holistic business management approach to dealing with every aspect of a business. The best thing about these cloud ERP solutions is that they are highly scalable to accommodate evolving business needs on a continuous basis. Netsuite ERP software is a nice example of this.
The shift from traditional hosting dependent systems to robust client/server technology has been a major trend in the ERP landscape. Legacy ERP software on the other hand is really expensive and they consume a lot of time besides creating maintenance difficulties all the way. All these shortcomings with legacy ERP software further pushed attention towards cloud ERP solutions.
SaaS Cloud ERP
Cloud ERP, unlike their traditional counterparts, does not require big IT infrastructure and hence can help a business save huge costs. To make things further easier businesses now can go for an ERP system provided as a software as a service (SaaS). Such solutions offer seamless and unrestricted access from anywhere, anytime and from any internet-ready device.
Boosting Operational Efficiency
Some cloud computing benefits are key to promising the operational efficiency of the software tools. Cloud software platforms are lightning-fast, highly flexible and agile enough to help businesses minimise complexity without really impacting the efficiency of operation. The faster pace of implementation irrespective of the company size and complexity of the business is a key value proposition of cloud ERP systems.
Enhanced Mobility
Traditional ERP systems are mostly not optimised for mobile devices. But mobility happens to be a really decisive factor for ERP systems. The ease of controlling and accessing ERP systems right from the mobile screen has emerged as a key value proposition. This is another area where cloud-based ERP systems excel over the traditional ones. Cloud-based ERP systems by offering mobile apps allow a business to access an array of ERP functionalities ranging from user accounts, bookkeeping, CRM, contract management, expense management, invoice handling, POS systems, supply chain management, warehouse and inventory management and many others.
Clearing The Obstacles To Cloud ERP Implementation
In spite of the wide-ranging benefits offered by cloud ERP systems such as cost reduction, quality improvement, performance enhancement and productivity boost, many companies simply struggle in implementing cloud ERP systems.
There are obviously several reasons for many companies to stay away from cloud ERP implementation. Some of these reasons include the complexity of migration, increased cost, security risks, etc. Among all these reasons, difficulties in data migration stay at the top of all concerns.
Some organisations simply bear with their old, ramshackle ERP systems simply because the cost, migration challenges and concerns for data security pose an obstacle that they fear dealing with. They just stick to what they are using for years. This inertia against change has been a key aspect of the slow implementation of cloud ERP in many industries. The robust and highly customisable NetSuite ERP integration services can come to your rescue here.
Security Concerns With A Cloud ERP
Concerns over data security have been a major stumbling block in the path of cloud ERP implementation. The so-called half-baked doubts and pointing fingers toward cloud security have been existing from the very first day of cloud computing and these concerns are not going to evaporate soon.
The security model shared between cloud providers and the client-side has legitimate concerns. But most cloud ERP solution providers such as NetSuite ERP software actually deliver robust and uncompromising security controls besides ensuring a kind of resilience to security threats that cannot be provided by in-house solutions.
In spite of these embedded security controls, you are always free to control your exposure to all kinds of security risks. One best practice is to adhere to the best security practices and guidelines prescribed by your cloud ERP solution provider.
Sensitive Data Migration
Migrating sensitive or mission-critical business data is a big concern for businesses and often proves to be a halting factor for ERP to cloud ERP migration. The modern cloud-native migration tools to mitigate these concerns offer robust access control and data encryption for both data in transition or at rest.
Because of these concerns over sensitive data transfer, ultimately fast-paced data migration doesn't take place. On the other hand, such migration requires frequent patching and more meticulous access control. Because of these bottlenecks, while turning to cloud ERP from traditional ERP, the company has to go through a lot of design work.
Migration Errors
Most companies are legitimately worried about the time required in data migration. The concern is perpetuated further by the industry finding that most data migration simply does not take effect as planned just because of various complexities while shifting from traditional ERP to cloud ERP systems. If you consider the past migration errors in the recent past, you will know why so many companies abstain from cloud switching simply because of data migration difficulties.
Simply as the enterprises fail deadlines for data migration, two major concerns just appear as challenges for CIOs. The first concern is about estimating the time required for the data migration and the second concern is about the number of unexpected issues a business can face while migrating data. Enterprises while carrying out data transfers should always plan for the worst and make sure that the existing business will not have any impact from the errors or delays.
Conclusion
According to most industry experts and ERP specialists who worked with numerous ERP implementation projects, the most crucial roadblock to preventing extensive adoption of cloud ERP is the old and shackled legacy ERP systems they continue to use. While it is important to create a systematic plan to shift their dependence on these legacy systems to a more comprehensive cloud ERP platform, many companies simply fail to come up with such a meticulous plan.
Read More: