Are you considering implementing NetSuite ERP? Do you want to know how to go live successfully? If yes, you must perhaps start with NetSuite Implementation Guide and conduct some study. 
NetSuite provides the greatest solutions available if you need assistance managing your company on a single platform. This cutting-edge ERP business system is a unified cloud company management suite that can be tailored for your sector and business, from marketing to bookkeeping. ERP deployments are notoriously difficult to execute well. 
According to statistics, 80% of clients are dissatisfied with their implementation, resulting in 60% of ERP installations failing outright. Further, 57% of implementations take longer than anticipated, and 54% go over budget.
If you think you need assistance with Net Suite implementation, you have found the best NetSuite implementation guide.
What is NetSuite Implementation all about?
Planning well is one of the key elements of a successful NetSuite ERP setup process. Your team won't have to worry about worrying statistics if you know what will happen and how to compensate for it.
In this sense, a NetSuite implementation best practices are comparable to writing an essay. You'll need less time to write and edit if you spend more time planning and researching. Just picture how challenging it would be to compose a 10-page essay without any prior planning. There'd be a lot of beginning and stopping and in-the-moment editing. You'll soon discover that modifying a NetSuite implementation is far more complex than just pressing the delete key on a keyboard!
But you're already headed in the right direction because this book will go through great depth into all you need to know to prepare for the implementation, plus much more.
NetSuite Implementation Process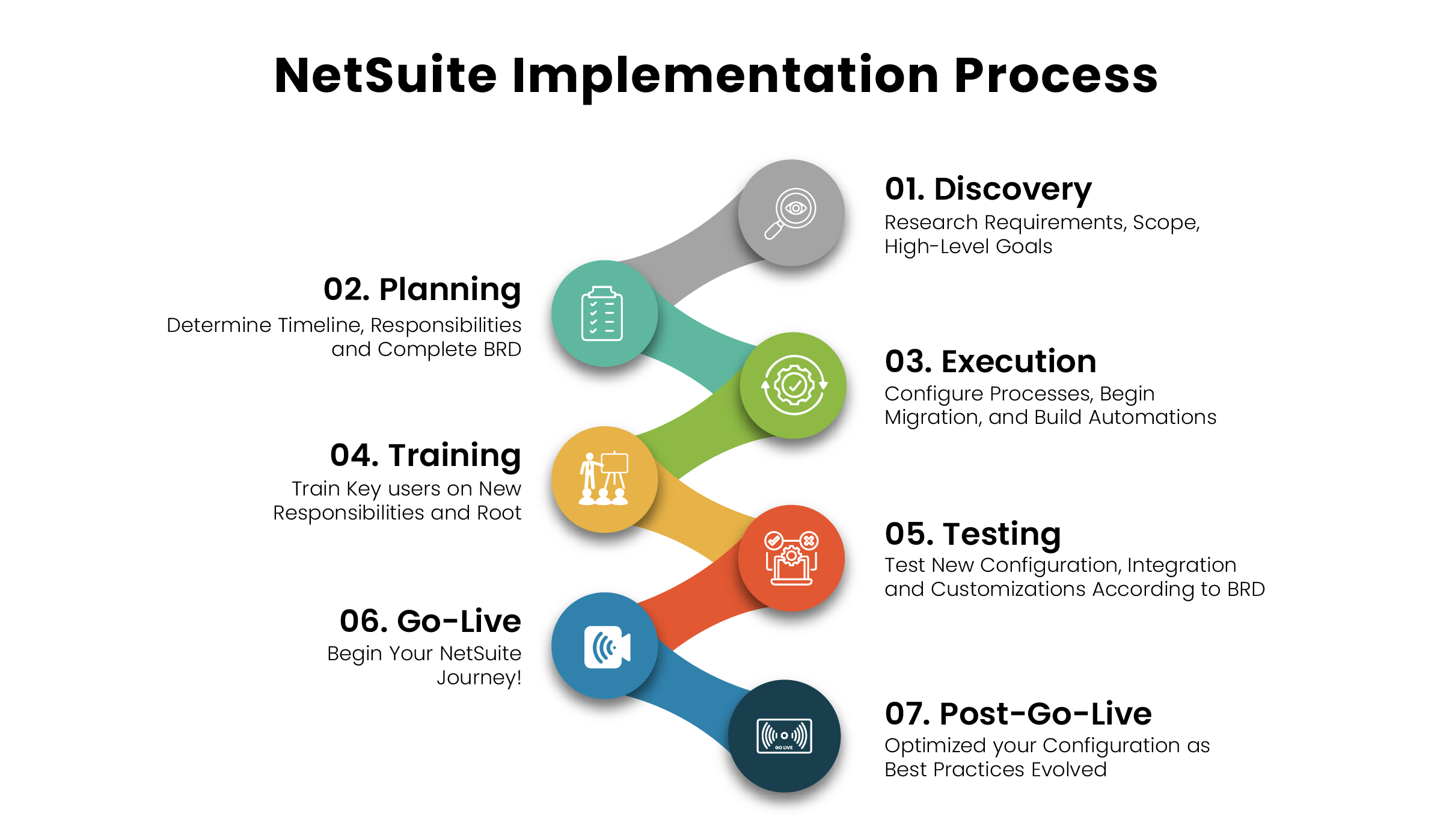 Different NetSuite partners frequently have their own specific methods for implementing the software. All techniques have a few fundamental components, such as planning, execution, testing, and go-live. There is no "optimal" approach to applying a strategy, though.
Here, we bring you the five steps of our NetSuite implementation procedure are as follows:
1. Discovery
The discovery phase is the most vital part of project research. All crucial queries are raised and addressed in this phase, including identifying high-level objectives, project scope, potential integration systems, and migration systems, doing a gap analysis of NetSuite, and discussing customization possibilities. In this phase, the internal team must fill in a business process questionnaire (BPQ) and discuss the requirements and business processes. A detailed BPQ questionnaire is essential to a fruitful discovery process and expert advice. We now have more than 80 questions on our survey. To ensure a seamless transfer, the internal staff should try its utmost to give precise information.
2. Planning
Timelines, important resources, and roles for the internal and external teams are all established throughout the planning phase. Important team members and their roles are assigned roles starting from the project manager, executive sponsor, subject matter experts, developers, analysts, and others. Apart from it, the project schedule is set up, including weekly or monthly status meetings and significant milestones. Also, the Business Requirements Document (BRD) is produced, reviewed, and approved by key stakeholders.
3. Execution
You may now begin using the NetSuite software directly:
Configure key NetSuite processes like "procure-to-pay" and "order-to-cash" and other business-specific procedures described in the planning phase.
Migrate data from the prior system, if necessary.
Establish the chart of accounts and account balances;
Set up NetSuite preferences for accounting, shipping, cost, and security;
Set up NetSuite module preferences following the specifications provided in earlier stages.
Create automation, integrations, processes, and modifications by specifications;
Establish roles and permissions; do more based on certain specifications
4. Training
According to our research, the effectiveness of the implementation after the external resources have departed depends significantly on this sometimes overlooked stage. How can it be anticipated that users will utilize the software once the specialists have left if they have not received the required training? They just cannot. With the right training, users may start using NetSuite immediately and identify its functionality issues sooner.
Training may come from various sources, such as NetSuite courses; exclusive training from NetSuite partners. You can also sign up for workshops created especially for users by the implementation partner; and online tutorials and guidelines. The training procedure should begin as soon as possible after the execution phase, well before the test phase. Users will have more time to become accustomed to the platform before they are required to certify that the implementation complies with standards.
5. Testing
Another step that is sometimes ignored in the NetSuite setup process is testing. To ensure that the outcome adheres to the mutually agreed-upon business criteria established throughout the BRD, rigorous testing is necessary. Depending on the requirements of the business, testing may involve several stages.
Use-Case Testing: Development and outside teams verify that all procedures and modifications put up during the process execution phase are operating in accordance with the standards outlined in the BRD.
User Acceptance Testing: It involves putting the procedures and modifications established during the execution phase to the test. We advise starting training before the testing process because of this. If users don't understand how NetSuite functions, how can they check the implementation team's work?
6. Go-Live 
The Go-Live phase entails the actual launch of the system, transitioning from existing workflows to the new NetSuite environment. This phase demands meticulous planning and coordination to ensure a smooth shift.  
Key components of this stage include data migration, system integration, and user training. Once Go-Live is initiated, the organization starts using NetSuite for its daily operations. It is critical to monitor system performance, troubleshoot issues, and provide immediate support to users during this crucial transition period. 
7. Post-Go-Live  
The Post-Go-Live phase is a continuous journey of refinement and enhancement. After the NetSuite implementation is live, the focus shifts to optimizing the system's configuration. This involves fine-tuning settings, processes, and workflows to align with evolving business needs. It's essential to collect user feedback and track performance metrics, allowing for iterative improvements.  
Best practices and industry standards serve as guiding principles for enhancements. The organization's commitment to ongoing training, maintenance, and adaptation is key to realizing the full potential of NetSuite and ensuring that it remains a valuable asset in the long term. 
After testing, cross your fingers and "turn the switch" to go live. As you start using NetSuite for actual company needs, you'll find out if all your preparation and hard work were worthwhile. Further, you must be ready to support the follow-up launch. Retain those external resources close at hand in case issues you may have overlooked during testing and go live do not immediately arise.
Additionally, optimizing ROI with the ecosystem is a continuous process that will call for adjustments and updates in the years to come. It is usually a good idea to stick with your implementation partner if they've helped you thus far because they will be the most knowledgeable about your environment regarding future updates.
What may go wrong, and how can NetSuite installs go awry?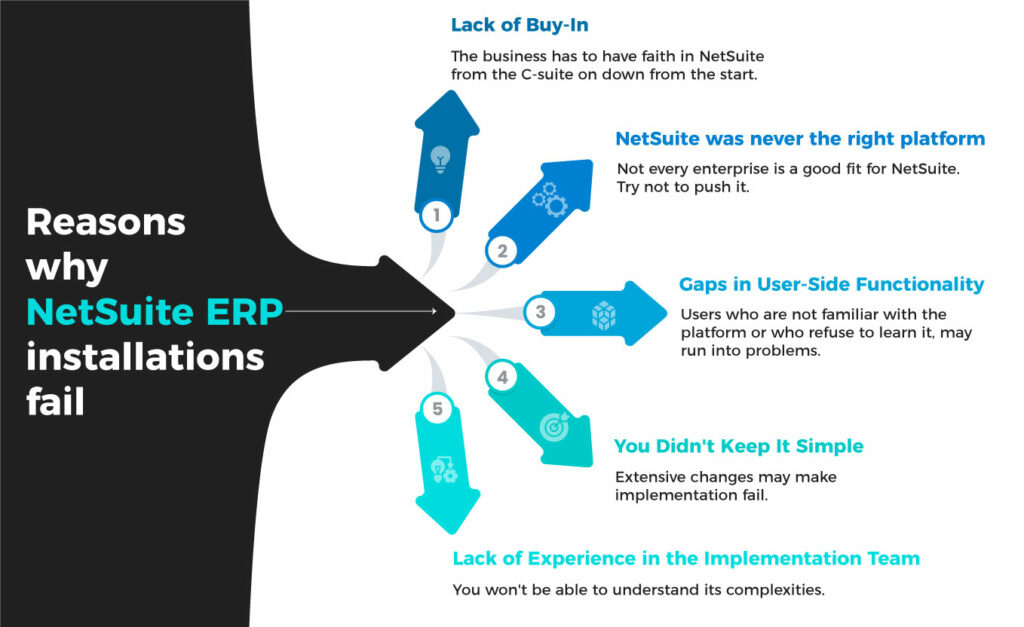 According to NetSuite implementation partners, there are several reasons why NetSuite ERP installations fail. Let us have a look:
1. Lack of Buy-In
It will be difficult to get the resources and training the platform needs to operate at its best if the C-suite isn't fully on board and/or they can't gain purchases from their key players. And if problems arise during implementation, they could be more likely to pull the plug than to make room in the budget for the resources needed to restore order.
Not only do you want the C-suites to approve this initiative, but you also want them to be the project's biggest supporters. They must be convinced that NetSuite is worthwhile and must maintain internal team morale to successfully complete the implementation.
Getting the user's buy-in can also make a difference. After all, they would be performing their daily chores utilizing this system. If customers are not impressed, they could be slow to act at any point in the process, making things more challenging throughout training, testing, and after go-live.
2. NetSuite was never the right platform
Although it has been there from the beginning of cloud computing and is a leader in the sector, NetSuite has always been the subject of a lot of hype. You don't want to fall into that hype, though. Verify if NetSuite includes most of the functionality and modules you require in its built-in capabilities. If not, you may need to overcompensate with tweaks, which might lead you in the wrong direction. NetSuite is of great help for industries including:
Software
Manufacturing
Wholesale
Retail and Ecommerce
Apparel
Advertising, Media, and Publishing
Professional Services
3. Gaps in User-Side Functionality
This relates to our earlier point about a lack of buy-in. In the later stages of installation and go-live, difficulties may arise if users are unfamiliar with the platform or refuse to learn it. A significant portion of ensuring the installation team has performed their work effectively is to conduct user-acceptance testing. In addition, if consumers are uninterested or inadequately trained, they cannot hold the team responsible for delivering their objectives. These issues will persist after go-live since all the experts will have left, and you will be left with a group of users who can no longer do their duties.
4. You Didn't Keep It Simple
You don't want the first NetSuite system deployment to be overly complicated. Extensive modifications can make the implementation so tricky that it fails and ruin the first-time user's experience by making the system slower and buggier. Always remember that only use NetSuite platform customization as the last option. Before engaging developers to complete specific work, use modules, and other made-for-NetSuite additions. Instead of modifying NetSuite to meet internal procedures, if at all feasible, adapt your internal processes to match NetSuite.
5. Lack of Experience in the Implementation Team
It takes time to become acclimated to NetSuite, like most Enterprise Resource Planning (ERP) Systems. You won't be able to comprehend its subtleties in a few days. The team should include a few members who have successfully used the system in the past. Due to a lack of NetSuite expertise on the team, you might have heard horror stories of large firms with budgets in the hundreds of millions unable to adopt.
How much time does it take to complete the process of NetSuite Implementation?
Each instance is unique depending on the needs of the business undergoing the installation. However, you should prepare to measure the duration in weeks rather than days, with a typical NetSuite deployment taking 12 to 32 weeks under the expertise of top NetSuite implementation partners. 
There are three different types of NetSuite setups as per NetSuite implementation partners:
Simple - The implementation is operational right out of the box; the client is a single entity, and no further modules or customizations are necessary for 10 or fewer users.
Standard - Implementation is for one or more entities with few functional gaps and further modules required. The company only speaks and utilizes one language and can be used by 10 to 100 people.
Complex - Numerous entities with different locations, funds, and languages are involved in the implementation. There are several integrations and functional gaps, with more than 100 users.
How much does NetSuite Implementation cost?
Determining the average cost of NetSuite implementation can be pretty complex. The complexity of your business processes will significantly influence the cost of your NetSuite ERP setup. Without knowing specifics, it's hard to estimate because every firm is unique.
If we were to give you an estimate, a typical NetSuite deployment might cost anywhere between $25,000 and $100,000, and potentially more, based on the scale of your company and the complexity involved.
Let us have a look at the factors which determine the NetSuite implementation cost:
Depending on how complicated the data translation is, you could require some help from professional services or a specialized ETL tool. For a straightforward transfer, a smaller company might anticipate paying between $1,000 and $2,500. You should budget at least $10,000 for data migration for a business with sophisticated demands.
The hourly rate for NetSuite development is between $140 and $200. Depending on how many feature holes you need to fill, you may look at development costs ranging from $10,000 to $60,000.
The majority of NetSuite ERP solutions include some kind of integration. When integrated with a premier eCommerce, CRM, or 3PL, the top ERP in the world performs significantly better. You may discover more about your possibilities by exploring the many integration technologies compatible with NetSuite.
Depending on your requirements, you could be interested in a basic connection (costing approximately $3,600 per year) or a full platform (costing between $12,000 and $48,000 annually). The expenses of establishing the integration solution, ranging from $1,000 to $12,000, should also be considered.
As we've already discussed, training is crucial to the success of your platform installation and your total return on investment. All of NetSuite's training costs are disclosed on their website. Additionally, they are happy to make you a bargain and bundle training with the purchase of the software. We advise enrolling at least one internal team member in the NetSuite Essentials course and continuing to spend money on training each year you use the platform.
What are your Alternatives for NetSuite Implementation?
When it pertains to Oracle NetSuite implementation, there are three possibilities:
1. Self-Implementations:
Not typically advised unless you have many skilled NetSuite resources on staff, such as developers and functional specialists. You should anticipate that the implementation team will spend most of the day working on it. Therefore, prepare for burnout if you still want staff to do their regular responsibilities and maintain the implementation on track.
2. Direct Implementation:
With NetSuite's assistance, you can easily complete the implementation. Since they are the ones who made the goods, the experience won't be a problem. Going this method is often not advised, though. The reputation of NetSuite's implementation service is not excellent.
3. Partner Deployment:
The best-advised course of action is to have a NetSuite partner or group of knowledgeable NetSuite contractors manage your implementation. Most partners are smaller businesses that can offer top-notch customer care with a personal touch and rapid response times. You may pick the partner who best suits your demands and has experience in your field.
How can you choose a trusted ERP Implementation Partner?
The following is a list of things to think about while choosing a NetSuite implementation partner:
When you have whittled down your list of possibilities, ask around. The unofficial NetSuite community on Reddit is welcoming and open to direct communication if you don't already have any connections that can assist you.
You will be spending weeks or perhaps months working closely with these individuals. Make sure they are individuals you and your team want to interact with regularly by giving culture fit some attention.
The ideal partner is close to your company, albeit this aspect is less significant than the others. Some tasks are better completed in person; one of those things is a NetSuite ERP deployment, particularly the discovery and planning phases.
As we've already mentioned, experience counts. You cannot purchase experience with NetSuite specifically. It takes time to gain knowledge, and maintaining up with NetSuite improvements requires a significant commitment. Ideally, you want a partner with some background in deploying NetSuite within your particular sector.
Smaller businesses are preferable for managing your NetSuite deployment. You don't want to feel like a number or have to wait on hold for customer support during this process. Make sure your partner can provide you with direct email addresses and the names of dependable team members you may contact at any time during the working day.
Tips to Run a Smooth NetSuite Implementation
Before moving forward with a NetSuite implementation process, there are many factors to consider, but you should not have to do it alone. We can assist you in doing the same because we have successfully deployed hundreds of NetSuite ERPs.
Here are three factors to think about to ensure a seamless NetSuite deployment:
1. Choose an implementation plan that works for your company
Depending on your organization's long-term objectives and available resources, you'll need to choose your NetSuite installation plan. This may be modified to meet your specific requirements. With the "big bang" approach, your old system will be replaced entirely by an ERP in a single step. Introducing your ERP modules in a predetermined order is known as a "phased" strategy.
In any case, we can help you with our tried-and-true NetSuite deployment process:
Structure: Identify the criteria required to provide the implementation structure.
Analyze: Specify how ERP will be constructed to satisfy the criteria.
Build: Execute sequences to confirm that they support each company division.
Confirm: Conduct a thorough verification of the system, data, and personnel preparedness.
Implement: Set up the new ERP system and migrate end users.
2. Pick a knowledgeable implementation team
To maximize the return on your investment from your NetSuite setup should be your major objective. They can occasionally take months or even years to finish. A strong team can help reduce the time and money on your project since they have expertise and experience particular to your business.
Before selecting a team, you need to check the following boxes:
Do they have credentials and reputable references?
What are their plans for training and assistance following implementation?
Are they able to offer customization?
How many NetSuite rollouts have they finished?
Can they give you a clear list of the people handling coordination and resources for your project?
Will they give a written explanation of their assigned obligations or sign one?
Understand Each Expense In Detail
Costs might prevent you from pushing forward with a project. Therefore, it's critical to carefully consider them. Because NetSuite is a cloud-based system, you may start off with fewer users to keep costs in check. Anytime you need to, you may update your subscription.
Your NetSuite implementation cost will depend on a variety of factors, including:
User Licenses
Project Duration
Basic Edition Costs
Project Scope
Additional NetSuite implementation services costs
Knowing all the prices will enable you to make the best choice for your business. Processes may go smoothly from beginning to end without becoming bogged down by a lack of financial clarity.
Wrapping Up!
A successful NetSuite rollout requires careful planning and execution, from securing executive support and validating needs to appropriately setting the system and evaluating its performance. Because of this, it's crucial to have a firm project strategy for implementing NetSuite and an explicit knowledge of your business, users, and goals. However, the effectiveness of the system's utilization by your staff with assistance from NetSuite implementation partners in India will ultimately determine its success. Further, when it comes to onboarding and training workers, having the right digital adoption platform might be the difference between success and failure. Since a new ERP system like NetSuite gets adopted more quickly, its ROI potential is also achieved more quickly.