Businesses are seeing the value of an ERP system that runs in the cloud and are under pressure to upgrade. Companies realize that their outdated practices do not meet the criteria of the modern business environment. So, they are taking initiative to create a solid basis for future business expansion and success. NetSuite vs SAP Business One comparison is an attempt to highlight the similarities and the different features offered by these advanced business software applications.
For organizations to provide clarity, visibility, flexibility, and the agility necessary for growth, the whole IT system must be modernized. This article discusses some important aspects and functionality of NetSuite and SAP Business One. Hosted cloud solutions struggle to satisfy organizations' demands now or in the twenty-first century. SAP Business One is a traditional legacy program that has been cloud-engineered. Its software is browser-based, uses a hosted single-tenant solution, and is constrained by a convoluted IT setup that frequently disrupts corporate operations.
A coherent data model is enabled by modern SaaS systems, enhancing decision-making. According to Gartner, "Cloud is the single one technology influencing IT today". More than half of all worldwide organizations presently utilizing cloud services will switch to an all-cloud approach by the beginning of 2022.
Businesses that adopt a cloud-first strategy have greatly benefited from the application's architecture rather than its individual components. In order to enable quicker deployment processes, simplicity of use, and decreased risk in the cloud, organizations have decreased expenses and boosted speed, reliability, adaptability, and total cost of ownership. Companies can respond to changes in the market thanks to cloud-based ERP solutions.
But what is a better option: NetSuite or SAP?
ERP software like SAP and NetSuite is intended to automate corporate procedures like inventory control, accounting, and customer relationship management. Although there are some obvious variations that prospective customers should be aware of, they are comparable in many aspects.
In terms of technology, SAP has some trying to catch up to. Although both SAP and NetSuite now provide cloud-based ERP software, SAP's cloud services abilities have been available for around nine years, while NetSuite has been a market leader in cloud ERP for over 20 years.
Let us understand if is SAP better than NetSuite on a deeper note:
It was created in 1998 and has been a cloud-based application ever since. It contains features for financial management, inventory management, HR management, ERP, CRM, PSA, and eCommerce. NetSuite offers seamless, rapid mobile access with easy integration with current software. It allows advanced customization and offers instantaneous analytics along with rapid and simple mobile access. Not just that, NetSuite also offers simple integration and a variety of add-ons. Due to its wide range of benefits, it is ideal for any size business, whether it is a large international organization or a small local business.
In 2012, the company began to provide a cloud-based version of its software. Initially, it was developed as an in-house option. However, the easy-to-use user interface made SAP quite popular. Is NetSuite good for small businesses? Yes, it allows access to mobile devices, but it is not directly through SAP, therefore it may be intermittent. Further, SAP has the capacity to integrate and offers instantaneous analytics, but with certain restrictions.
There are different types of SAP:
SAP Business One: The first SAP software, SAP Business One was designed especially for small business owners. Initially solely available as an on-premise solution, SAP now offers cloud deployment. It is advised for consumers between 5 and 100.
SAP Business By Design: This is the mid-market ERP software package from SAP, and cloud deployment is the sole option available. For businesses needing 20–1,000 users, SAP Business by Design is the best option.
SAP S/4HANA: The most sophisticated piece of software in the group, SAP S/4HANA is an enterprise solution that offers superior analytics, AI, and machine learning capabilities to its competitors. Businesses can improve every area of manufacturing, income, and even sustainability initiatives because of their automation capabilities.
Oracle NetSuite vs SAP Business One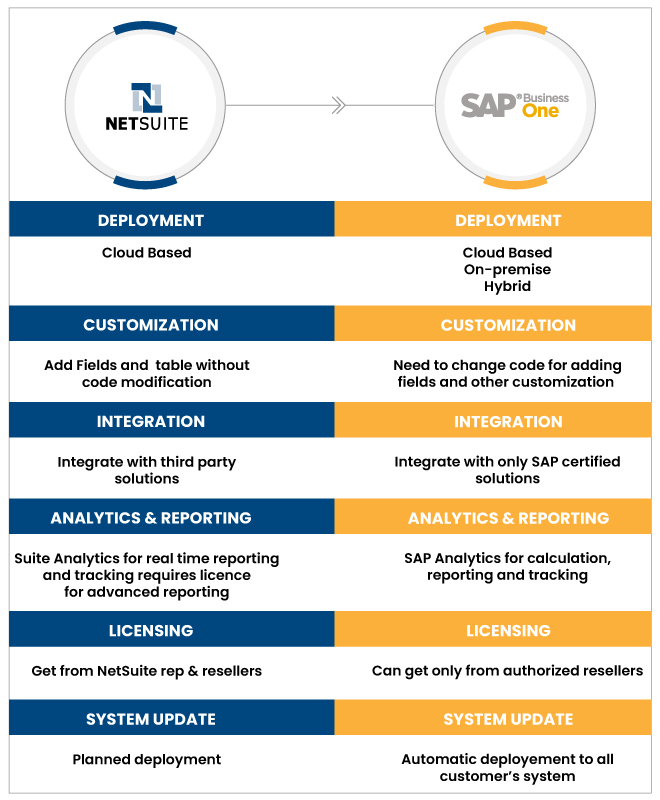 Here are the major points of distinction between NetSuite and SAP:
On the basis of Deployment:
The way that NetSuite and SAP are deployed differs significantly. At first, SAP Business One could only be deployed locally. In order to give clients more flexibility and innovation for their corporate software needs, SAP Business One was published in the cloud in 2012.
Contrarily, NetSuite has always been an ERP system that runs on the cloud. Being essentially the first cloud software firm, NetSuite has implemented and maintained cloud software solutions for over 18,000 clients since 1998, solidifying its position as the industry leader in cloud ERP.
Bottom line: Since its history as a cloud software solution, NetSuite tends to be simpler to adopt because partners have the requisite expertise to establish an efficient yet thorough implementation process. However, NetSuite often has a quicker time to go live. Of course, the overall implementation date for any ERP software relies on the modifications required by your company.
On the basis of Integration
Any ERP system must have an easy way to integrate with third-party applications and providers. From pre-built APIs like SuiteTalk to unique integration features made possible by RESTlets, NetSuite offers a wide range of add-ons and integration choices. Among others, NetSuite offers connectors for Salesforce, Shopify, HubSpot, and Celigo.
On the other hand, because they demand specialized development labor, NetSuite integrations may get expensive. To address everything from billing automation to data integration with PowerBI, the development team at SCS Cloud has developed a full portfolio of pre-built NetSuite solutions. Since they have already been written, integrating them with your NetSuite system is quick and simple.
SAP Business One offers various add-ons and access to its database, but its services fall short of those provided by NetSuite. For SQL-based connections, it does offer access to data and user interface APIs. Shopify, Magento, UPS, MailChimp, and Salesforce are just a few of the pre-configured interface options available for SAP Business One.
Bottom line: NetSuite can be your best option if your company needs modifications or several integrations with specialized software that isn't on the list of standard integrations. There is no assurance that SAP Business One will have the required integration capabilities even if you chose SAP. Although SAP S/4HANA offers more sophisticated integration capability than NetSuite or SAP BusinessOne, it may end up being significantly more expensive.
On the basis of Customization
Compared to SAP Business One, NetSuite has a lot more built-in customization features. NetSuite may be customized to your precise function by changing the home dashboard, reports, saved searches, and many other things. With the aid of a skilled NetSuite partner in Australia, the code may be modified if you want greater customization than what NetSuite permits.
On the other hand, SAP Business One can also modify the code. However, the options are more constrained. Additionally, each user who wants the capacity to produce specific custom reports must purchase SAP Crystal Reports. Software upgrades for SAP Business One can have a detrimental impact on any modifications and integrations done beforehand.
Bottom line: The software and primary dashboard may be customized for both NetSuite and SAP Business One. Some claim that the SAP dashboard is a little more user-friendly than the NetSuite home dashboard, but both let users customize it and make sure that just the information that matters to them is shown. According to user reports, it appears that SAP Business One modifications increase the risk of problems, such as problems with upcoming software updates or disruptions to current workflow operations
On the basis of Software Features:
NetSuite offers a wide range of functions, such as eCommerce, ERP, PSA, and HR administration. Some of the prime features include Lead management, data analytics, payroll, employee centers, eCommerce order, inventory control, project management, and procurement.
Although SAP Business One contains many of the same functions as those listed above, some essential functionalities are not included and need the purchase of extra licenses. For instance, SAP SuccessFactors and SAP Commerce Cloud are required for integration with online stores.
Bottom line: NetSuite is undoubtedly the superior choice if your company needs sophisticated modifications and add-ons to interact with various applications, providers, or customer data. If you need functionalities like eCommerce and HR Management, SAP Business One might become significantly more expensive. Additionally, as these capabilities are already included in NetSuite, no extra work is required to connect them effectively with their associated data.
NetSuite updates are carried out automatically; thus users have no control over when their software is updated. If a new update breaks particular integrations or customizations, this could be irritating. On the other hand, SAP Business One customers may schedule software upgrades so they can be sure they don't fall during peak times or business hours and have enough time to prepare. Customizations made to SAP BusinessOne are likely to be affected by updates. Thus users will require the help of developers to restore the program to its pre-update form.
Bottom line: When it comes to software upgrades, SAP Business One gives more freedom. Users of NetSuite have little control over when automated upgrades take place.
On the basis of Reporting Capabilities:
NetSuite offers comprehensive customization options and drill-down reports right out of the box. Business owners may make data-informed decisions thanks to its real-time reporting. Additionally, users may create pertinent dashboards and presentations using custom reports and data analytics as needed.
Compared to NetSuite, SAP Business One has additional restrictions despite having very extensive reporting features. SAP Business One needs the SAP Crystal Reports add-on, which adds $495 per user, to get sophisticated customizations, including specific custom reports and dashboards.
Bottom line: The best option here will ultimately rely on your particular reporting requirements. Compared to NetSuite, SAP Business One has additional restrictions, and certain adjustments need the licensing of an add-on.
NetSuite vs SAP Business By Design
SAP Business ByDesign doesn't come as completely loaded as NetSuite, similar to SAP Business One. If you want HR administration or eCommerce capability, NetSuite is the better option. To fully utilize all of NetSuite's functionality with SAP Business By Design, you would need to buy extra licenses for SuccessFactors and SAP Commerce Cloud. As SAP ByD is designed to be an entirely out-of-the-box solution, some customers claim that it is simpler to set up than NetSuite. In the event that your configuration doesn't require modifications, integrations, or add-ons, this makes installation quick and effective.
One major advantage of NetSuite is its scalability. Whether you have a small local firm with five employees or a large global organization with thousands of employees, NetSuite will easily expand with your business. For SAP to be as effective for your business as NetSuite presently is, extra labor, license fees, and add-ons could be necessary.
NetSuite vs SAP S/4HANA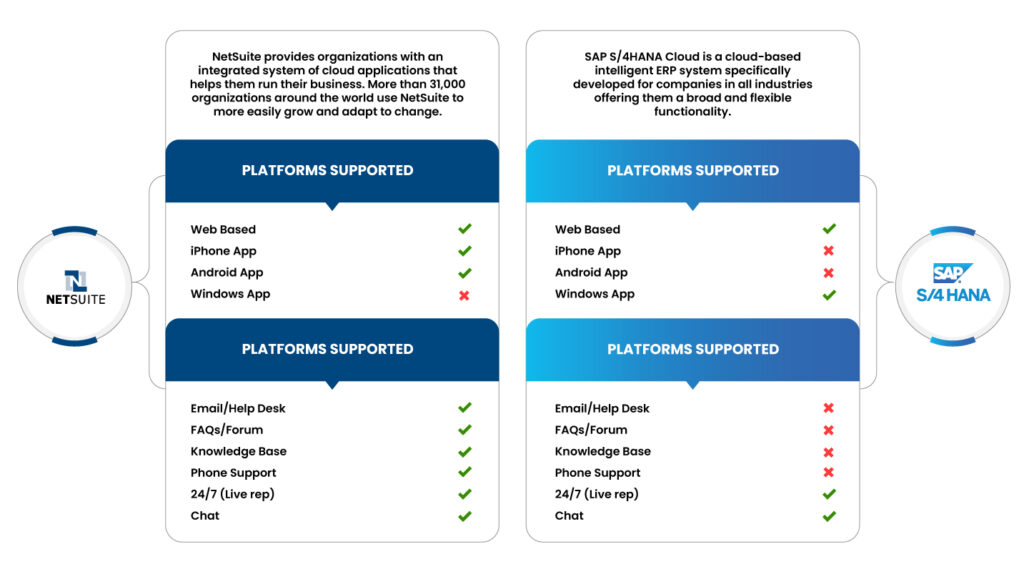 Enterprise resource planning (ERP) system SAP S/4HANA was developed to offer superior data processing, AI, analytics, and business improvements than any other SAP product. SAP S/4HANA is a powerhouse that can handle all of the software requirements for major businesses. It is one of SAP's biggest developments in recent years and is now their most costly software. It may be set up on-premises, in the cloud, or as a combination of the two.
According to SAP, the software was created to "assist businesses in adopting new business models" and use predictive AI to boost profits. Additionally, it enhances the functionality of earlier SAP software and offers what may be the most user-friendly SAP ERP to date. While certain customers in specific sectors like SAP S/4HANA over NetSuite, depending on the needs of the organization, it may wind up costing significantly more than a NetSuite setup.
Why is NetSuite better than SAP?
1. NetSuite clients may easily alter, adjust, and personalize the software to match their unique company needs
Without the need to understand complex code, NetSuite maintains a point-and-click, dynamic architecture of interfaces, roles, and reports. SAP Business One uses a detached MS Visual Studio tool and services support for even the smallest adjustments.
2. The best genuine cloud is NetSuite
In terms of implementations, NetSuite is the market leader. More than 29,000 users of NetSuite are utilizing the same multi-tenant cloud version. Its market share in the cloud ERP industry is ten times more than that of the next biggest rival, and according to IDC Marketscape, it leads the world in SaaS and cloud-enabled midmarket ERP software. A tiny number of SAP's ERP clients are using its cloud versions, and the company is gradually moving its development to hosted clouds.
3. NetSuite offers real-time, drill-down, personalized reporting
As NetSuite uses a single database to store all corporate data, users may create custom reports and delve into the system's many intricate levels. For bespoke reporting, SAP requires an additional SW package (SAP Crystal Reports). However, it does not provide drill-down reporting capabilities.
4. Fixed-price setups are available from NetSuite
Each and every SAP transaction has a unique build, which also affects how much it costs. Implementations frequently go over budget and are poorly anticipated, causing customers to run out of storage capacity and realize they need to upgrade after only a few months of use.
5. The user interface of the NetSuite system remains constant throughout
SAP strives towards a unified user interface; however, this has not yet been regularly utilized. At every stage of the user interface growth, SAP must employ other products in order to maintain the same degree of functional capabilities that NetSuite provides.
Wrapping Up!
There is no one-size-fits-all recommendation for whether an ERP system, NetSuite vs SAP, is ideal for your company; it all relies on your unique requirements. The answer varies based on a number of factors, including the required integrations, add-ons, modifications, deployment type, and even the partner you select for your implementation.
For SMB and MME-sized businesses, NetSuite is in the driver's seat, dominating the cloud-ERP space and steadily increasing its market share. In order to be a genuine competitor in the industry, SAP had to make large acquisitions. It is because it was never fully dedicated to cloud ERP for the mid-market. On the other hand, NetSuite was created in the cloud from the beginning. It will be difficult to find an alternative to NetSuite that is superior to it in terms of platform depth, flexibility, ecosystem, and cost if you're seeking a "real" cloud-based ERP solution.
VNMT can assist if you're still trying to decide between SAP and NetSuite. Set up a free consultation with the best NetSuite consultant in Australia to learn more about NetSuite's functionality and what it can accomplish for your company.