These days customers of all retail brands move seamlessly across multiple channels. They move from in-store shopping to online storefront opened on a laptop to mobile e-commerce app. When interacting with different store interfaces across the channels, consumers generally expect a consistent and useful shopping experience irrespective of the channel.
Despite this demand for consistency across channels, the vast majority of online transactions still happen in person and this is where the Point of Sale (POS) systems come as crucial components of the shopping experience. Among all the PoS systems, NetSuite PoS system offers a better solution to meet modern consumer demands. NetSuite as the world's leading cloud ERP and business automation platform also helps businesses to create tailored POS software systems that go well with the highly personalised omni-channel shopping experience of modern consumers.
If you are already using NetSuite for retail business or your restaurant chain, streamlining the PoS system with your ERP functions will be absolutely easy. We are going to explain the value propositions of Oracle NetSuite PoS but before that let us have a basic understanding of the PoS systems, how they work, the key features, benefits and cost.
What Exactly is a PoS System?
Point of Sale or PoS refers to the moment when a buyer makes payments for his purchases, whether goods and services. Now this process is made more secure and streamlined through a PoS system. The POS system basically comprises both hardware and software applications that work in a combined and well orchestrated manner to allow processing payments and transactions. These systems vary in features and capabilities and they are widely used by businesses of all types and sizes ranging from the next door store to the big departmental store to the restaurants chain or the grocery chains.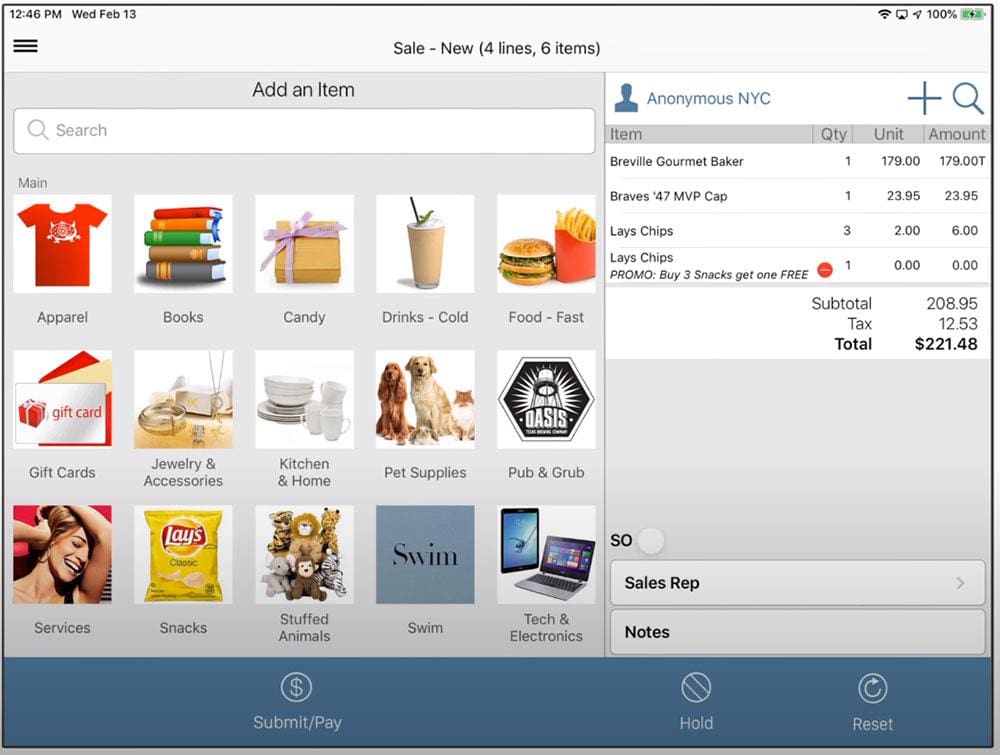 The hardware used by the PoS system comes with display terminals, printing machines for printing receipts and features to register digital signatures of customers. The PoS systems also come with a lot of value-added features and tools including barcode scanner, digital scales and printers. Now the smartphones and tablets are also being used as PoS hardware for facilitating transactions. In this respect it is important to remember that PoS systems are most effective when combined with business process automation or ERP solutions like NetSuite.
How Does the PoS System Work?
As soon as a customer decides to make a purchase, the barcode of the product is scanned by the PoS system and based on the preconceived rules for pricing, discount, taxes, fees and deposits, the payable amount is displayed.
Now the customer either by cash or through cards or through digital wallets make the payment. Upon receiving the payment, the PoS system is instructed by the person in charge to print the receipt for the transaction. When the same transaction is done online, the payment receipt is either sent by email or by instant messaging.
How Much Does the PoS System Cost?
On an average, a PoS system for a small business depending upon the features and functionalities costs from $50 to $100 per month, if the business needs just one register. In case of larger businesses and chain stores this cost will be multiplied by several times as per the additional features and number of registers required by the business.
In case of a large business setup with several registers, the primary cost of hardware and the first year of POS system operation can cost from $1200 and $6500 and the same cost in every subsequent year can vary from $600 to $1200.
Why is PoS Important?
PoS systems typically help businesses to make accurate and high-precision records of purchases of customers from a store. Though the same process can be carried out completely manually, this can lead to inefficiency, processing errors and fraudulent transactions.
On the other hand, these systems also help customers complete their transactions quickly. Since PoS systems also allow making contactless payments for purchases through digital wallets, the same can help in curbing the spread of contagion and infectious diseases to a great extent.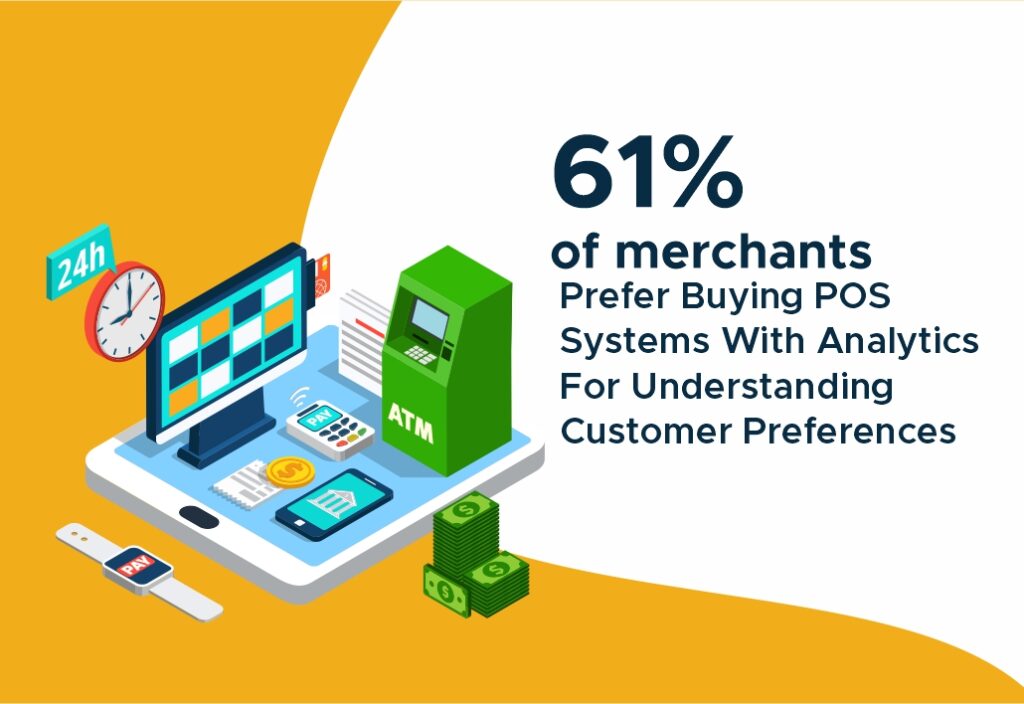 POS systems from a business perspective can deliver useful data regarding the buying Modi of customers, purchasing trends, popularity of various items and the preferred transaction methods. By utilising this data driven inputs businesses can embark on a better strategy to fulfil the customer demands and address the market trends.
PoS systems also help in reducing fraudulent transactions to a great extent. Since these systems on their own registers and track every sale transaction, they are highly capable of detecting any fraudulent or unauthorised transactions or discounts that are not approved by the company policy. All PoS systems are developed to adhere to the security compliance norms and regulations and ensure that the customer data remain uncompromised.
Lastly, thanks to PoS systems, calculating the taxes and fees as per the regulations becomes really easier. From discounts to taxes to various fees are calculated and processed in a streamlined manner and thus the burden of accounting work is reduced to a minimum level.
Key Features of PoS System
Obviously, the features and capabilities of different POS systems differ to a great extent. But on average, the below-mentioned features remain common across most of the leading PoS systems.
Inventory control: Since a POS system can track stock as products get sold, they play a highly effective role in improving inventory management. Through streamlined sales tracking they help the company management determine the most popular items and how frequently they need to reorder to keep stock level healthy.
Staff management: Since the POS systems also work as unrelenting time clocks it can easily track job hours. In sales counters where the staff are being paid commissions for sales, the PoS system helps tracking the sales figure to calculate commission or to evaluate the performance of employees.
Customer data management: Most well equipped PoS systems like NetSuite Point of Sale for retail can process, store and analyse customer data ranging from purchase histories, average monthly or yearly spending, loyalty program tiers and customer contact information. These data processing capabilities help businesses to segment customer audiences and make the marketing campaigns optimised for increasing lifetime value of customers.
Inbuilt payment processing: The vast majority of leading PoS systems come with an inbuilt payment-processing feature. As soon as the customers make payments by using the credit cards, the data in the card is consumed by the POS. This ensures fast and efficient payment processing almost in real time.
Safe financial transactions: The card reader of the PoS system is capable of encrypting the card data. Moreover, most PoS systems adhere to the compliance regulations pertaining to PCI DSS for safe transactions.
Sales reporting: As POS systems continuously track sales by different categories such as department, product, etc, this helps create very well informed sales reports with a lot of data driven insights.
Order management: An order management system, or OMS, provides a single, centralised system for managing orders from all sales channels — store, web, call center, mobile and kiosk — and enables BOPIS. Because it handles all the functions involved in fulfilling a customer order, an OMS enables employees and customers to track orders and delivers reporting so sellers can track their own critical retail KPIs.
Key Benefits of PoS system
As we have already discussed, PoS systems have been widely incorporated into modern stores for their efficiency and fast paced transaction processing abilities. PoS systems are worldwide known for high-precision data processing and recording transactions for further analysis. POS systems through streamlined transactions improve customer satisfaction, save the time of employees, reduce faults and errors, simplify tax accounting and prevent frauds.
Apart from the above mentioned primary advantages, PoS systems always help retailers to function as truly omnichannel with the online and offline sales processed through a single system. Since customers always want or expect highly personalized or streamlined shopping experiences with consistent transactions across online and offline storefront, the integrated tracking and data management of PoS systems help in maintaining this consistency.
Moreover, PoS systems also provide a level playing field for businesses of all stature and sizes as far as payment processing and checkout experience are considered. Both brick-and-mortar local sellers as well as large chain stores can make use of the POS systems and can streamline the business process while enjoying optimum control on customer data.
Another important benefit offered by the modern PoS systems is the ability to gather more relevant customer data and make use of the same in a smarter way. By using a PoS system, retailers are now able to get relevant insights into the performance and operations of individual stores, the buying habits of customers, staff performance, the effective discount and promotional measures, inventory issues, supply chain disruptions and many others. These data driven insights help business managers make better decisions.
Which PoS System is Best for Restaurants?
Just as any POS system used by businesses across the industries, restaurants can also use on-site or cloud-based PoS systems. In its core principle, PoS systems for any business whether it is retail or restaurant chain, basically work for payment processing to deliver a satisfactory shopping experience. The transactions processed by the PoS systems include sales, returns and refunds, discount calculation, tax calculation, processing gift card and store credit, loyalty programme etc.
In the context of a modern restaurant, apart from the standard features pertaining to transactions, PoS systems help maintain the stock at a healthy level for smooth inventory control and streamlined sales operation. The PoS systems also help in preventing frauds and theft of the raw materials and ingredients. The same can also be used to assess employee performance and output to a great extent.
Though all leading PoS systems work great for restaurant businesses, a PoS system integrated with the restaurant ERP system can be more effective. With NetSuite ERP and PoS system, you can get advantage of complete business process automation for your restaurant business. NetSuite for restaurants can allow customising several business management modules and processes including the point of sale (PoS).
On-Premises POS vs. Cloud POS?
Point of Sale or POS systems are mainly of two types, such as on-premise PoS systems that are hosted on the server and business owned network and the cloud-based PoS which is accessible over the web. The choice will depend on the preferences of the business. But for making the right choice, consider the following differences.
On-Premises POS
On-premises POS system is hosted by the central data center of the company or the particular retail store. The store or the company manages the data storage, data security, maintenance of hardware and software either through inhouse staff or by hiring an IT vendor.
Because of hosting and maintaining in house, it needs dedicated IT staff or dedicated IT vendor to deal with the maintenance and upkeep responsibilities. It also needs to make consistent investments for dealing with emerging security flaws and risks from time to time.
For on-premise PoS the initial cost of setup is greater as the company needs to purchase server and hardware for networking. There are also significant costs for maintenance and upkeep of the system.
The biggest advantage of the on-premise PoS is that the company does not need to rely on the internet connection for upkeep and maintenance.
Cloud-based POS
Cloud-based POS systems are accessible over the web and it communicates with the POS hardware that is installed in the store. Cloud based PoS systems are generally bought by businesses against a service based subscription apart from an initial upfront fee.
Just because the company doesn't need to buy specialised hardware and pay regularly to a dedicated team for maintenance, both the initial and long term cost for such systems are lower.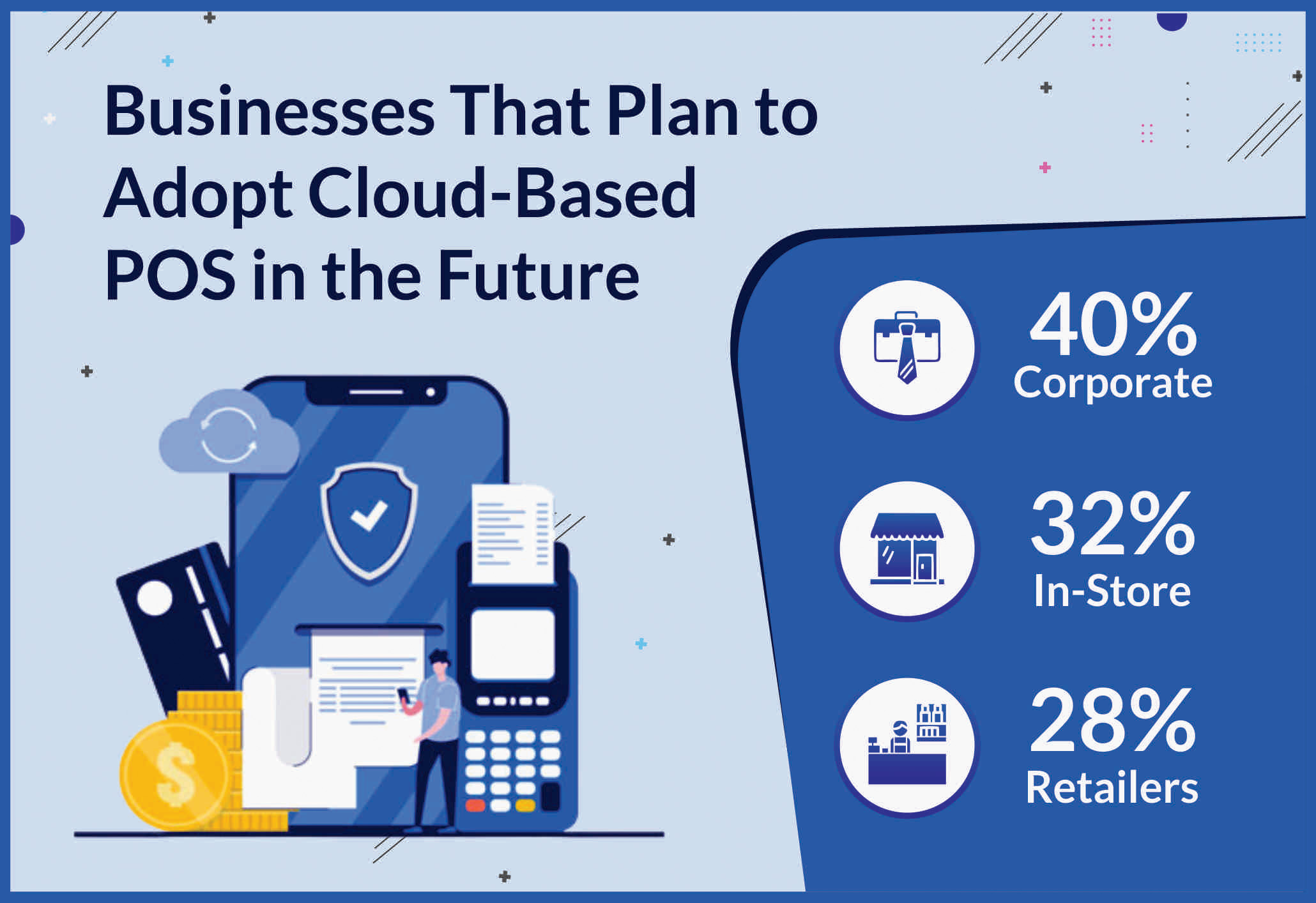 The best thing about cloud based PoS is that the updates are rolled out automatically and this ensures providing the latest PoS version for every store location. There is least worry for upkeep of the system as the vendors take care of it all.
The downside of this type of PoS system is that it needs to rely heavily on a reliable internet connection for smooth operation. Whenever the internet connection goes down, the PoS system may stop working.
Most of the leading cloud based PoS systems come equipped to adhere to the latest PCI DSS compliance standard to ensure fully secure data encryption.
What is NetSuite PoS and What it Offers?
NetSuite PoS integration ensures streamlining both physical and digital shopping through a single connected PoS system resulting in greatly satisfying shopping experience and more sales opportunities for the business brands. The NetSuite SuiteCommerce apart from allowing custom integration of PoS brings together all the business channels to deliver a simplified and engaging shopping experience.

NetSuite POS system comes with an array of features and functions that allows processing customer purchases efficiently besides streamlining the sales, inventory and customer relationships management. You can take the help of NetSuite implementation services for either integration of existing PoS or rebuilding a custom PoS solution as per your need.
NetSuite offers the industry leading business business process automation and ERP system and allows integrating your existing PoS system. You can use NetSuite SuiteCommerce to create your custom-configured PoS system as well.
Why Choose NetSuite POS?
Why choose NetSuite PoS for processing transactions and sales from the retail counters? Let us explain some of the key advantages of NetSuite PoS that retail businesses can find extremely helpful.
Smooth omnichannel transaction processing: NetSuite POS and its robust ecommerce platform by working together help you address the gaps among various business channels. This will result in seamless transactions across channels to deliver more business.
Improved shopping experience: NetSuite POS system by allowing streamlining and speeding up transactions ensure providing great customer service. Moreover, integrated with other NetSuite models the PoS system will help keep the data synced across inventory, supply chain and the store dashboard. This will result in more efficiency and faster stock replenishment.
NetSuite Mobile POS: NetSuite also allows the retail stores to make use of the mobile devices such as smartphones and tablets to use as PoS hardware and access all the transaction and customer data right on the mobile screen. This mobile PoS functionality ensures optimum efficiency and remote on-the-go tracking of all transactions.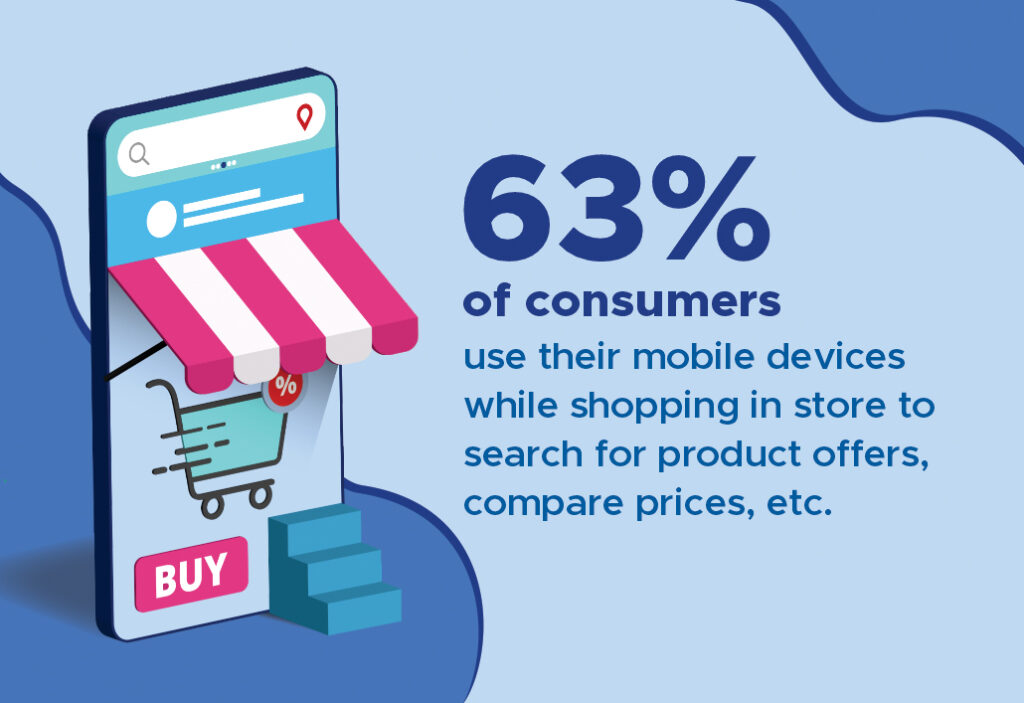 To enjoy the optimum opportunities of NetSuite PoS integration, it is advisable to talk to a leading NetSuite integration partner. You can take consultancy corresponding to the PoS features you need and ask for a NetSuite PoS demo. NetSuite as the leading ERP and business automation system has been around for some time. It is increasingly getting popular for its customisable modules for different business needs. NetSuite PoS is one such important module that retailers can benefit from.

Conclusion
A modern business simply cannot do without ERP systems. Similarly, any retailer or restaurant business needs a PoS system. NetSuite as the smartest and most well equipped ERP automation system brings you the advantages of both. With NetSuite PoS you can streamline the processing of transactions in a never before manner.