NetSuite as the most powerful and comprehensive ERP system helps to deal with all the challenges corresponding to all kinds of business processes. Particularly for manufacturing companies, NetSuite advanced manufacturing ERP system takes care of all the processes with a whole array of sophisticated software tools.
NetSuite can as well be regarded as the most perfect ERP system for the manufacturing industry. NetSuite manufacturing module as part of the NetSuite cloud-based ERP automation software offers a comprehensive solution for the manufacturing industry.
Let us provide here a small list of ERP tools offered by NetSuite. These features and modules clearly show why NetSuite is better for manufacturing businesses compared to all other ERP systems.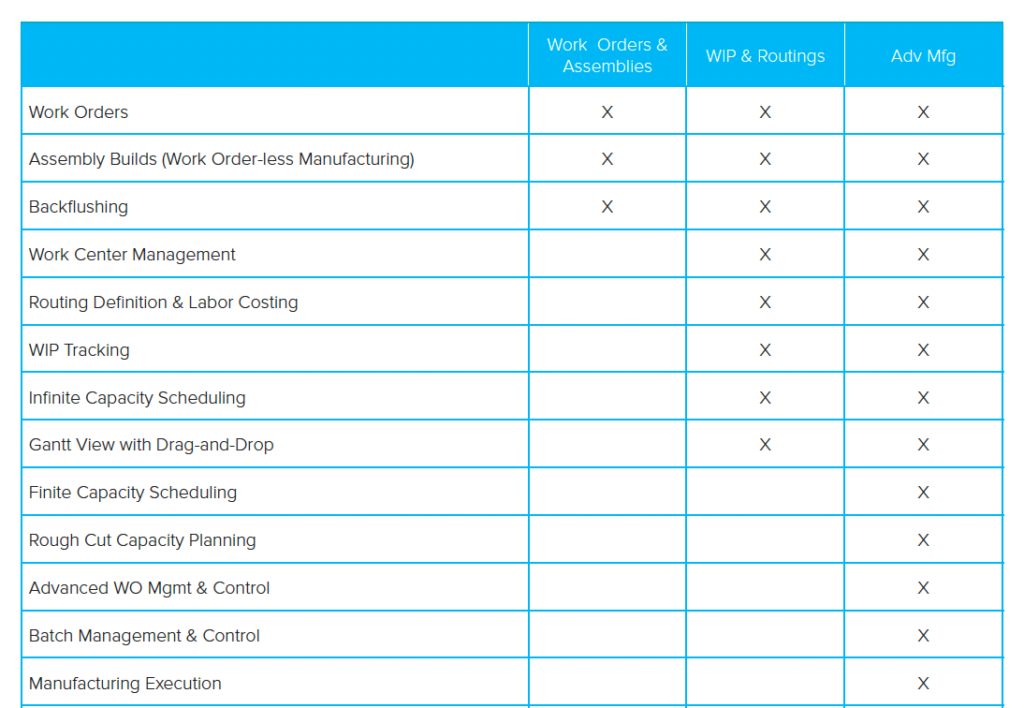 Each of the business software solutions in the market has its own set of pros and cons. This makes making a choice even more difficult. Choosing the business software depends upon several variable factors including your business process automation objective, the required modules, required scalability and customisation, etc.
Oracle NetSuite has remained the leading ERP automation software solution for small and medium enterprises. Now Microsoft Dynamics 365 is claiming the share of this market. There is widespread debate about which of these ERP software systems is better. This is why we are going to go deeper into Microsoft Dynamics 365 vs NetSuite comparison. 
NetSuite vs Microsoft Dynamics 365: An Overview  
First of all, before going deeper into the Microsoft Dynamics vs NetSuite comparison, we must remember that both are not just traditional ERP systems, but fully-fledged business software systems with several customisable and scalable modules including ERP, CRM, warehouse management, inventory management, supply chain management, finance and accounting and several others. 
CRM
NetSuite CRM offers powerful features and functionalities that take care of the entire customer lifecycle of a manufacturing business and ensure strengthening customer relationships to the optimum level. NetSuite CRM comes as the most well-equipped CRM to help product manufacturing brands take care of the sales and customer relationships in the most efficient manner.
Marketing
NetSuite ERP system also brings the manufacturing brands a robust set of marketing tools to help them cut their marketing budget while still achieving great exposure and market traction.
Commerce
Since today's manufacturers depend on sales channels such as B2B, B2C, etc, the core commerce capabilities of NetSuite come as helpful and effective. Oracle NetSuite for manufacturing provides commerce features that are designed and configured specifically to address particular growth requirements of businesses across sizes and niches.
Order Management
NetSuite ERP for manufacturers also comes equipped with a robust order management module to help fulfil customer demands quickly. With a smooth and seamless order fulfilment process, NetSuite plays an effective role in delighting customers and pushing sales growth.
Supply Chain Management
Irrespective of the location of the goods a business can ensure smooth supply where the manufacturing process needs and when it is needed. It is simply possible because of the sophisticated NetSuite supply chain module.
Financials
NetSuite also provides a robust and highly equipped financial management module to fulfil the accounting and financial management needs of organisations across all niches. NetSuite financial module comes equipped with a robust expense tracking tool, revenue management feature, streamlined accounting processes and robust data analytics.
Support
NetSuite cloud ERP for manufacturing companies also comes with a robust integrated customer service module with the ability to cover customer pain points across all touchpoints and interfaces. NetSuite's customer service and support module helps brands to provide great support in all business facets and interaction points.
Global
NetSuite offers OneWorld solutions, particularly to manufacturing companies operating across multiple regions. This global ERP solution catering to the complicated multinational, multi-channel and multi-brand needs of modern companies is perfect for manufacturers with a global presence.
NetSuite To Address Production Management Challenges
All companies lacking a system for managing the manufacturing processes, or the companies depending heavily on multiple legacy software systems, it is often tremendously challenging to set up and schedule production without difficulties. The process of setting up production for such companies is also tremendously time-consuming and prone to a variety of errors.
This is why, manufacturing companies can no longer rely on traditional spreadsheets and charts to have comprehensive visibility of the components, production raw materials, machines and equipment, and labour resources for production. This is where NetSuite with its ability to offer real-time dynamic visibility of data comes as the most helpful ERP system. NetSuite implementation services can further customise the system for more tailored access to data and visibility.
Some of the key challenges in the manufacturing processes dealt with efficiently by NetSuite include the following.
Unsatisfactory communication during production: In most manufacturing environments it is often seen that the lack of a single unified system of difficulties in respect of communication regarding the changes for a bill of materials (BOM). This often leads to production without following the specification. This results in increased cost of goods and production delays.
Unnecessary delay in production: Often the use of spreadsheets and charts is not enough to have a comprehensive understanding of the production requirements and the time and place of such requirements. Naturally, lack of synchronisation leads to production delays and course correction resulting in increased costing.
Lack of consistency in quality: Lack of real-time updates corresponding to the requirements and changes in the production processes can lead to variance in the processes and methods. Ultimately this can result in severe inconsistency in the production output.
Lack of efficient resource utilisation: Lack of coordination due to the use of old outdated spreadsheets and Gantt charts adds more complexity to the production processes. Having a clear understanding of when and where equipment, machines and labour are required and the time taken by each production cycle will ensure optimum utilisation of resources.
Comprehensive Control of the Production Process
NetSuite comes with robust and powerful production management capabilities allowing companies optimum visibility and control of the whole manufacturing process. The expert NetSuite implementation consultants with exposure to the manufacturing industry further can tweak the system as per your business needs.
This ultimately results in more informed and better decision making. Some of the key things facilitated by NetSuite manufacturing ERP include the following.
Having a clear understanding of the required raw materials and components and ensuring that they are made available at the right time and place.
Determining smooth assembly of various components and items and orchestrating all work orders without requiring much effort.
Taking stock of and compiling important shop floor data.
Ensuring custom configuration of works in progress (WIP) and routing of works across locations.
Enhancing the elementary business operations with improved time scheduling and execution.
Guarantees That The Manufacturing Process Is Streamlined
By providing access to real-time production information, NetSuite helps businesses to improve their abilities in carrying out manufacturing operations more smoothly and efficiently than ever before. The manufacturing solutions of NetSuite allow the business to enjoy real-time visibility of all the production stages so that they can make more informed and data-driven decisions. Ultimately this results in streamlining the business process with powerful automation.
Conclusion
Thanks to NetSuite ERP based automation businesses now can get their products out in the market faster and at a far lesser cost. NetSuite's cloud-based ERP system offers an all-encompassing set of tools that can be configured and tailored to specific manufacturing business environments.