In today's fast-paced business environment, selecting the right accounting software is crucial for the financial management and growth of any organization. With numerous options available, each catering to different business needs, it becomes essential to make an informed decision. Among the popular choices in the market, will compare NetSuite Cloud Accounting vs Zoho Books to see which one stands out as a powerful contender, each with its own unique features and capabilities.
Accounting software system plays a vital role in managing financial processes, streamlining operations, and generating accurate reports. It enables businesses to track income and expenses, handle payroll, manage invoices and payments, and generate financial statements. Choosing the wrong software can lead to inefficiencies, inaccuracies, and hindered growth potential.
So, buckle up and get ready for the ultimate clash of the Titans as we uncover the strengths and limitations of NetSuite and Zoho Books in accounting.
Let's get started!
What Is NetSuite Cloud Accounting?
NetSuite Cloud Accounting is a comprehensive cloud-based enterprise resource planning (ERP) solution with robust accounting functionalities. It is designed to streamline financial management processes, automate accounting tasks, and provide real-time visibility into financial data.
With NetSuite ERP for Accounting, businesses can efficiently manage their general ledger, accounts payable and receivable, cash management, financial reporting, and budgeting. It allows seamless integration with other modules, such as inventory management, order management, and customer relationship management (CRM), enabling a holistic view of business operations.
The software provides advanced features like multi-currency management, revenue recognition, expense tracking, and financial analytics. It also supports compliance with accounting standards and regulatory requirements.
Key Features of NetSuite Cloud Accounting
General Ledger Management
NetSuite Accounting Solutions offers robust general ledger functionality, allowing businesses to manage their financial transactions, chart of accounts, and journal entries. It provides real-time visibility into financial data, facilitating accurate and up-to-date financial reporting.
Accounts Payable and Receivable
NetSuite streamlines the accounts payable and receivable processes, enabling businesses to manage vendor invoices, payments, and customer billing efficiently. It automates payment reminders, tracks outstanding invoices, and provides comprehensive ageing reports.
Cash Management
NetSuite's cash management module helps businesses manage their cash flow and bank reconciliations effectively. It allows for tracking bank transactions, cash balances, and cash forecasting. The system also supports multiple currencies and offers automated bank reconciliation features.
Financial Reporting and Analytics
NetSuite provides robust financial reporting capabilities, allowing businesses to generate customized reports and financial statements. It offers pre-built templates and drag-and-drop functionalities for easy report creation. Advanced analytics features enable data visualization, trend analysis, and forecasting.
Multi-Entity and Global Consolidation
NetSuite caters to businesses with multiple entities or subsidiaries, offering intercompany transactions and global consolidation features. It provides a centralized view of financial data across entities, simplifying financial management for organizations with complex structures.
Pros and Cons of using NetSuite Cloud Accounting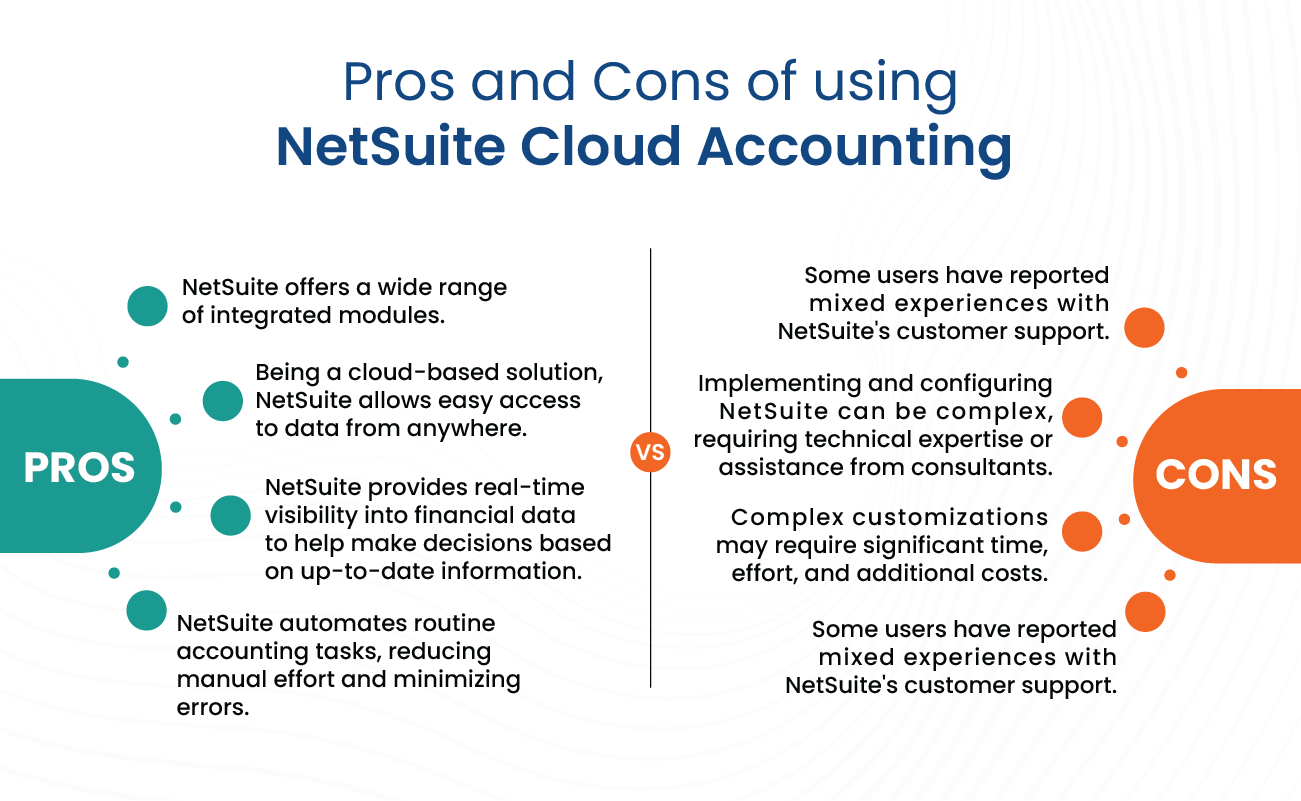 What is Zoho Books?
Zoho Books is an online accounting software designed for small businesses and freelancers. It offers a range of features to simplify financial management, including invoicing, expense tracking, bank reconciliation, and financial reporting.
With Zoho Books, users can create professional invoices, send them to clients, track payments, and automate payment reminders. The software allows for easy recording and categorizing of expenses, ensuring accurate expense tracking and enabling users to make informed financial decisions.
Bank reconciliation in Zoho Books helps users match their bank transactions with the entries in the system, ensuring that their books are up-to-date and accurate. It supports multiple currencies, making it suitable for businesses operating globally.
Key features of Zoho books
Invoicing and Expense Management
Zoho Books allows users to create professional invoices, customize invoice templates, and send them directly to clients. It also provides features for expense tracking, allowing users to record and categorize expenses easily.
Bank Reconciliation
Zoho Books simplifies the bank reconciliation process by automatically fetching bank transactions and matching them with entries in the system. This ensures accurate financial records and reduces manual effort.
Financial Reporting
The software offers a variety of financial reports, including profit and loss statements, balance sheets, and cash flow statements. These reports provide a comprehensive view of the business's financial health, enabling informed decision-making.
Multi-Currency Support
Zoho Books supports transactions in multiple currencies, making it suitable for global businesses. It provides real-time exchange rates, allows users to create invoices and record expenses in different currencies, and generates accurate multi-currency reports.
Integrations and Automation
Zoho Books integrates with other Zoho applications, such as Zoho CRM and Zoho Inventory, as well as popular third-party tools like payment gateways and e-commerce platforms. This allows for seamless data flow and automation of tasks, streamlining business processes.
Pros and Cons of Using Zoho Books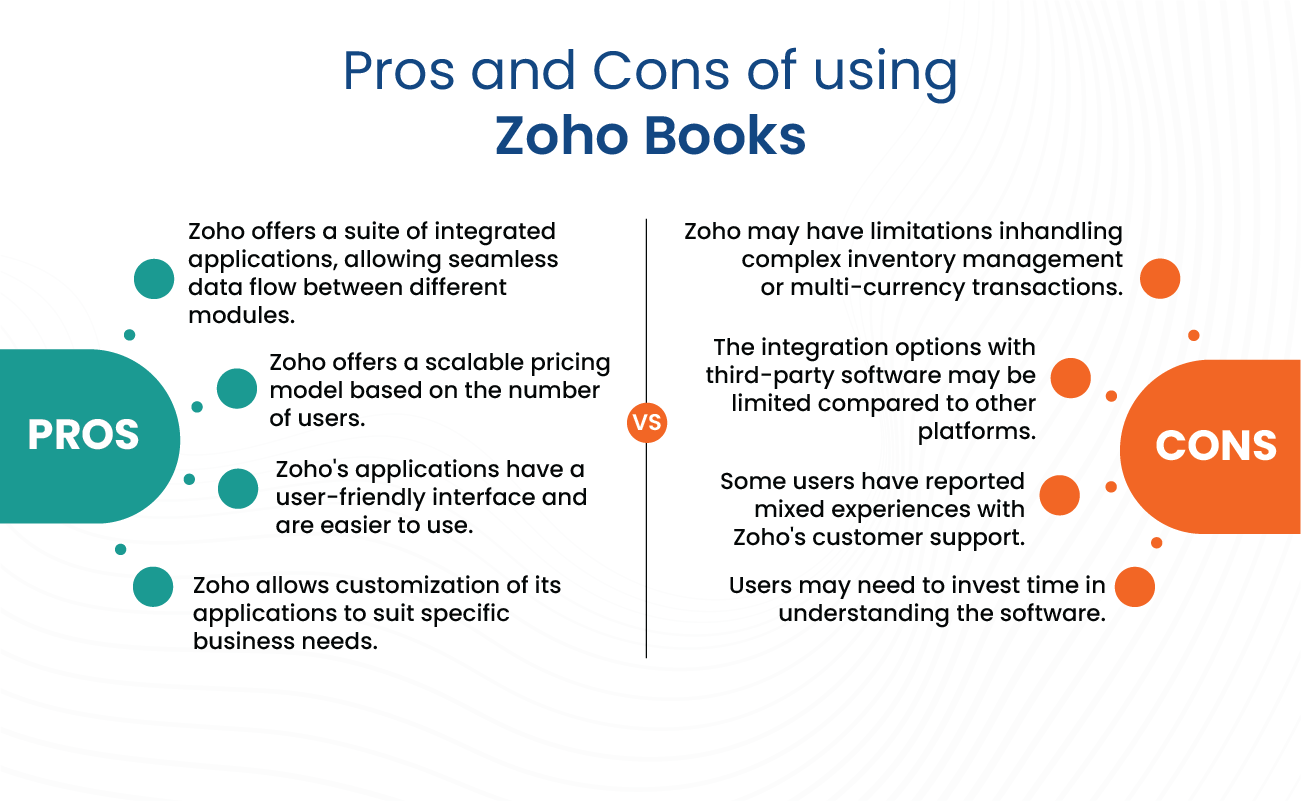 NetSuite Cloud Accounting vs Zoho Books
Both NetSuite and Zoho Books are accounting software solutions, but they offer distinct features and capabilities. Here's a comparison of NetSuite Cloud Accounting vs Zoho Books:
Scope And Complexity
NetSuite is a comprehensive ERP system that goes beyond accounting. It offers a wide range of integrated modules to manage various aspects of business operations, including accounting, finance, CRM, inventory management, e-commerce, and more. It is suitable for mid-sized to large enterprises with complex operational needs.
Zoho Books focuses primarily on core accounting functions, providing features such as invoicing, expense tracking, bank reconciliation, financial reporting, and tax management. It is designed for small and medium-sized businesses (SMBs) with simpler accounting requirements.
Scalability
NetSuite accounting solution is highly scalable and can accommodate the growth of businesses as they expand their operations, data volumes, and user requirements. It is suitable for companies with significant scaling potential.
Zoho Books is designed to scale with the needs of SMBs. While it may not offer the same level of scalability as NetSuite, it can still accommodate the growth of small businesses.
Integration And Customization
NetSuite Cloud Accounting software offers extensive integration capabilities, allowing businesses to connect with third-party systems and customize the software to meet specific requirements. It provides advanced customization options to tailor the system to unique business processes.
Zoho Books integrates with other Zoho applications, such as Zoho CRM, and offers limited integration options with third-party software. It provides customization features, but they may be more limited compared to NetSuite.
Industry-Specific Functionality
NetSuite Accounting System provides industry-specific functionality and solutions for various sectors, including retail, manufacturing, professional services, e-commerce, and more. It offers specialized features and workflows tailored to specific industries.
Zoho Books is more general-purpose and does not offer extensive industry-specific functionality. It caters to a wide range of industries but may lack specialized features for specific sectors.
Pricing
NetSuite: The base license for NetSuite costs $999 per month, with additional access costs of $99 per user, per month. The pricing structure varies depending on the specific modules and customization requirements.
Zoho Books: Zoho Books offers pricing starting at $15 per organization per month. They have tiered pricing plans based on the number of contacts or users, offering flexibility for businesses of different sizes.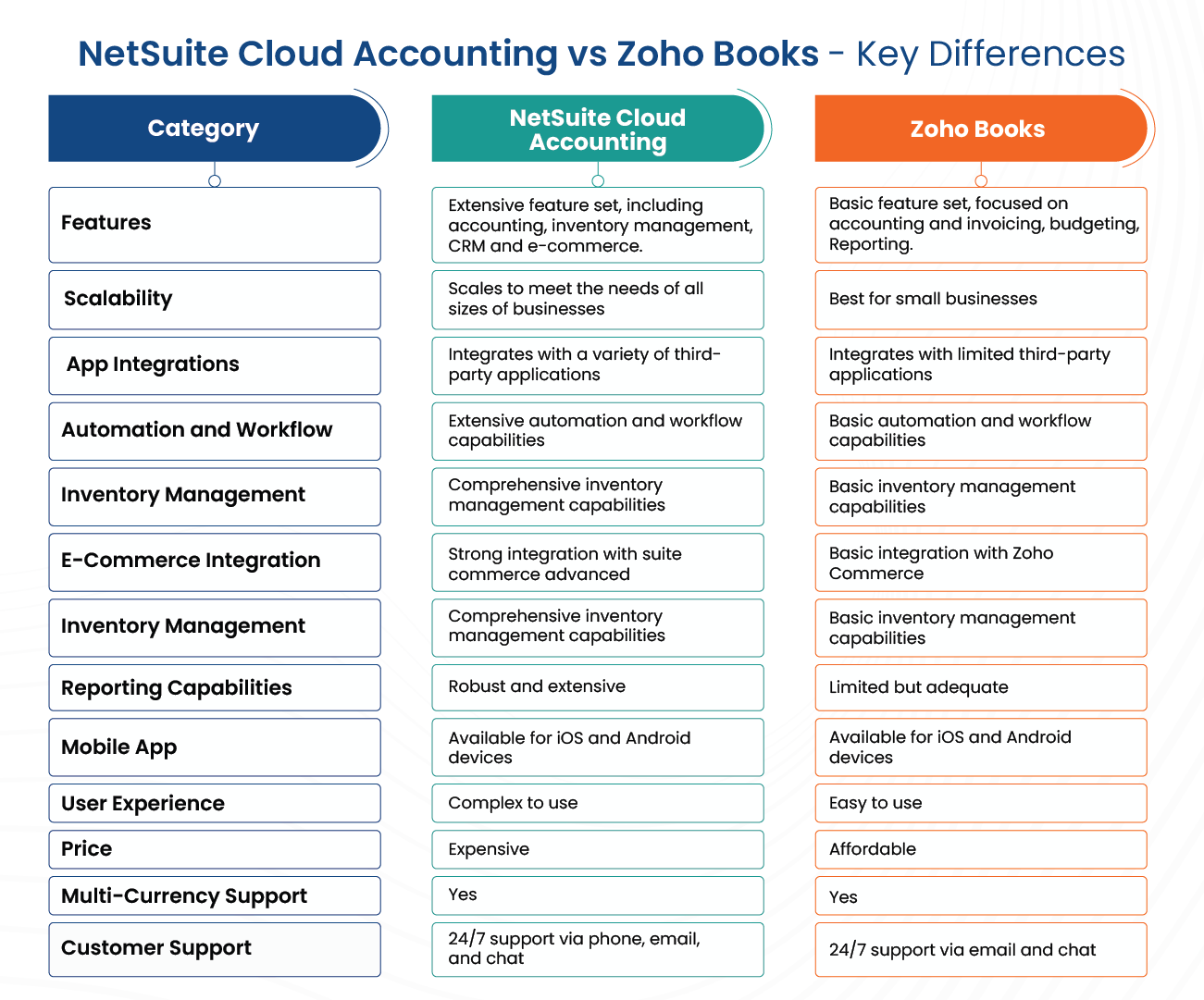 NetSuite Cloud Accounting vs. Zoho Books in Different Industries
NetSuite and Zoho Books are accounting software solutions that cater to different industries and businesses of varying sizes. Here's a discussion on which industries may be better suited to NetSuite Cloud Accounting vs Zoho Books:
NetSuite Cloud Accounting
The uses cases of NetSuite Cloud Accounting in different industries are:
Finance
NetSuite is well-suited for finance departments within organizations, providing comprehensive financial management capabilities, including general ledger, accounts payable, accounts receivable, financial reporting, budgeting, and financial planning and analysis. NetSuite financial management system is an integrated platform that streamlines financial processes and offers real-time visibility into financial data for informed decision-making. 
Retail And E-commerce
NetSuite offers robust features for retail and e-commerce businesses. It integrates with inventory management, order management, and e-commerce platforms, providing end-to-end visibility and control over the supply chain, customer orders, and financials.
Manufacturing And Distribution
NetSuite's advanced capabilities in inventory management, supply chain, and manufacturing make it an ideal solution for manufacturing and distribution businesses. NetSuite for manufacturing and distribution helps manage production processes, track inventory across multiple locations, and streamline order fulfilment.  
Professional Services
NetSuite provides features for professional services firms, such as project accounting, time tracking, resource management, and revenue recognition. NetSuite for professional services helps in tracking project costs, managing client billing, and monitoring profitability.
Zoho Books
The uses cases of Zoho Books in different industries are:
Construction
Zoho Books can be used by small construction businesses to manage project-related finances, track expenses, create estimates and invoices, and handle subcontractor payments, providing better control over financials and project profitability.
Manufacturing
Zoho Books assists small manufacturing businesses in tracking inventory, managing production costs, generating purchase orders, handling sales and invoicing, streamlining accounting processes and ensuring accurate cost calculations.
Professional Services
Zoho Books is suitable for professional service providers such as consultants, lawyers, architects, and marketing agencies. It helps track billable hours, manage project expenses, generate professional invoices, and handle client payments efficiently.
Food And Beverage
Zoho Books caters to small businesses in the food and beverage industry, such as restaurants, cafes, food trucks, or small-scale food producers. It enables them to manage sales, track expenses, handle inventory, and generate detailed reports to optimize financial operations.

Wrapping Up!
Choosing between NetSuite and Zoho Books for your accounting needs is a decision that depends on your specific requirements and business characteristics. There is no one-size-fits-all recommendation as the right choice varies based on factors such as integrations, add-ons, modifications, deployment type, and implementation partner.
If you're still undecided between Zoho Books and NetSuite Cloud Accounting Software, seeking guidance from trusted NetSuite Consulting Services like VNMT Solutions can be invaluable. By setting up a free consultation, you can explore NetSuite's functionality and understand how it can address your company's specific needs.
Ultimately, choosing the right accounting software is crucial for efficient financial management and growth. Consider your business requirements, evaluate the features and capabilities of NetSuite Cloud Accounting and Zoho Books, and seek expert guidance to make an informed decision that aligns with your company's goals.