Enterprise Resource Planning (ERP) software solutions have evolved over the years in their features and value propositions. Automating all key functions including finance, inventory and stocks, order and sales, billing, CRM and e-commerce make ERP systems so irreplaceable in modern enterprise settings.
NetSuite cloud based ERP system offers a comprehensive set of features taking care of each and every functional aspect of a business. If you are looking for a robust ERP accounting software, NetSuite offers the most versatile and feature-rich solution to deal with all accounting needs.
The cloud based NetSuite ERP accounting software from Oracle can help you with a streamlined business process and ensure optimum scalability along with fast-paced growth. The solution easily automates all major functional areas and helps you keep the process streamlined.
Here through this blog post, we are going to explain the key benefits and features of NetSuite accounting software.
Key Benefits of NetSuite Accounting Software
There can be no doubt that selecting the perfect ERP solution for your business can be a little difficult and strenuous as you have several leading ERP providers in the market with their unique offerings for different business segments and niches.
But there are not many ERP solutions that provide such a comprehensive set of tools like the NetSuite accounting software. An experienced NetSuite implementation partner can help you customise the ERP system as per the specific business needs.
Let's have a quick look at the key benefits of NetSuite ERP accounting software.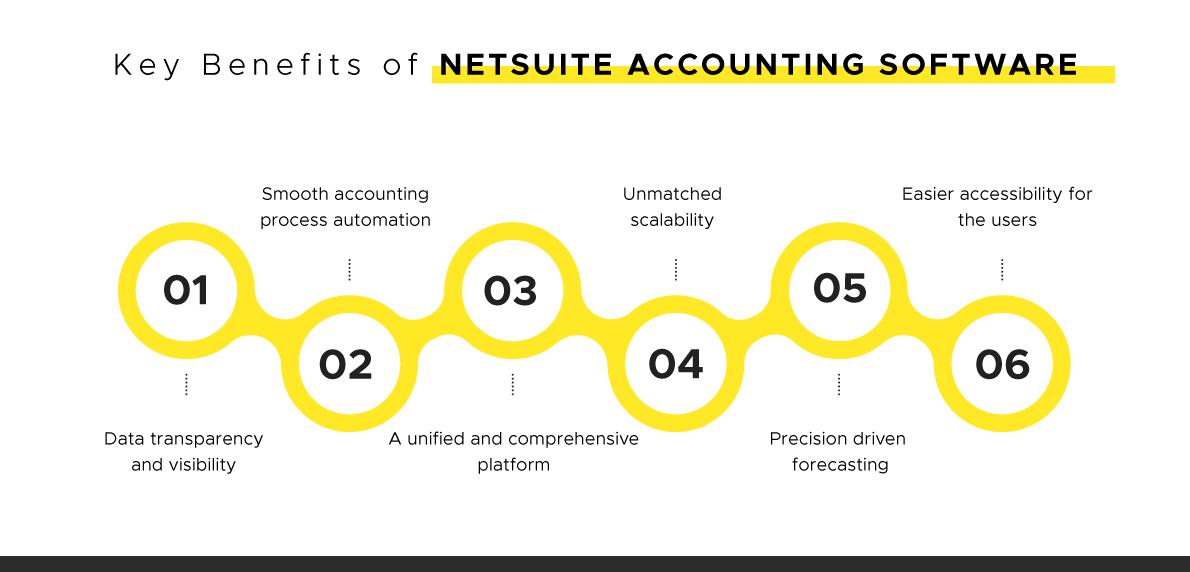 Data Transparency And Visibility
One of the greatest advantages of NetSuite cloud accounting software is the data visibility in the actual time. This helps companies to keep a close tap on all their financial operations more effectively and efficiently. Thanks to this data transparency businesses can keep a close tap on the evolving supply chain demands and all the activities in the supply chain.
The data transparency powered by real-time visibility of the entire delivery process is one of the most important features of NetSuite ERP system. Thanks to this different departments of a business can stay in transparent communication that in turn helps optimising the entire financial process. The real time visibility of the delivery process and financial data helps keep everyone in sync and informed about every detail.
Read More: Start With Cloud: The Core Of Business Success Begins With Cloud Financial Solutions
Smooth Accounting Process Automation
NetSuite advanced accounting software also plays a key role in automating a multitude of processes to help enterprises save a lot of time and effort. Thanks to this businesses can boost the speed of the service delivery resulting in the operational efficiency of the whole business process. Accounting automation helps to streamline the business processes, easing the business operations, and reducing the operational costs to a great extent.
A Unified And Comprehensive Platform
When using the NetSuite ERP system, a business no longer needs to use different tools for other business processes. NetSuite ERP offers a single platform allowing too many activities to run simultaneously and concurrently. By operating on a unified and comprehensive platform connecting different processes, it helps businesses performing accounting and financial tasks more efficiently.
Unmatched Scalability
NetSuite is one of the most scalable ERP solutions that comes with every feature modern enterprises need. By bringing together a variety of fragmented activities in the business process within the ambit of a software operation it allows enterprises to scale up the capacity as per the business growth. NetSuite ERP system is one of the most adaptable solutions to address the evolving needs of businesses.
Precision Driven Forecasting
NetSuite ERP solution helps enterprises to make more informed business decisions thanks to powerful data-driven predictions and precise forecasts. NetSuite budget and planning mechanism helps businesses to stay thoroughly updated and informed to come with the most precise and data-driven forecasts for proper budgeting and planning for the future.
Easier Accessibility For The Users
Lastly, one of the greatest advantages of the NetSuite cloud ERP platform is that the users can access the software tools and accounting and financial data from all devices and from any part of the world. Moreover, the data is centrally secured and remains non perishable.
21 Key Features of NetSuite ERP Accounting Software
NetSuite ERP accounting solution comes loaded with a whole array of advanced features leading to comprehensive cash flow management and automating accounting and financial activities. Here we are going to explain some of these features briefly.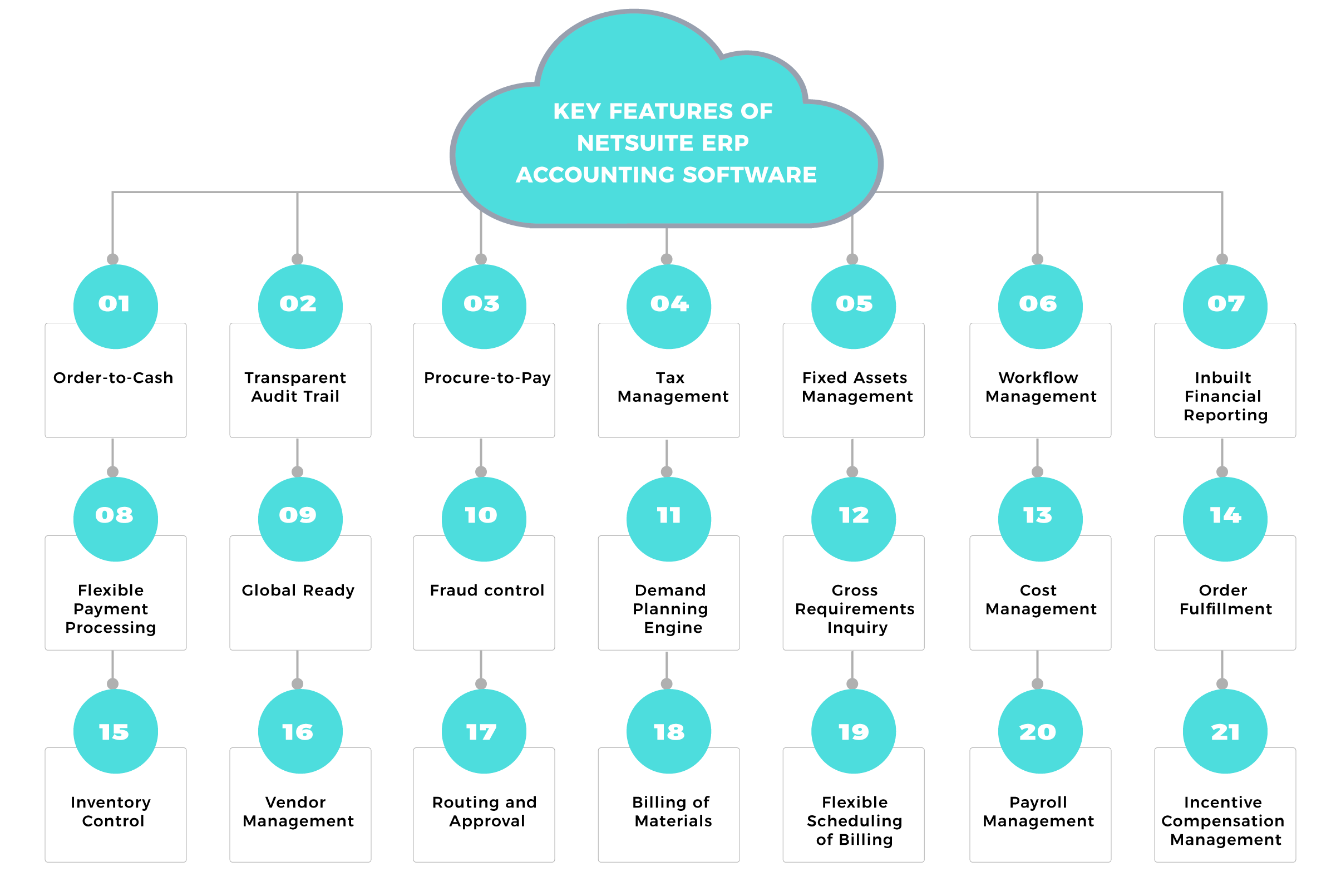 Order-to-Cash
The Order to Cash (O2C) is the feature that looks after the entire order management process in a highly efficient manner. The feature allows aligning all the accounting log entries in books with the orders.
Transparent Audit Trail
NetSuite accounting software offers easy visibility of the entire audit trail. This ensures tracking down any information in the accounting and financial management processes. The transparent visibility of the audit trail also helps with tracking all user activities, all login attempts, system activities, and admin activities.
Procure-to-Pay
The procure-to-pay is a key feature of NetSuite ERP accounting software that allows managing the complete business process with the cloud support and allows taking an array of actions to optimise efficiency and transparency across the entire procure-to-pay process.
Tax Management
NetSuite offers a comprehensive set of features to assess, track, calculate, and pay all kinds of taxes as per the sales of services and products. NetSuite tax management feature ensures optimum data transparency, smooth automation, and easier tax control.
Fixed Assets Management
NetSuite offers a Fixed Assets Management feature that can flexibly choose different accounting periods to manage depreciation of assets on the basis of client preferences.
Workflow Management
NetSuite comes with a robust and highly efficient Workflow management feature to align with different types of business processes across the niches. Thanks to smooth workflow management businesses can easily automate the business process and reduce errors and time consumption associated with the manual processes.
Inbuilt Financial Reporting
NetSuite ERP software system comes packed with integrated and inbuilt financial reporting features. It comes packed with an easy to use Financial Report Builder tool with capabilities to group together economic data and classify data into different categories.
Flexible Payment Processing
NetSuite ERP system allows flexible payment acceptance to ease the process of receiving payments across departments. The same feature also allows user based grouping for payment processing.
Global Ready
The NetSuite accounting software also comes packed with global-ready features to allow an enterprise to handle international business operations smoothly all over the globe without any constraints on location. The feature also helps maintain compatibility with administration and governance, risk management, compliance management, revenue recognition, service resource planning (SRP), billing, and supply chain management.
Fraud Control
NetSuite offers a comprehensive software solution ensuring optimum data security. The fraud control mechanism in NetSuite accounting software ensures preventing fraudulent activities across different parameters such as specific periods, amounts, addresses, and purchased products.
Demand Planning Engine
NetSuite accounting software also gets the power of a Demand Planning engine that helps to keep the right balance between demand and supply. The feature helps detect the right demand trends that can be further reviewed to create the right plan.
Gross Requirements Inquiry
Gross Requirement Inquiry basically helps by generating expected sales and purchase orders. The feature helps in maintaining the proper inventory level to smoother the business process.
Cost Management


NetSuite cost Management feature in several ways helps a business to get the maximum out of the business. Some of the key advantages offered by this feature include enhanced productivity, optimum compliance management, and accurate, precise, and timely cost reporting.

Learn More: How NetSuite Has A Clear Edge Over QuickBooks In Modern-day Companies?
Order Fulfillment
The order fulfillment feature of NetSuite can easily be adapted to any business warehousing needs. The feature allows all key functionalities including pick, pack, and shipping. The same functionalities can also be integrated with the shipping providers. The same feature also helps in managing the ordering process across multiple locations.
Inventory Control
Inventory control is a key NetSuite feature that helps businesses to ensure optimised inventory tracking across departments and locations. The same feature also helps in maintaining optimum control of the business assets. The feature also helps in maintaining the inventory across different categories such as transaction volume, transaction value, transaction periods, etc. The feature also helps in tracking the inventory details and inventory movements in real time across locations.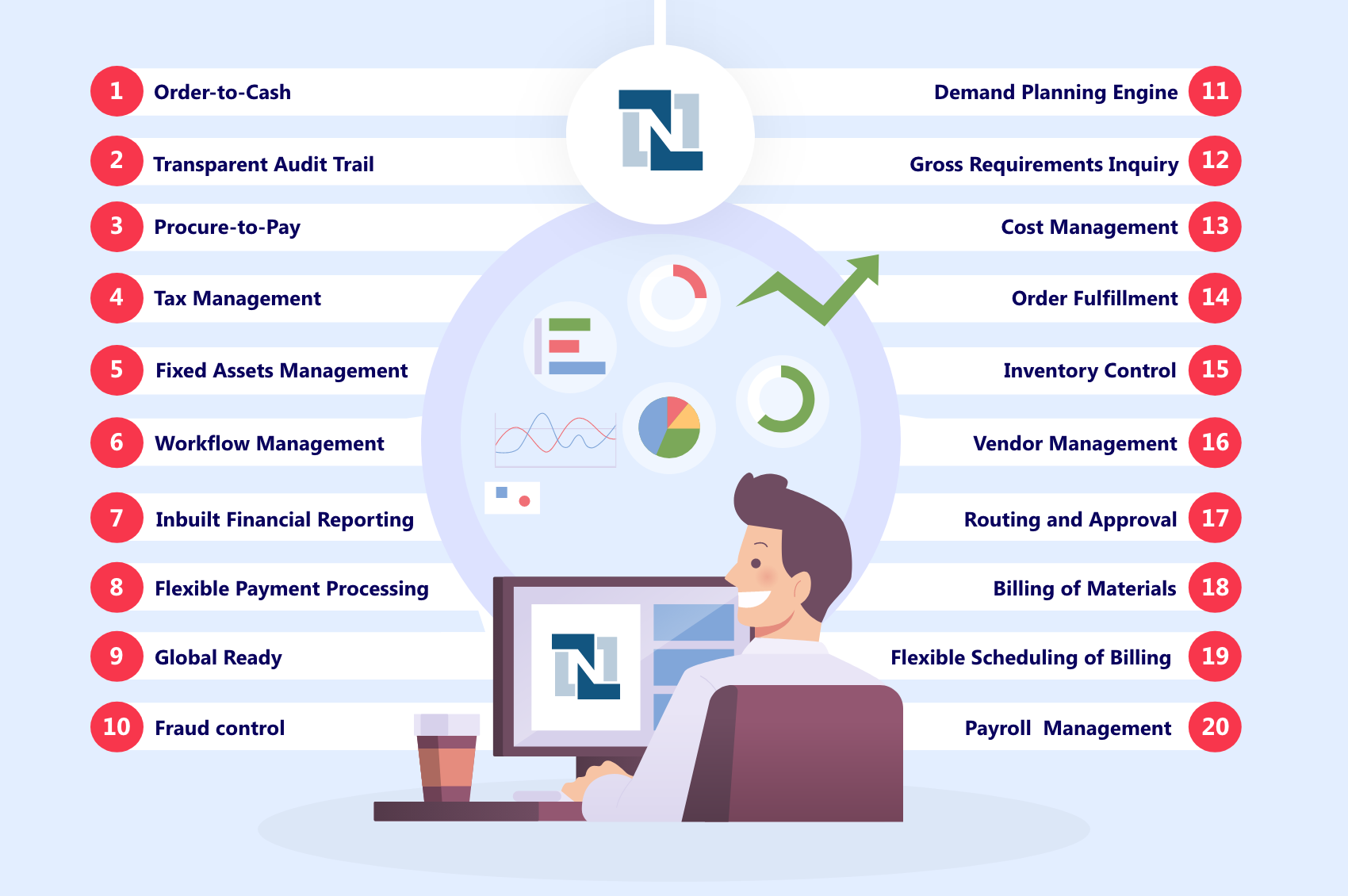 Vendor Management
NetSuite offers centralised vendor management feature to keep track of all the vendors and suppliers over a single screen. The feature keeps track of requirement gathering, selecting vendors, vendor specific communications, receiving bids, and pricing.
Read More: Vendor Prepayment In NetSuite
Routing And Approval
As far as approving transactions and bills is concerned, NetSuite accounting system comes with the advanced Approval Routing feature to maintain industry-benchmarked practices for approval and all internal controls regarding the same. This helps maintain optimum accountability with each and every transaction.
Billing of Materials
In the manufacturing industry, NetSuite advanced ERP accounting software solution also offers the advantages of comprehensive billing of material features to keep track of all the list of parts, material items, assemblies, components, and all other manufacturing raw materials that are required in the production process. The same feature helps the accounting and finance team to have a clear view of the billing process corresponding to the manufacturing of items.
Flexible Scheduling of Billing
NetSuite ensures optimum flexibility in scheduling the billing of service providers and suppliers. It comes with multiple options and a variety of programs to manage a wide variety of orders as per the preferred scheduling option.
Payroll Management
NetSuite Payroll Management Service is the ultimate feature to automate all the activities corresponding to payroll management and reduce the load of manual payroll and tax processing. NetSuite payroll service also aligns easily with the regulations across federal, state-level, and local authorities.
Incentive Compensation Management
NetSuite accounting software also offers an incentive compensation management module to ensure smooth incentive payout to the designated people and service providers from time to time as per the standard best practices and industry norms regarding wages.
Read More: 20 Features Of NetSuite Advanced Accounting Software That Wins Digital Innovation

Conclusion
NetSuite advanced accounting software solution comes loaded with a robust and comprehensive set of features and capabilities to take care of every accounting and financial management need of businesses across all niches. In this respect, it must be said that to make the most out of this enterprise software platform companies need to take help from leading NetSuite implementation partner companies who have the skills, expertise, and experience to customise NetSuite software solution as per specific industry needs and long-term company objectives.