We are halfway through 2022 with economic uncertainty and market upheaval. While this market condition has been pretty consistent over the past few years due to the pandemic, the root cause behind the inflation now is quite different. Labour shortage and the Fed's efforts to control inflation have resulted in high-interest rates. Here in this blog, we discuss the top 5 ways to effectively approach recession-proof business in an uncertain time.
Is It The Recession?
Perhaps not. But it is undoubtedly a rocky path. Let us understand it closely.
Supply chains are still restricted due to interruptions brought on by the epidemic. This results in unwanted delays and cost hikes. While manufacturing productivity has slowed down along with the increased money supply brought on by the stimulus program, it has escalated inflation.
Apart from it, Fed's attempts to reduce the money supply have led to a decline in liquidity and are causing severe restrictions on demand chains. Due to the shocks to both the supply and demand sides of the equation this year, the market is facing this economic uncertainty. However, it does not end here. The market is expected to upheaval further as a recession-proof business.
How Can You Bring Everything Under Control?
Companies will require greater organizational agility than before to survive and grow in the face of prolonged economic instability. To make a recession-proof business they need to make mission-critical choices swiftly and turn their business on a dime, reverse course, and adjust on their terms. Companies also need access to the data, business intelligence, and integration technology that fundamentally underpins their operations.
But How Can Organizations Become So Efficient?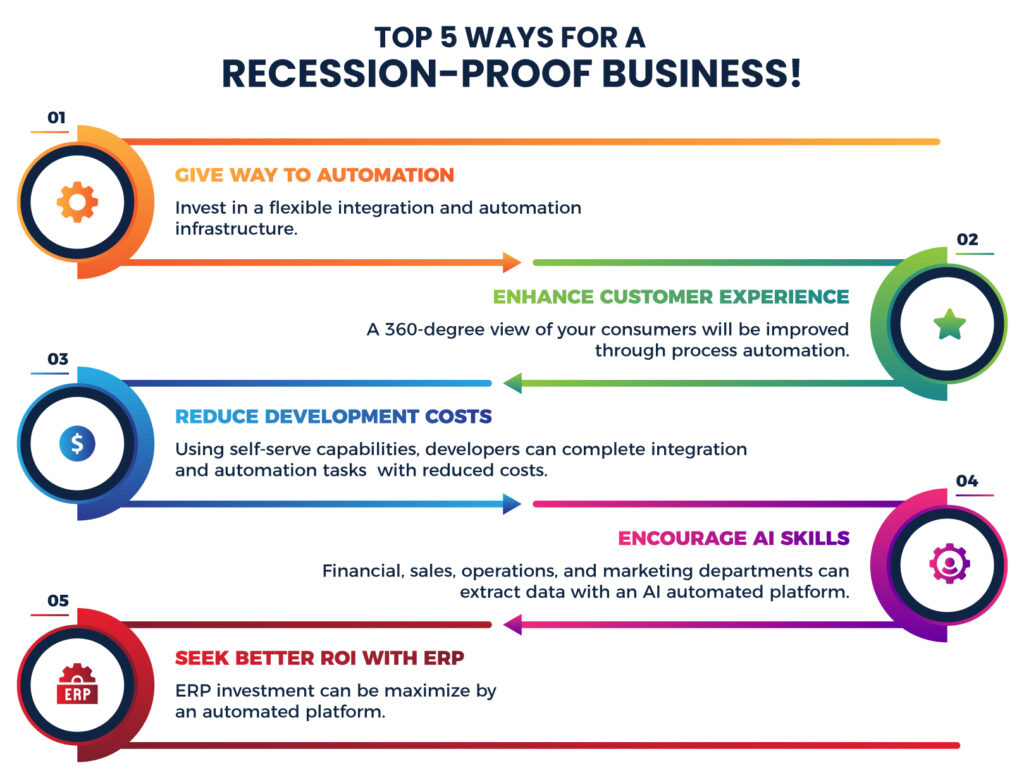 Supply chain agility leads to organizational agility. Additionally, integration agility also leads to supply chain agility. Since there are many potent methods for businesses to employ skills to find and generate business worth for their stakeholders, it's crucial to understand how these interdependencies work to become a recession-proof business.
The epidemic and recent monetary policy decisions by the government are not alone to blame for today's problems. There are several more sources of supply and demand chain disruption. It includes:
● Unchecked expansion of the eCommerce industry
● Increasing growth of omnichannel fulfillment like reverse logistics
● Rising number of data and security breaches
● Geopolitical Unrest like the Ukraine war
These causes are here to stay for a long time, along with their contributing element. So, how can business owners use integration technology to guide their organizations toward discovering new value-creating opportunities?
Let us look at a few methods you can use to run a Recession proof business!
1. Give Way To Automation
The most creative businesses allow every department and its employees the freedom to take charge of the issues closest to them. Any plan to attain corporate size and velocity must include the automation of essential business operations. This will save firms countless hours of labor and aggravation while allowing them to do more with fewer resources.
Invest in a flexible integration and automation infrastructure. Process automation may free staff from monotonous activities to concentrate on more creative and strategic projects. This would allow you to make the most of your talent and resources. Individuals can focus on fascinating and gratifying work instead of dull chores, which improves the employee experience and lowers hiring and training expenses. In other words, automation would enable your staff to streamline operations while looking into new automation possibilities.
2. Enhance Customer Experience
86% of customers are ready to spend more for a better experience, and 93% of consumers are more likely to make a repeat purchase following a pleasant customer experience. These numbers make it pretty evident why a positive customer experience is essential to scaling revenue development. Satisfied customers are more loyal, spend more money, and may also promote your brand vigorously.
So, improving your customer experience is crucial in uncertain economic times since it costs six times more to gain a new client. Companies that apply a customer experience strategy see an increase in revenue, a decrease in customer turnover, and more outstanding customer satisfaction ratings. To provide excellent customer service and put yourself in a position to anticipate their present and future demands, process automation will help you generate and improve a 360-degree perspective of your consumers.
3. Reduce Development Costs
Process automation enables you to increase business impact while keeping the same personnel. NetSuite solution providers can swiftly supply business and stakeholders' technologies. They ensure automation through an integration platform where business users may use autonomously self-serve. Not just yet, it would also help to retain data governance, visibility, and control.
With NetSuite, developers can quickly construct and adjust sophisticated automation. It would boost their productivity by at least 50% and reduce costs while raising potential income and developer satisfaction. Further, staff can spend 20% less time handling problems, and with free online training, they can learn how to incorporate more automation.
4. Encourage AI Skills
Error management is crucial due to the large number of apps using various APIs that change regularly. NetSuite delivers machine learning use cases to your teams, including integration error management. You can save expensive hands-on staff time using the platform's self-corrections. It will free up time to add new integrations and reach more consumers.
Further, also note that most mid-size to large firms have business issues due to data silos. Data gets segregated and soon out-of-date since many operational apps are unconnected. Business users with a trusted automated platform may extract data from the finance, sales, operations, and marketing departments. This can be used for analytics after ingesting data from ERPs and CRMs into a cloud data warehouse.
5. Seek Better ROI With ERP
Create an application hub to integrate other systems that enable growth-promoting operations. An automated platform like e-commerce, accounting, marketing, and product management can maximize your ERP investment. Further, processes may be automated and streamlined more quickly throughout the company, improving data quality and timeliness for analytics and operations.
The benefits of increased data transparency between marketing and finances can cascade. This might result in quicker payment collection, shorter audit periods, and fewer costs due to mistakes made by humans and manual procedures. An automated platform like e-commerce, accounting, marketing, and product management can maximize your ERP investment.
Conclusion
The forces of inflation provide several difficulties for technology leaders, leaving less money for technological investment. Further, companies are under additional stress due to rising operating expenses, shrinking budgets, and skills scarcity. It has become more expensive and difficult to hire and keep technical people.
Despite these obstacles, a recession might offer the most exemplary corporate innovation and development chances. The only viable solution is connecting with a NetSuite Consulting company. Utilizing these strategies will allow you to expand your company, increase productivity, and cut costs when the economy remains uncertain and make you a successful recession-proof business.