Businesses need to adapt to new changes in the market. One such change is the digitization of how sales and purchases are made. With the Celigo-Magento 2 Integration, businesses can take advantage of Magento 2's unique features to help their customers make transactions faster and easier. Now, customers are more interested in products and services available at their fingertips. One such e-commerce platform is the Magento 2, which is known for making business operations efficient and streamlined.
It integrates with different ERP solutions like NetSuite Integration Services to make better business models. One such solution is Celigo. It is a cloud-based integrated platform that helps businesses achieve their goals more effectively.
What is Celigo?
Celigo is a business solution that allows businesses to automate different business operations. This helps make the management more agile and thus contributes towards better growth. Celigo provides several tools using which companies can integrate their data, and the solution further analyzes this data.
Celigo provides a single dashboard where the managers can outlook at different figures. Also, the Celigo application uses end-to-end embedded logic, which helps further optimize the business. Since this application supports most data types, almost any business can switch to Celigo for their needs.
What is Magento?
E-commerce platforms are gaining much popularity these days. And amongst them, Magento is a leading platform helping businesses to grow more. It is a PHP-based framework designed by Adobe developers. Since this software is open-source, any company can modify and use it according to their needs.
There are hundreds of tools inside Magento that integrate sales management, order and delivery, and customer service management on the go. Apart from these, this application can serve as the backbone for online marketing when combined with any popular ERP.
What is Celigo-Magento 2 Integration?
Celigo-Magento 2 is an integration between these two platforms that aim at providing efficiency and productivity in any business. When Celigo-Magento 2 are combined, they deliver comprehensive flows to business management. It means that order fulfillment, inventory management, and customer service are synced together for better efficiency.
With Celigo-Magento 2 integration, you have plenty of choices of customization. Celigo provides an out-of-the-box design with dozens of models, whereas in Magento, everything can be customized thanks to its open source. In this combination, Celigo acts as the backend ERP system supported by an equally effective Magento platform.
With the integration between Celigo-Magento 2, end-users and/or business managers can use e-commerce without any frequent service needs. Another feature that makes the Celigo-Magento 2 stand out is that you will be able to expand your integration to iPaaS without any further resources.
Key Features of Celigo-Magento 2 Integration
The following are some of the most used and practical features of Celigo-Magento 2 integration in any business:
1. Integration Automation
The automation that comes with the Celigo-Magento 2 integration is really efficient. Starting from catalog management to inventory dashboards to order management, almost every operation in business can be automated with Celigo-Magento 2.
This saves valuable time and effort, which can be used in other business areas. Ultimately the Celigo-Magento 2 integration helps in bringing more productivity to the business.
2. Customization
There are many possibilities for customization with Celigo-Magento 2, thanks to the extensibility of custom flow in Celigo. It is true that when businesses vary, the solutions for business operations also should vary.
Although different integrations are built-in when a business switches to these solutions, the management teams can also modify integrations according to different needs. Thus, whenever a business wants to improve or integrate any operation, they can tailor Magento 2 as per their wishes.
3. Consistency
A seamless interface in the e-commerce site is essential for any organization. However, what's more, important is an equally responsive ERP system that supports all the data and integrates them.
Celigo-Magento 2 is a combination of software solutions that makes business operations more visible. Also, with such tools, business managers have a single dashboard where all the data is consistent and stored in sync.
4. Support
Customer service is a vital part of any business. Also, it is often considered a secondary service, while its main focus is selling the product or service. However, with solutions from Magento 2 and Celigo integration, businesses can keep track of the customers and their satisfaction with the consequences.
This helps the business understand the customers' needs and encourages improving the services. Also, a returning customer is always good for businesses in any market.
How to install Celigo-Magento 2 integration?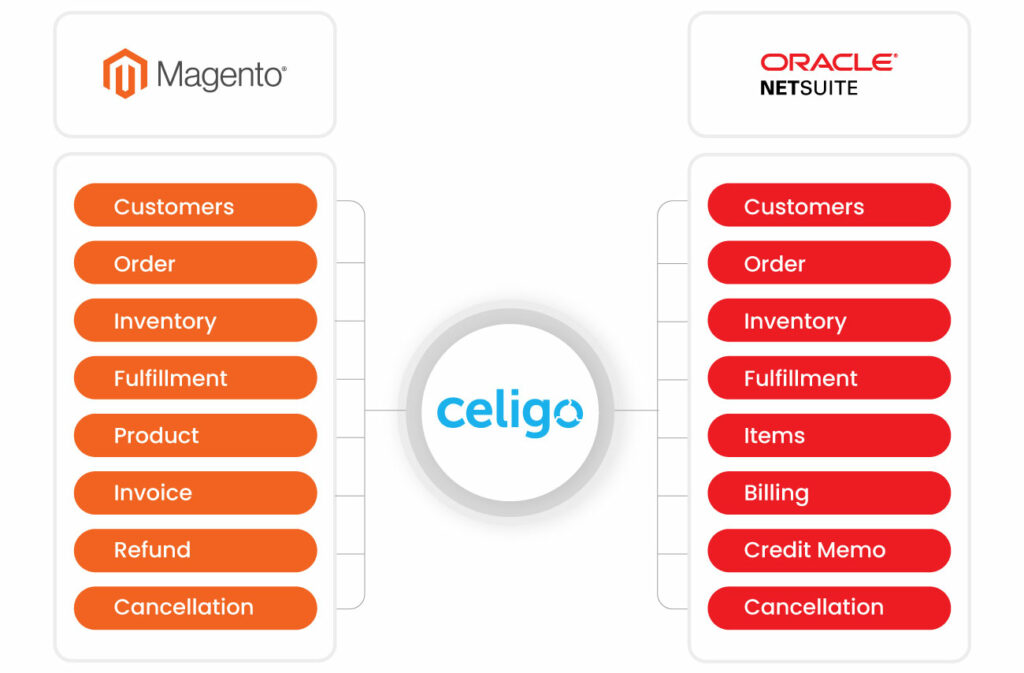 To successfully install the Celigo-Magento 2, you will need to follow these steps:
● First, install the integrator.io application and create an account in it. Then, open the application interface and click on the option "Marketplace."
● Here, you will see various application options from which you need to select "Magento 2." Then click on the "install" button right beside it.
● Then navigate to the "My Integrations" page provided in the menu and find the option that says "Celigo-Magento 2." It also applies to the Magento 2-NetSuite integration. Then click on the "Continue Setup" option.
● Now, in the following menu, you will be asked to log in to the "NetSuite'' account using your credentials and verify the link provided. In the same way, click on the Magento 2 option to login and verify the credentials.
● Then install the Magento 2 extension from the download options, and your integration will be complete after this process.
Final Words
A different form of business is shifting towards online mode with each passing day. Also, to be at the top of any industry, a business has to adapt to these new changes. With the help of Celigo-Magento 2, Integration businesses can move forward with features like better order management, shipping, and business policies.
Since Magento 2 can be integrated with most of the ERPs available (e.g., NetSuite Magento 2 integration), it will make any business more streamlined. This will ultimately help the organization gain more transparency in the orders and a more significant number of customers. Also, ultimately all these will help in achieving better profitability.