Project-based recruitment has been acquiring considerable importance in the dynamic, ever-evolving world. NetSuite is a platform with an all-in software solution with cloud-based technology presenting the functionality and characteristics crucial for operating business procedures from a 360-degree outlook. It offers the versatility to decrease or increase a team's strength, i.e., hire NetSuite Experts based on a project and business requirements. Project-based NetSuite Talents hold much importance in the industry. They help you manage multiple projects, including fixed-price, time, and material jobs.
Furthermore, they help you quickly plan various projects by cooperating with others, maintaining efforts, and staying organized. In fact, it merges all the central organization areas like manufacturing, supply chain, HR, sales, purchasing, and accounts in a convenient, easily operated interface. The Project-based NetSuite talents even monitor all pertinent financial metrics like actual costs, billing milestones, invoices, bookings, estimates, project budgets, and more.
8 Benefits 0f Hiring Project-Based NetSuite Talents
Robust software called NetSuite aids an organization in controlling its business operations. Nevertheless, to get the full benefit from this solution, every company requires a professional NetSuite Solutions Provider with much knowledge of NetSuite and quality expertise. Hence, the NetSuite consultant is one of the NetSuite faculty who are crucial for each execution.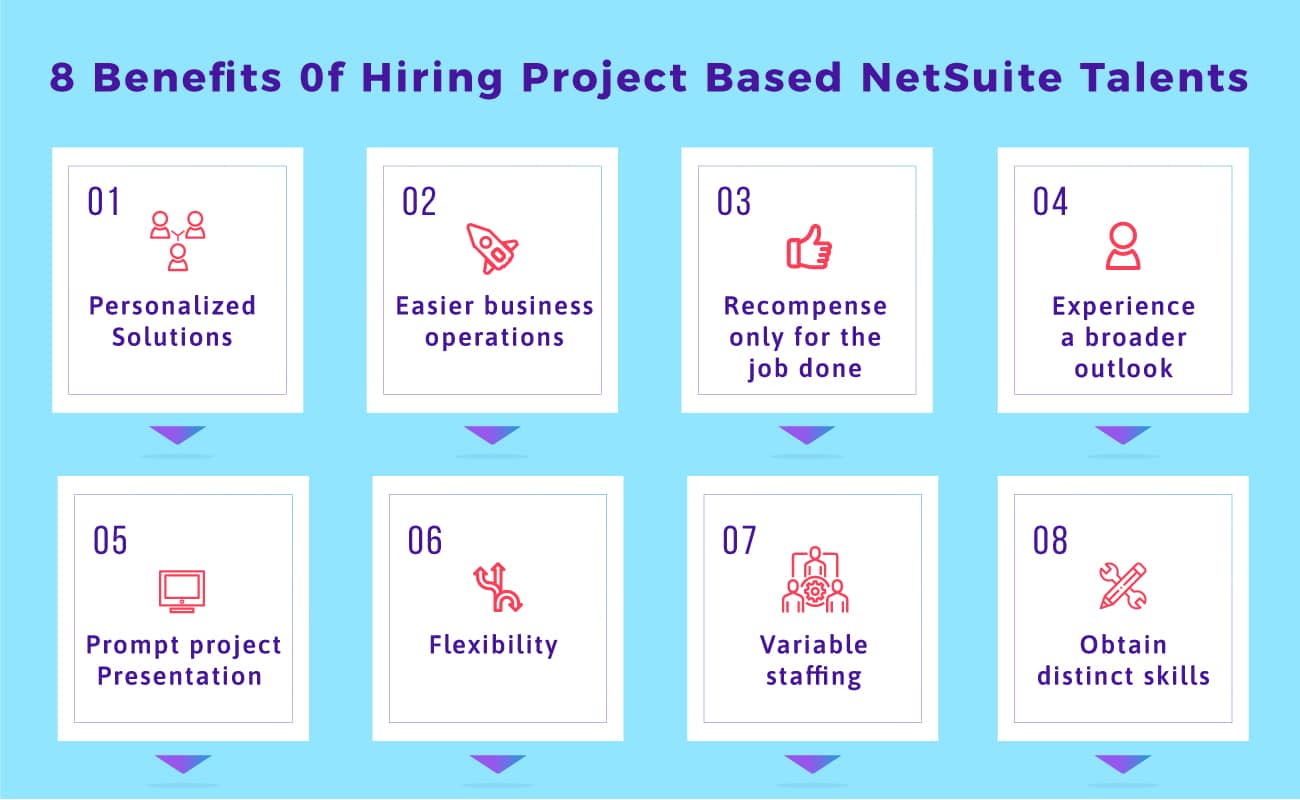 Following are some benefits of hiring project-based NetSuite Talents:
1. Personalized Solutions
Project-oriented NetSuite Certified partners are suggested for NetSuite jobs that need a particular proficiency for an allocated time, like during peak seasons when workloads turn out very intensive for your team. Furthermore, this can be beneficial when considering expanding into a different field. Hence, you'll require entry into specialized skills.
Thus, you may guarantee that the projects are completed as per your requirements, whether executing an extra module, user training, data migration, integration, scripting, customization, or simple administration and support.
Depending on the project essentials, you'll explore NetSuite talents or an accountant with NetSuite experience who complements the qualifications you've been searching for. They shall even possess special dexterities, reducing your job to train or hire them.
2. Easier Business Operations
One of the eminent concerns about recruiting regular personnel is that this consumes enough money and time. You must check out different activities like training, onboarding, and hiring. Additionally, you have to execute a confinement program so that they don't quit during your times of immediate assistance.
With the help of Project-oriented NetSuite professionals, you may turn all your business operations swifter. As you are recruiting these experts depending on your project, there's no need to consider retention and hiring difficulties as the talent suppliers shall look after these to assist you. Meanwhile, you'll save enough money and time on interviewing new employees, assembling all documents for fresh recruits, and much more.
3. Recompense only for the job done
Hiring talents with Oracle NetSuite experience according to project requirements on temporary contracts shall aid you in saving expenses along with providing standard services to various clients. You'll be levied hourly, i.e., by counting the hours you require to complete a project.
Because they are recruited on your project grounds, you only have to pay an amount for their job. After the project completion, the contract terminates; you may wait until the next time you're up with a new project, thereby availing their services again. Recruiting the workforce according to your project requirements on temporary contracts or based on your project shall undoubtedly aid you in saving huge costs.
A dedicated employee can be a considerable financial responsibility to any company, like perks, salary, furniture and equipment requirements, and compensation benefits. Furthermore, contractual or contingency employees are generally independent plus do not arrive with any obligations or liabilities as opposed to a full-time, permanent employee.
Hence, even after you're done with reimbursing your consultant, even though you recruit them on an identical stipend just like your office staff, you'll save expenses on further extra aspects. These additional expenses include employee benefits, office space usage, provident fund welfare, etc.
4. Experience a broader outlook
Contractual human resources increase your outlook, allowing you to better understand your industry and project. Since the contractual workforce possesses working experience in various companies covering distinct projects, they shall invite extensive expertise and knowledge into your specific project.
This shall aid the project in shining in delivery timelines and client expectations. Hence, the more contract workers you recruit, the more unique and fresh ideas you'd assimilate into your company or business. Moreover, this knowledge wealth benefits the present, highly dynamic world.
Project-oriented recruitment of casual workers has received growing eminence in several industries all over various sectors. This casual workforce is further fit for a mediocre company that is organizing to boost operations yet holds limited resources as well as knowledge.
5. Prompt Project Presentation
When you hire NetSuite developers and talents depending on your project who are already aware beforehand about the job entails can quickly begin their job in one go, thereby delivering the project to your client on time. As they hold a specialization in the particular field, you won't have to be afraid anymore regarding delays in filling up the company vacancies.
This can be advantageous exceptionally when there's high demand for NetSuite projects which you've to put on the payroll. At times, some companies might lack crucial resources and the outreach for beginning successful recruitment. Such a situation may further extend the procedure of recruiting personnel that shall.
Thereby delaying your project deadlines. Here is where the project-based recruitment or contingent workforce will help. Furthermore, the contingent workforces obtainable with Project-oriented recruitment are usually professionals in their particular field of prominence. This attribute minimizes the requirement for training and hiring fresh workers to see them leave after one year.
You'll even preserve the precious resources and time you'd have used to find, interview, and choose new employees. Moreover, hiring a workforce depending on your contract and expertise offers greater efficiency, thereby enhancing the project delivery promptness.
6. Flexibility
Flexibility is a crucial benefit of recruiting project-oriented NetSuite talents when it arrives to check on your company requirements. For example, you may reduce your group members or hire more staff based on the present demands you're receiving. If you're having a gush of projects as a NetSuite associate, you may not possess the human resources to afford them, particularly during the high season.
Recruiting part-time NetSuite experts permits you to grab the chance for a flourishing business. You can build agility and resilience in your company with ERP experts NetSuite, which holds the first rank in Cloud ERP or Enterprise Resource Planning. When you take in new talent for your specific project, you've to pay them only for hours they've worked for you.
Hence, you won't have to face any issues of unnecessary staff that turn out to be a load on your money matters. So, for NetSuite clients, project-based recruitment permits you to specify your requirements for support, development, and administration when you require them.
7. Variable Staffing
Project-based recruitment allows you to reduce or add staff, considering the project essentials. You won't be under any such commitment to carry on with the employment. This can occur when that project doesn't require their services any further. Variable staffing is among the eminent advantages of project-oriented recruitment.
Your hiring turns project-concentrated, in which you may form yearly, monthly or weekly contracts following your project essentials. Furthermore, contractual staff may even replace the regular staff during breaks or absences.
This talent lets you fulfill your project presentation timelines with no overheads. Hence, you may produce a range of thriving project presentations without obstructing your general obligations and finances.
8. Obtain distinct skills
Whether you're thinking about investing in different business opportunities requiring special attributes for a fixed duration or planning to enlarge into distinct domains, project-oriented recruitment is the perfect method for accomplishing your goals. Furthermore, project-based NetSuite implementation consultants come with specific or specialized skills after working in various industries and domains.
Because they already acquire advanced knowledge of presenting well in fields which you want to venture into, you'll have an entry into professional skills which you require, without utilizing enormous resources on training and recruiting fresh faces for these specialized skills.
Moreover, the consultants with specialized expertise and substantial working experience in this sector shall offer you excellent insights and aid you in steering the current business procedure effectively. These adept contractual consultants have well-knowledge about their field and thus directly begin functioning as soon as you hire them, permitting you to present an immediate outcome.
Various Project-based NetSuite Talents to Hire
Possessing a NetSuite Alliance Partner or an expert team makes your usage and execution of NetSuite much more straightforward. With these experts, you may easily make the best use of the cloud-based NetSuite software! Following each of the NetSuite talent have their specific function, task, and role:
1. NetSuite Developer
One can personalize NetSuite as per the organization's requirements, indicating that it is highly customizable. Hence, if you wish to bring the maximum benefit from the software, you'll require an experienced and skilled developer who shall match the business goals, thereby converting them into extensions and programs. NetSuite developers also help in building automation in this incredible software.
2. NetSuite Administrator
A Certified NetSuite administrator is regarded as the core and center of the NetSuite team as their principal goal is to maintain and configure the software. This personnel uses all the implements of NetSuite for maintaining and tailoring dashboards that match your business's requirements. Besides that, the administrator may even offer technical assistance to your team.
Besides the detailed comprehension of the NetSuite technicalities, the administrator is further expected to alter the intensive situations. Professional administrators are collected and calm when they find solutions to problems and possess the talent to communicate productively with the business team.
3. NetSuite Consultant
The primary role of a NetSuite consultant is to develop and manage the software considering the requirements of the business. They further offer support and training to ensure that the NetSuite software users, as well as your business, can grab maximum benefits out of it.
Hence an experienced and skilled consultant provides advice on the best ways to execute NetSuite and the personalization you may benefit from. Furthermore, a NetSuite consultant finds opportunities, detects gaps, and looks over the business processes for development utilizing technology.
Since they are responsible for the total administration of this system, they shall further review if this software is being utilized correctly.
Conclusion
Hiring a dedicated resource for cost-effective and fastest NetSuite Solutions is best when considering developing a closed-range project. This is especially important when you've been computing it over a limited bid price, materials, and time. It's in considering the dependencies and complexities of having a frozen opportunity.
Nevertheless, with a committed resource engagement representation, clients hold total control over the project, the delivery, and the teamwork. The route to this issue is to take professional assistance like that of NetSuite, having an experienced and capable firm to increase human resources, which is obtainable on a project basis.