Before we delve into the topic of the NetSuite Multi-Book accounting system, we will clear some basics first. What is a Multi-book accounting system? A Multi-Book accounting system is an accounting system that provides the users with the ability to maintain multiple sets of accounting records.
Basic accounting solutions are enough for most businesses. For some businesses, though, basic accounting solutions are not sufficient. This is because such businesses operate on a grand scale, often serving customers worldwide. Such businesses require Multi-Book accounting systems that operate on a cross-country level.
Here are a few benefits of a Multi-Book accounting system.
A Multi-Book accounting system can handle the complexities arising from handling accounting functions in multiple jurisdictions. A multi-book accounting system can also adapt according to different accounting principles and industries. Your business can easily comply with international accounting standards and compliances with a Multi-Book accounting system.
The NetSuite Multi-Book accounting solution is one of the most powerful Multi-Book accounting solutions ever built. The benefit of NetSuite is that it is designed to meet industry-specific accounting requirements.
Multi-Book accounting is required in certain scenarios. Let's have a look at those scenarios.
When is Multi-Book Accounting required?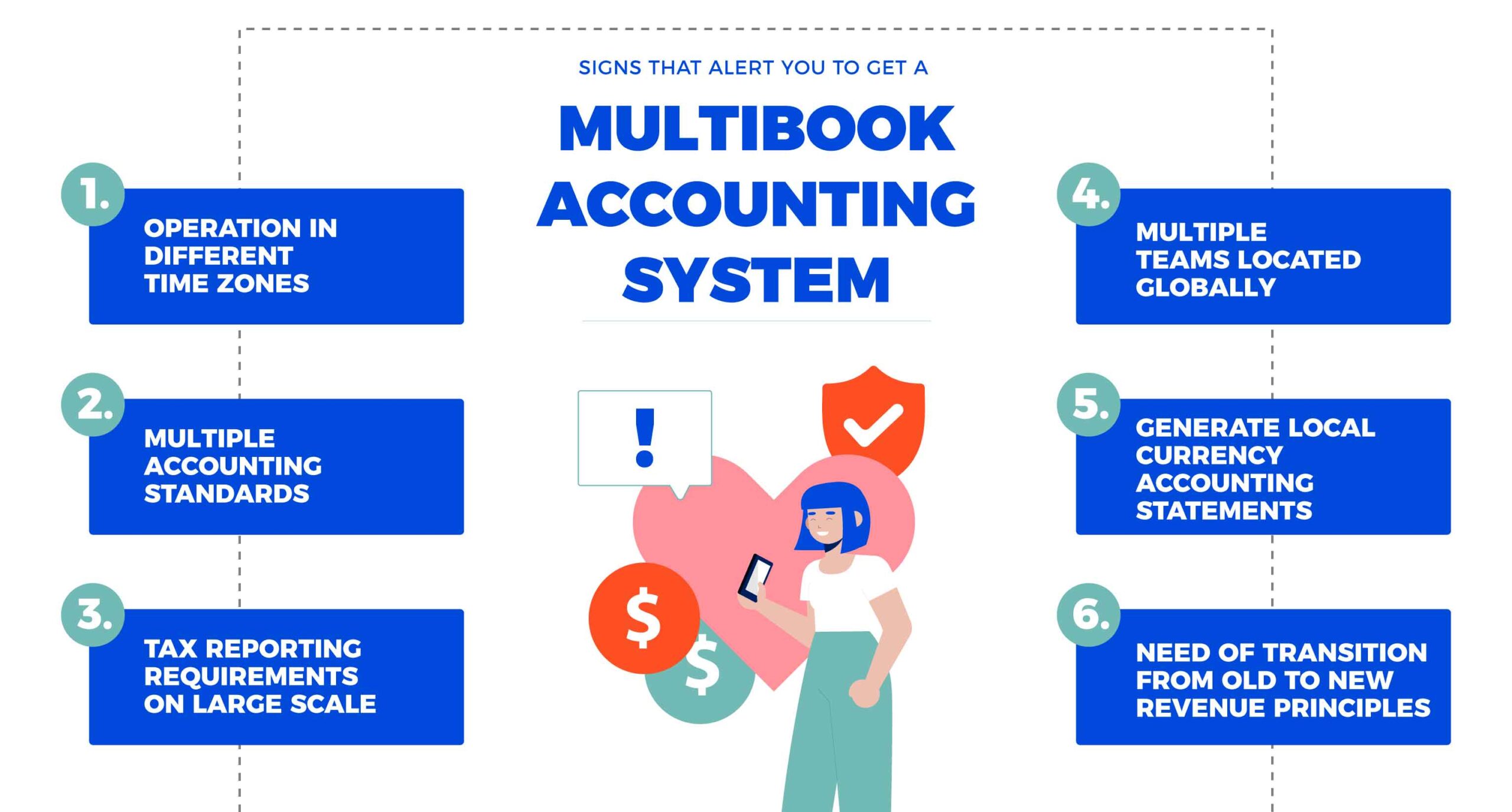 As a business owner, the main question is, how do you know that your business needs a multi-book accounting solution? Your organization will require a multi-book accounting solution under the following circumstances to answer your question.
If your business operates in different time zones
If your business needs to handle multiple accounting standards
If your business has a wide range of tax reporting requirements
If you need to handle multiple teams located all across the world
If you have a subsidiary that needs to generate accounting statements in the local currency that are different from your organization's functional currency
If you want to transition to new revenue recognition principles
Now you have the basic idea about the conditions when you need to use Multi-Book accounting. We shall now proceed towards understanding the different types of Multi-Book accounting.
Using Multiple Sets Of Multi-Book Accounting

The full Multi-Book accounting feature enables you to manage multiple sets of financial records along with supporting different reporting and accounting operations.
Here, we have explained the two most used types.
1. Book Generic
All transaction-related records except book-specific records come under the ambit of book generic accounting.
For instance, the following can be classified as book generic accounting records.
CRM records
Entity records
All other transactions accept book-specific records.
Records that are created across all books
2. Book Specific
The second type of accounting record is a book-specific accounting record. These types of records help you deal with book-specific attributes available in the book generic records. The book-specific record is created only in a single book.
The following can be classified as book-specific accounting records.
Book generic transaction records
Book-specific journals
Item records
3. Primary Book
The primary book record is the daily operational book where you record the daily business transactions. The primary book record is the main record before you enable the Multi-Book accounting feature. Once you enable the Multi-Book accounting feature, the primary book separates from the other accounting books and is automatically activated and configured.
4. Secondary Books
Secondary books are classified as all those accounting books that are not primary books. A secondary book might have different accounting rules as compared to the primary book. The currency of the secondary book might also differ from that of the primary book.
5. Chart Of Accounts Mapping
Charts of accounts mapping allow the accountants to use different account values in secondary and primary accounting books. Using the chart of accounts mapping, one can create different account balances for the secondary book. You need to configure the charts of accounts mapping feature, otherwise, all your accounting books will use the same account.
Specialities of NetSuite Multi-Book Accounting
The NetSuite Multi-Book accounting system has the following characteristics that make it one of the best in the industry.
It has a historical transaction processing feature
The NetSuite Multi-Book accounting system consists of 5 books
The accounting book of NetSuite allows you to delete the historical GL impact in secondary books
You can easily share the NetSuite Multi-Book accounting system with multiple subsidiaries of your company
NetSuite has an automated financial posting feature for different books
NetSuite allows you to use different currencies is for every subsidiary
You can align and report every NetSuite book separately
NetSuite allows you to proceed with manual adjustments and entries
Using NetSuite, you can make a depreciation schedule for every accounting book
NetSuite allows you to easily do amortization, currency revaluation, and revenue recognition transactions
NetSuite Multi-book Accounting Features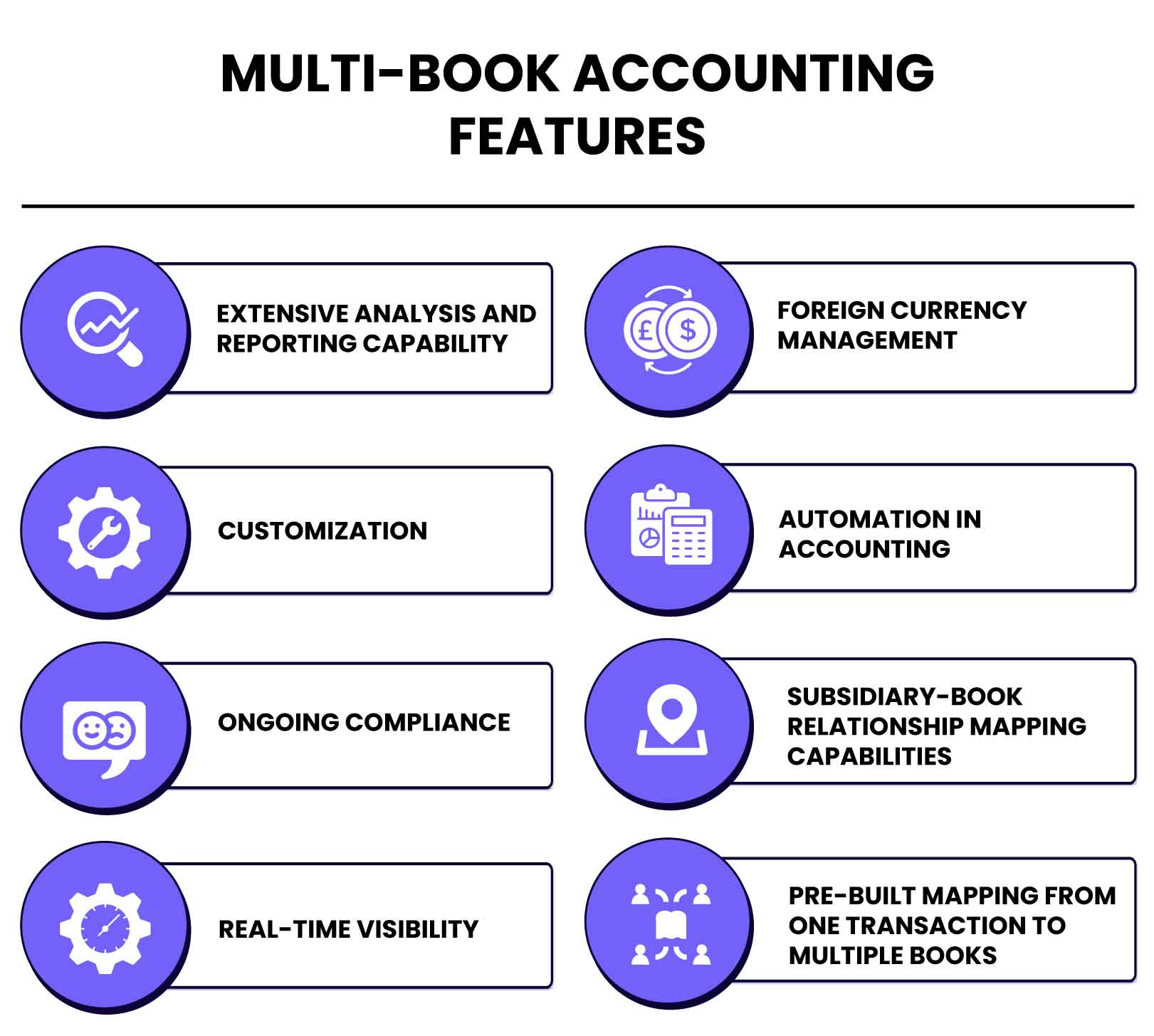 The NetSuite Multi-Book accounting system features make the solution stand out from the rest. NetSuite Multi-Book accounting has the following unique features.
Extensive Analysis And Reporting Capability
NetSuite provides an extensive range of internal as well as external reports. NetSuite allows you to create customized as well as standard financial reports. NetSuite offers an intuitive user interface dashboard. The NetSuite users can easily manage the key performance indicators and analyze their business effectively.
Automation in Accounting
Like everything else, automation can create wonders in accounting also. The NetSuite multi-book accounting system has a rule-driven engine that can be easily automated.
NetSuite provides users with highly responsive themes. NetSuite protects your accounting system from data entry duplication. NetSuite also eliminates manual adjustments required in accounting and reporting processes.
The NetSuite automated accounting makes it easy for you to record all book-specific activities regarding general ledger, revenue recognition, profit and loss allocations, depreciation, etc. With the NetSuite accounting software solutions, you can easily make a connection between the primary and secondary charts of the accounts.
Customization
The NetSuite Multi-Book accounting system allows users to customize financial processes according to their requirements. Whether the financial processes are new or old, you can easily customize them with NetSuite.
NetSuite allows you to easily create customized forms and build a customized accounting workflow. With NetSuite, you can easily create an environment to map your different business processes. NetSuite is integrated with powerful scripting abilities seamlessly aligned across the accounting system.
Foreign Currency Management
The NetSuite accounting system automatically calculates exchange rates and realized and unrealized foreign currency gains and losses. NetSuite's accounting system is compliant with SFAS 52, ASC 830, and other such currency management regulations.
Ongoing Compliance
It is very important to remain compliant with the new rules and regulations that come up in accounting. A NetSuite Multi-Book accounting system provides ongoing compliance with the changing accounting rules and regulations across multiple countries.
Real-Time Visibility
NetSuite provides real-time visibility to different stakeholders in the accounting system. While providing real-time visibility, NetSuite also ensures robust security to prevent unauthorized access.
Subsidiary-Book Relationship Mapping Capabilities
NetSuite has great subsidiary-book relationship mapping capabilities. This helps you to effectively manage your financial reporting and analysis tasks. This feature proves especially useful when you want to report in different currencies in different accounting books. For instance, if your parent organization is in the USA, then you will have to maintain an accounting book in US dollars. You might need to report in other currencies when your subsidiaries are based in other countries. NetSuite allows you to maintain USD as your base currency in your primary book while some other currency like the GBP in your secondary book.
Pre-Built Mapping From One Transaction To Multiple Books
The NetSuite Multi-Book accounting system has a pre-built automatic transaction mapping feature. NetSuite can post accounting entries in both accounting books automatically. With NetSuite, you do not have to take the hassle of reproducing transactions in different accounting books. This feature of NetSuite helps you maintain clean error-free accounting records.
Steps To Get A Multi-Book Accounting System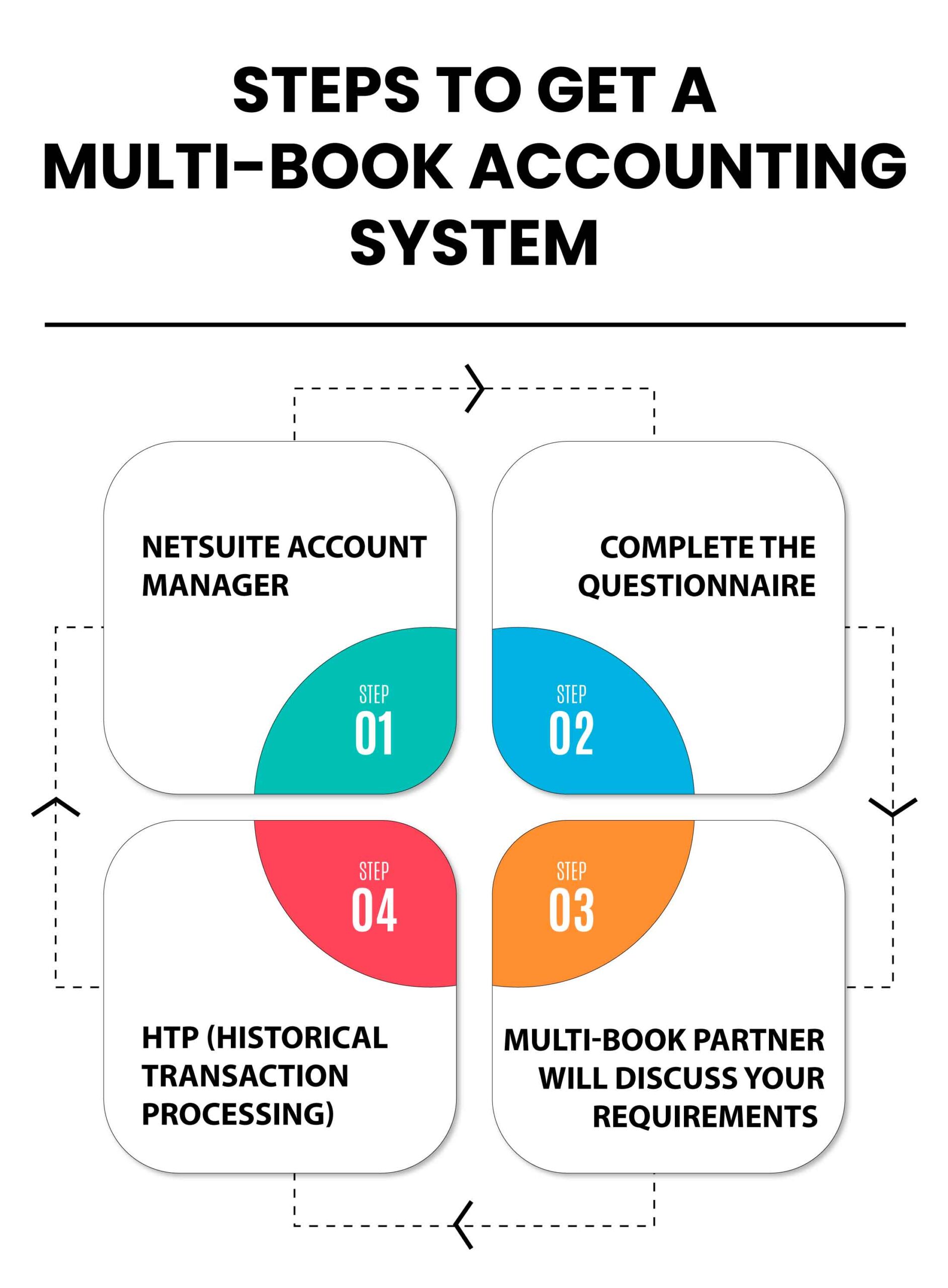 The first step is to reach out to your NetSuite account manager.
In the second step, complete the questionnaire provided by the NetSuite manager. This questionnaire will help the NetSuite team identify whether the NetSuite module will solve your problems or not.
Once the NetSuite team completes the questionnaire, your Multi-Book partner will contact you to discuss your requirements.
In case you are already a NetSuite Multi-Book customer, you might need to use a feature called HTP ( historical transaction processing). The HTP feature allows you to bring historical transactions to the newly created accounting books. The NetSuite consultants handle the entire process.
Top 14 Key Benefits of NetSuite Multi-book Accounting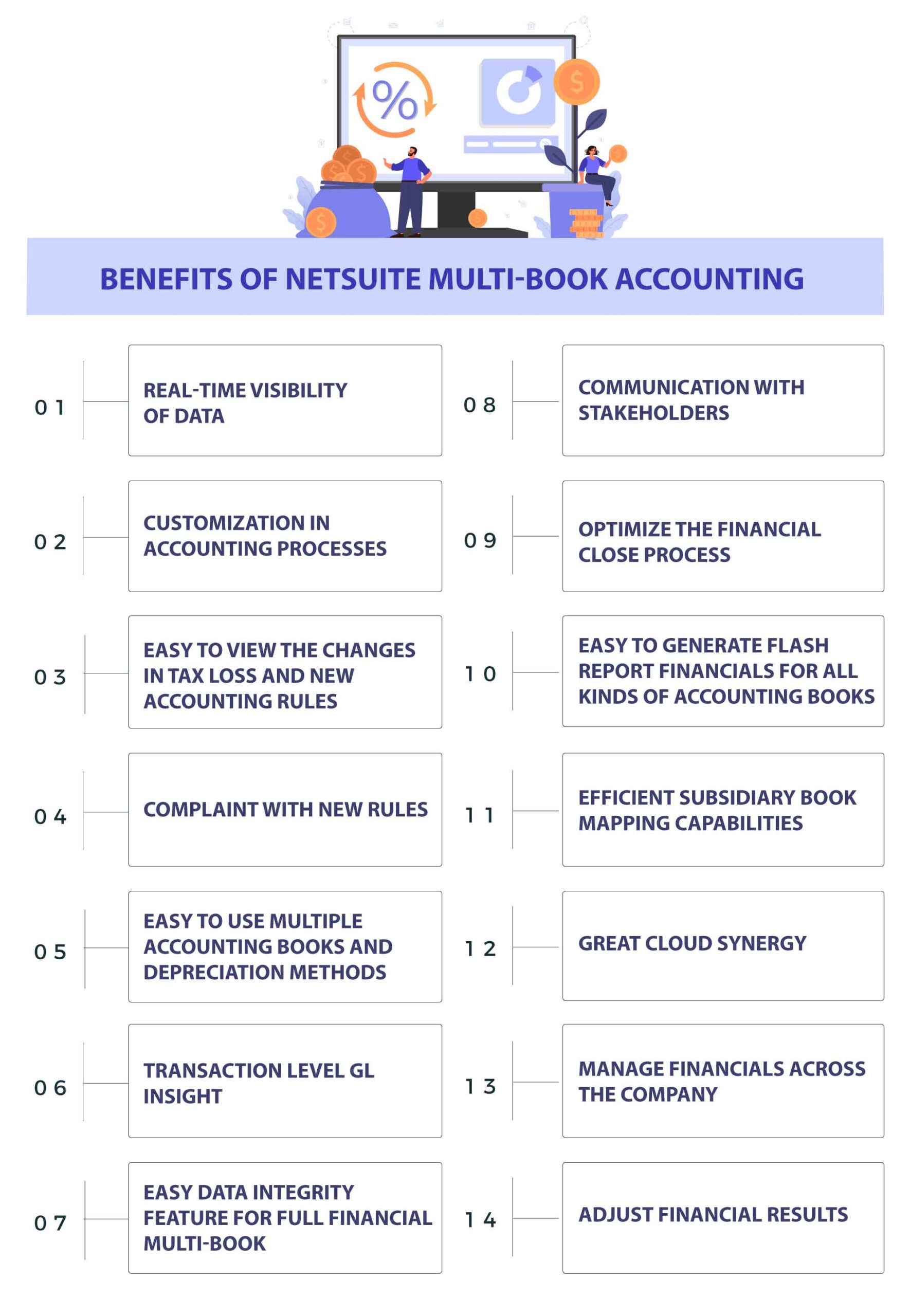 The following are the most prominent benefits of the NetSuite multi-book accounting system.
Real-time visibility of data
Customization in accounting processes
Easy to view the changes in tax loss and new accounting rules
Complaint with new rules
Easy to use multiple accounting books and depreciation methods
Communication with stakeholders
Optimize the financial close process
Easy to generate flash report financials for all kinds of accounting books
Efficient subsidiary book mapping capabilities
Great cloud synergy
Manage financials with a unified features tool across the company
Adjust financial results
Easy data integrity feature for full financial multi-book
VNMT NetSuite Multi-Book Accounting Services
NetSuite Bookkeeping Services
At VNMT solutions, you will gain access to a wide variety of bookkeeping services. We have experts like tax consultants, business advisors, and bookkeepers on our team. Whether you have licensing or custom automation requirements, VNMT solutions are your answer.
NetSuite Tax Consultancy
We understand how negative tax complications can prove for a business. That's why we have assembled a team of expert CPA accountants that help make tax planning easy for you. Proper tax planning will help you maximize tax credits and avail deductions for your business. Thus efficient tax planning can contribute positively to your bottom line.
Expert NetSuite Control Services
A NetSuite controller can help you in processes like budgeting, cost accounting, payroll reconciliations, and tax compliance. With our expert team of accountants at your disposal, you do not need to worry about data flow in your business.

Temporary Outsourced Contract CFO
If you require CFO services on a temporary contract basis, contact VNMT solutions. Our CFO will help you streamline your finance operations and align them with your business goals.
Wrap up
At VNMT solutions, we have made a name for ourselves as one of the premier NetSuite accounting services providers. This is because of the experienced team of accountants that we have assembled. As a premier NetSuite Multi-Book accounting service provider, we understand the value of reporting accuracy and data integrity. You will get high accuracy and data integrity when you hire VNMT solutions for your Multi-Book accounting needs.
The approach that your NetSuite Multi-Book accounting service provider takes has an overbearing effect on the success of your business. That's why we at VNMT solutions take a strategic approach toward Multi-Book accounting. We assess your business needs first and then decide how to fulfil your Multi-Book accounting needs. Custom-made Multi-Book accounting solutions are our forte at VNMT solutions.
Contact VNMT solutions as our expert team and will help you squeeze the best out of your NetSuite multi-book accounting system.
Important Links
The Promise NetSuite Offers For Financial Management Teams
How NetSuite Accounting Module help Businesses to Deal with the Challenges of Global Expansion