As we all know, business administrative tools are essential to a company's productivity. It has never been more important to focus on developing a better product or service in addition to delivering it. In contrast, enterprise resource planning (ERP) tools provide businesses with the foundation for managing and integrating their business processes and operations. Many struggles to find the right customized ERP solution for specific needs.
Due to the increasing complexity of business, no two companies have the same requirements for enterprise resource planning. NetSuite vs. Workday is two of the most prominent companies competing for business enterprise customers, both of which provide cloud-based ERP systems.
This blog will compare these two leading vendors to help readers decide the best fit for their business.
NetSuite vs. Workday – Which one is Better?
Before making a decision, businesses should carefully evaluate the capabilities of both NetSuite and Workday to determine which best meets their needs.
A Brief History:
NetSuite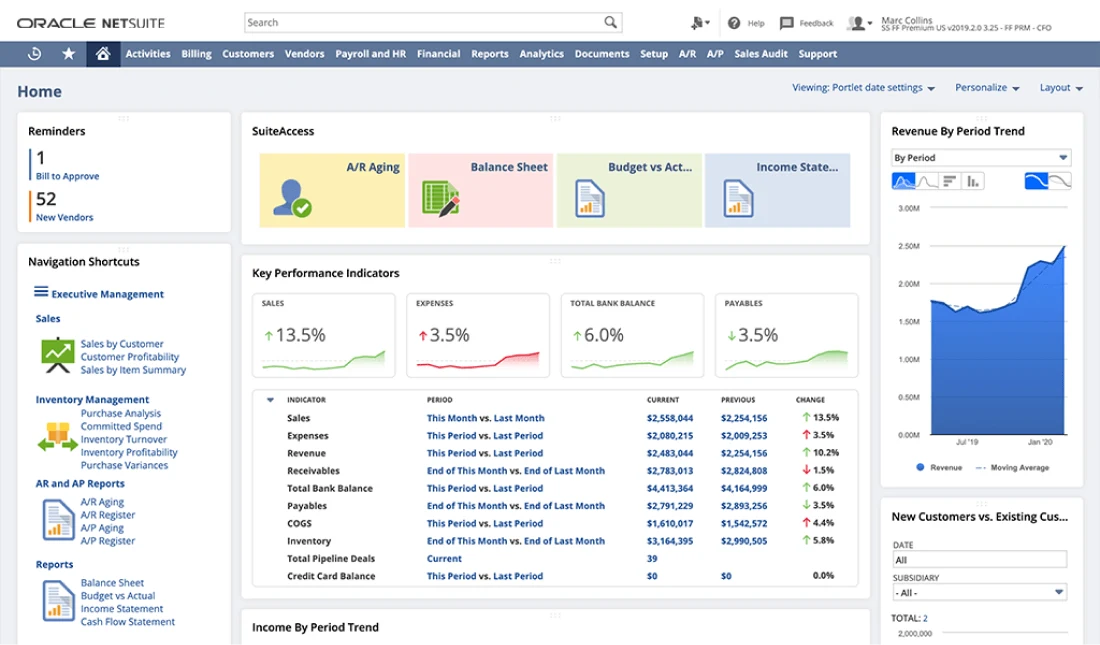 NetSuite is a cloud-based, multi-tenant ERP system that enables businesses to integrate all aspects of their business operations. NetSuite offers a wide range of CRM, e-commerce, marketing automation, analytics tools, and ERP.
Businesses use NetSuite to manage inventory, track sales performance, and compute payroll. NetSuite continues to assist companies in evolving and scaling as they see fit by operating in the cloud. As a SaaS cloud-based application, it enables businesses to access their data and run complex functions in real-time from any device.
Workday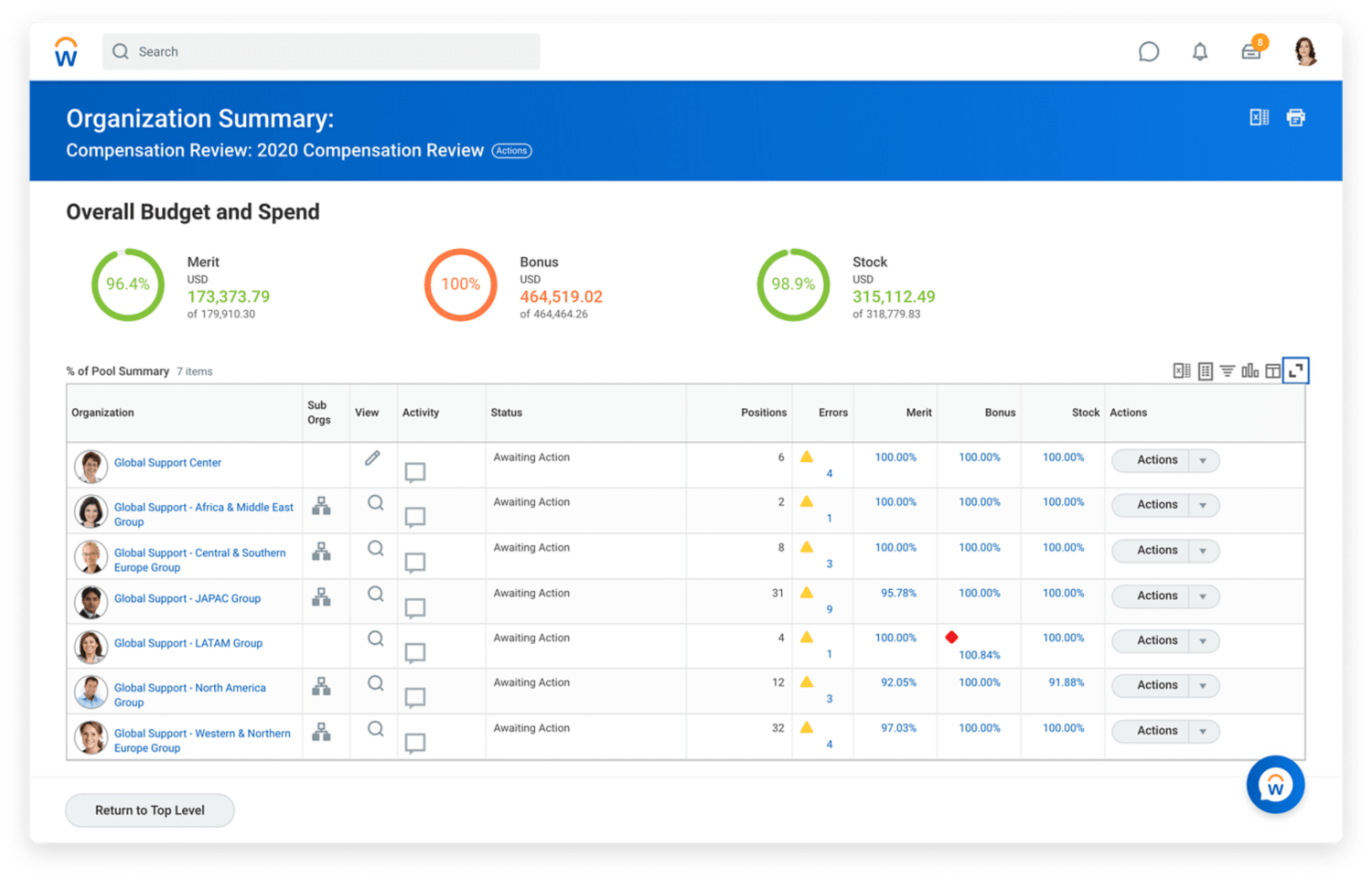 Workday is cloud-based financial management, human capital management (HCM), planning, analytics, project management, and business intelligence. Workday's HCM module helps businesses manage payrolls, training programs, time off requests, onboarding processes, recruiting needs assessment tools, and HR management.
As a unified cloud-based solution, Workday can assist businesses in quickly adapting to changing market conditions through built-in analytics. It can handle complicated financial transactions and provides forecasting, business intelligence (BI), and multi-dimensional analysis.

Cost or Pricing Models
Any business must evaluate pricing. Certain factors will impact the overall cost of ERP implementation for organizations. The final product price will be determined by the company's annual revenue, size, and desired features.
Contacting the companies will provide a better idea of how much the ERP system will cost to implement. However, the following are rough estimates of how much you'll need to spend based on NetSuite and Workday research.
NetSuite
NetSuite pricing is determined by the number of users, modules, and extra services. Businesses must pay a monthly licensing fee of $999 and a per-user fee beginning at $99.
The more features you add to your business, the more users and modules you'll require. The base prices listed above are only estimates and may vary depending on the number of users, modules, and additional services.
Workday
Workday's pricing is not available online. Instead, a customer service representative will provide individualized pricing during a demo or estimate. Pricing is tailored to the company and its requirements.
Notably, some customers have complained that Workday's relatively high pricing may not suit small and medium-sized businesses.
Verdict
Contact the best Workday or NetSuite implementation consultant to find out the exact prices for NetSuite and Workday. However, the consensus is that NetSuite offers more options for companies with varying financial capabilities. On the other hand, Workdays are more costly.
Comparison Of Features
Workday is a niche solution focused primarily on financial management and human capital management solutions; there isn't much to compare it to.
Let's take a ride at how some of the keys features this software shares in common:
Financial Management
NetSuite
NetSuite's financial management module functions similarly to Workday's solutions. The cloud-based solution provides real-time financial insights and accelerates daily financial transactions, consolidation, and budgeting cycles.
It also integrates with other business applications to provide unified insights. Among its key capabilities are:
Billing
Budgeting
Consolidation
Revenue Recognition
Workday
The financial management module in Workday is a one-stop shop for accessing integrated data on all finance-related enterprise matters and maintaining tight control over financial and accounting processes.
It intelligently guides the automation of financial activities, identifies anomalies in records, and makes recommendations using machine learning. As a result, the team can detect errors and gain insights more quickly.
Workday uses these structures and others to carry out regular financial management operations such as:
Financial Accounting
Revenue Management
Consolidation & Close
Expense Management
Financial Planning
Analytics
Verdict
NetSuite wins this round thanks to its slightly expanded financial functionalities for subsidiaries. However, both options are top financial management players, as evidenced by their placement as "leaders" in Gartner's Magic Quadrant for Cloud Core Financial Management Suites for Midsize, Large, and Global Enterprises (2021).
Human Resource Management (HCM)
NetSuite
NetSuite combines several workforces and human resource management tools into a single platform.
The HCM module eliminates the need for third-party integrations, improves the employee experience, and ensures you can make informed workforce-related decisions based on accurate data. The NetSuite modules are as follows:
HR Admin
Payroll
Workforce Management
Performance Management
Employee Engagement
Analytics
Workday
Human resource management is one of Workday's two primary focus areas; its HCM module is understandably robust.
Workday gives you complete control over employee management, from ensuring you can view data about your global workforce to delivering hiring and payroll management functionalities.
Here's a rundown of what to expect:
Human Capital Management
Payroll & Workforce Management
Talent Management
Employee Experience
Workforce Planning
Verdict:
This round ends in a tie.
NetSuite vs. Workday Alternatives
Sage X3
Sage ERP enables users to share information and resources across the organization. Sage ERP has something for everyone, from accounting to sales. Businesses can customize the system by adding modules specific to their needs.
Microsoft Dynamic 365
Microsoft is a cultural icon globally, and its Dynamics 365 software does not disappoint. It is a one-stop shop that provides bundled solutions for sales, finance, marketing, and commerce, among other things. Pricing begins at $1,500 per month per tenant.
Acumatica
Acumatica enables the centralization of transactions and processes through its integrated cloud-based solution. Streamlining internal tasks can assist businesses in increasing accuracy and efficiency. Through its website, you can schedule a demo and request pricing information.
SAP ERP
SAP has been in the business software industry for a long time. It employs intelligent technology to improve the user experience. SAP ERP provides access to all critical business functions, such as payroll and project management. The license starts at $3,213 plus an additional maintenance fee.
Who Wins the Battle?
NetSuite implements projects and changes more quickly, whereas Workday customers may have to wait longer for change implementation.
Workday has limited multicurrency and entity support, whereas NetSuite has complete global multicurrency and entity support.
Workday focuses more on the human resources (HR) and financials (FI) modules, whereas NetSuite is more comprehensive and includes several additional functionalities.
NetSuite can support small business operations while meeting larger enterprise clients' needs, whereas Workday is designed for mid-sized or larger businesses.
Wrapping Up!
The NetSuite vs. Workday financials comparison provides a comprehensive picture of the various software options available to businesses. In fact, NetSuite and Workday are two of the most popular end-to-end business management software solutions in the market. They both provide excellent services to small businesses, but in different ways.
We recommend NetSuite to businesses needing all-in-one business management software based on the preceding analysis. Compared to Workday, opt for NetSuite for financial services companies that provide a broader scope of automation. NetSuite is the better option if you intend to grow your business in the future. So what are you waiting for? Contact the experts of VNMT as one of the top NetSuite implementation partners in Australia to provide the services.