The Covid-19 pandemic made many enterprises consider stricter and granular level budgeting to take control of the shrinking bottom line. While the world of businesses are still to overcome the deficits created by the pandemic led crisis, all companies are understanding the importance of more meticulous finance planning and budgeting.
This is when the importance of finance automation has emerged with a renewed focus on enterprises across the globe. In many ways, older or traditional finance management and budgeting methods are full of loopholes that only add to the inefficiencies of your business. No wonder, NetSuite development solutions for finance and accounting are increasingly getting popular to facilitate automation in budgeting and finance planning.
The Shortcomings Of Traditional Budgeting And Financial Planning Methods
For too many businesses, planning and budgeting take too much time and consumes too many resources. Does not reporting take an extensive amount of time to accumulate information? Yes, they do. The finance management teams need to give a lot of time to administrative tasks for a diverse range of processes including data collection, data consolidation, and reconciliation of data.
When such huge resources and time are spent on these tasks, they don't have enough time for carrying analysis, strategy building and setting targets. It is time to consider whether your company is inputting and collecting revenue and budgeting into Excel? Because, all the excel sheets, spreadsheets, and emails used in the manual budgeting and finance management processes leave scopes for a lot of errors and they also consume a lot of time for updating the latest data.
Some of the most notable ways the traditional methods impact businesses include the following.
Loss of time in data collection and making data updates from different departments.

The complexity and consumption of time in validating assumptions.

Difficulties in allowing collaboration between different stakeholders.

Sluggish response to various market changes and evolving business opportunities.

Incapability in making faster and effective business decisions.
The NetSuite Finance Automation To Address These Challenges
NetSuite planning and budgeting solution has emerged as the most comprehensive solution to address these challenges conclusively. Thanks to NetSuite planning and budgeting cloud services businesses can enjoy far enhanced control and organizational alignment to ensure accountability, higher collaboration, reduced planning cycle, and optimum visibility.
What is NetSuite Planning and Budgeting Cloud Service?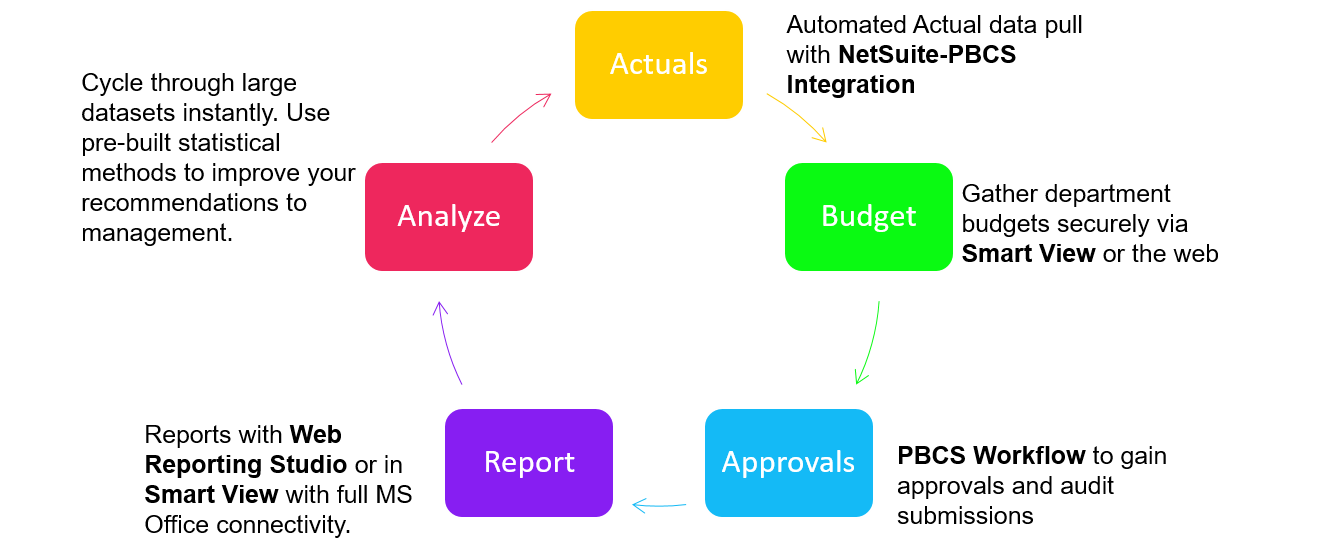 Oracle NetSuite, the most popular enterprise resource planning and CRM platform using its inbuilt proficiency and tools come with advanced solutions for financial planning and budgeting.
The solution thanks to a direct connection with SmartView, the Microsoft tool for faster acquiring financial and non-financial data to deliver deeper insights, automated data entry, and faster scrutinizing of statistics, provided businesses a never-before toolset and mechanism for automating their financial planning and budgeting tasks.
10 Top Key NetSuite PBCS Features
Let us have a brief understanding of the key features of NetSuite planning and budgeting cloud services or NetSuite PBCS.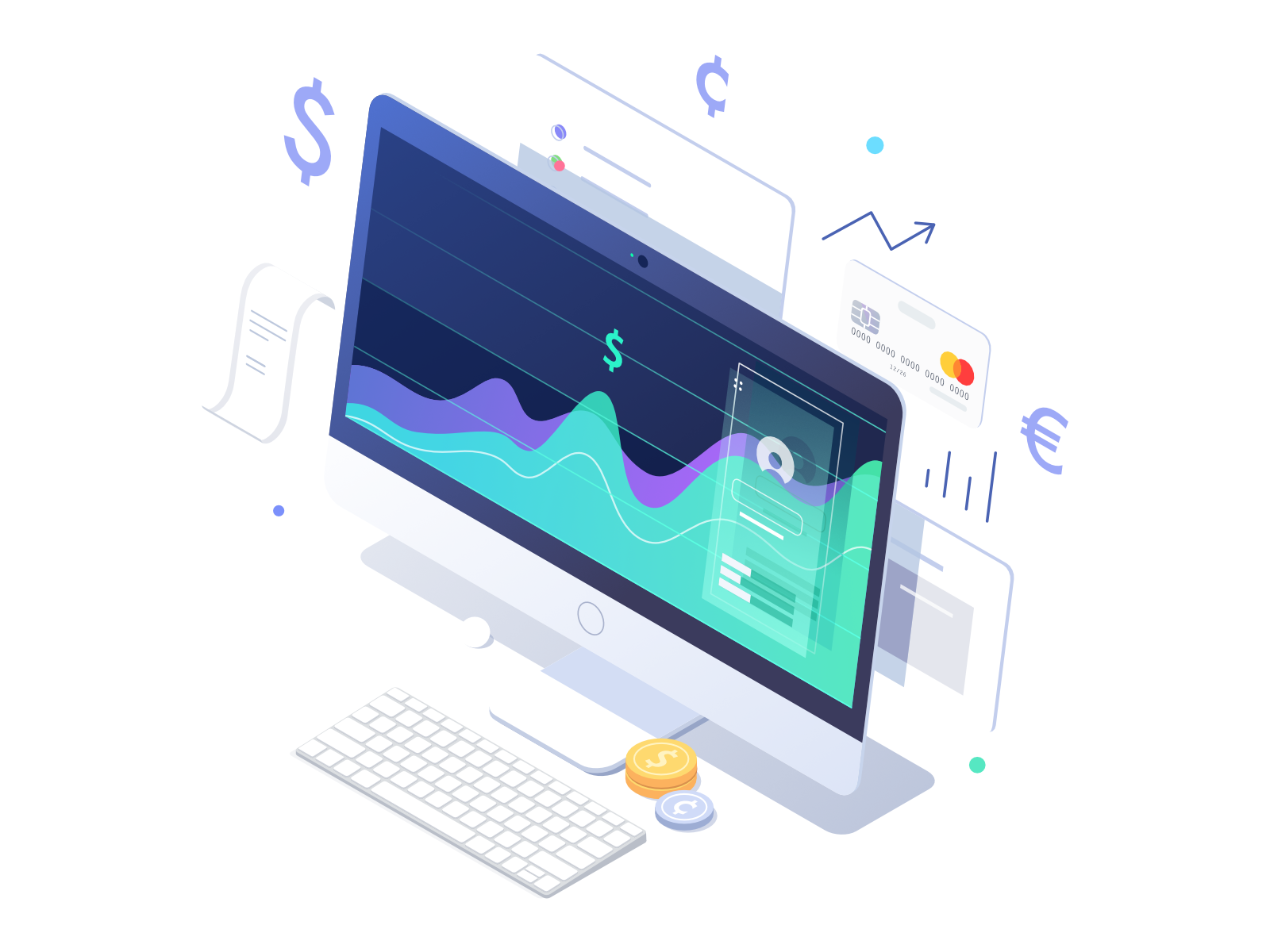 Easier Budgeting Process
NetSuite PBCS allows budgeting across the company or just a department within the same flexible, collaborative, and scalable platform. The toolset offers comprehensive support for revenue and expense projections to deliver data-driven insights that can be utilized in budgeting. The easy and automatic synchronization with the NetSuite platform allows utilizing the entire financial and operational data all through the budgeting process and thus reducing manual data transfer needs.
Comprehensive Capital Expense Planning
Oracle NetSuite PBCS allows easier management and planning for capital expenses and evaluates its influence on entire expenses and the accounting statements. With this toolset, a business can easily come with a comprehensive model of the company's capital expenses. This ultimately helps the strategists and decision-makers to get a complete and detailed picture of the capital expenses in financial statements.
Easier Planning For Travel and Other Expenses
NetSuite PBCS solution delivers a business-friendly, well structured, and articulated set of processes to develop meticulous travel and expense plans and maintain and align the plan with the business process implementation through intelligent analytics.
Streamlining Allocations For Indirect Expenses
With NetSuite PBCS, the businesses can easily automate allocations for all indirect expenses and this can ensure additional insights for planning, evaluating profitability, and mapping operational as well as financial data so that any business process needs to decide on allocation from time to time can take advantage of automation.
Complicated Operation Planning Made Easy
With Oracle NetSuite PBCS, the businesses can easily utilize the flexible driver-based planning tools to bring into consideration all the complex operational assumptions and evaluate their financial results.
Planning The Strategic Workforce
Oracle NetSuite PBCS makes workforce planning easier and can calculate all the expenses related to the workforce more meticulously. Various expenses related to human capital such as the salary, employee count, salary, and compensation can be planned as per the strategic priorities of the organization.
Easy Integration Of Financial Statement
The NetSuite PBCS suite of tools helps businesses to plan, make detailed budgets, and make precise and faster predictions about revenue, cash flow, expense, balance sheet. This integrated financial statement coming with more precisions and details will give any business more control.
Dynamic Data Modeling And Analysis Through Smart View
NetSuite PBCS allows full integration with major Microsoft Office tools used by enterprises. From Microsoft Outlook, Excel, Word to PowerPoint, and Smart View, all these tools can be integrated with the financial planning suite. This will help with data middling and data analytics tasks in a number of ways.
Enhance The Precision Of Prediction In Planning
NetSuite PBCS will ensure more streamlined and precision-driven planning and data-driven predictions through a robust, pre-built data modeling engine. Thanks to this toolset just a few clicks are required for predictive planning to collect historical data, align the same to different industry-specific statistical models, create a dashboard, and come with precise predictions for future financial results.
Allow Data-Driven And Analytics Powered Reporting
Finally, NetSuite PBCS offers very solid reporting and analytics tools for precise, narrative, statistical, and regulatory reporting. The platform offers you a drag-and-drop report builder tool to deliver powerful, easy to grab, and detailed web-based reports for finance and business managers.
Key Benefits Of NetSuite Planning and Budgeting Cloud Services Or NetSuite PBCS
Now that we have discussed all the features of this oracle NetSuite planning tools for budgeting and finance, it is important now to explain their actual benefits for the businesses. Here we explain.
Lesser time for planning cycle:

The automated collection of inputs and assumptions and faster iterations and evaluations ultimately results in quicker completion of the planning.

Enhanced predictive accuracy

: Thanks to this toolset the businesses can regularly analyze the actual and projected outcomes to provide more precise predictions.

Comprehensive organizational alignment

: By bringing all the information facets and multifaceted cost structures under one data analytics structure, the alignment of the entire organization with the objectives becomes easier.

Faster delivery of insight and decision making

: Through the streamlined pool of information and analytical insights in one place, faster decision making can be ensured.
Since the Oracle NetSuite planning for financial analysis and budgeting has become popular in many organizations, we have examples galore of successful implementation and great outcomes of these suites tools.
In many businesses like hospitality and travel where real-time occupancy rate and other metrics need continuous forecasting and analysis for more accurate budgetary decisions, the NetSuite budgeting, and financial planning tools came as a big rescue.
Conclusion
Lastly, let us not forget to remind you that the best NetSuite implementation for comprehensive budgeting and financial planning automation is always advisable to hire experienced NetSuite experts. A NetSuite consultant company can make your job easier when it is about implementation.