For many organizations starting, QuickBooks is a logical and economical way to manage your business. As your organization grows and accounting becomes more complex, you will discover that entry-level software has clear limitations. To be precise, handling mature accounting challenges with spreadsheets and disparate applications will not work.
This is the reason that modern-day companies make the switch to NetSuite and hire a NetSuite implementation partner for all their accounting software solutions. Always remember that inadequate business management tools can severely compromise your accounting practices. Although QuickBooks is unarguably one of the best accounting systems for startups, you would have trouble managing your finances efficiently once you start to grow and expand.
Therefore, an upgrade from QuickBooks can alleviate the pain of your finance team and help establish your business with proper systems to support your requirements. Before delving deeper into why you have to change from QuickBooks to NetSuite, you should be aware of the signs that your finance team needs a new automated accounting solution.

The Top 3 Signs Which Dictate That You Need A Change
As discussed earlier, QuickBooks offer smaller organizations a faster and simple way to get their businesses running while managing various aspects of finances. As organizations start to develop globally or expand their organizational practices, they begin to outgrow the features offered by a starter system like QuickBooks. So let's take a glance at some of the signs that you have to leave behind QuickBooks.
Provides your Team with Realistic Visibility
The accounting environment of today needs consolidated views and up-to-date reporting. Without consolidated views, your business cannot thrive. Moreover, with regulations tightening every day, it is essential that a company has trustworthy and real-time data availability. For instance, when you rely on QuickBooks, you wouldn't have access to realistic data. And when you are devoid of any form of realistic data to share with supervisors, your business tends to suffer.
Poor Inventory Management
As already discussed, visibility is one of the most significant issues when the context is about QuickBooks. QuickBooks fails to provide users with precise visibility when inventory management is involved. For instance, users have to be present in the warehouse to track the updates, which can be pretty stressful.
Over Dependence on Excel Sheets
With an obsolete bookkeeping software platform, a majority of your time would be consumed with spreadsheets and working on excel sheets. There is no denying the significance of excel in many office related assignments. However, excel can never substitute your accounting tools. Also, there is a need to share data with your manager swiftly, which is just not possible with QuickBooks.
3 Reasons Why CFOs Switch From QuickBooks To NetSuite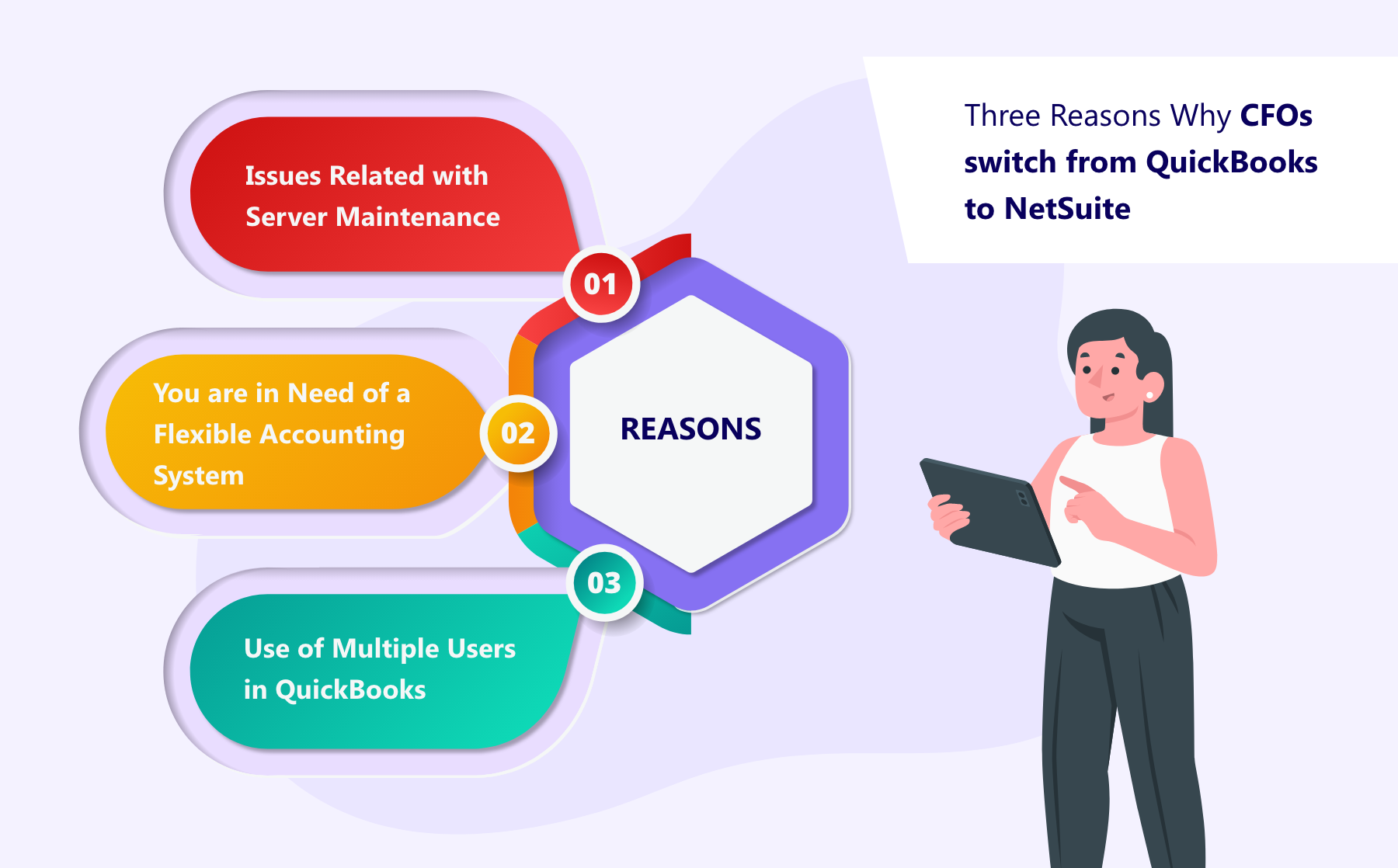 Here are the reasons which depict why CFOs switch from QuickBooks to NetSuite.
Issues Related to Server Maintenance
In case you don't know, many organizations rely on the desktop version of QuickBooks as the online version cannot handle specific tasks. For instance, the online version of QuickBooks has a visible weakness when the context is about foreign banking. So as you can see, this can give rise to a situation where QuickBooks is the only application that requires servers.
In this context, you have to maintain a server just for the sake of QuickBooks. What's more, you have to allocate financial and technical resources for the proper maintenance of the servers. On the other hand, it is not always convenient for your team to work in a flexible manner with servers. For instance, during emergencies, your finance team can efficiently work from home when you have a cloud-based accounting system.
You are in Need of a Flexible Accounting System
When you begin to grow, the associated software platforms should also grow with you. This is where NetSuite is much sufficient when compared to QuickBooks. When you make the switch to NetSuite and implement NetSuite development services, you should never have to worry about outgrowing your existing accounting system.
On the other hand, if you are running various software systems, more of your time would inevitably be spent maintaining these systems. Furthermore, entering redundant data and addressing the sync errors can cause you to lag on reporting. From simple to complex assignments, NetSuite can fix all issues as it has got innumerable integrations.
Use of Multiple Users in QuickBooks
When your organization data lives on servers, team members have to install QuickBooks to access it. Things go fine as long as they use their own assigned computers. But when they access QuickBooks on a different system, they have to reinstall QuickBooks again.
What's more, a majority of QuickBooks licenses only allow a few users into the system. So there is no scope for multiple users to work with financial data.
3 Wins That Result From Switching To NetSuite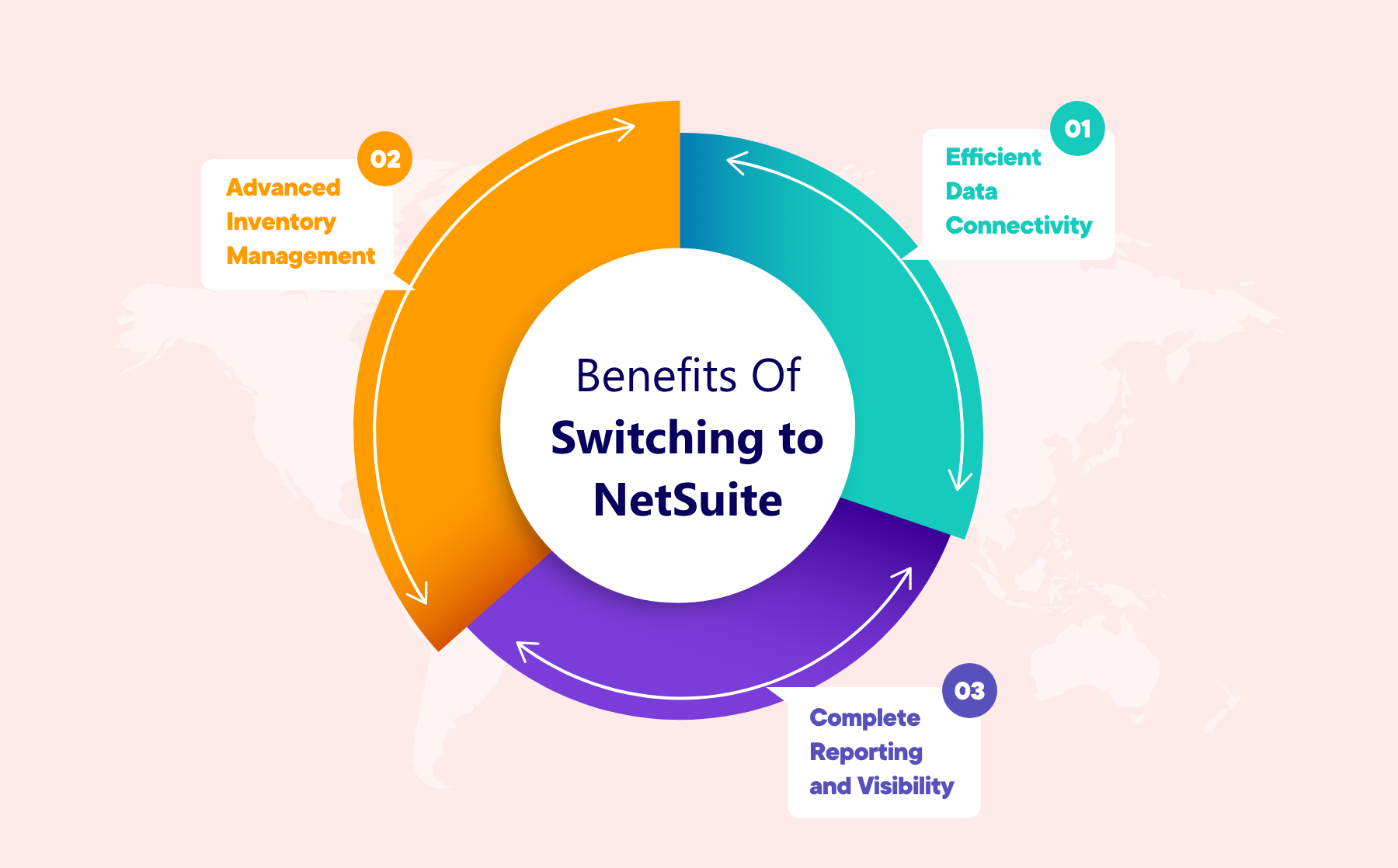 Here are the benefits which you would avail yourself by switching to NetSuite.
Complete Reporting and Visibility
To be precise, NetSuite is also an ERP system on the cloud which can take care of your business requirements. It delivers a 360-degree vision of the company procedures with real-time reporting and data. In case you don't know, NetSuite also relies on a solitary dashboard to fine-tune the accounting system of your business.
Advanced Inventory Management
Another key highlight of NetSuite is that it facilitates a robust warehouse management system with a 360-degree view of entire activities. It also offers complete visibility with deeper insights into inventory tracking that fine-tines your organizational processes.
Well-organized Data Connectivity
It goes without saying that NetSuite is a cloud-based system and thus facilitates effectual data connectivity. In other words, users can access the same data from the source without any manual intervention. What's more, with NetSuite, CFOs can modify authorizations; hence there is no redundant data share.
So as you can see, there are various types of benefits associated with NetSuite compared to QuickBooks. Moreover, NetSuite can also handle supply chain management, demand planning, etc. On the other hand, NetSuite is also quite useful when your business is scaling. In short, it is appropriate for small-scale and medium-scale enterprises. Quite impressively, NetSuite also empowers your business to achieve its full potential in the future.