In earlier days, most organizations used to maintain separate CRM and ERP software platforms to manage front-end and back-end tasks. However, those days are gone when you have to use two different ERP platforms to operate. With the evolution of integration capabilities, organizations can now happily integrate CRM and ERP modules to execute their business operations seamlessly.
In this context, it is essential to mention that NetSuite is creating ripples in the ERP domain with its robust set of functionalities. Nowadays, it is the leading cloud solution that offers an integrated approach to manage CRM, e-commerce, and manufacturing operations. Well, there is an array of NetSuite integration benefits that modern-day brands must be aware of to stay ahead in this slit throat competitive world of business.
Being a cloud-based platform, it permits organizations to manage crucial business processes in a unified manner. From NetSuite integration with WooCommerce to its integration with your manufacturing processes, NetSuite can be a game-changing prospect for any organization. So with these things in mind, let's delve into the capabilities and benefits of NetSuite integration.
An Overview of NetSuite and How It Benefits Modern-Day Companies
There is no denying the fact that selecting an ERP solution for your organization is a crucial decision. In other words, the selection process requires a detailed analysis of various aspects. As per NetSuite, users can run their organizations in a seamless and integrated manner. This integrated approach of NetSuite helps you to optimize your overall resources.
In case you don't know, the whole business process would be managed within a single system when you have NetSuite deployed. Quite impressively, NetSuite works under a subscription model, which many small organizations find appealing. This is because even if you are a small-scale company, with NetSuite, you have to pay per use only.
So as you can see, you can drastically decrease initial investments and reduce the effort on software maintenance. What's more, organizations can derive a bundle of modules specific to their industry. One of the critical highlights of NetSuite integration services is that you will have access to a plethora of APIs.
The requirement for customization emerges when an organization relies on various subsystems to run its business process. It is common sense that when a company depends on different software platforms, its overall efficiency decreases a great deal. With NetSuite, you can integrate these fragmented activities, thereby fine-tuning efficiency.
5 Reasons to Select NetSuite Integration And Build Momentum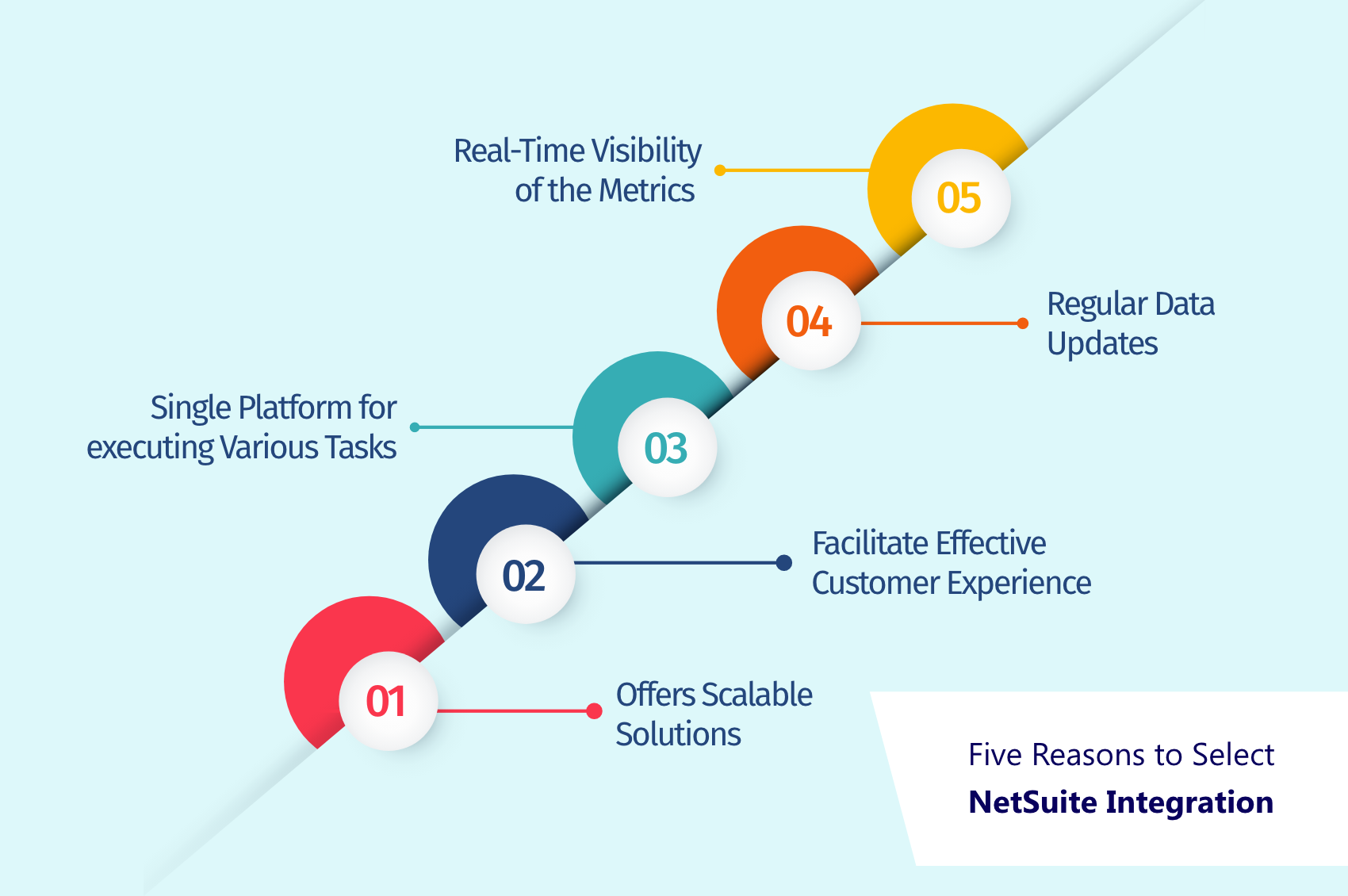 To be precise, NetSuite is the best cloud business management software platform available out there. With NetSuite, you would have a single web-based platform to combine an array of business functions like CRM, ERP, HRMS, etc.
Also, you would have access to NetSuite integration API, which would make it easier for any organization to adapt to this revolutionary business solution. Let's take a glance at some of the reasons behind opting for NetSuite integration.
Real-Time Visibility of the Metrics
One of the key benefits of NetSuite is that it has real-time dashboards. These dashboards facilitate an immediate and clear view of the core business metrics. From finance to sales, you would be able to keep a tab on all business metrics and activities. What's more, you would also have the ability to view and act on real-time data on time.
NetSuite has an excellent reputation for providing a 360-degree view of end-to-end business processes. Also, with real-time visibility, you can undertake informed decisions. You would have instantaneous access to data, which would drastically reduce your efforts to extract it from other sources.
Regular Data Updates
As a business owner, you are well-aware of the fact that there are mountains of data to concentrate on. The NetSuite integration tools would allow you to register every speck of data. What this means is you can have data to facilitate decision making.
On the other hand, if your business still relies on traditional data entry operations, you would have to deal with a lengthy and highly inefficient process. Also, the manual data entry process involving your employees is susceptible to errors.
With the integration of NetSuite, you would get regular data updates based on your preference. This makes your task easy and helps improve the efficiency of your overall business process. So as you can see, there are definite benefits of NetSuite integration.

Single Platform For Executing Various Tasks
Well, another crucial benefit of NetSuite is that it provides a single cloud-based platform to run and manage several business processes. In other words, even if you have different departments in your organization, you don't have to deploy separate applications to optimize them.
NetSuite can automate your CRM, HRMS, e-commerce, finance departments to make sure you are at the top of your game. Also, when there is automation with NetSuite, you can reduce manual labor, which would result in lowering operational costs.
Facilitate Effective Customer Experience
The NetSuite integration partners are of the opinion that NetSuite can help you render a compelling customer experience. With NetSuite, you would have a streamlined and automated mechanism, which in turn would help you to consider your customer's requirements. For instance, the CRM module of NetSuite would allow you to connect with customers in an instant. Also, your customer servicing team would have access to instantaneous data while interacting with the clients.
Scalable Solutions
It is a commonly observed fact that any organization might outgrow its current state. In that case, you need a business management solution that can keep pace with your expanding requirements. Thankfully, NetSuite offers complete flexibility in the form of multiple languages, currencies, and holdings.
So if you think your company is expanding horizontally, you can add more users to newer functionalities to the subscription. On the other hand, if you are in need of more unique modules, you can add that as per your convenience by paying for those services only.
It is essential to consider a reputed NetSuite integration partner who would seamlessly integrate all the features and modules of NetSuite to your organization. What's more, NetSuite also enhances the efficiency of your IT department, which augurs well for your business.