Since SuiteBilling is a relatively new product, it's unsurprising that many NetSuite customers must be aware of its advantages. However, if your company uses subscription billing, you may find SuiteBilling to be of great value. But before we start with the NetSuite SuiteBilling Guide, let us first understand the concept of Subscription Billing.
What is Subscription Billing?
Nowadays, finance executives constantly seek innovative methods to boost income streams for their maintenance, support, and product offerings, frequently resulting in a complicated fusion of usage-based invoicing and subscriptions.
A subscription service charges clients regularly rather than selling a single item. Many software companies, including NetSuite, Salesforce, and Netflix, use this billing method.
A small business with a limited number of clients may use spreadsheets. But once your business has hundreds or thousands of customers and perhaps millions of transactions, it is essential to have software that can handle this. Without it, you run the danger of overcharging your clients, resulting in higher customer attrition, and you could not even bill them at your worst. Therefore, you can use the billing schedule in NetSuite to streamline the entire process.
One of the most viable billing systems available to enterprises is NetSuite SuiteBilling. It allows the users to synchronize their orders, billing, and revenue recognition into a single system. It can also create flexible contracts for customers as it integrates seamlessly with NetSuite's core financial accounting solution.
What Makes SuiteBilling A Smart Choice In 2022?
As the economy gradually shifts toward the subscription model, businesses need a mechanism to create invoices that appropriately reflect price and consumption over a predetermined time. This is where NetSuite SuiteBilling comes to the rescue.
It is exclusive to NetSuite users, offering real-time visibility into billing and financial activities and assisting businesses in streamlining billing processes.
SuiteBilling offers transparency about all billing operations through unified invoicing, automated rating procedures, and compatibility for numerous pricing models. As well as subscription-based billing with variable consumption, it also supports metering. It also offers the option to add and delete subscription packages.
• Billing for subscriptions with variable consumption.
• Combination billing.
• Additional reporting that is exclusive to the software sector.
It is possible to integrate SuiteBilling with other applications like SalesForce.
What Are The Benefits Of SuiteBilling?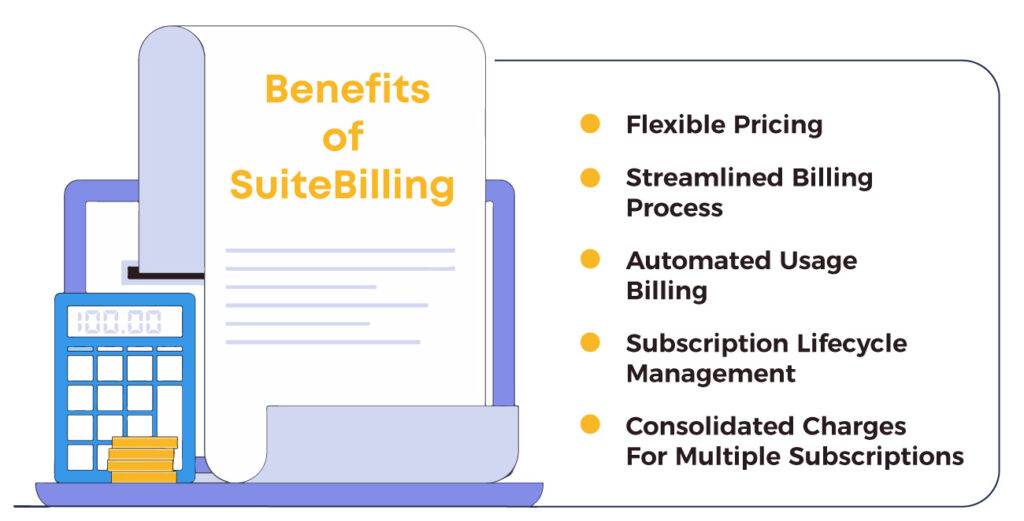 The following are some of the perks of the NetSuite SuiteBilling Demo:
1. Flexible Pricing
NetSuite supports volume-based, tiered, flat-priced standard and customer-specific pricing strategies.
In flat pricing, NetSuite charges clients the same amount per billing cycle.
The most incredible volume tier unit rate obtained is applied to the total amount charged in volume-based pricing based on usage or entitlement.
A specified range of rates is applied to the charge for each consumption unit or entitlement under Tiered Pricing. Several per-unit rates are combined to provide the total end-rated value to get the ultimate amount to cost.
2. Streamlined Billing Process
A company may fully automate its billing process with NetSuite SuiteBilling. It supports evergreen and conventional time-based subscription models (e.g., 1-year, 3-year). It is simple to handle subscription changes like upsells, down sells, suspensions, and terminations. Automated renewals decrease revenue leakage. By automating the renewal process, SuiteBilling can help you avoid reviewing every renewal contract.
3. Subscription Lifecycle Management
With SuiteBilling, you can create subscription items and orders, update orders, dynamic revenue and billing data, and much more.
Organizations may automate and schedule changes to subscriptions with NetSuite SuiteBilling. With change orders, subscription prices are adjusted immediately or delayed, while modifications to consumer subscriptions no longer need to be tracked manually. As soon as the change order's effective date approaches, SuiteBilling can note the change.
Depending on the Customer, you can build generic price templates and unique situations to enable deal discussions and contracts tailored to your customers with SuiteBilling. You may establish and utilize generic subscriptions for all customers or just a selected group of them.
Users can construct individual price and contract arrangements for clients, including precise discounting criteria per item in the subscription, customized subscriptions based on modifications to current subscriptions, or "net-new" subscriptions.
4. Automated Usage Billing
Thanks to flexible alternatives, businesses can charge memberships as one-time or recurring payments in advance or arrears. Companies may construct subscriptions with several rating models that capture setup costs, license counts, and variable usage simultaneously. The payment process is substantially more efficient when combined with flexible rating models and simple subscription setup and maintenance.
5. Consolidated Charges For Multiple Subscriptions
Reporting Insight into basic billing and financial data, such as monthly recurring income, total contract value, and customer attrition is quickly provided through real-time reporting.
How To Set Up NetSuite Billing Operations?
To use NetSuite Financial Management, you must turn on the functionality. Follow these steps: Go to Setup > Company > Enable Features. You would activate this under the "Billing" portion of the "Transactions" subtab. Setting up Billing Operations is simple once you've started this option. You can run this as a scheduled event or as a single event.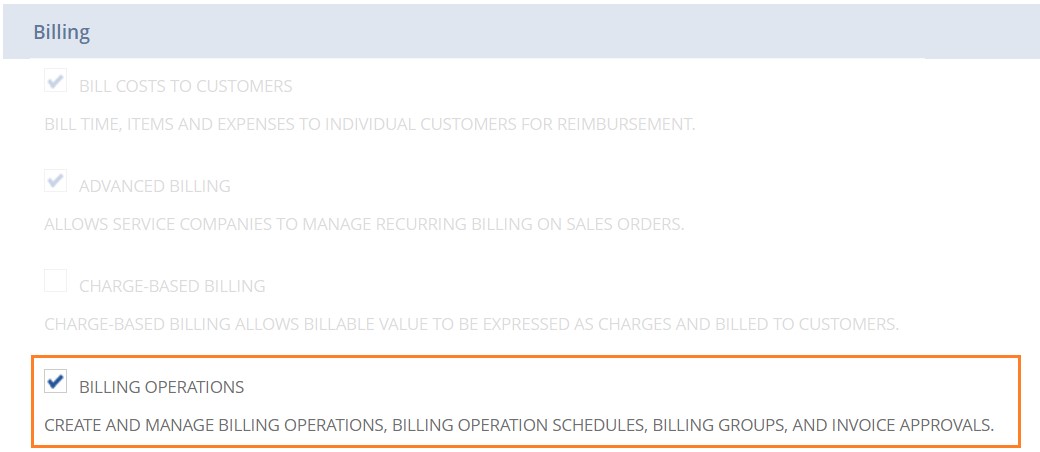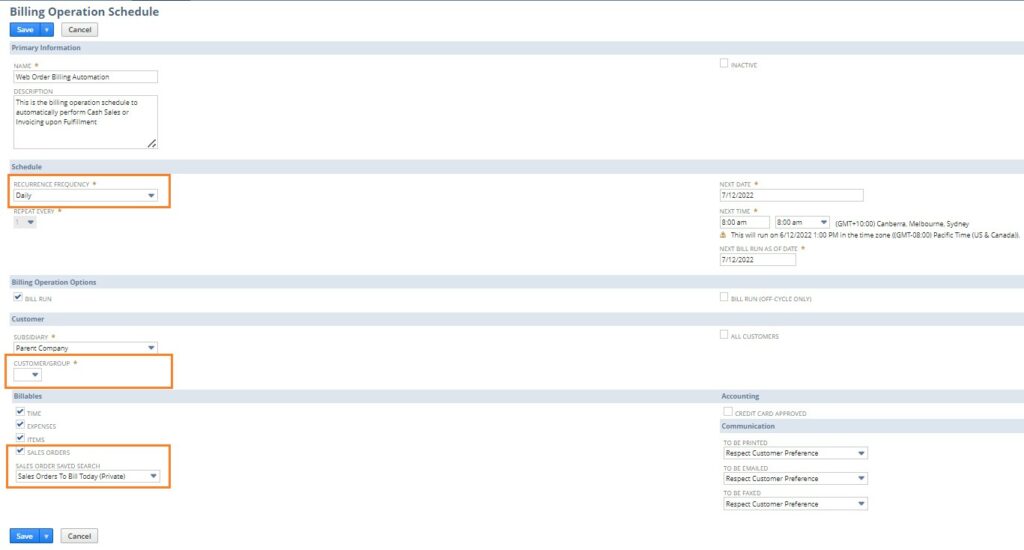 When configuring, there are a few factors that you must take into account:
1. Frequency (Scheduled):
You can select how frequently it should execute if you want something to run regularly according to a schedule. This is how the NetSuite Billing Schedule is put up.

2. Customer & Customer Group Selection:
It will specify which particular customer or group of customers should be exposed to this automatic invoicing process. The following criteria will be where the specifics will be adequately specified, so if you choose, you may establish a dynamic Customer group or pick "All Customers."
3. Billables:
This factor defines what should be instantly invoiced or changed to cash sales, Even though you may bill out various things, including charges, time, objects, and costs. Billing out Sales Orders is how we utilize this method the most frequently. You can choose which Sales Orders you want to be billed in a Saved Search, and they will be the only ones considered.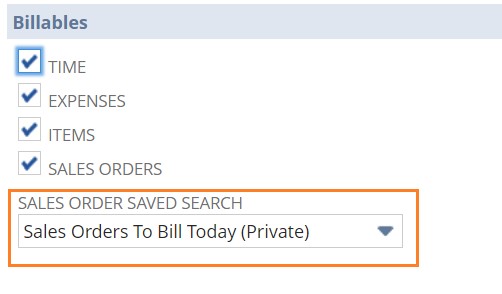 Wrapping Up

As a NetSuite customer, you should know these patterns when dealing with contractors and investigate the SuiteAnswers database for your desired functionality before beginning the coding process.
Contact us at VNMT if you need advice on accomplishing some goals by utilizing native NetSuite to the maximum extent. We can also assist you with a bespoke application or function created so that you can go forward with the best possible solution.