Did you know about Vendor-Customer NetSuite Integrations? Some processes allow the users to transfer information continuously between NetSuite and the other apps in your environment. Such a process of linking a NetSuite software deployment with other systems, databases, and endpoints is known as NetSuite integration. It comprises features like inventory management, CRM (customer relationship management), and financial and accounting management.
Such integration also permits the vendor to create dependable and scalable integrations, transcending NetSuite into any business process. Thus, opting for NetSuite Integration for WooCommerce with the rest of your systems in your workflow is a wise decision. Whether those other systems are specialized data warehouses or marketing tools like Salesforce and HubSpot does not matter. Therefore, you can now utilize specialized analytics tools to extract the appropriate information from NetSuite and mine it for insightful data. 
But what is Vendor-to-Customer Integration?
Due to the increasing popularity of the integration of NetSuite to streamline business operations, it is seen that both the vendor as well as the client organizations are using NetSuite.  
Now that NetSuite is being extensively used, NetSuite integration partners are trying to assist more and more businesses. They are helping both vendors and client firms with NetSuite Integration so that they can take an active step toward conducting competitive business with one another. This aspect of Vendor-Customer NetSuite Integrations is a perfect liaison between competitors, suppliers, and clients.
Now, let us see how the system centralizes all aspects of your supplier relationships through this NetSuite integration guide.
When Is NetSuite to NetSuite Integration Used?
The approach is straightforward: Provide the data necessary to generate a vendor bill on the customer's side whenever a vendor produces an invoice. Once the vendor has an invoice for services rendered to the customer, the system integration enables them to send invoices to the customer directly.  The incoming invoice is immediately processed as a vendor bill, pending approval.
What is the process of NetSuite Integration?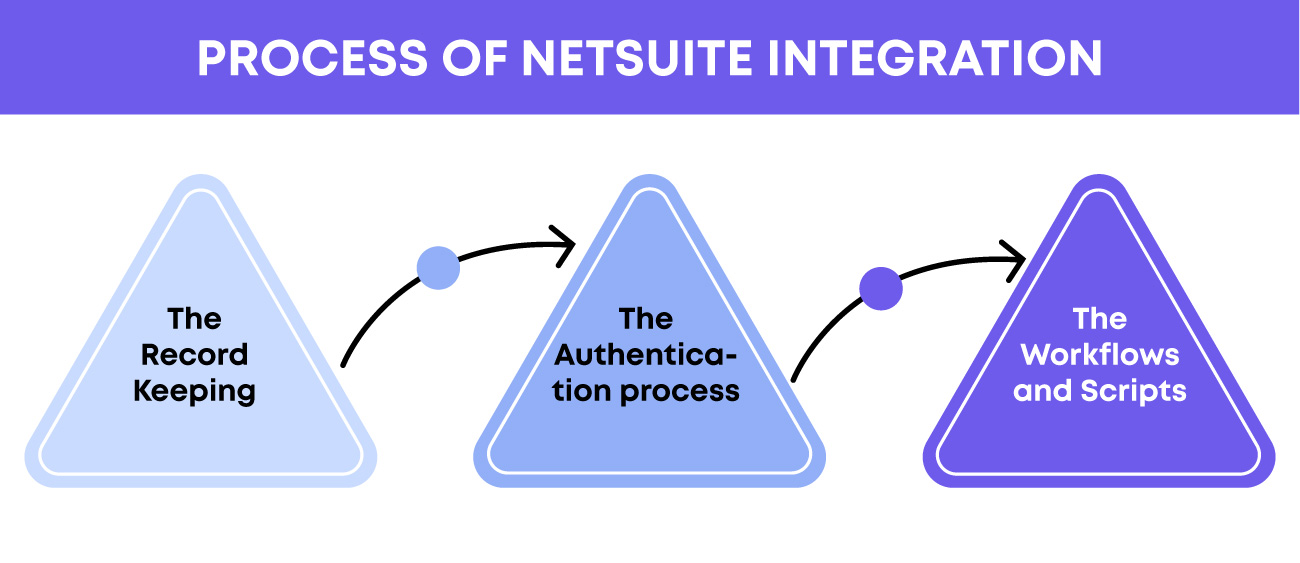 Now that you have a clear idea about the NetSuite integration, it is time to understand the process.
1. The Record-Keeping:
Before transforming the payload, your partner might analyze the financial data in the invoice response record. These data provide flexibility and alternatives for how they want to deliver the information. As an illustration, you can consider taking the essential header data from the payload and cross-validate it using the Purchase Order values and other criteria. Next, they only extract the invoice data to create an independent NetSuite vendor bill CSV import for the NetSuite-to-NetSuite integration use case.
2. The Authentication process:
Usually, most partners prefer Authentication with tokens via the Vendor Centre. To achieve this, they might develop a setup that uses native authentication and the Vendor Centre to facilitate the creation of Vendor Bill records. You can also choose to introduce the ability to "Login Using Access Tokens" to a default Vendor Centre role. Once the connection has been made, the integration may start doing the job for you.
3. The Workflows and Scripts:
➢ Reduce Map - Vendor Side:
This script only sends the info from the invoice to the intended customers. You set the criteria and use it as a parameter for the M/R in this Saved Search. The payload is pushed to the Customer account as a result.
➢ Map Reduce - Customer Side:
This receives the supplied data and generates records for processing invoice responses.
Now, every time a vendor invoice is generated weekly based on the setup routine, an alert will be sent once an Invoice Response record is created in a customer account. The integration also enables the vendor to prepare a vendor bill that the client can examine and approve, smoothening the business process. The Invoice Response record is converted to a Vendor Bill using a Workflow Action Script in a native workflow.
The lines on the invoice were converted into expense lines on the vendor bill while maintaining the vendor's native default expense account setup. Of course, you could utilize things or configure a placeholder item to operate in place of the expenditure if you have item alignment.
What are the benefits of NetSuite-to-NetSuite Integration?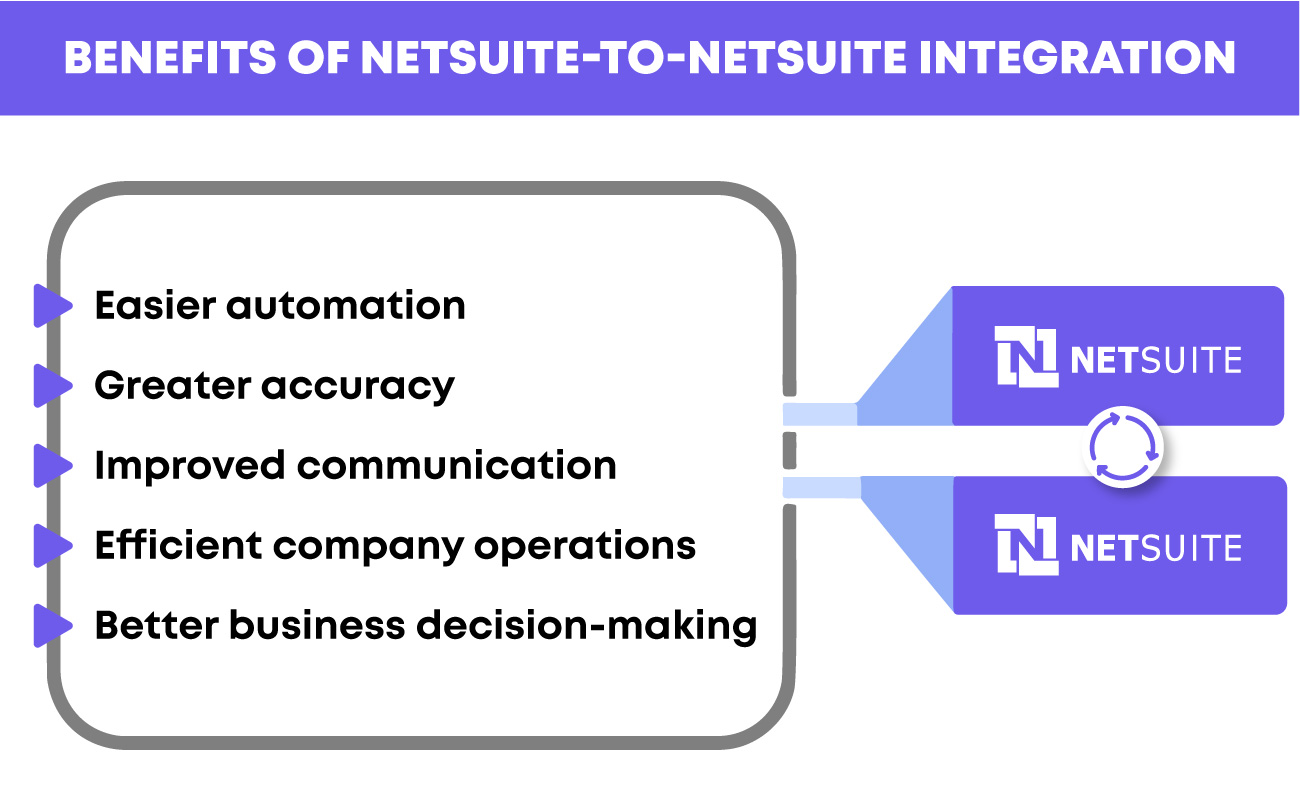 Increasing the integration of your corporate software and systems can only benefit the organizations. The following are the advantages of NetSuite integration:
● Easier automation:
Both business processes may be automated more easily when data and other IT resources are shared between one NetSuite and the different NetSuite ecosystems. Now, the vendor and the customer can keep track of NetSuite vendor prepayment without any parties updating it manually.
● Greater accuracy:
Vendors and customers may upload data electronically rather than manually using a NetSuite connection. This can cut down on or completely eradicate mistakes, saving your business countless sums of money.
● Improved communication:
NetSuite integration makes establishing contact between a company's partners, suppliers, and clients simpler. E-commerce companies, for instance, might benefit from integration by getting information about catalog pricing, product delivery, and order statuses rapidly. You may also use it to provide your vendor with the ability to define automated order restocking restrictions.
● Efficient company operations:
NetSuite integration may give you a complete picture of your operational procedures. For instance, you may follow client orders from when they are placed until they are delivered to the customer's door, keeping them updated with every detail about the logistics.
● Better business decision-making:
NetSuite integration contributes to better business decision-making. You may assess the state of your company in real-time and make choices as you go by consolidating all of your business data in one location. The competitiveness of your business depends on your ability to achieve this.
Time to Connect with VNMT!

Businesses of all sizes, from early-stage start-ups to those expanding quickly, have switched to NetSuite. It's all because its integrated solutions work like a boon, allowing business owners to automate data movement between systems. Now that you have a clear idea about NetSuite Vendor and Customer Integrations, it is time to get yours done too.
With VNMT, you can automate your business processes and systemize operations, reducing excessive operational hassles. We have a specialized team for NetSuite vendor management and integration services. Our expertise ensures that the NetSuite-to-NetSuite integration works for you and your business partners, offering more control over every stage of the data lifecycle across all channels.