NetSuite Document Management is an efficient way to track all the documents. Integrating document management with third-party tools validates an essential software for processing different data management functions. A beneficial thing about this NetSuite implementation is that it provides a central storage system for composing bills, inventory data, cost of materials, etc.
It's so that it can be accessed quickly and all the edit work can be done as soon as possible. This will save time and clear all the miscommunication in the data management section. With the stored data's help, the company can analyze and understand the requirements and help them create new products. In fact, you can also use NetSuite's File Cabinet as a sub-type of NetSuite Document Management.
But What Is NetSuite's File Cabinet?
NetSuite File Cabinet refers to the application that allows you to store and organize your business documents like any other file on your computer. You can keep files that you receive or intend to send via email. You can also attach files from the File Cabinet to NetSuite records, such as customer records, transactions, and issues. The folder owner or an administrator can restrict most File Cabinet folders.
Depending on the features enabled in your account, the File Cabinet in NetSuite includes some folders that are generated by default. NetSuite-created folders can be identified even though the Internal ID is negative. These folders may serve a specific purpose in some cases like SuiteScript script files are kept in the SuiteScripts folder. Some files in the File Cabinet contain URL-based links. Check that the URLs to those files include account-specific domains. The File Cabinet link, for example, should be accountID>.app.netsuite.com, where accountID> is a variable indicating your account ID.
It is essential to know more about it, and here's a complete guide on the NetSuite Document Management system and how it's necessary:
Key Features Of A NetSuite Document Management System
NetSuite document management systems are built with functionality in mind, with features such as co-editing capabilities, cloud access, and social tools that streamline the entire process of storing and sharing knowledge. Let's discuss them in detail:
1. Cloud Access:
Is it still real these days if it isn't in the cloud? Employees must be able to upload, access, and download documents anytime and anywhere. This necessitates cloud access for document management systems. All thanks to NetSuite document management systems. It helps you to examine how file storage works, whether you have cloud or on-premise options, and how frequently vendors release updates. The most significant benefit of using a cloud-based document management system is that it allows employees to access files and collaborate from any location.
2. Robust Search Feature:
Did you know? You run the risk of document overload as your knowledge base grows. It is critical that your team can search for and locate content. A powerful search engine in the NetSuite document management system is an essential feature that can assist you in exploring your company's knowledge base quickly and accurately.
3. Attractive User interface:
Your staff will use the NetSuite document management system daily, so it is important to ensure that the software is simple to use and has an appealing UI or user interface. This is what you and your employees see when you log in, and it can motivate employees while connecting them to the information they seek. As your document management system is easy to use, you can maximize your investment and improve productivity.
4. Version Control:
As uploaded documents constantly change, every corporation should have a document management system that includes file updates and different versions. The entire team has been in a scenario where finding an older document version is nearly impossible. When you upload a document, the NetSuite document management system saves every version, allowing you to go back in time before critical changes were made and add more value to the information you're storing.
5. Permissions:
Maintaining a connected social community with a large staff can take time and effort. Permissions will be your best friend because they allow you to control who can delete or change files, access specific areas, and maintain communications. The NetSuite document management system enables administrators to assign specific permissions to each employee, preventing essential documents from being altered and establishing a clear structure in your document management system.
NetSuite Document Management is an ideal product for refurbishing document management frameworks. But how does it cover the challenges faced in the data management system? To answer this, let's closely examine how it solves different problems.
NetSuite As A Solution For Improving Document Management Efficiency:
Challenges Of Traditional Document Management
● Difficulties in Editing - Editing can pose serious trouble. If we take a situation where multiple changes are made, the bill must be prepared again, which isn't favourable.
● Facing Problems in accessing the data - In most companies, there are different sections such as billing, inventory management, etc. If an employee from the billing section requires inventory management, how can it be accessed if the responsible employee is unavailable? This can slow down the process inside the company.
● Safety of Data - Anyone can easily steal manual data containing crucial company information. This may pose a threat to the company.
Problems With Physical Document Storage And Organization
● Misplacing Documents - When the data management is handled in person, there are many risks that the person responsible can lose the document. No company can entertain such events and should shift to the NetSuite document management tool.
● Inefficient Time Management - Time management is a necessity everywhere. In the case of manual document management, billing and inventory management can be a hectic job - only finding the documents from the physical storage can cost you time.
Difficulties In Sharing And Accessing Documents Electronically
● Difficulty in electronic communication - When the data is prepared and stored manually, sharing the document electronically can become difficult. It can wound the company in various ways:
● Harm to reputation - Clients and investors can think you are outdated if the entire business is managed manually. Hence, to ensure you remain in the competition and your clients and investors do not run away, make sure you shift earlier.
How Is NetSuite Document Management The Solution?
We already saw the problems traditional methods face, but the question is how NetSuite can solve this. NetSuite can solve all the issues because it has a vast central storage system. Here, data can be easily stored, edited, and electronically shared. Moreover, you can deal with the challenges using the following magic of NetSuite's document management:
1. Automated Hyperlink Generation
NetSuite document management solution has a tool to create entirely secured hyperlinks once the data is stored. Moreover, it is done automatically without any manual support. NetSuite also makes sure to authenticate the data with the help of NetSuite's Authentication tool.
2. Smart Analytics Tools
The analytics tools of NetSuite are smart enough to prepare different charts. Now, they are required to help you analyze costs on different levels and generate a plan accordingly.
3. Central Deposit Of Data
NetSuite's document management implementation gives you a massive library to store and sub-categorize your data based on your decided parameters. It also can deal with a vast number of data formats. Additionally, it supports image files such as jpeg, tiff, pdf, etc.
Benefits Of NetSuite Document Management Implementation: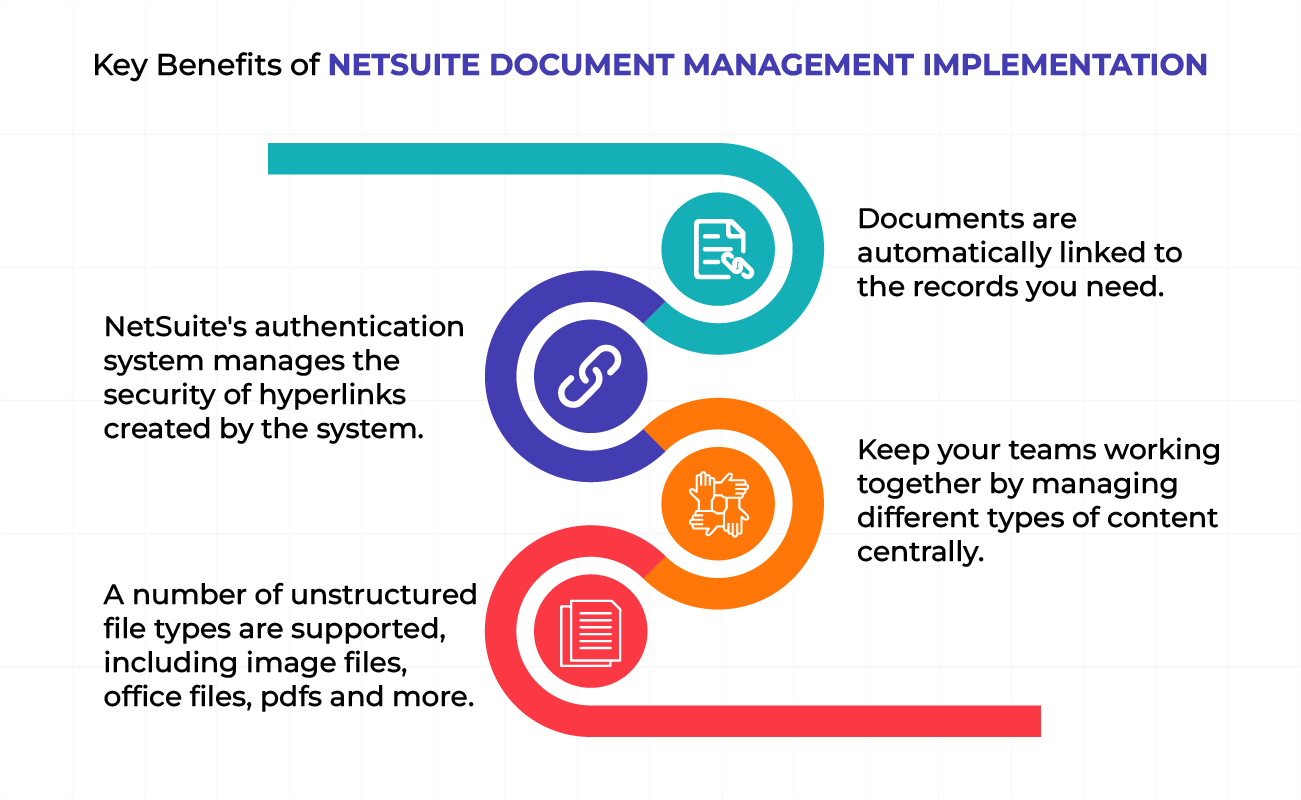 1. The cost of the cloud for NetSuite cloud storage is half the price for other cloud storage solutions. It also has different subscription plans based on the user's requirements.
2. They have secured technology to safeguard your data. Also, they encrypt all the files attached so that no one without access cannot get their hands on them.
3. NetSuite's implementation is a user-friendly system that anyone can start using after using it once or twice.
4. It ensures that all the up-to-date are only visible to the suppliers and vendors so that the root of doubts doesn't grow.
NetSuite Helps Which Tools Manage Documents More Efficiently?
There are numerous tools that rely on the NetSuite document management system to manage the documents more effectively and these are as follows:
1. Docupeak
Docupeak is suitable for businesses that deal with much paperwork as it provides cloud storage. So, companies such as insurance providers and retail industries where much paperwork is included can integrate Docupeak with the NetSuite document management system. It offers much protection against data breaches and reduces the use of manual document entry.
Another benefit of such implementation is that only some processes take place manually, such as signatures, payments, etc. The highlight of NetSuite Integration with Docupeak is its engine which can detect the document format and convert it to the format you require.
2. PairSoft
If you are running a small or mid-cap business and looking for a suitable data management system, then NetSuite ERP integration with PairSoft is your solution. It is also ideal for freelancers and large-cap enterprises.
NetSuite - PairSoft integration provides a more accessible interface to work on. Also, the documents stored can be accessed from anywhere on the planet. The edits are accessible and trackable so that others can recognize the changes. It can also help you decide who can see, check, or edit the documents.
3. DocuPhase
DocuPhase is an intelligent solution for managing documents, especially when it is integrated with the NetSuite document management system. It allows you to store your documents digitally and access them securely at any time. You don't require looking for files in plenty, but you can put a keyword and search for the same quickly.
4. Box.com
Box.com enhances document management when integrated with the NetSuite document management system using its easy-to-use creative tools. It helps in the smooth collaboration of documents on a highly secured network. Such tool integration primarily focuses on providing a platform for creating and managing content efficiently. Therefore, it saves an organization from miscommunication. It can also handle documents as many available document formats.
5. DocuWare
DocuWare can be integrated with the NetSuite document management system keeping small and mid-cap industries and businesses in mind. Also, DocuWare comes with a customizable feature that can be adjusted based on the size of your industry with the implementation of the NetSuite document management system. Besides that, it is highly secure and provides all the tools for sharing, editing, and creating data. It can also gather data from various departments and platforms. In addition, it can label and sort them to settle them in the files they belong to.
Real-Life Example Of NetSuite Document Management
Many companies have already opted for NetSuite's Document Management system services. Further, they have given very positive feedback.
One such company is AGC Industries, which has praised the NetSuite Document Management System. One of the best outcomes realized by the company is the significant upgrade to enhance the working of our teams and manage the data easily.
Wrapping Up!

Do you know what all businesses have in common? 
It makes no difference whether the company is in technology, healthcare, manufacturing, automobiles, beauty products, finance, or any other industry. They all rely heavily on documentation.
Documents are the foundation of any business. Documents are critical to the efficient running and ultimate success of any organization. In fact, there is no company on the planet that can get through a day without examining and sharing papers. Marketing brochures, technical documentation, project proposals, HR rules, and training materials are just a few examples.
The issue is that the more we create and rely on documents for work, the more important it is to have processes in place to manage documents across your organization. This is where the NetSuite Document Management System comes to the rescue. You can also take the help of external NetSuite Implementation Services to manage your documents more efficiently. 
Read More: NetSuite Project Management Software