The value of project management in businesses cannot be overstated. If done correctly, it improves the efficiency of every aspect of the company. In other words, it frees your staff to concentrate on the crucial job without being distracted by urgent concerns or out-of-control spending. It enables them to deliver results that genuinely impact the company's revenue. NetSuite project management software also assists your team in understanding how their activities support the company's strategic goals.
But What Makes Project Management So Crucial For Businesses?
Here are a few of the top advantages that a clear project management plan offers to a company:
1. Better Preparation:
The team can view the overall picture with project management. The project may start on the proper foot and continue on track when needs are collected, budgets are set, deadlines are mapped out, and there are realistic, reachable milestones.
2. Effective Communication:
Project management facilitates communication by instructing the team to meet regularly to review progress, resolve issues, and develop the next steps. The entire team works cohesively to accomplish the desired results, boosting productivity and morale.
3. Optimum Use of Resources:
When project management approaches are employed, people with a range of knowledge and skill levels are best used, bringing out their best qualities and allowing them to contribute significantly to the project. This is made feasible through wise resource allocation and planning.
4. Affordable Prices and Prompt Deliveries:
Budgets and timetables may stay on track and within constraints when systems are in place and resources are optimized. The project's objectives can be achieved without delays.
5. Increased Client Satisfaction:
It is more crucial than ever to keep a loyal consumer base in light of the fierce competition in the industry today. The likelihood of meeting and exceeding the end user's needs rise with careful project planning and execution. More jobs will come your way due to increasing word-of-mouth recommendations brought on by higher client satisfaction.
6. Increased Output:
The team can release goods more quickly and with higher quality thanks to proper time, resources, budget planning, and effective systems and processes. As a result, team output increases and the company's bottom line improves.
7. More Adaptability:
With proper project management, it will be easier for today's initiatives to adapt to shifting requirements. With flexibility at their heart, project managers can steer clear of choppy market demands and make necessary course corrections to satisfy client expectations.
What Is NetSuite Project Management?
NetSuite Project Management is a software that enables teams to interact and keeps management updated on the status of projects using real-time data for businesses to proactively detect and stop possible problems. Stakeholders may track and report on the status of projects from any location at any time with the help of NetSuite's cloud-based solution. As a result, there is a marked improvement in project completion rates, a rise in customer satisfaction, and a decrease in non-billable labor hours.
Did you know?
Monitoring the development of your projects and ensuring that your firm remains profitable depends on project accounting. Project management with NetSuite is crucial for streamlining tasks and providing visibility into intricate operations. The NetSuite Accounting System is the solution to all the problems that smoothly integrate with the NetSuite project management module. You may create and send invoices, compare project performance to budgets and other data, and manage projects while keeping track of your time and expenses. The NetSuite Project Management module controls billing balances, costs, and other project-related financials.
Key Features & Benefits: NetSuite Project Management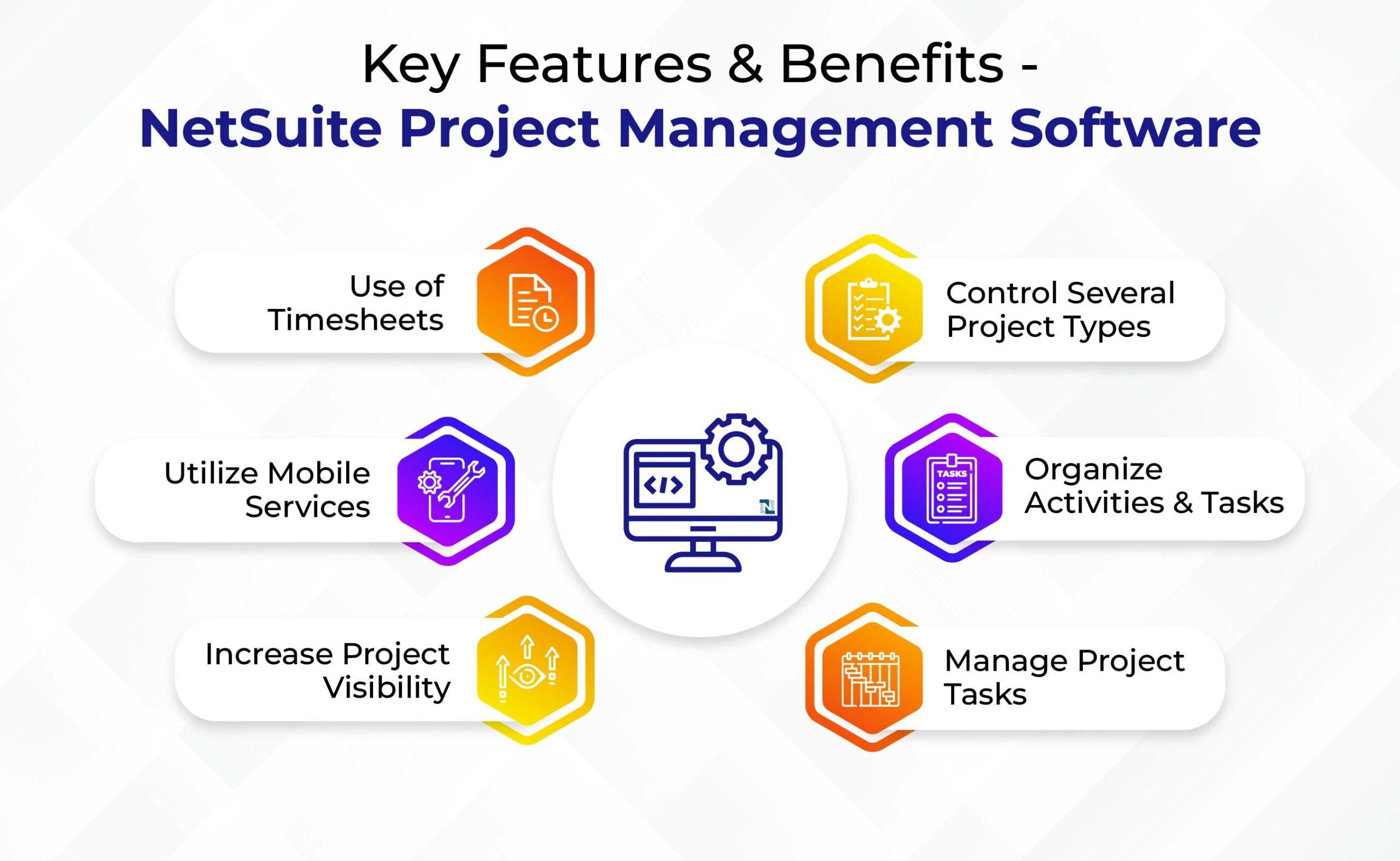 1. Control Several Project Types:
Time and materials and fixed pricing projects are only two of the many project types that NetSuite can manage. You can also automate the job creation process by identifying service products requiring a task. Sales orders for these goods are then added to a queue where you can assign an ID and project manager, and bulk create several jobs with a single click.
2. Organize Activities And Tasks:
Along with organizing tasks, calls, and events, NetSuite professional service automation also associates them with specific projects. Customer data is centrally maintained, allowing real-time, comprehensive resource tracking for ever-improving customer service. Client data may also be segregated and used to improve client intelligence.
3. Manage Project Tasks:
Project tasks with numerous predecessors, finish-to-start, start-to-start, finish-to-finish, and start-to-finish connections, may all be created. Project tasks can also be generated with a Finish No Later Than (FNLT) restriction and lag time between tasks.
4. Use Of Timesheets:
You may input and submit weekly timesheets using timesheets, which will save you time and effort. Additionally, you may modify your timesheet approval processes to meet your particular company needs by using the timesheet record accessible to you through the NetSuite task management platform.
5. Utilize Mobile Services:
Additionally, you may use your iPhone to immediately upload photographs of receipts, make and submit time and expense reports after finishing a project, see time entries on a timesheet/week basis, and more.
6. Increase Project Visibility:
The start dates, expected completion dates, percentage of work accomplished, actual finish dates, and all revenue and costs related to each project are all included in the project job records. You can see team utilization and time allocated vs. time used.
NetSuite Project Management: Key Challenges It Solves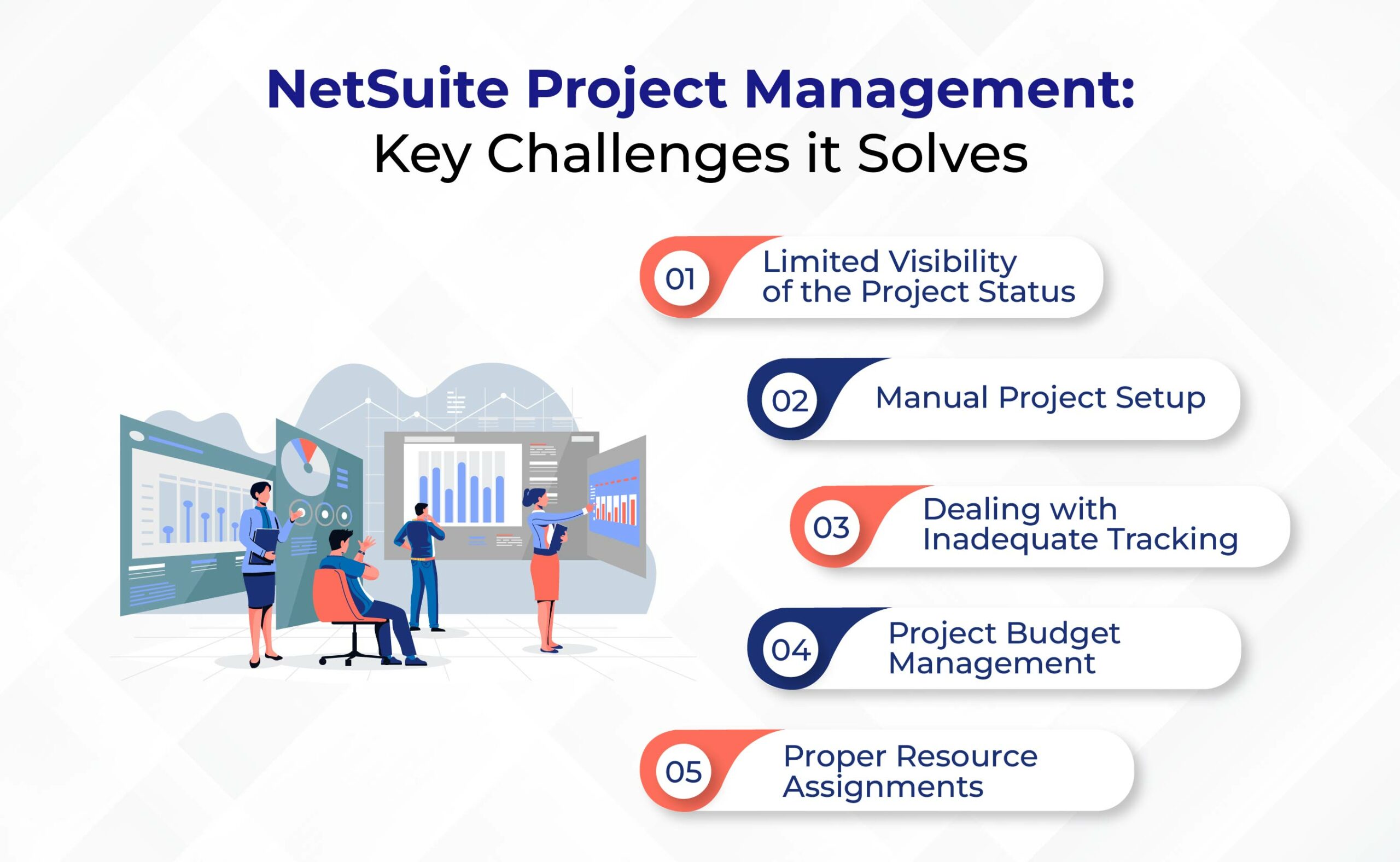 Every type of business from different industries, those who are looking for collaboration amongst team members, setting clear guidelines on what and when the project is to be accomplished, etc. needs NetSuite Project Management.
Coming to the critical challenges of Oracle NetSuite project management, here are a few of them:
Limited visibility of the project status: In project dashboards, reports, and Gantt charts, it is simple to retrieve the most recent KPIs and customer information.
Manual Project Setup: Utilize project templates, automated task generation, and native integrations to increase efficiency from the beginning of a project through NetSuite project tracking completion.
Dealing with Inadequate Tracking: Calls, actions, tasks, and events may all be gathered in one location and linked to specific projects to provide real-time resource tracking.
Project budget Management: Managers may assess project profitability based on actuals thanks to NetSuite's P&L, automated job creation, and progress-reporting features.
Proper resource assignments: Apply time and expenditures to tasks automatically, entirely, and precisely.
How Is NetSuite Project Management Better Than Others?
Since its founding more than 20 years ago, it has developed into a product suite that covers almost all the needs of small and medium-sized enterprises across several sectors. It provides billing, analytics, CRM, and project management NetSuite capabilities. These tools all work together to keep your company running smoothly. You may create tasks, set project budgets, charge clients directly from the platform, and even anticipate risk, all in the context of project management.
In addition to these fundamental functions, it provides a wealth of sophisticated tools that let you delve deeper, including robust reporting and others. One problem is that it doesn't directly interact with other platforms or openly announce prices. Oracle's NetSuite is a powerful project management module worth considering if it is manageable.
Wrapping up!

Project management is still an important component of every business. Getting from a present state to an ideal state is often more difficult than it appears. Managing complicated projects is particularly tough due to the difficulty of managing tight budgets and timelines, navigating setbacks, preparing for unexpected factors, keeping third-party vendors in check, and a variety of other obstacles. Having the correct project management software in place is critical to success. Fortunately, NetSuite's project management tools, combined with adaptations completed by a Top-tier NetSuite Consultancy such as VNMT, allow you to navigate this complex landscape with ease.