Procure to Pay gives you complete control and transparency over a transaction's lifespan. Purchasing, production, accounting, and other divisions within a business are all impacted by the process. Manually completing activities in the P2P cycle might result in difficulties such as postponed or redundant payments, payments done without corporate permission, paperwork mistakes, and other bottlenecks. However, the manual phases in the P2P process may be streamlined and automated with NetSuite.
Continue reading this blog to find out how to set up the payment process with our NetSuite custom development services.
What is NetSuite Procurement?
By routing purchase orders to authorized resellers and pre-negotiated contracts, NetSuite Procurement lets firms purchase products and services at the right value and on schedule. Managing suppliers and the procurement process from a central location saves time and money.
Not just that, you can also improve visibility and communication across the procure-to-pay process by creating real-time views of corporate spending and vendor performance. All procurement-related data, from operations and documentation through supplier assessment and departmental spending, is consolidated in the procurement dashboard.
What is Procure-to-Pay (P2P)?
The term "procure-to-pay" in the NetSuite development environment refers to the procedures that occur when a firm acquires, receives, and payments for products and services. The procure-to-pay process includes actions such as recognizing the initial requirement for products or services through the final processes of clearing invoices and paying providers.


Purchase-to-pay, or P2P, is another term for procure-to-pay. Although dedicated procure-to-pay software is available, the word is more commonly used to refer to the process instead of a unique technical solution. The benefits of automating all or portions of the procure-to-pay process range from improved compliance and control to a lower margin for human mistakes.

What is Procure To Pay Process in NetSuite?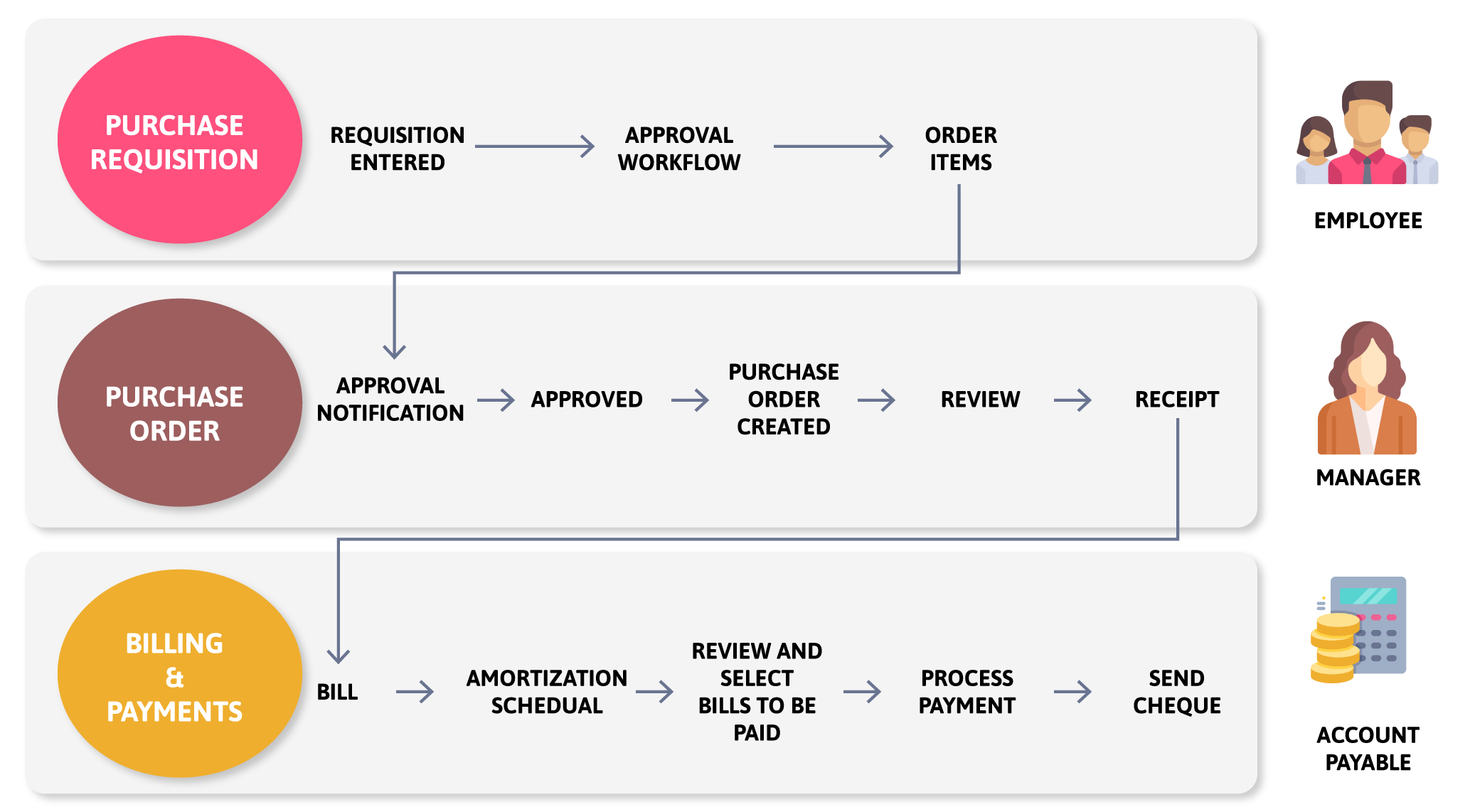 The procure-to-pay process steps, often also known as the procure-to-pay cycle include step by step process which can be defined as follows:
1. Creation of Vendor
Before starting with the Procure to Pay process, it is important to create a Vendor and list Items in NetSuite.
To create the vendor, all you need to do is go to Lists, next go to Relationship, then Vendor and create New Vendor.
While creating the Vendor Profile, you need to fill in all the mandatory information including the Company Name.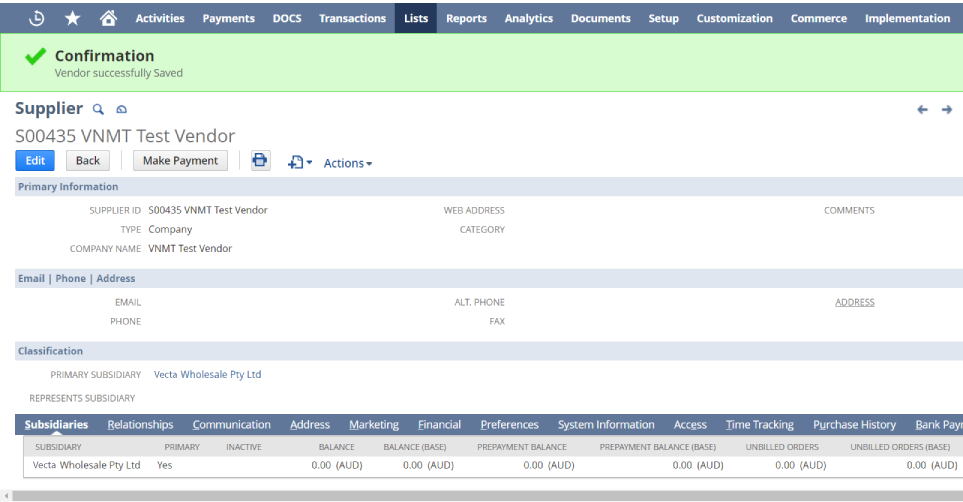 2. Creation of Item
Based on the inventory and non-inventory, you need to create an item.
To do that, go to Lists and select Accounting. Next, select Items> Non-inventory and finally on Purchase.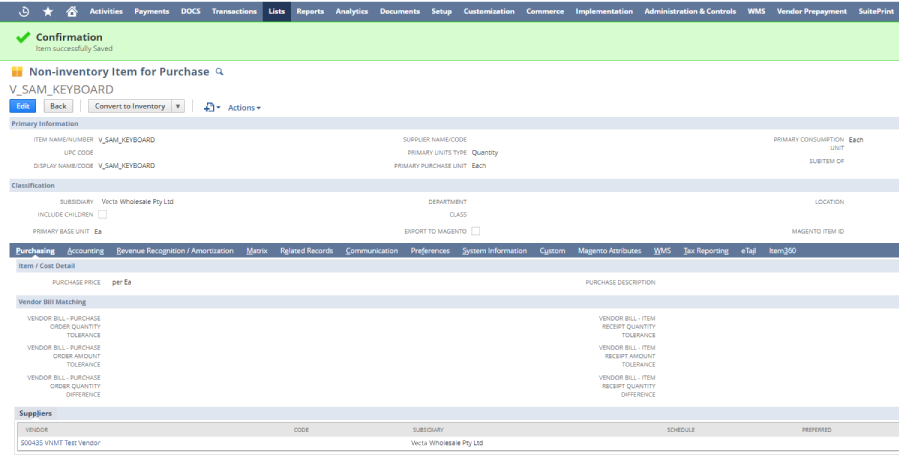 While listing the item, you need to fill the necessary fields, including Item Details, Vendor, and Tax Schedule.
Once you assign a Vendor to a given item, it automatically appears for the requisite item in the future.
3. Creation of Requisition
Once you have listed the Vendor and Item, it is time to create a requisition with them. A requisition is a proposal for products or services issued by an individual to the department or division accountable for NetSuite procurement in a firm.
For creating a requisition, first, go to Transactions and then select Purchases.
Next, click on Enter Requisition and select a New One.
You must provide the requestor's name, date, item name as well as the department while creating one.
The Requisition order will be pending when you submit the Requisition.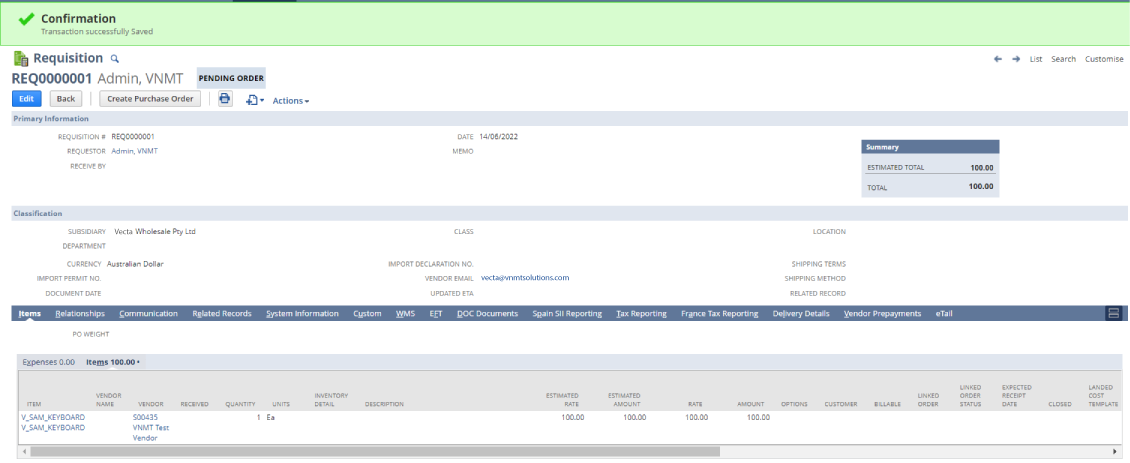 Generate an order requisition for the specific requisition and submit the form.

The purchase order will be processed once the order requisition is submitted.

Click OK & the status will be changed to Started.
4. Issuance Of Purchase Orders
When a customer places an order, it will be created automatically as per requisition.
Go to Transactions> Purchase> Enter Purchase Order> List.
Thereafter, click Edit to automatically fill the field with information such as:
Kind,
Price, and
Quantity of the items or services being acquired.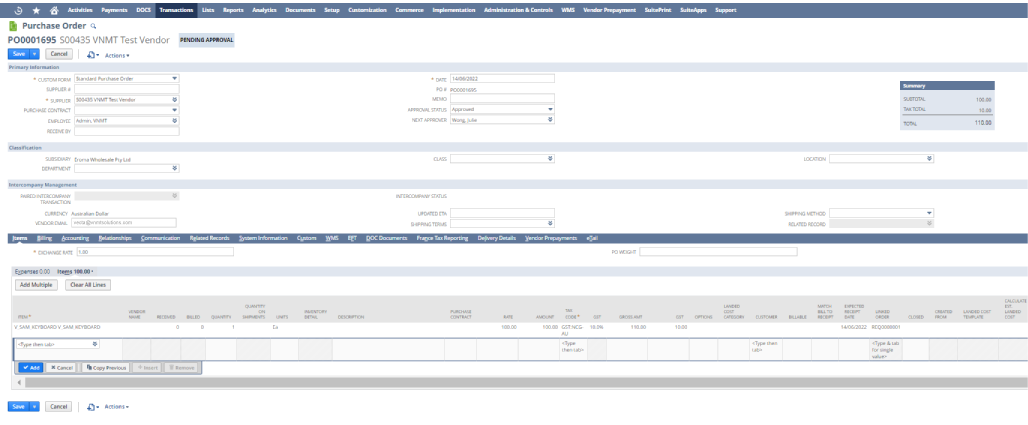 This will generate a pending receipt.
5. Receipt For Purchase Orders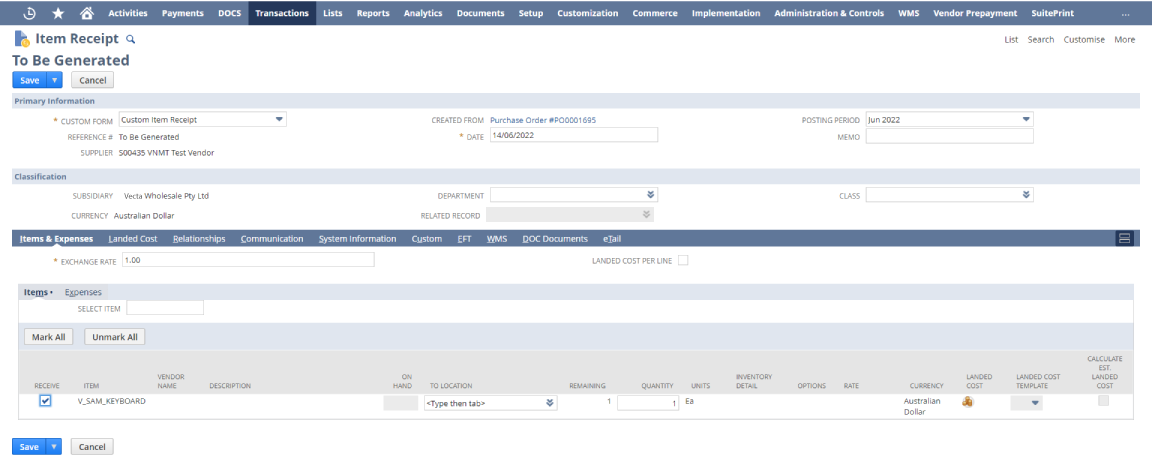 Receiving items from the supplier, inspecting them against the purchase order's data, detecting any damage that may have happened during shipment, producing a receipt, and putting details into the applicable systems are all part of this process.
6. Invoice Creation
The supplier will send an invoice to the customer detailing the amount due and the deadline for payment. Purchase orders will need to be reconciled, and invoices will need to be filed into the appropriate systems.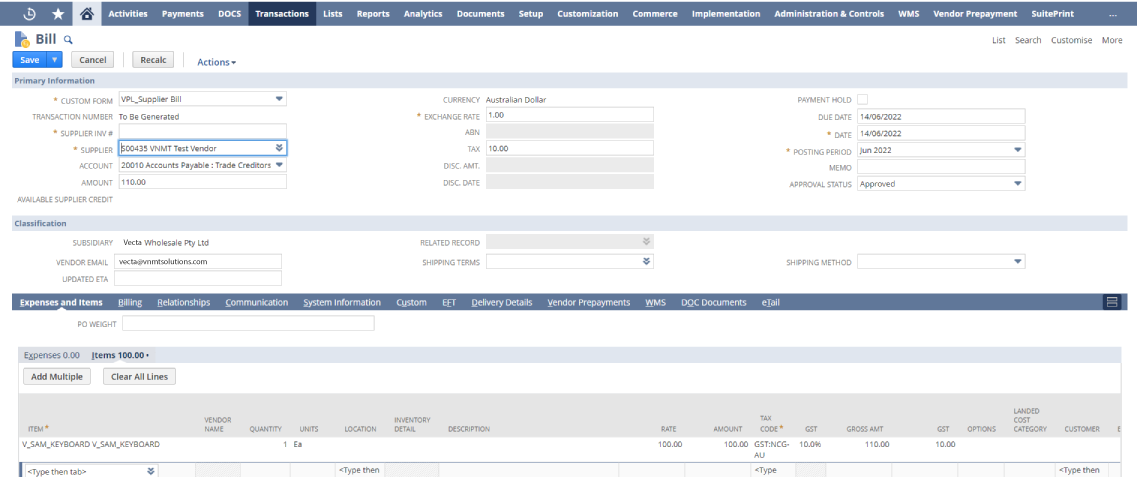 7. Bill Payments

Paying supplier bills on time and documenting transactions are both part of the accounts payable process. The purchasing business will need to ensure that vendor payment data are up to date as part of this plan, as well as take precautions to prevent accounts payable theft. Therefore, payment will be processed if submitted successfully to a particular vendor.

8. General Ledger Management
A General Ledger (GL) is an account-based record of all of a firm's transaction history. GL manages to account for and delivers largely automated finance operations.
In NetSuite, navigate to Bill Payment > Action > GL Impact to receive the status in GL IMPACT.

Challenges Of The Procure-to-Pay Process
The procure-to-pay cycle, as previously said, consists of various phases. Typically, this will entail activities by a number of employees across various departments within the firm, ranging from procurement to finance, who will be using a range of platforms. People participating in procure-to-pay may have conflicting or even opposing agendas and objectives after NetSuite end-user training.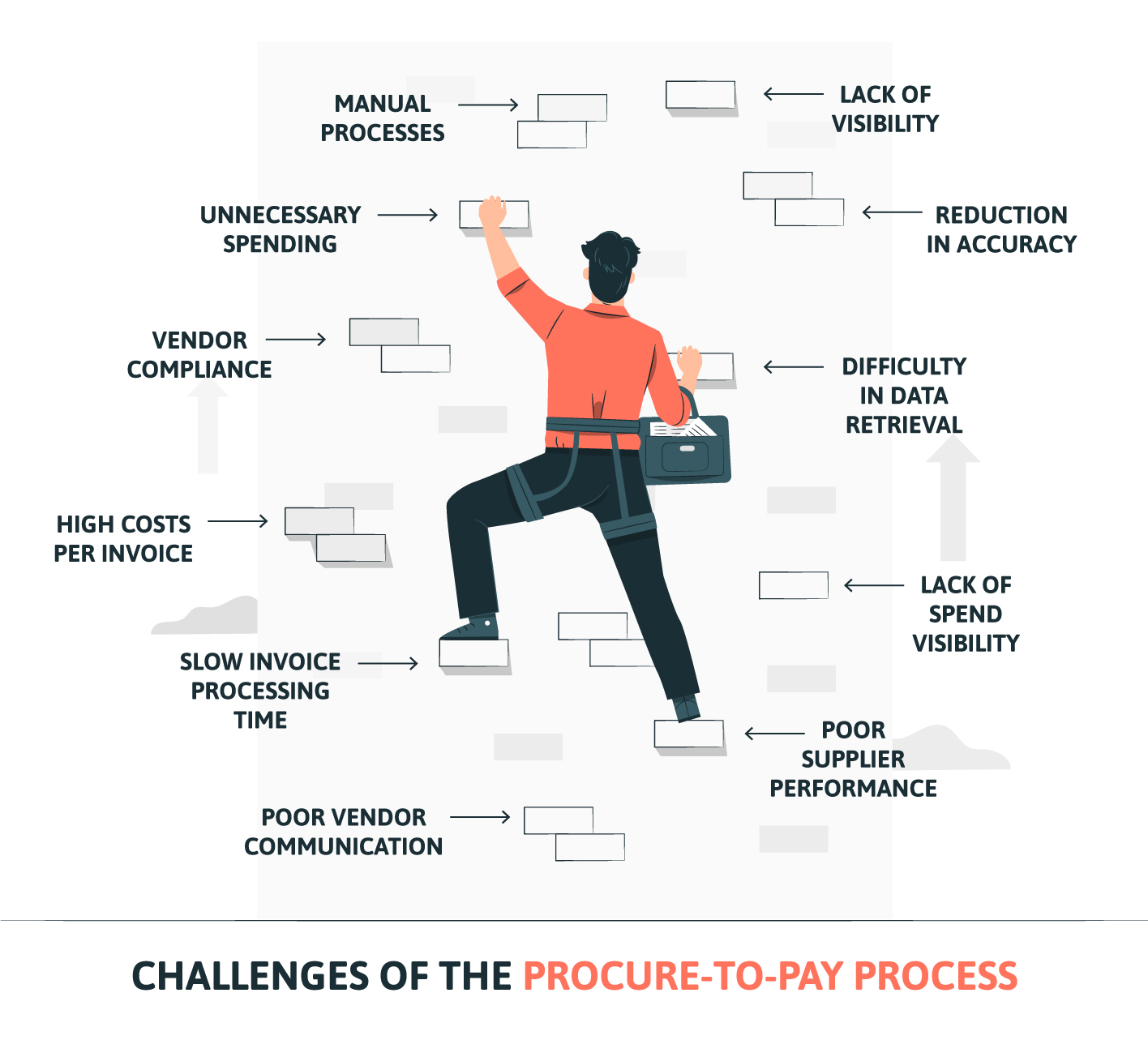 These characteristics can result in a variety of issues, ranging from a lack of reliable data throughout the entire procure-to-pay cycle to the likelihood of mistakes due to manual operations. A few of them can be:
Slow invoice processing time
High costs per invoice
Lack of spend visibility
Difficulty in data retrieval
Reduction inaccuracy
Lack of visibility, and many more.
The companies may attempt to solve these issues by streamlining their procure-to-pay processes to maximize speed, transparency, and intelligence.
How Can NetSuite Procure-to-Pay Software Help You?
End-to-end procure-to-pay solutions are offered by certain providers, with the goal of automating the entire P2P process. From supplier management platforms to solutions that automate the production of purchase requisition and the issuing of sales orders, technology can help streamline various aspects of the procure-to-pay cycle.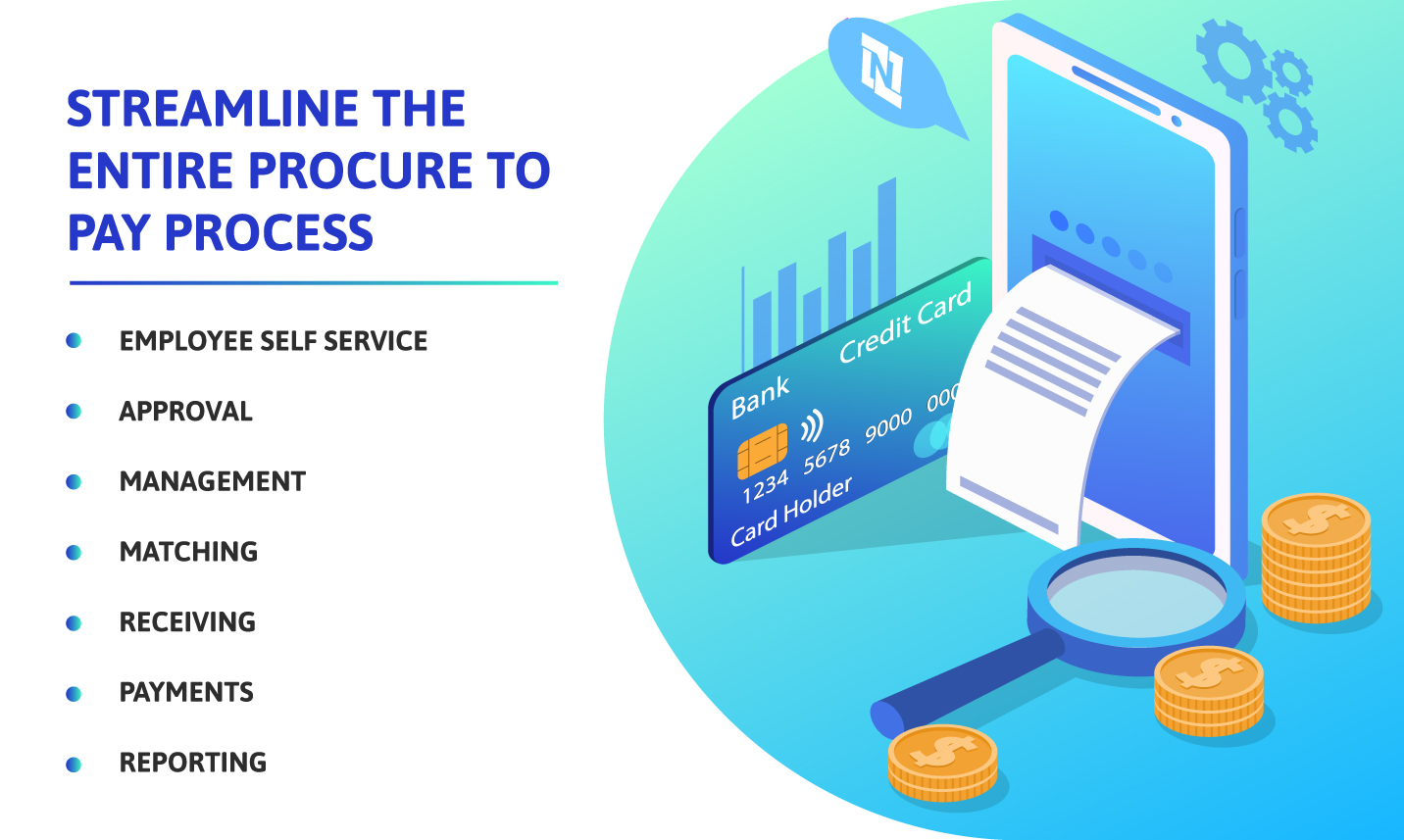 Invoice automation systems may also be used to simplify invoice data gathering, decrease the risk of mistakes, and automate accounts payable operations. Vendors, too, may limit the risk of mistakes or delays in the bills they deliver to their customers by using electronic invoicing systems. It guarantees that the statements are sent to the correct location and in the correct format. Solutions that transform purchase requisition into invoices automatically, and also a system-to-system connection for huge numbers of invoices, are among them.
Benefits of NetSuite Procure-To-Pay Cycle
You can hire a NetSuite developer to serve you the advantages of adopting NetSuite for procure to pay process: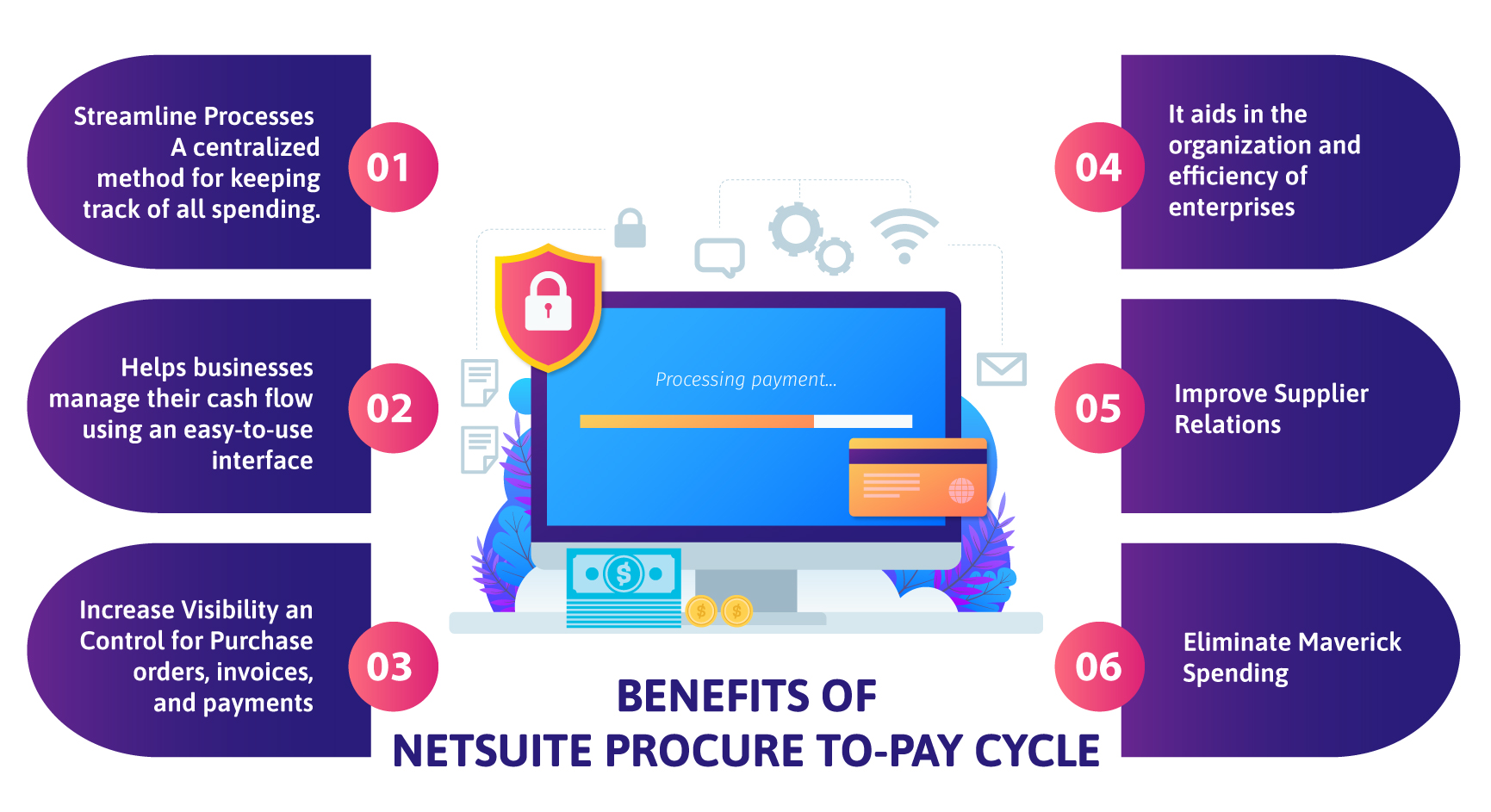 A centralized method for keeping track of all spending.
Helps businesses manage their cash flow using an easy-to-use interface
Purchase orders, invoices, and payments may all be tracked using it.
Can assist businesses in saving money by obtaining discounts from suppliers.
It aids in the organization and efficiency of enterprises.

Wrapping Up!
The companies will be more positioned to capitalize on early payment options like supply chain finance or flexible discounting if the procure-to-pay process is more efficient. Companies may also enhance their connections with their vendors and minimize the likelihood of supply chain interruption by giving early payment to them. In fact, they can also use their own funds to achieve a risk-free return through dynamic discounting with NetSuite's advanced procurement services.