Experts need a comprehensive tool to make wise purchase judgments and boost cost management. This is where the Procure to Pay tool enables them to get the best deal from the best vendor. A corporate organization can control costs and ensure project completion and delivery with effective procurement management. A NetSuite Procure to Pay solution simplify and automates the purchasing process, allowing businesses to streamline operations.
In this blog, you will learn about the NetSuite-based procure-to-pay solution. This eventually results in a more efficient and lucrative operation where a company can get the goods and services it requires from the appropriate vendors to meet production or sales targets. It can boost productivity with simple automation tools, cut expenses by directing purchases to pre-vetted vendors and pre-negotiated contracts, and improve visibility with real-time vendors and spend insights. But before that, let us understand what the P2P process is and what makes it so crucial for businesses.
What Is Procure-To-Pay (P2P)?
When manually carrying out P2P cycle duties, it can result in inefficiencies such as delayed or duplicate payments, payments made without corporate permission, inaccuracies in the paperwork, and several others. But the manual P2P process procedure can be streamlined and automated with the aid of NetSuite.
Procure-to-Pay (P2P) process in business deals with purchasing products and services from request to payment. Businesses automate the process using an ERP platform like Oracle or NetSuite since it frequently requires several human techniques to execute a single purchase. Additionally, the process involves various organizational areas, including buying, manufacturing, accounting, etc. In other words, it offers the user control and visibility over a transaction's lifespan.
It offers the following services:
Purchase Requisition:
A purchase request is a written request made by a firm employee to acquire an item or service. Depending on the project's needs, this may be a direct or indirect expense; the procurement department receives the documents.
Purchase Order:
The procurement department sends a purchase order (PO), which details the products or services to be purchased and the quantities of each. Each PO comprises a description of the things requested, appropriate amounts, and a tracking number for the transaction.
Invoice Approval:
Reviewing and approving vendor invoices before paying them. After being sorted, each invoice is sent to the proper stakeholder for approval.
Vendor Management:
It includes locating suppliers, keeping tabs on and tracking vendors' performance, requesting estimates, settling contracts and payment schedules, and so forth.
Contract Management:
This includes the establishment and execution of vendor contracts. The objective is to guarantee suppliers satisfy contractual and regulatory obligations while minimizing company risk.


What Is The Procure-To-Pay Process In NetSuite?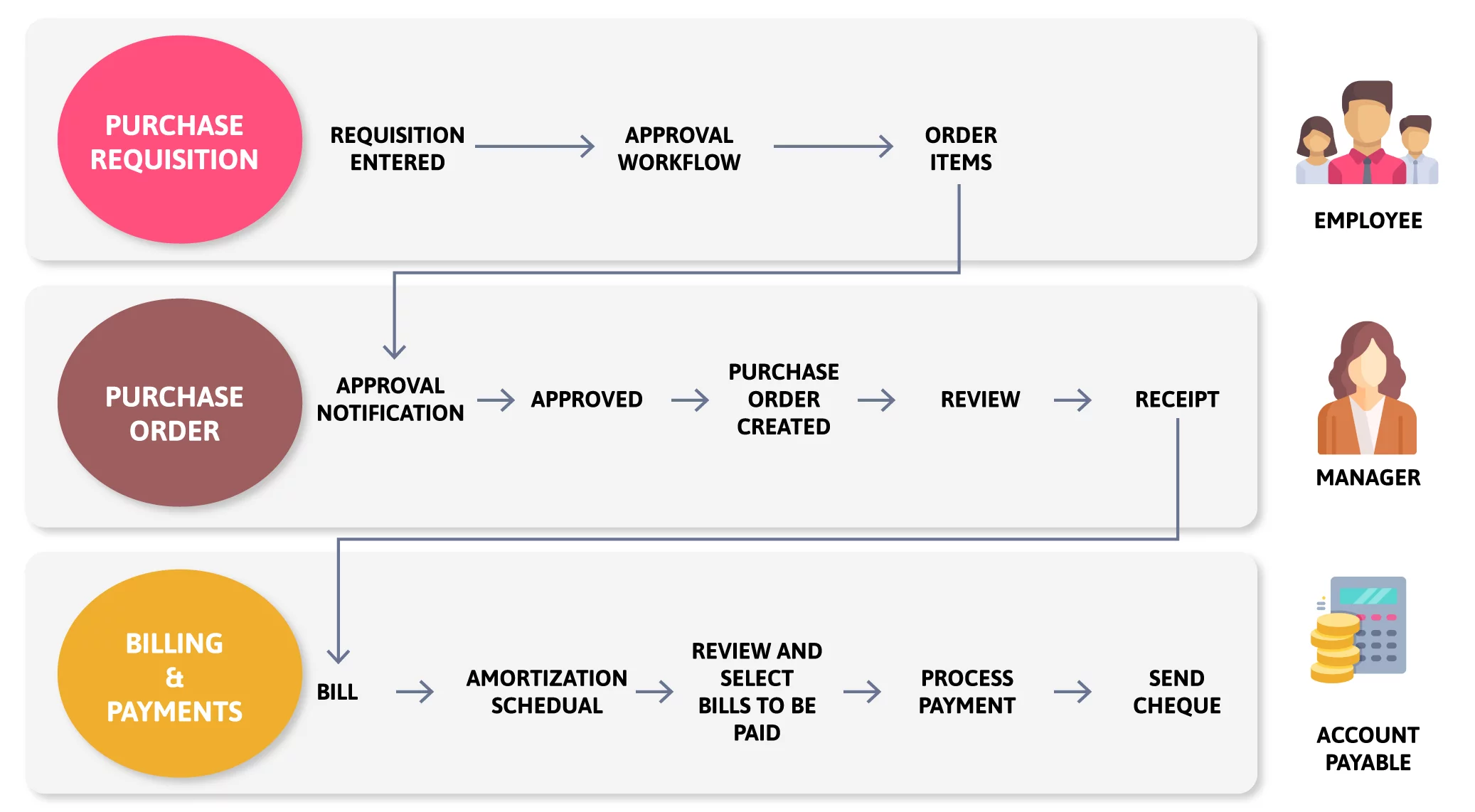 The eight-step NetSuite Procure to Pay process aids organizations in managing and tracking their spending. The involved actions are:
1. Vendors:
Maintaining vendor connections is simple with NetSuite vendor management. A single record houses all information about each vendor, making it simple for buying managers to obtain pertinent information and maintain supply chains. Vendor scorecards monitor supplier performance and assist in balancing cost and quality.
Navigate to List -> Relationships -> Vendors -> New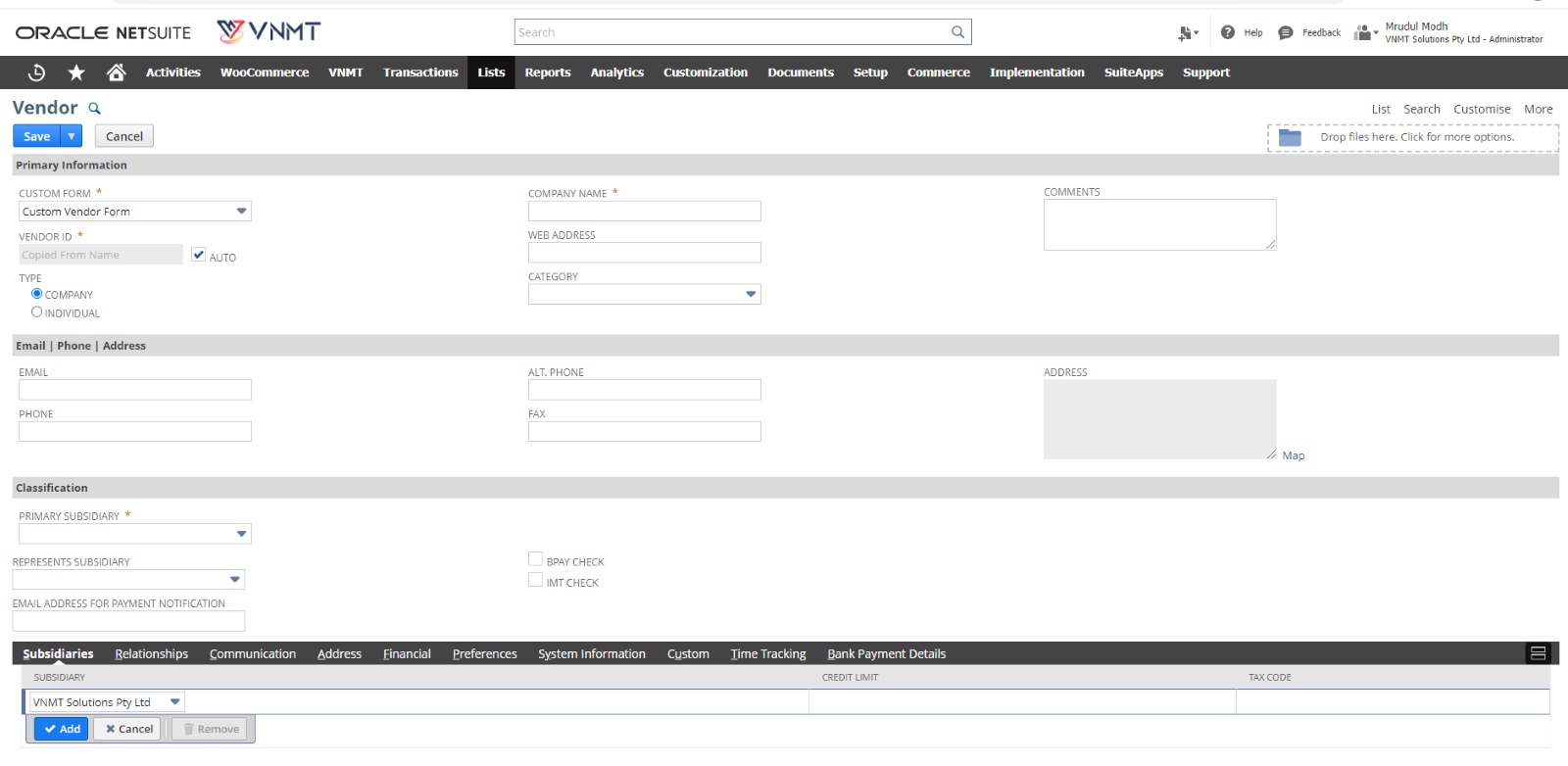 2. Purchase Requisition:
Your employee will create a purchase requisition as part of the request to buy the products or services. This does not imply that you are making a purchase when completing the purchase request. Instead, when you inquire for internal approval, the purchasing procedure officially begins. After receiving the requisition, the manager or anybody in charge of purchasing will be informed that the employee has submitted an order request.
Navigate Transactions -> Purchases -> Enter Requisitions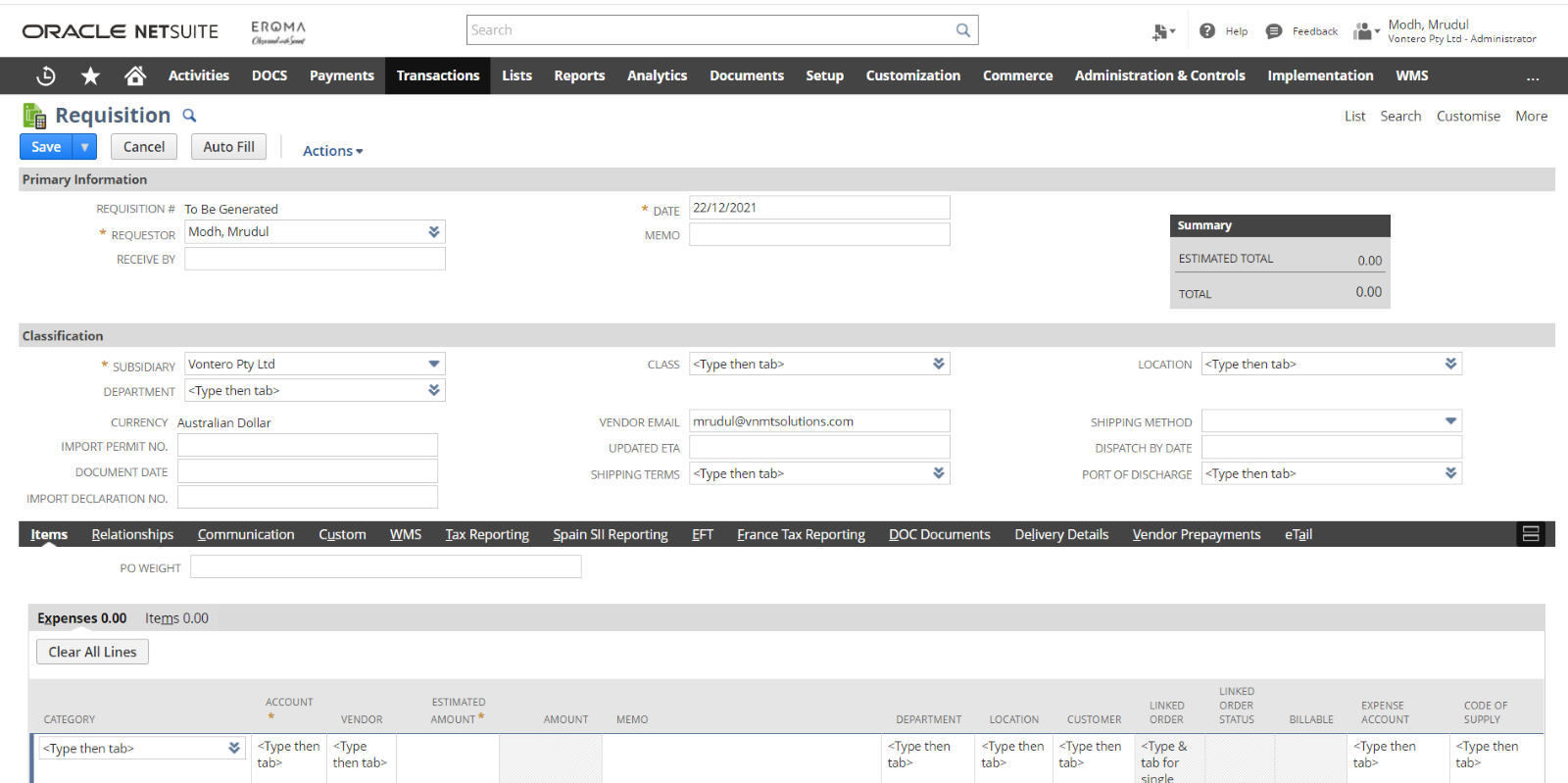 3. Purchase Request:
Make it unnecessary to guide purchase orders through the approval procedure manually. Establish who must approve purchase requests, deliver the proper alerts, and update transactions automatically.
Login to the employee center with login credentials and Navigate to Home -> Click Enter Purchase request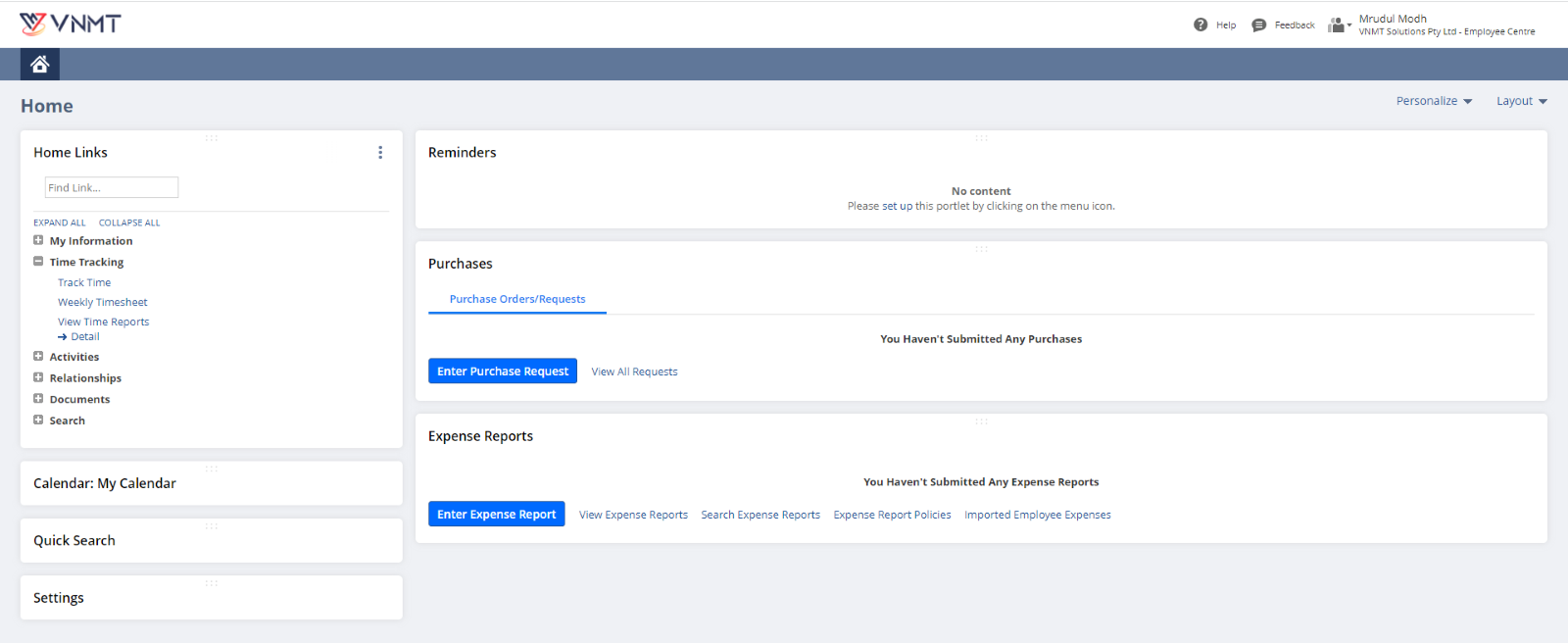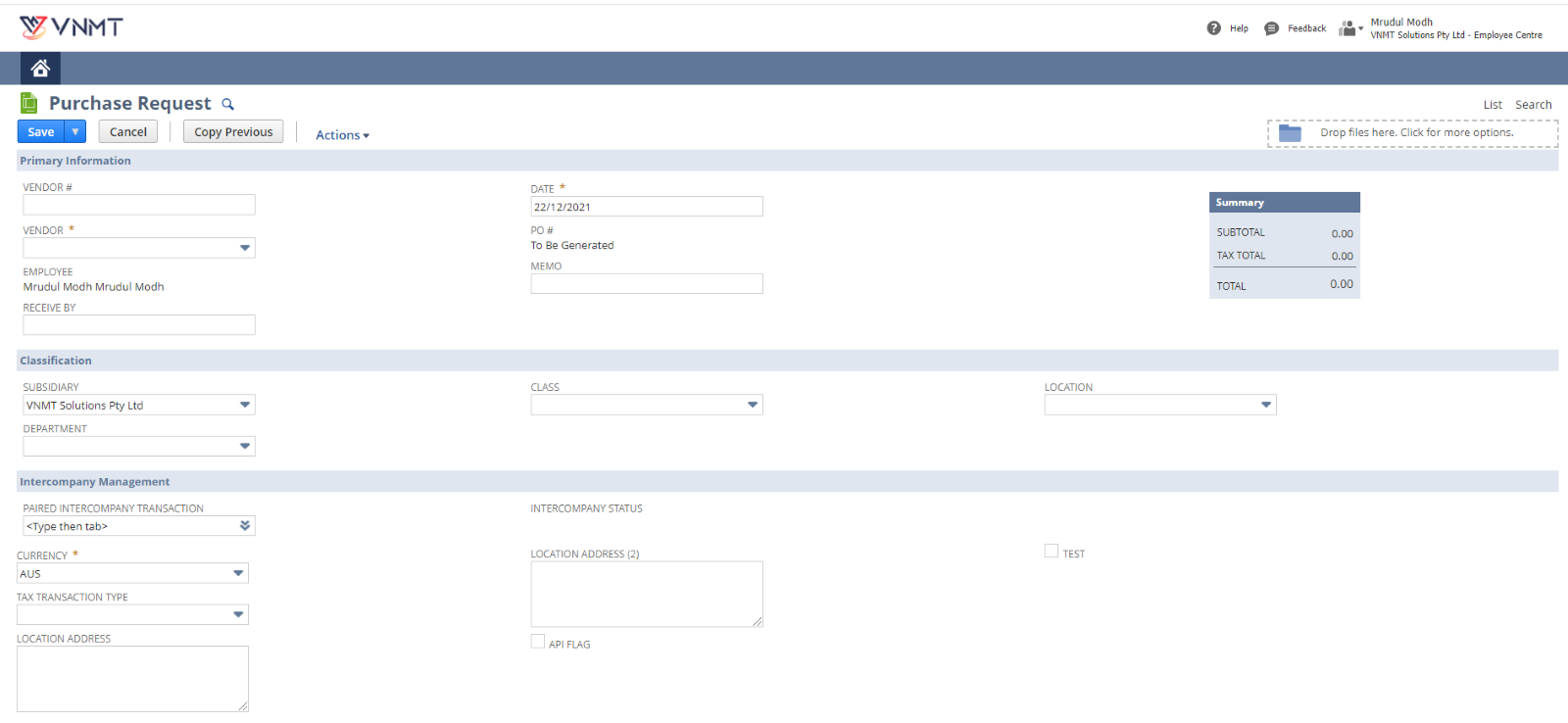 4. Purchase Orders:
The purchase order is determined by the specifics of the actual transaction. The buying department will develop and deliver the purchase order to the vendor when the purchase request has been approved. Employees in the buying department might submit purchase orders for approval if the company did not use purchase requisitions.
Navigate Transactions -> Purchases -> Enter Purchase Order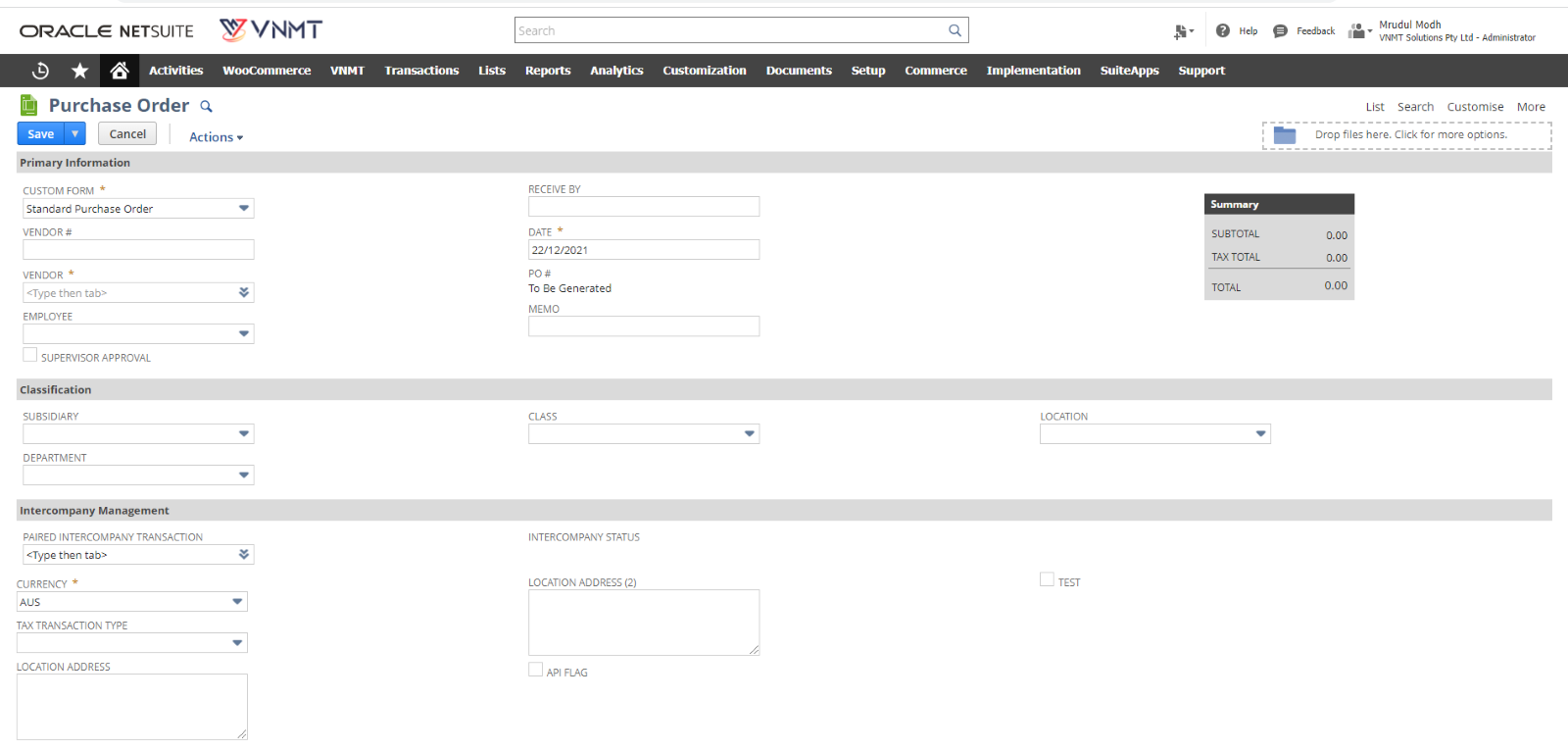 5. Item Receipts:
The item receipt document includes details on the products, quantities, and arrival date of the goods bought via a purchase order. The item receipt details the received item in the warehouse and indicates if the item has been received, not received, is available, or is frozen.
Navigate Transactions -> Purchases -> Receive Orders

6. Vendor Bills:
Using the vendor bill transaction, you can track payables as they come in from vendors, pay bills when they are due from the payables list, and have a complete picture of payables.
Navigate Transactions -> Payable -> Enter Bills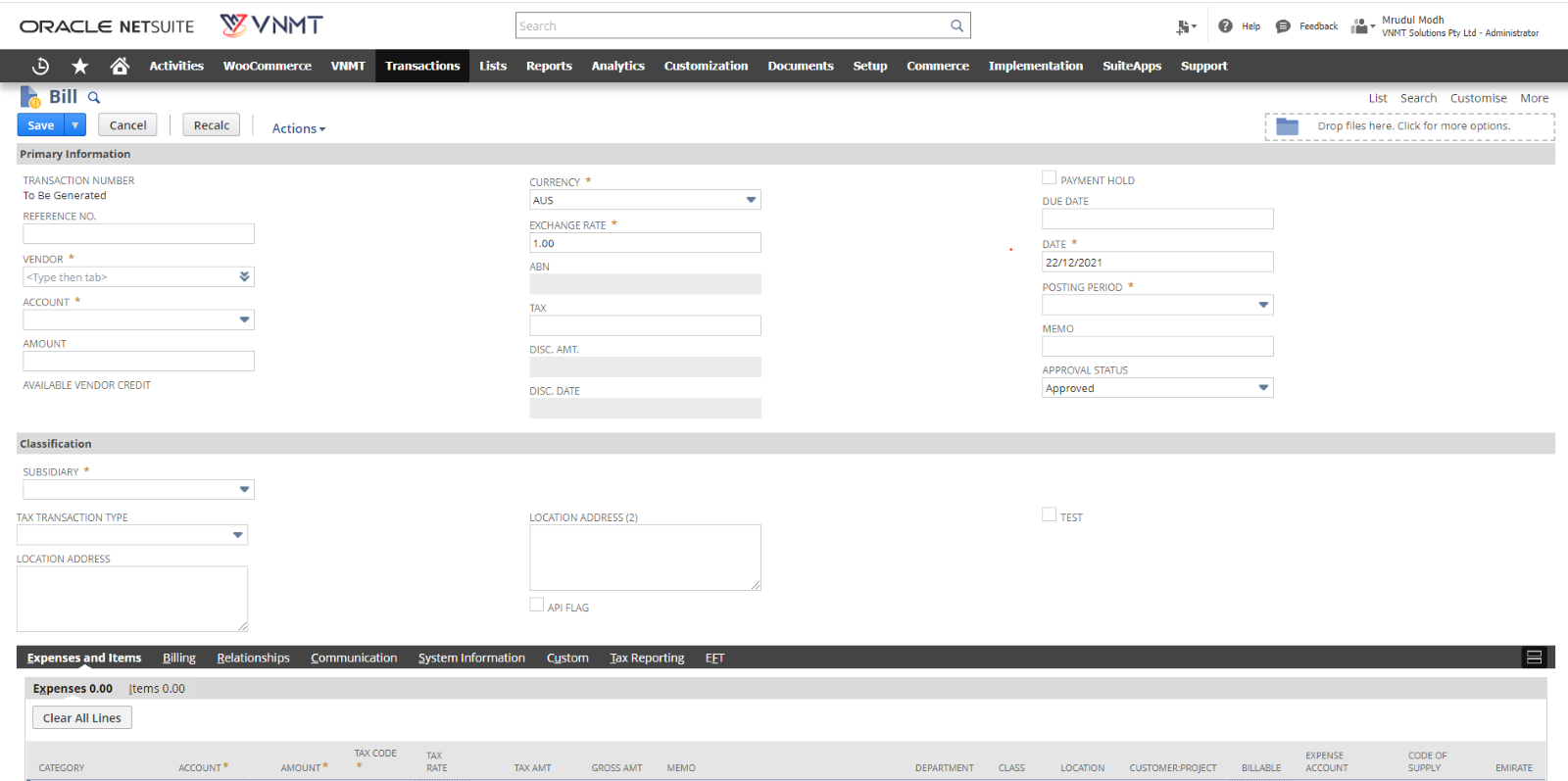 7. Expense Report:
The expense report integrates with project accounting and invoicing while automating and streamlining the expense cycle, including reporting, submission, and approval. It becomes simple to easily manage and submit costs for quick reimbursement and client invoicing by controlling the entire process in a single solution.
Navigate Transactions -> Employees -> Enter Expense report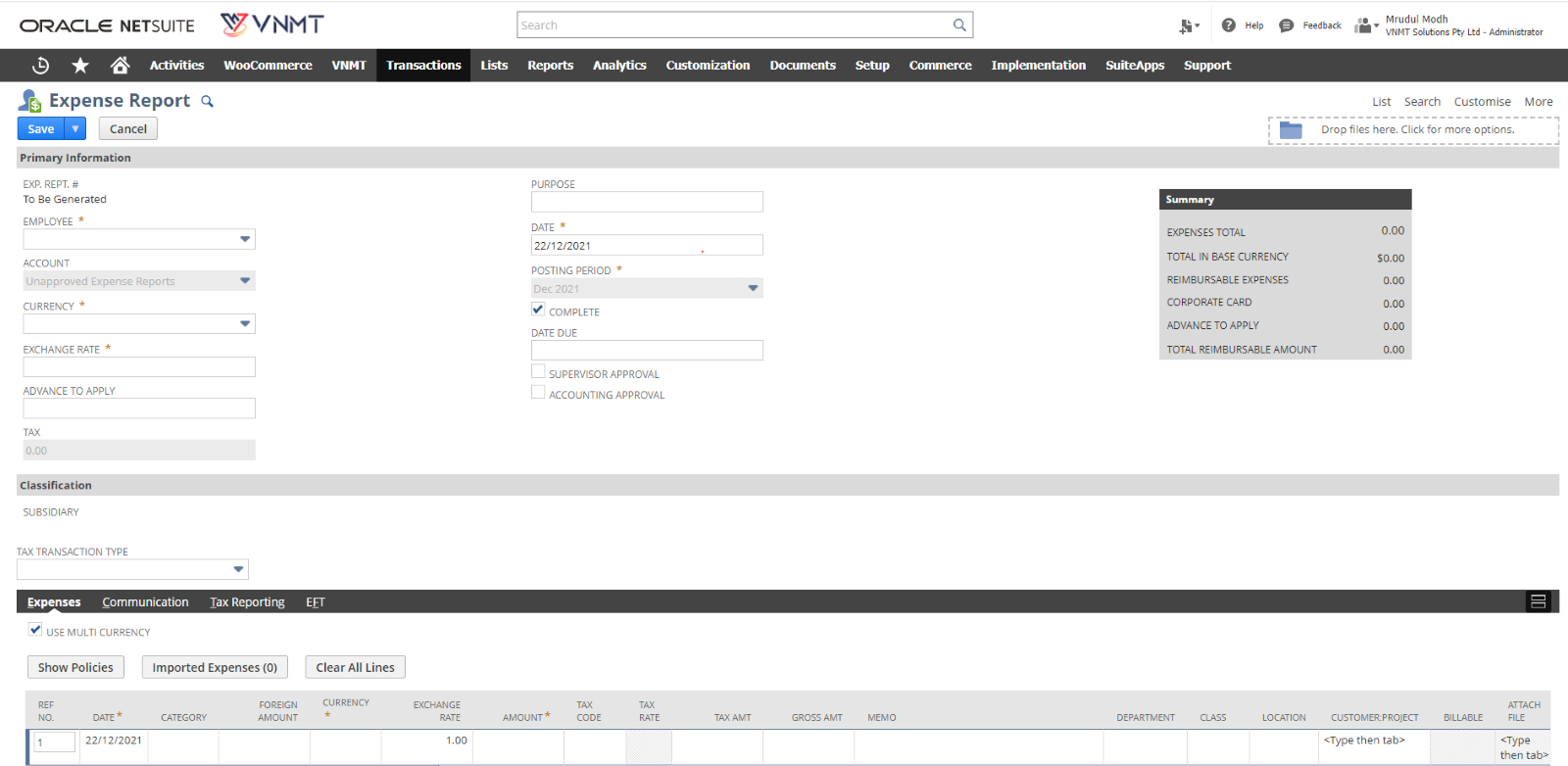 8. Vendor Bill Payments:
The finance team will make payments by the contract terms as soon as they receive the vendor's authorized invoice. The acquiring business must ensure the payment information is current and take precautions against the possibility of accounts payable fraud during the procedure.
Navigate Transactions -> Payables -> Click Pay Bills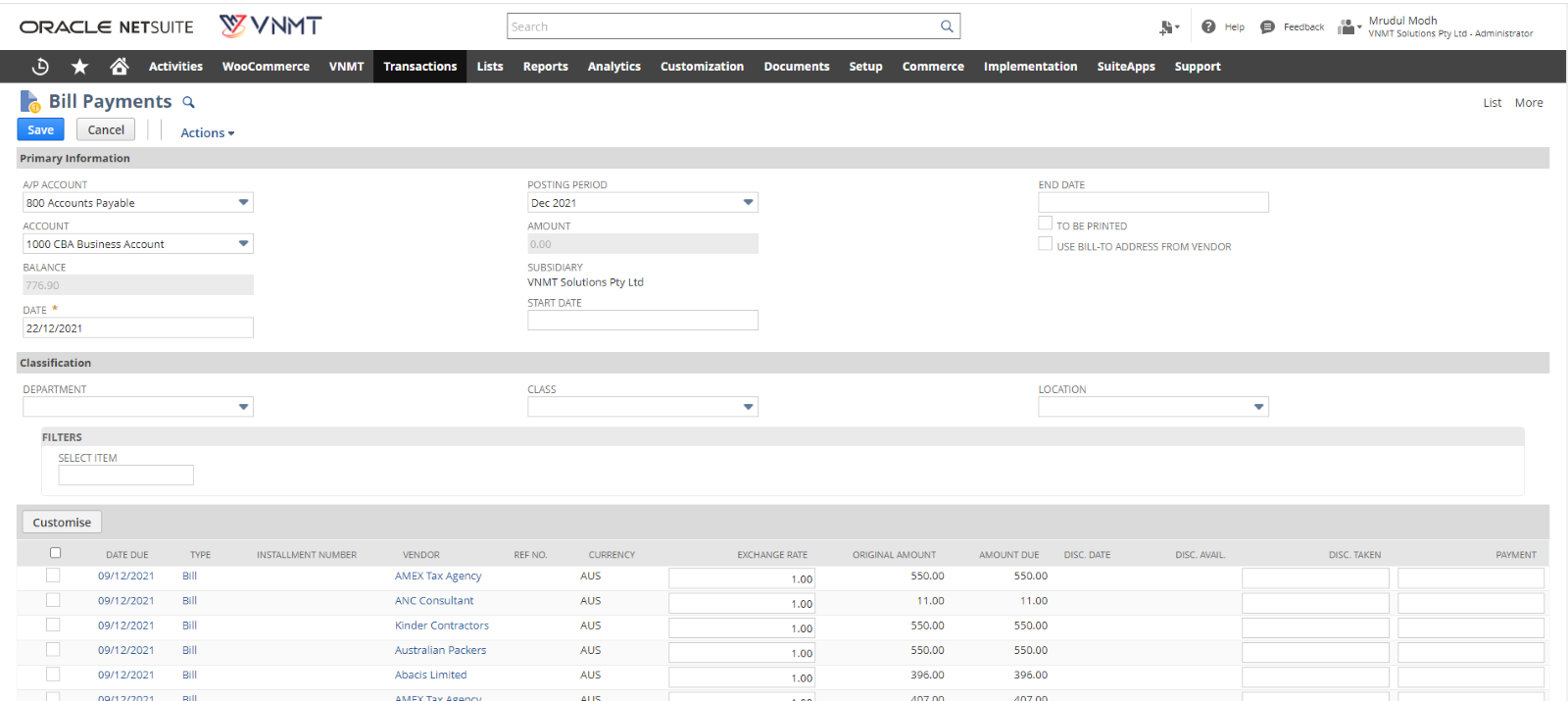 9. Vendor Return Authorizations:
Following a return to a vendor, a non-posting transaction that comprises the products to be returned, their quantities, the approval status, shipping status, and the vendor's reimbursement or credit is created. When NetSuite's Vendor Return Authorizations functionality is enabled, this type of transaction will be accessible.
Navigate Transactions -> Purchases -> Click Enter Vendor Return Authorizations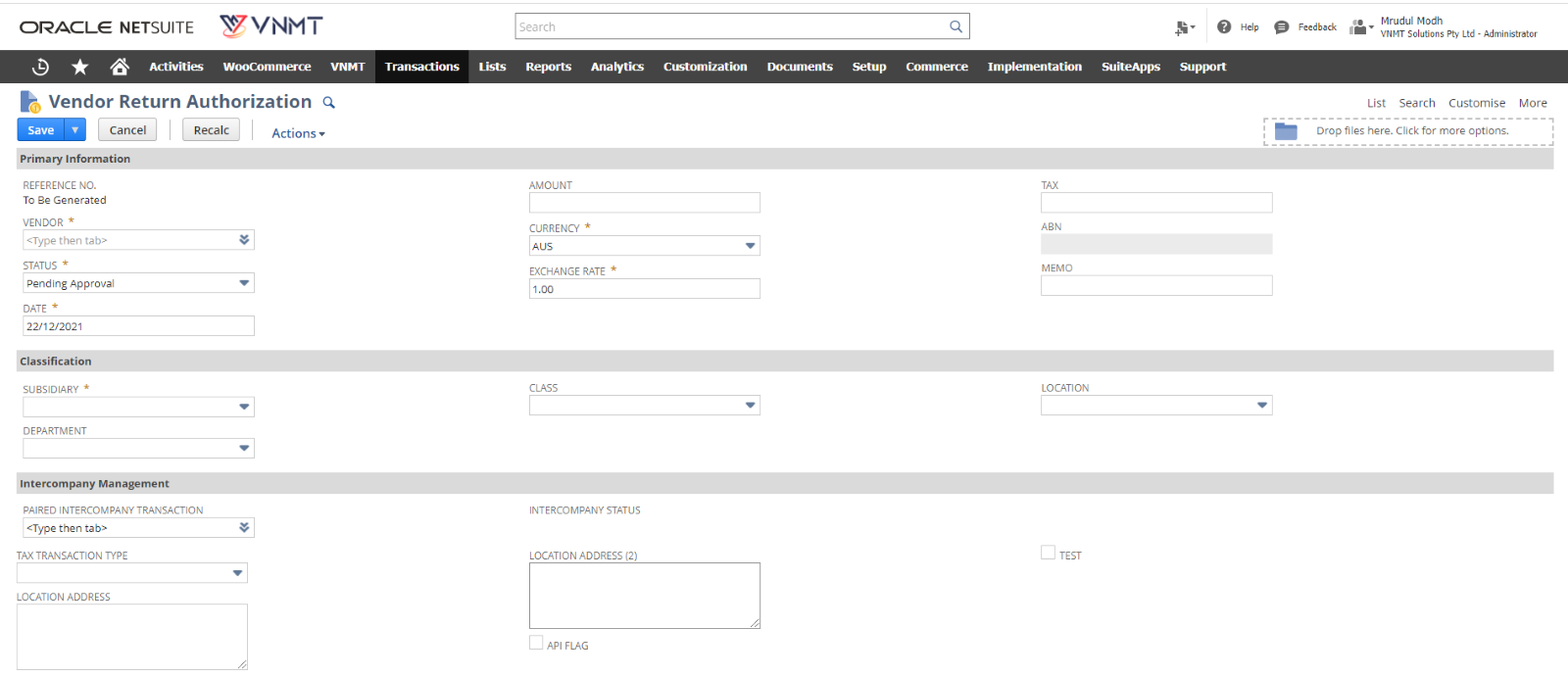 10. Vendor Return Shipments:
A vendor return authorization is a non-posting transaction that keeps track of a return to a vendor, recording the products to be returned, their quantities, the approval status, the shipping status, and the amount that the vendor will refund or credit.
Navigate Transactions -> Purchases -> Click Enter Vendor Return Authorizations -> Lists -> Click Pending Return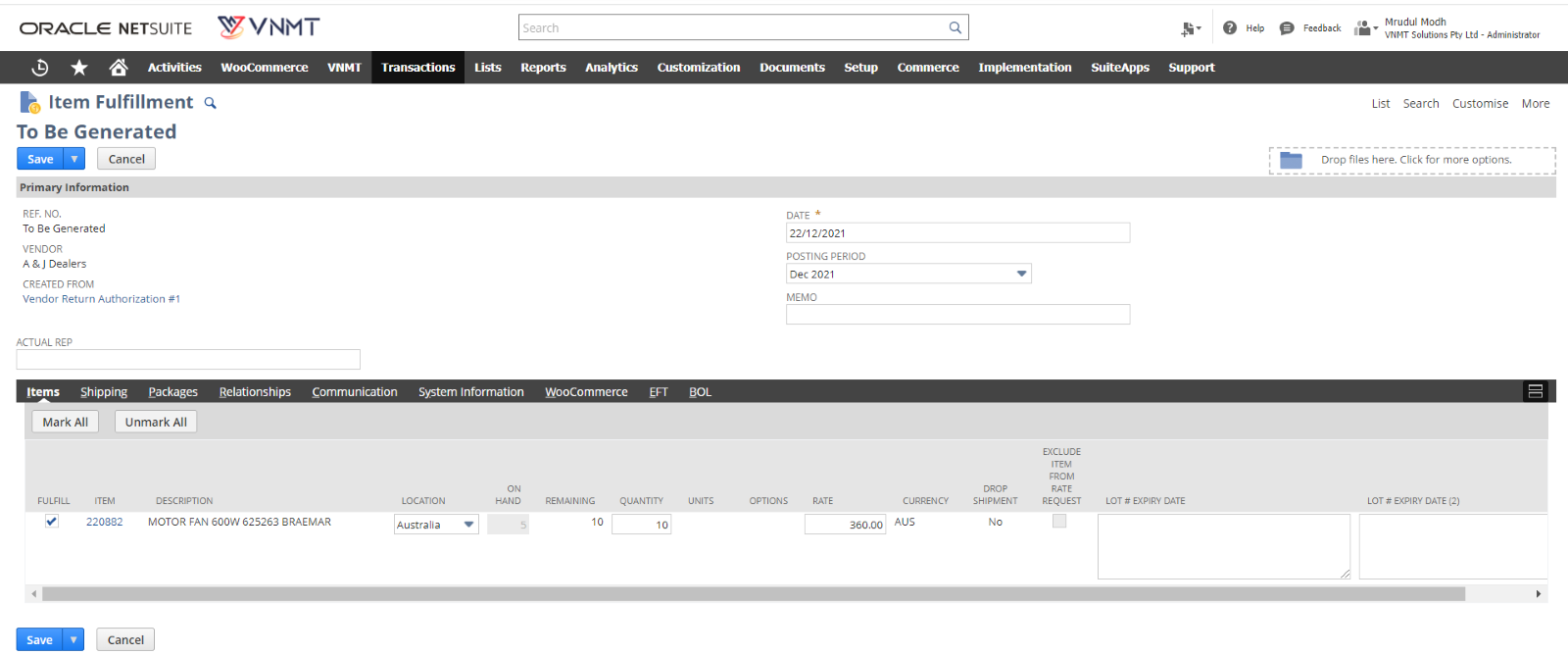 11. Vendor Credits:
An account for payables might be credited by a vendor due to a vendor credit transaction. A vendor credit transaction could occur when goods are returned to a vendor, or a discount is settled with a vendor.
Navigate Transactions -> Payables -> Click Enter Vendor Credits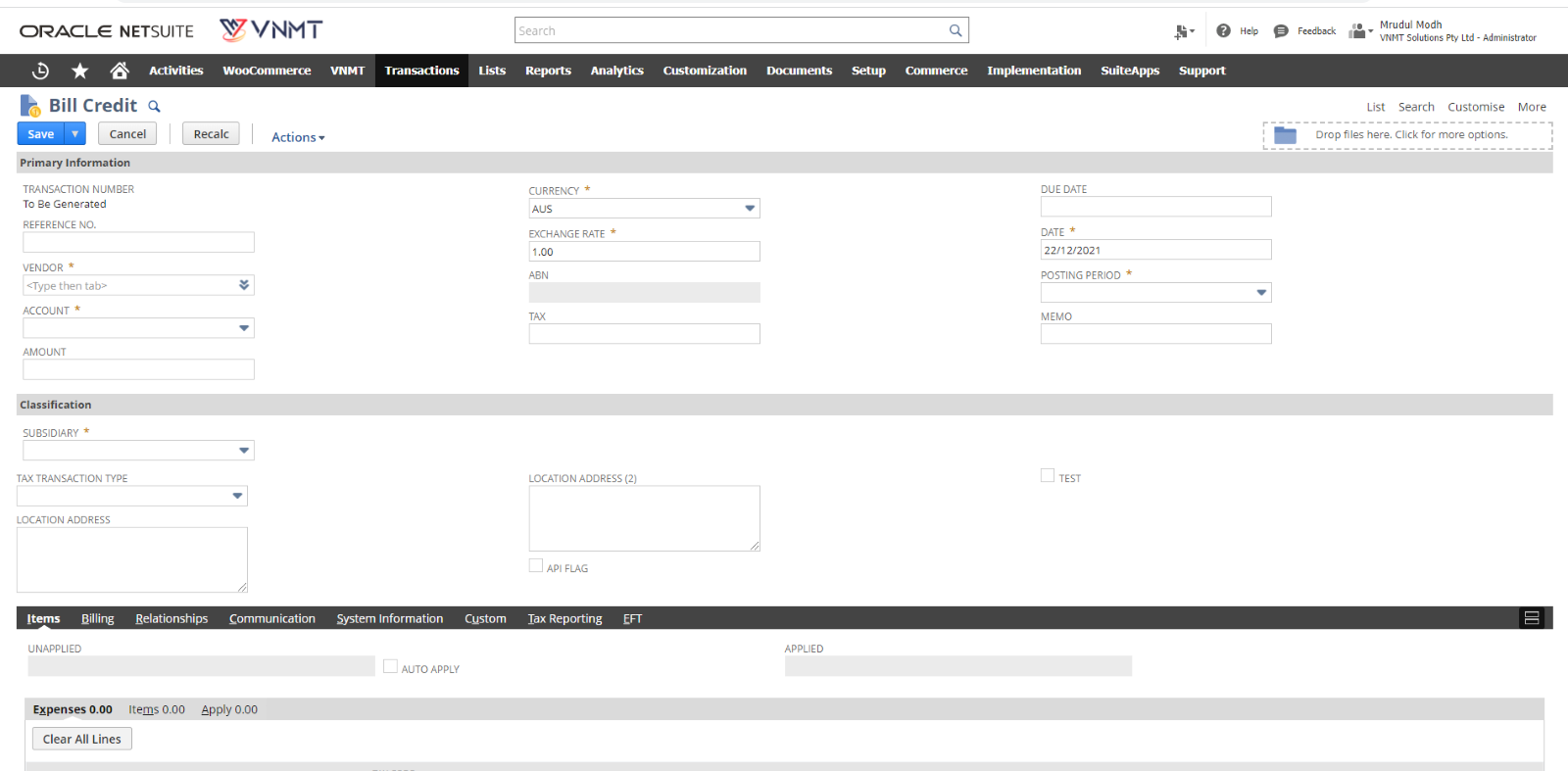 12. Vendor Refunds:
You should enter a vendor credit, or bill credit, for the value of the returned items when a vendor return has been accepted. This allows you to track credit due to you by a vendor and apply it to vendor bills.
If the vendor sent you a cash or cheque refund, you can record it by connecting the vendor credit with a deposit. If you use the Advanced Shipping function, you can enter a bill credit for the item's value before shipping it. If you do not use the function, products are credited as they are shipped. There is a need to enter a vendor credit return and credit the item at the same time.
Navigate Transactions -> Payables -> Click Pay Bills -> Select Bill Credit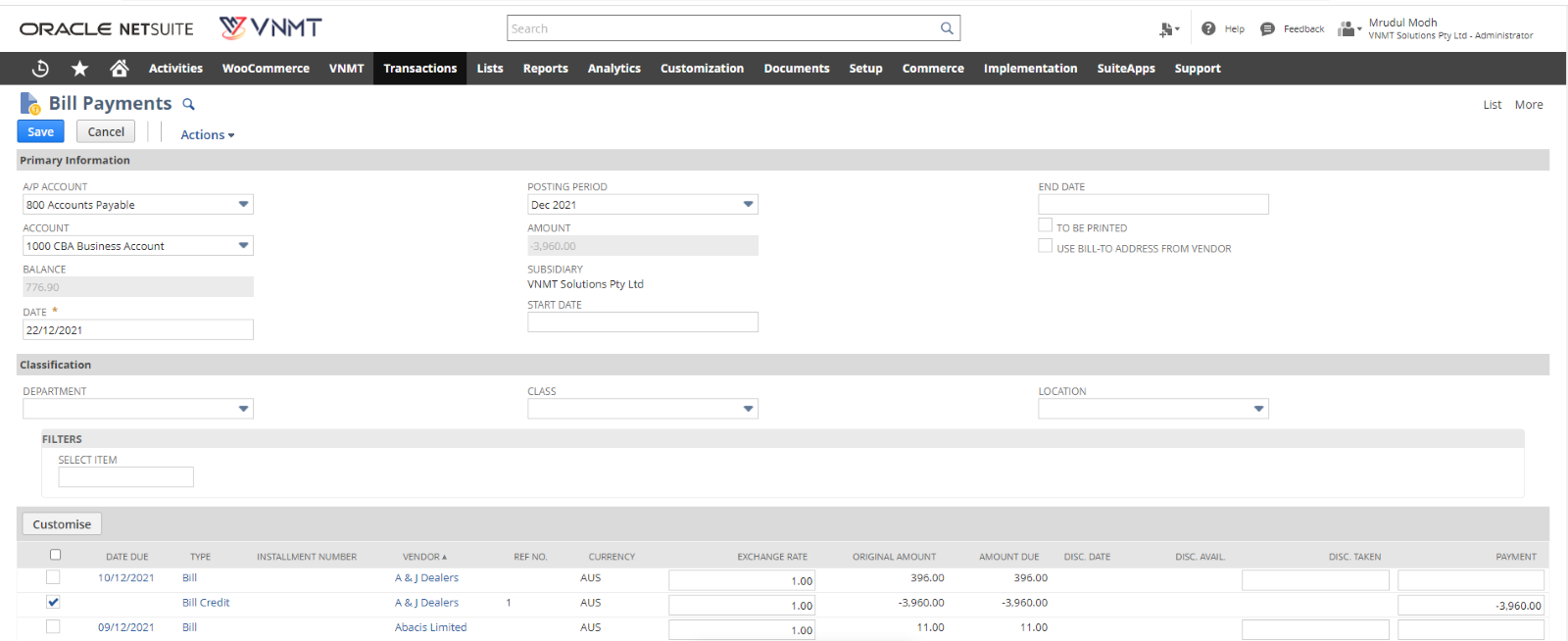 13. Account Payables Reports:
Accounts payable reports include details on recently paid bills, anticipated payment deadlines, and past-due invoices. This data provides management with a clear view of cash inflows and liabilities, aids in scheduling and prioritizing bill payments, and supports other cash management choices. Additionally, Account payable reports can offer information that aids in cost management and lowers the possibility of payment fraud.
Navigate to Reports -> Payables -> Click any Payables reports (A/P Aging report)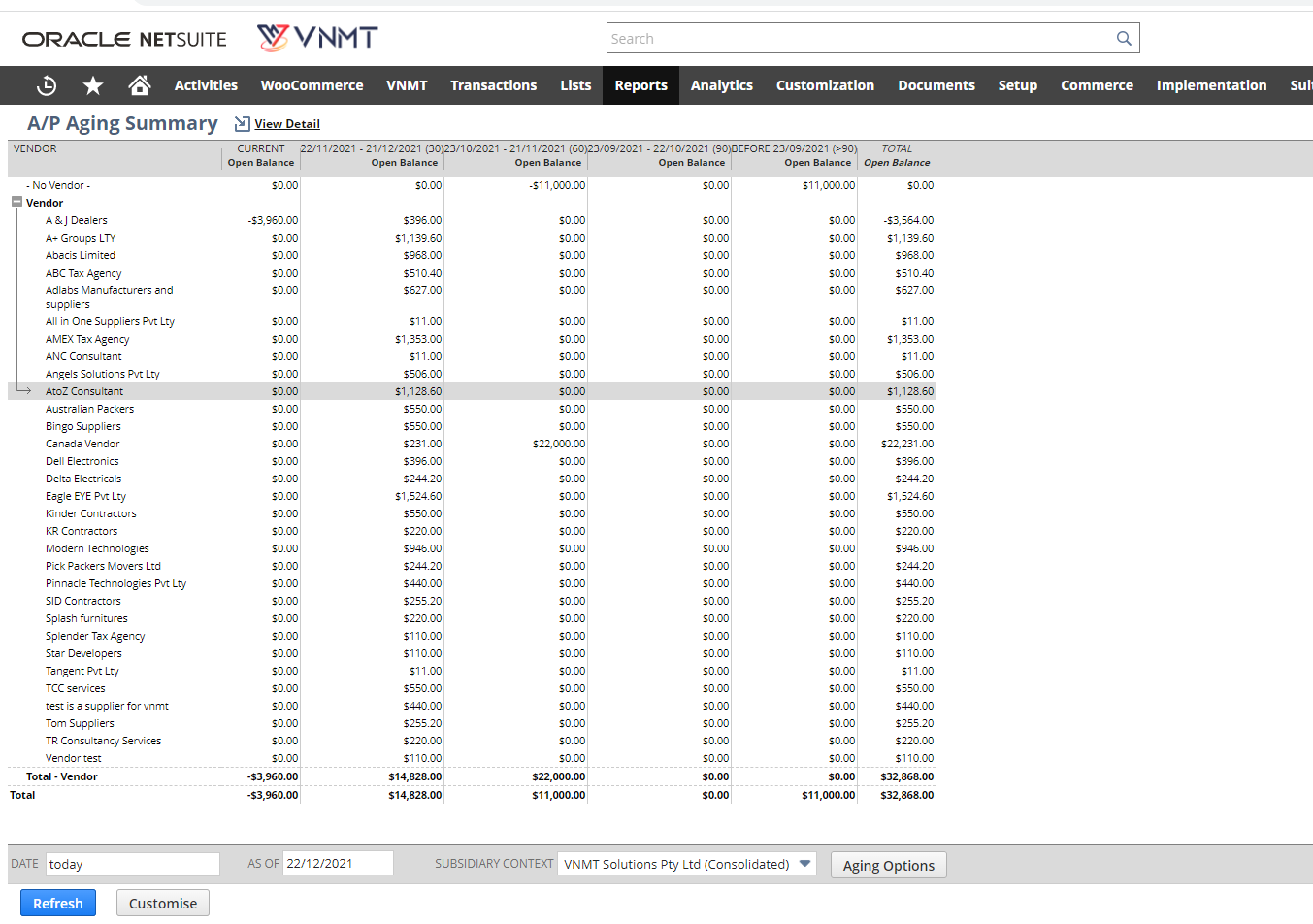 NetSuite Procure To Pay Best Practices
P2P solutions enhance expenditure and supply chain management while freeing your procurement staff. You must comprehend the NetSuite Procure to Pay process, whether you manage a traditional firm, a digital one, or a hybrid of the two. The best way to optimize your NetSuite payments indeed consists of two steps. The first step in streamlining your workflow is to incorporate crucial integrations. The second, though, is more focused on mentality and approach.
But how can you do that?
1. Simplification Of The Workflow For AR
You need to reduce the bloat in your AR workflow. There must be an opportunity for improvements when using a product as comprehensive as NetSuite with legacy procedures. To begin, examine alternatives to the fundamental AR workflow and ask yourself the following questions:
What payment type does the department prefer?

How do I accept payments from within NetSuite?
2. Establishing Restrictions And Control
Limiting who has access to specific NetSuite functions is a unique approach to avoid mistakes or even expense fraud. Project management will be made more challenging, at the very least, if all quotes in the system are open to editing by anybody in the department.
Setting some limitations for most NetSuite users in your accounting department is advantageous, such as designating a specific team to a subsidiary or only enabling users to update their files and vendor information. If required, you can also restrict the view rights option. The controls you use depend on your department's demands and size.
3. Utilizing Technology Wisely And Automate
Automation is a simple technique to fulfill the purchase order quickly. However, automation is not limited to your process. For instance, after choosing, let's say, ACH as their method of payment, your consumers can keep their payment information. Even partial or numerous invoice payments can be made at once.
Payment automation ultimately revolves around customer service. Consider the end-user interface if and when you incorporate a mechanical component to get the best outcomes.
4. Refining The Conditions Of Payment
Consider renegotiating payment conditions with clients if you're not working in the technology sector. Your consumers will have more incredible options if you provide a "pay now" opportunity, but you could also want to reduce the length of the payment process.
Consider reducing your payment time from 45 to 15 days if you've discovered that specific consumers are paying beyond the due date. Even if your consumers could still be delinquent, you may only receive payment in 30 days instead of 50. While the availability of your customer's working capital will determine the payment terms, it may be worthwhile to experiment with payment due dates to see if you can maintain a steady cash stream.
5. Going Paperless
You can go paperless with NetSuite because it is a digital platform. If you choose to convert from paper checks to digital payments, as we advised, automation can help you use less paper overall.
Processing paper documents require more time, and paper must still be purchased. There's no excuse for antiquated technology to slow you back at work with today's technology, including the ability to securely scan documents using mobile applications and share them in real-time.
6. Verifying Duplicate Payments
You can find duplicate transactions on NetSuite, but you must search for them manually. The procedure itself is straightforward. However, it may take some time:
Step 1. Access Setup
Step 2. Choose Company, followed by Duplicate Detection.
Step 3. Select the "vendor" and "customer duplicate detection" checkboxes.
Step 4. Clicking the side arrow will allow you to add the fields you want to check for duplicates.
Step 5. Select the category you wish to search for from the list that should appear, then click Done.
Step 6. Press Save.
The creation process will notify you if you attempt to create a record with the same name or other information. However, this makes it impossible to avoid repeated transactions. This frequently occurs when auto-numbering and "Allow Override" is enabled, which is a typical mistake after installing NetSuite. Automation implementations can also help in this area because you would be notified if a duplication happened.
7. Reviewing The Data Often
Reviewing reports on a weekly or monthly basis is ideal. In NetSuite, creating and evaluating the Chart of Accounts is still crucial. But you'll also want to add your KPIs to your dashboard for a fast daily summary.
Some integrations offer more knowledge and intelligence. You can maintain a comprehensive dashboard where you may analyze the following information to give you an idea:
Data on customer payment methods

Processing volume

Subscription payments

Real-time transaction status

Data on disputes, refunds, and reconciliations
The more information you have, the more prepared you will be to plan for any long-term changes in your cash flow.
8. Making A Plan To Comply
Regardless of how you decide to utilize NetSuite, keeping up with regulations requires careful preparation for compliance. You can do this by handling sensitive data as little as possible. Whether you utilize NetSuite exclusively or select a few connectors, this holds. You can use tokenization to authorize, charge, and reuse a customer's payment method without directly gaining access to their private information.
Challenges Of The NetSuite Procure-to-Pay Process
The procure-to-pay cycle, as previously said, consists of various phases. Typically, this will entail activities by a number of employees across various departments within the firm, ranging from procurement to finance, who will be using a range of platforms. People participating in procure-to-pay may have conflicting or even opposing agendas and objectives after NetSuite end-user training.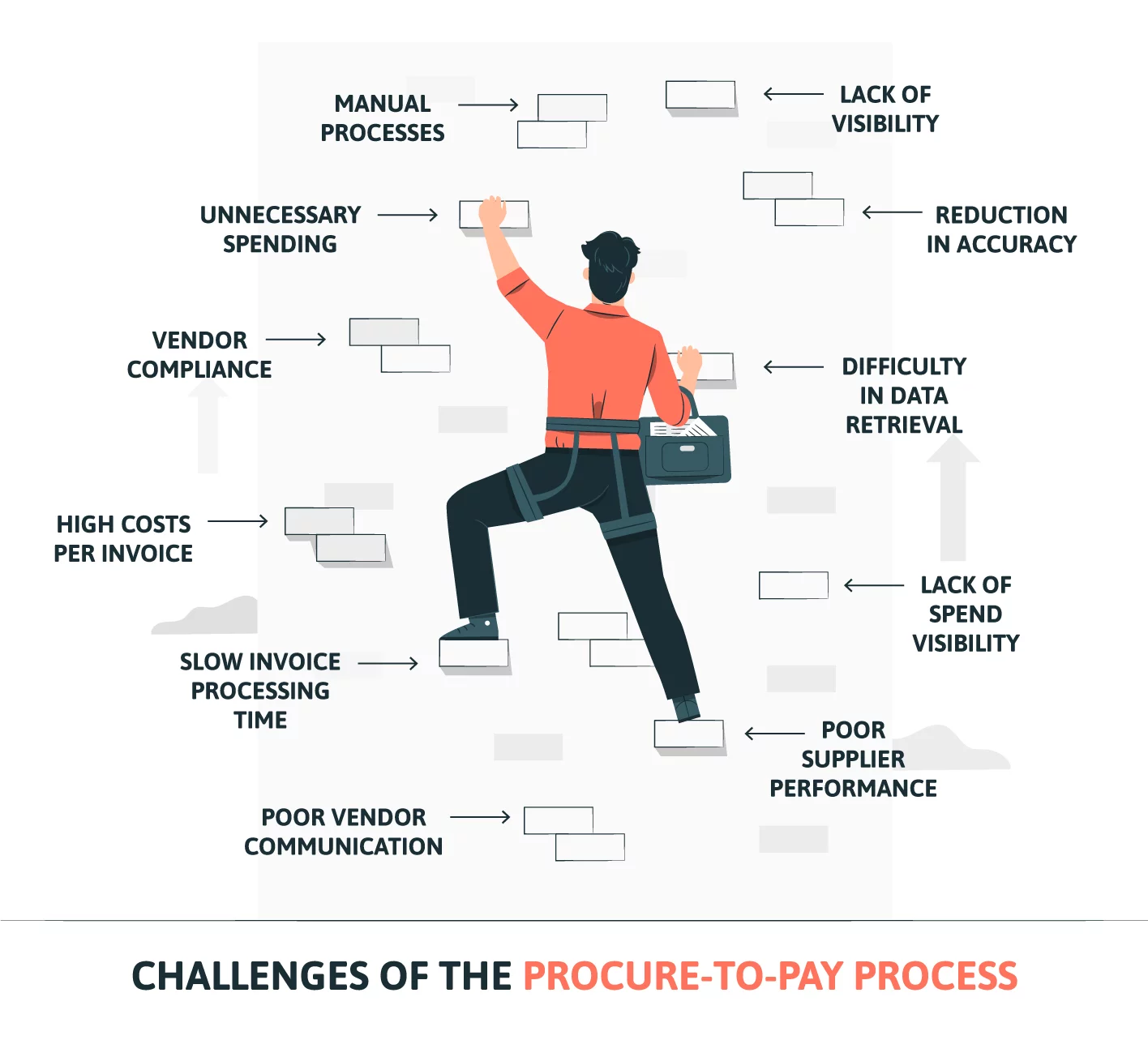 These characteristics can result in a variety of issues, ranging from a lack of reliable data throughout the entire procure-to-pay cycle to the likelihood of mistakes due to manual operations. A few of them can be:
Slow invoice processing time
High costs per invoice
Lack of spending visibility
Difficulty in data retrieval
Reduction inaccuracy
Lack of visibility, and many more.
The companies may attempt to solve these issues by streamlining their procure-to-pay processes to maximize speed, transparency, and intelligence.
How Can NetSuite Procure-to-Pay Software Help You?
End-to-end procure-to-pay solutions are offered by certain providers, with the goal of automating the entire NetSuite Procure to Pay process. From supplier management platforms to solutions that automate the production of purchase requisitions and the issuing of sales orders, technology can help streamline various aspects of the procure-to-pay cycle.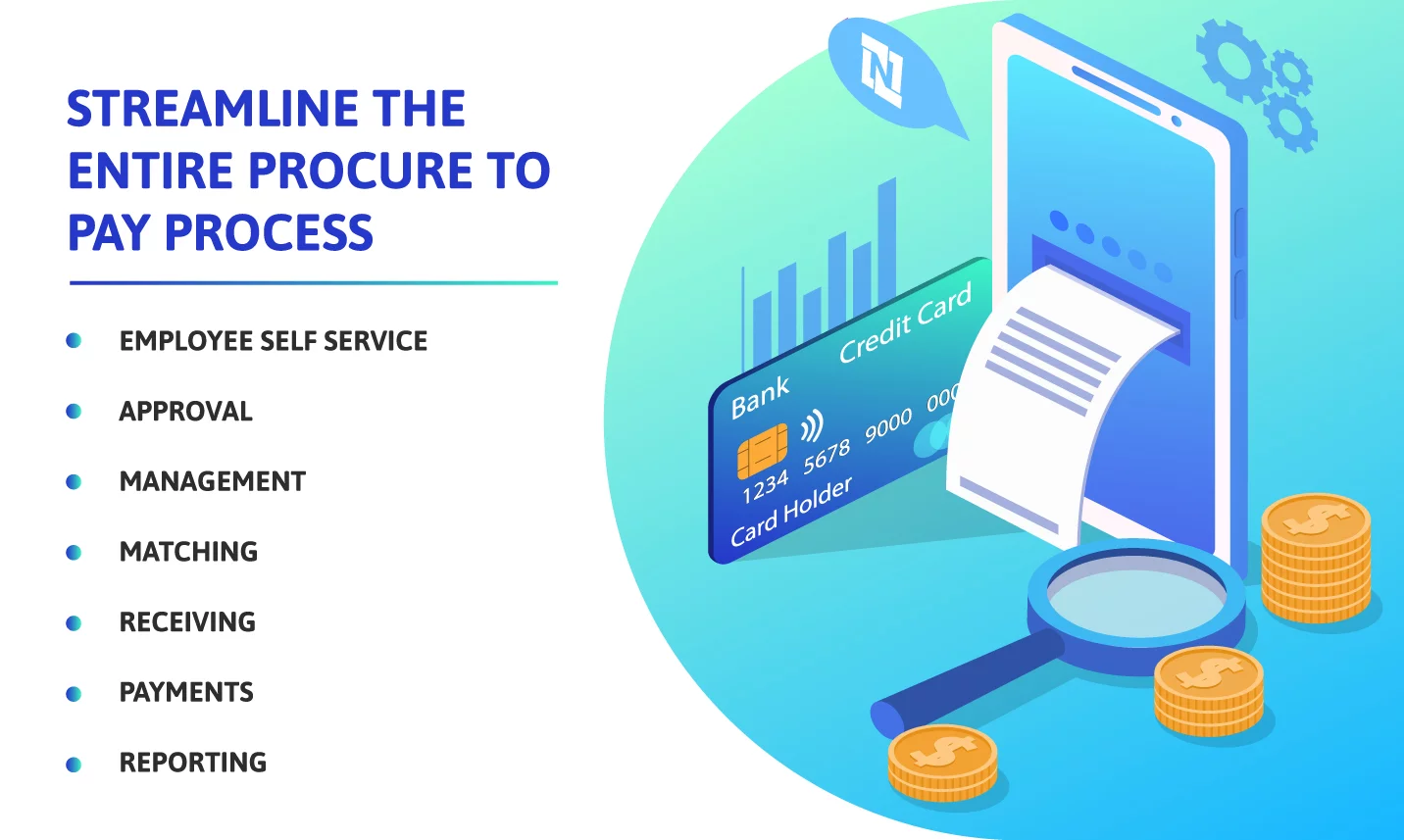 Invoice automation systems may also be used to simplify invoice data gathering, decrease the risk of mistakes, and automate accounts payable operations. Vendors, too, may limit the risk of mistakes or delays in the bills they deliver to their customers by using electronic invoicing systems. It guarantees that the statements are sent to the correct location and in the correct format. Solutions that transform purchase requisitions into invoices automatically, and also a system-to-system connection for huge numbers of invoices, are among them.
Benefits Of NetSuite Procure-To-Pay Cycle
You can hire a NetSuite developer to serve you the advantages of adopting NetSuite for procure to pay process: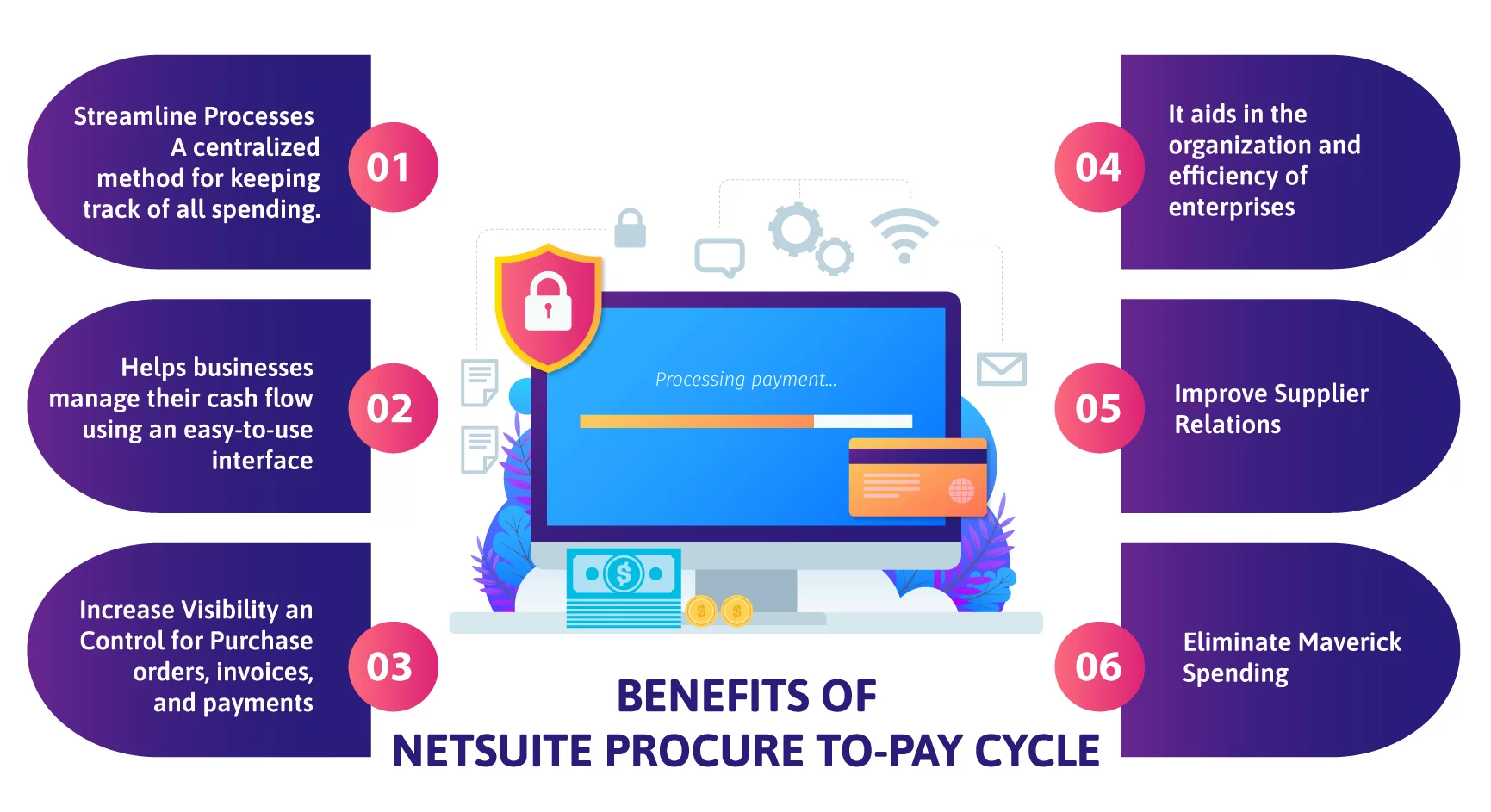 A centralized method for keeping track of all spending.
Helps businesses manage their cash flow using an easy-to-use interface
Purchase orders, invoices, and payments may all be tracked using it.
Can assist businesses in saving money by obtaining discounts from suppliers.
It aids in the organization and efficiency of enterprises.

Wrapping Up!
The companies will be more positioned to capitalize on early payment options like supply chain finance or flexible discounting if the procure-to-pay process is more efficient. Companies may also enhance their connections with their vendors and minimize the likelihood of supply chain interruption by giving early payments to them. In fact, they can also use their own funds to achieve a risk-free return through dynamic discounting with NetSuite's advanced procurement services.
Read More: The Ultimate Guide to Vendor-Customer NetSuite Integrations