Are you planning to expand your business?
If yes, the first thing you must do is check on your NetSuite ERP system.
Why and How?
Well, you must check the status of your NetSuite ERP System in order to ensure it is working efficiently or not. That's where the NetSuite Health Check service comes in, doing functional Enterprise Resource Planning system maintenance for NetSuite users.
Each company's NetSuite experience has its own set of ERP requirements, such as custom fields, scripts, and even saved searches. To function correctly over time, all parts of the ERP system must be improved on a regular basis through maintenance services.
NetSuite customers that do not do frequent ERP inspections risk encountering everyday difficulties such as delayed procedures and replies, program errors, and even unjustified costs. Also, since the ERP system is the core database for all departments, these faults influence all elements of the organization, making NetSuite Health Checks even more important.
But before we dive into the idea of NetSuite Health Check, let us understand it first!
What is NetSuite Health Check?
A NetSuite Health Check is a technique for examining and analyzing the NetSuite environment of a company. This includes an in-depth analysis of the customer's current NetSuite deployment and configuration, as well as the identification of bottlenecks to full utilization and recommendations for resolving present difficulties and challenges.
With a NetSuite health check, a NetSuite solution provider may assist you to discover are of risk or potential benefit, raise awareness of NetSuite capabilities that aren't being used by your company yet and offer you an actionable report on enhancement and improvement initiatives.
When Should You Conduct NetSuite Health Check?
As a business owner, you must seek the help of a NetSuite expert and conduct NetSuite Health check in the following cases:
When a company believes its current NetSuite instance isn't meeting its needs, it's time to upgrade.
When a company wishes to add more NetSuite ERP functionality, it may do so.
When the organization adds more business lines, products, services, and markets, the goals stated during the first deployment aren't being met
When a company has been using NetSuite ERP for a while the procedures need to be improved to industry best practices.
When a company believes that its NetSuite instance's compliances, controls, and validations may be improved,
When a company undergoes a rebranding, repositioning, or new legal requirements
When a company wants to get a better return on its ERP investment,
When a company wishes to examine its ERP system on a regular basis.
Is Conducting A Health Check So Important?
Despite the fact that NetSuite procedures are built on industry best practices, it allows for adaptations to meet the business's specific needs. As a result, many NetSuite users personalize their settings by hiring a NetSuite developer. There would be customized records, scripts, fields, and stored searches, and it would be impossible to keep track of which were used or required over time. Unchecked modifications might result in a disorderly environment, slowing down the user experience.
Additionally, there may be difficulties such as process bottlenecks, visibility issues, a lack of substantial productivity gains, or a lack of major improvements in administrative expenses. A NetSuite Health Check can show you how to arrange and clean up your ERP system to increase productivity and efficiency. It focuses on areas where performance may be improved.
What Is The Scope Of A NetSuite Health Checklist?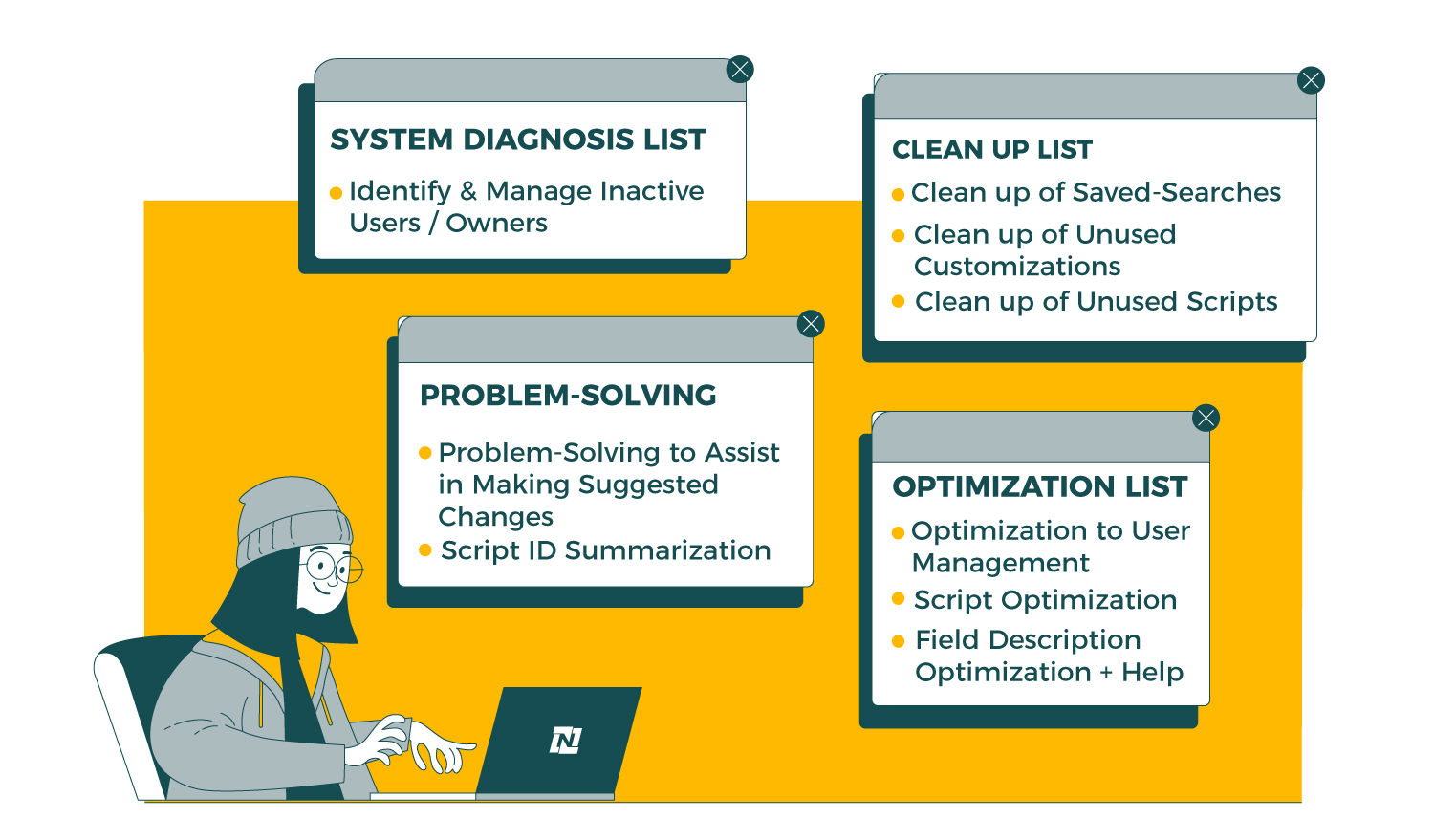 Typically, the extent of the health check is determined by the customer's worries and issues. A NetSuite health check, on the other hand, should typically include a review of the following:
System Diagnosis List

Identify & Manage Inactive Users / Owners

Clean Up List

Clean up of Saved-Searches
Clean up of Unused Customizations
Clean up of Unused Scripts

Optimization List

Optimization to User Management
Script Optimization
Field Description Optimization + Help

Problem-Solving

Problem-Solving to Assist in Making Suggested Changes
Script ID Summarization
Steps For A Detailed NetSuite Health Check-up
The entire process of NetSuite Health Check-up constitutes of five distinct steps:
1. Pre-Consultation
At first, you can connect with the ERP Partners and talk about any NetSuite issues or pain points that need to be solved.
2. Documentation
Next, the ERP experts will analyze, map, and note down your NetSuite settings using industry-leading techniques and apps.
3. Examining your NetSuite settings
VNMT experts will check for unneeded customizations or optimization possibilities in your NetSuite system.
4. Debriefing and Planning
You will receive the highlights and major findings of any essential changes that our Experts did come across during the NetSuite customization services. This helps you to analyze the impact of the added functionalities on your overall experience.
5. Implementation
Your NetSuite system will be reconfigured by VNMT. Trials will be conducted to guarantee that new configurations fit the demands of the expanding company.
Is NetSuite Health Check-up Really Helpful?
VNMT provides specialists with varied skill sets to evaluate and improve your bespoke NetSuite ERP system, regardless of your sector. Our Data Engineers and System Architects have worked in fields such as Accounting, Project Management, Finance, and Inventory Management, among others.
The cloud ERP health check technique will identify all areas where your business processes might be improved, highlight their potential benefits, and then optimize or remove manual procedures to ensure the long-term survival of your firm. Cost reductions, client satisfaction, and faster delivery of real-time data are the main advantages of cloud checking.
Time To Seek Customized Support For Your Business Model!
During a health check-up, the VNMT NetSuite deployment strategy takes into account your company's current operations and goals first. The Implementation team will notice current concerns and offer development prospects after a thorough study of your NetSuite instance.

Apart from that segment, the technical specialist designs bespoke processes that are oriented for future expansion and delivers an in-depth assessment of the present software, all while keeping your company objectives and goals in mind. Further, actionable reports will be supplied at the post-implementation stage to help the team through their newly upgraded NetSuite ERP system.