The ability to swiftly adapt, innovate, and optimize is paramount for sustained growth and success. Amidst this backdrop, NetSuite SuiteCloud emerges as a beacon of technological prowess, offering a comprehensive suite of tools and capabilities designed to revolutionize the way organizations approach customization, integration, and scalability within their business operations.
From intuitive customization tools to powerful scripting capabilities, SuiteCloud presents a comprehensive toolkit designed to meet modern enterprises' unique needs and aspirations.
Let's learn more about NetSuite SuiteCloud in detail:
What Is NetSuite SuiteCloud Platform?
The NetSuite SuiteCloud Platform is a comprehensive customization and integration platform provided by Oracle NetSuite. It is designed to enable organizations to tailor and extend the capabilities of the NetSuite cloud-based ERP (Enterprise Resource Planning) system to align with their unique business processes and requirements.
SuiteCloud offers a range of tools and technologies that empower software developers, application administrators, and independent software vendors (ISVs) to enhance NetSuite's functionality and integrate it seamlessly with other systems.
Features Of NetSuite SuiteCloud Platform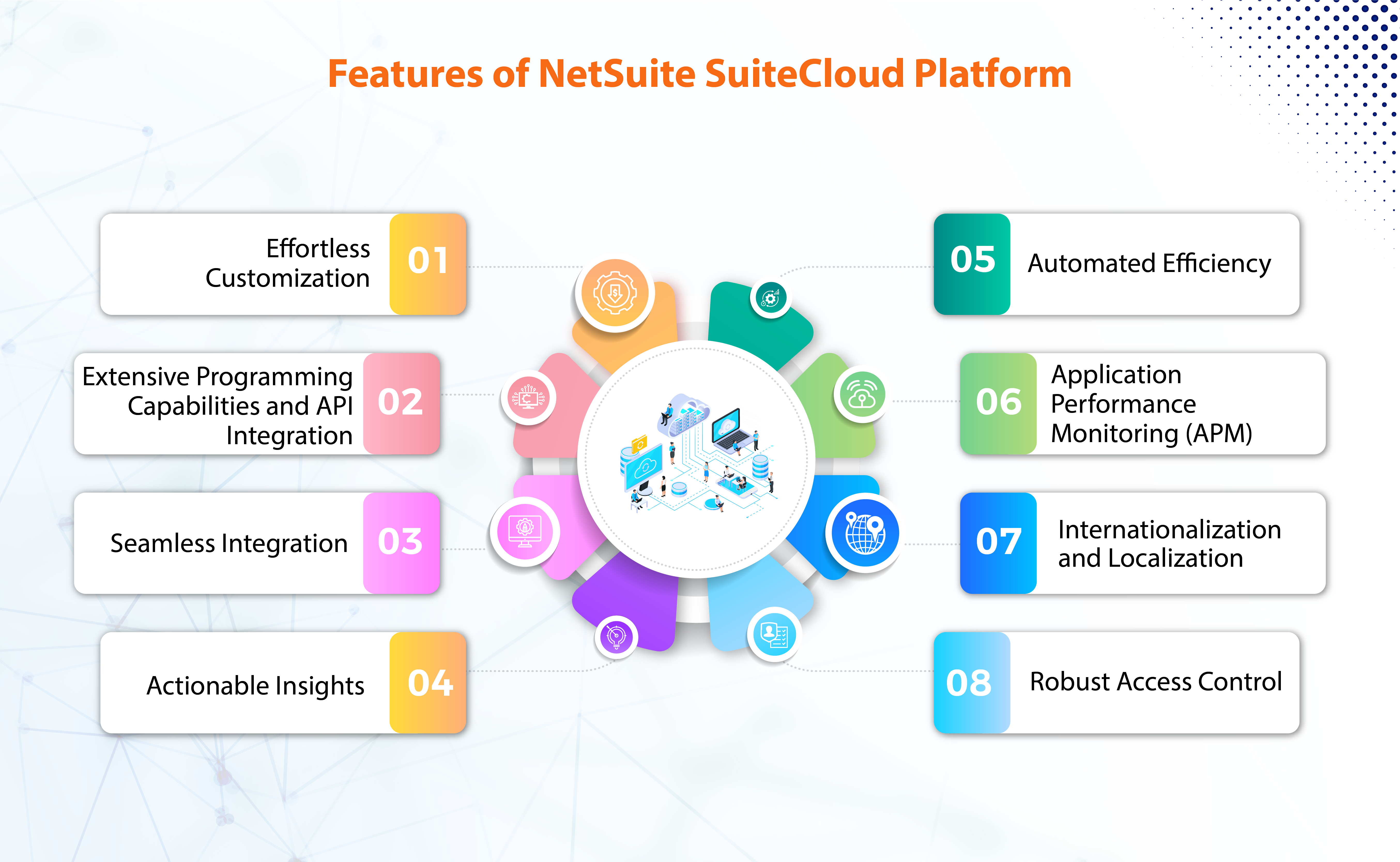 NetSuite SuiteCloud emerges as a powerful platform that empowers organizations to wield customization, integration, and internationalization to their advantage. Boasting an array of robust features, SuiteCloud provides a comprehensive toolkit for developers, administrators, and businesses seeking to harness the full potential of NetSuite's cloud-based ERP system.
1. Effortless Customization
With SuiteBuilder, a visual development tool that places the power of NetSuite customization at the fingertips of administrators. With a no-code, metadata-driven approach, SuiteBuilder enables rapid creation and customization of forms, fields, records, and transaction types. The intuitive point-and-click interface empowers users to tailor NetSuite's functionalities to their unique business processes.
2. Extensive Programming Capabilities And API Integration
SuiteScript offers a versatile canvas for developers to paint intricate business logic and data objects. This empowers the orchestration of user events, validation rules, scheduled processes, and customized workflow actions.
3. Seamless Integration
SuiteTalk bridges the gap between NetSuite and external applications, allowing seamless integration using industry-standard protocols. Developers and administrators can establish secure communication channels through web services, facilitating real-time data exchange and system synchronization.
4. Actionable Insights
SuiteCloud Platform offers a suite of NetSuite tools under SuiteAnalytics, empowering businesses to unravel the hidden insights within their data. The SuiteAnalytics Workbooks provide a user-friendly interface for analysis and real-time visualization.
5. Automated Efficiency
SuiteFlow transforms complex business processes into streamlined workflows, minimizing manual intervention and enhancing efficiency. Administrators can create and customize workflows tailored to specific needs through an intuitive point-and-click interface. Whether it's discounting approvals or data validations, SuiteFlow empowers businesses to automate routine tasks and optimize operational workflows.
6. Application Performance Monitoring (APM): Enhanced Performance Oversight
Ensuring optimal performance is crucial for business success, and NetSuite SuiteCloud Platform's APM tools provide a comprehensive solution. These tools enable real-time monitoring of customizations, identifying performance bottlenecks and areas that require optimization.
7. Internationalization And Localization: Global Reach, Local Feel
SuiteCloud's internationalization features empower businesses to provide localized experiences to users across countries. Organizations can adapt to language, currency, and date/time formats to ensure that their product resonates seamlessly with users' local contexts.
8. Robust Access Control
Utilize Access Management tools for comprehensive oversight of users, roles, permissions, and app resources, ensuring a secure and traceable environment. Customize access, even to granular components like pages, transactions, and custom records, via a roles-based permission structure, enhancing both security and adaptability.
SuiteCloud Development Framework (SDF) In NetSuite
NetSuite SuiteCloud Platform stands as a comprehensive solution for tailoring NetSuite to precise business requirements, forging new applications, and seamlessly integrating with existing on-premise or cloud systems. With a robust suite of cloud development tools, this platform empowers customers to fully harness the potential of the SuiteCloud Development Framework within NetSuite. Leveraging the expertise of AlphaBOLD's NetSuite developers further enhances your investment, optimizing your offerings to achieve the desired outcomes.
Key Features Of The NetSuite SuiteCloud Developer Framework: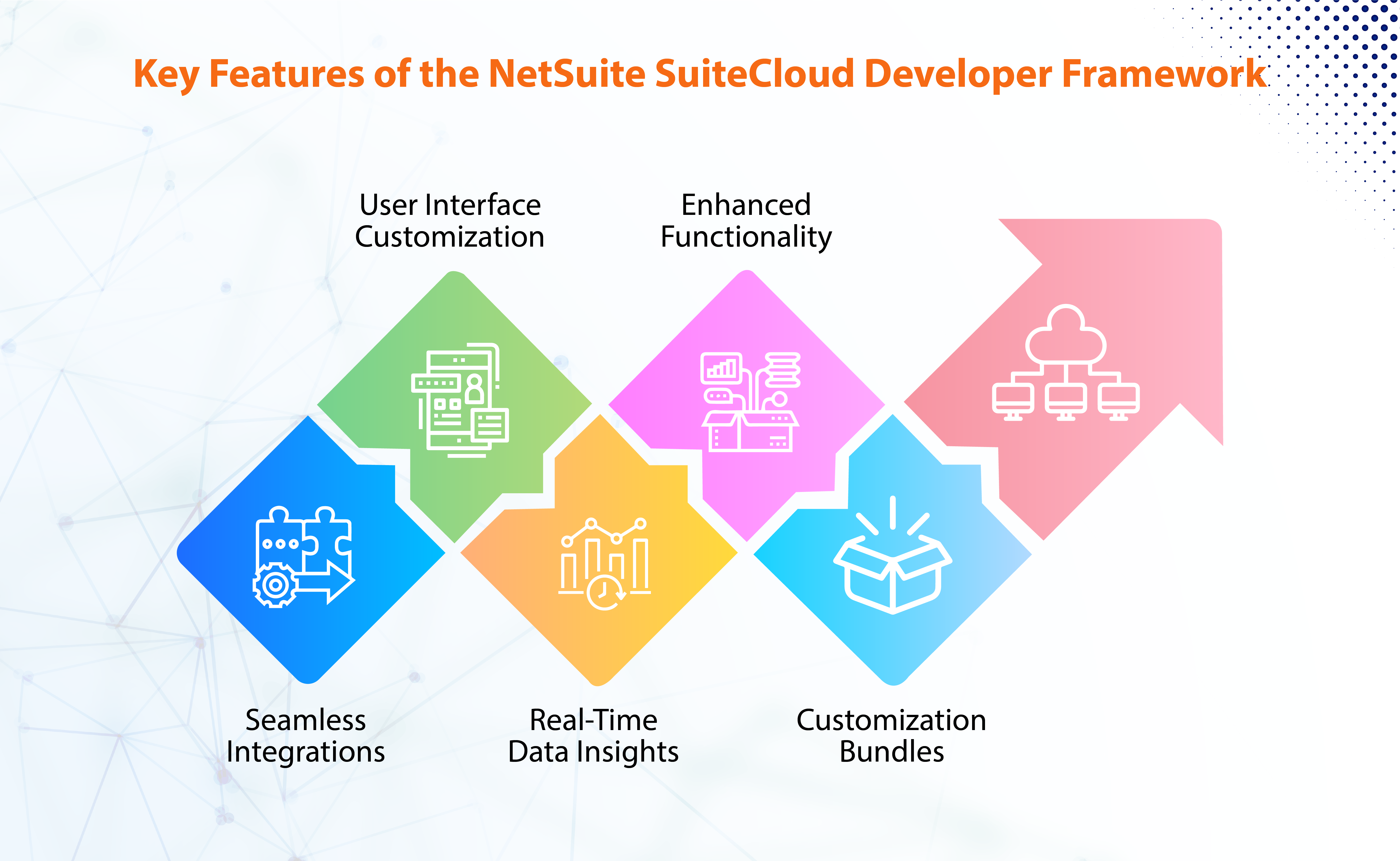 Automate And Customize Operations:
SDF enables streamlined teamwork and heightened productivity by automating and customizing business operations. This functionality ensures efficient collaboration and empowers organizations to tailor NetSuite to their unique workflows.
Seamless Integrations:
Through robust integrations, bridge the gap between NetSuite and third-party on-premise or cloud applications. SDF facilitates smooth communication and interaction, allowing data to flow seamlessly across different systems.
User Interface Customization:
SDF empowers businesses to redefine the NetSuite user interface, creating prototypes and simplifying application deployment. This feature contributes to a more intuitive and user-friendly experience.
Real-time Data Insights:
Gain a comprehensive overview of company performance with real-time data insights. SDF supports the creation of custom reports and saved searches, allowing organizations to extract meaningful information and make informed decisions.
Enhanced Functionality:
SDF provides the flexibility to manipulate and extend existing functionality. This capability enables businesses to adapt NetSuite to their evolving needs without being constrained by predefined limitations.
Customization Bundles:
SDF allows organizations to implement or create their own customization bundles. This opens the door to productizing applications or business processes, enhancing efficiency and scalability.
NetSuite SuiteCloud Market Share
NetSuite SuiteCloud has established a notable presence, with a user base encompassing 791 companies. These adopters are primarily concentrated in the United States, spanning the Information Technology and Services sector.
The platform resonates particularly well with businesses featuring employee counts within the range of 50 to 200 and revenue spanning from 1M to 10M dollars. The utilization of NetSuite SuiteCloud extends over a substantial span of 7 years and 3 months, showcasing its enduring appeal and continued relevance in enhancing business operations and driving growth.
NetSuite SuiteCloud Development Tools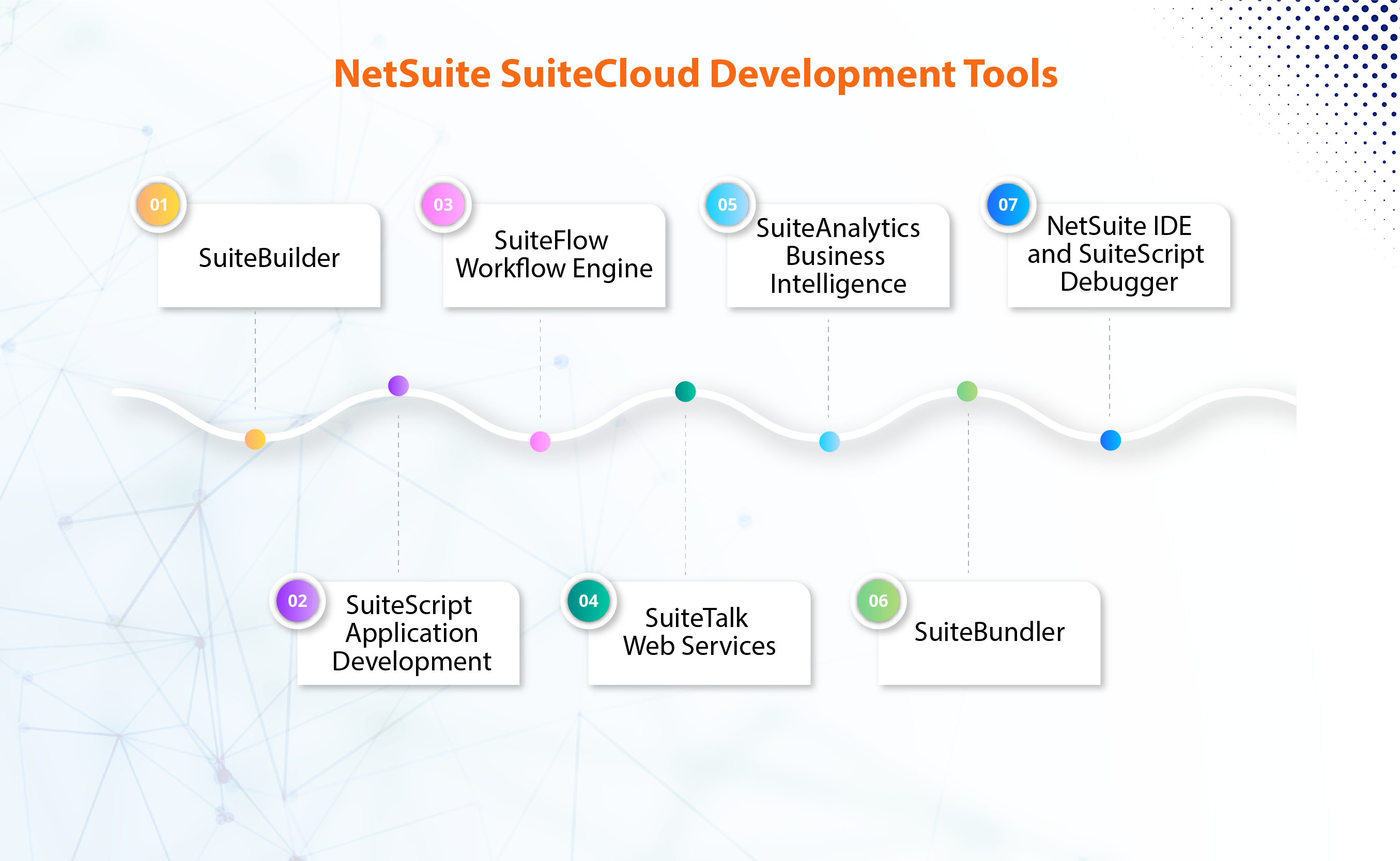 SuiteCloud represents an extensive array of cloud-based development tools, applications, and infrastructure designed to empower both customers and software developers in harnessing the full potential of cloud computing. This versatile platform features NetSuite SuiteCloud Development Tools, catering to the needs of both business analysts and technical developers. Business analysts gain the ability to visually customize record types and business processes, facilitating seamless interaction with NetSuite.
Data movement in and out of NetSuite is simplified through Excel spreadsheets. In parallel, the SuiteCloud platform provides a rich assortment of APIs, empowering developers to create robust extensions, customizations, and integrations. These innovations can be conveniently packaged and distributed as custom applications, enhancing the overall ecosystem of NetSuite.
SuiteBuilder Point-and-Click Customization: SuiteBuilder enables non-technical users to customize NetSuite's forms, fields, and workflows through an intuitive point-and-click interface.
SuiteFlow Workflow Engine: SuiteFlow empowers users to automate and streamline business processes using a visual workflow design, enhancing efficiency and reducing manual tasks.
SuiteScript Application Development: SuiteScript lets developers create custom scripts to automate processes, extend functionalities, and integrate with external systems in NetSuite.
SuiteTalk Web Services: SuiteTalk provides web services for seamless integration between NetSuite and external applications, allowing secure and real-time data exchange.
SuiteAnalytics Business Intelligence: SuiteAnalytics offers tools for creating custom reports, dashboards, and data visualizations, enabling data-driven insights and informed decision-making.
SuiteBundler: Application Packaging and Development: SuiteBundler facilitates the packaging and distribution of custom applications, making it easier to deploy and manage customizations across different NetSuite instances.
NetSuite IDE and SuiteScript Debugger: The NetSuite Integrated Development Environment (IDE) and SuiteScript Debugger offer cloud-based tools for developers to write, debug, and test SuiteScript code effectively.
How Can NetSuite SuiteCloud Meet Your Business Needs?
NetSuite SuiteCloud is a comprehensive and versatile platform meticulously designed to address modern businesses' diverse and intricate demands. With a robust suite of advanced tools and functionalities, SuiteCloud offers an exceptional opportunity to align and optimize your operations in a manner tailored to your specific requirements. The benefits of this integration are:
By leveraging the capabilities with the right way approach to customization of NetSuite, businesses can tailor and automate processes, resulting in notable efficiency enhancements. This, in turn, liberates employees to focus on higher-level strategic tasks, thereby catalyzing improved overall productivity.
NetSuite SuiteCloud empowers businesses to access real-time data and insights, facilitating informed decision-making. This valuable resource contributes to heightened profitability, increased customer satisfaction, and a competitive edge in the market.
Businesses can achieve substantial cost savings through streamlined operations and reduced reliance on manual interventions that NetSuite SuiteCloud facilitates. These savings can be channelled into reinvestment or directed towards margin improvement, fostering financial agility.
Businesses can deliver a seamless and personalized customer experience, leading to elevated levels of customer satisfaction. Such excellence translates into repeated business, referrals, and a positive word-of-mouth reputation.
NetSuite SuiteCloud equips businesses with the capability to scale and nimbly adapt to evolving market conditions, which are essential elements for driving growth and expansion. This readiness paves the way for seizing new opportunities and securing an expanded market share.
The advanced data tracking and management features of NetSuite SuiteCloud enable businesses to adhere to regulations effectively. This proactive stance safeguards against potential fines and penalties while fostering trust among customers and partners.
NetSuite SuiteCloud enhances data security by preventing unauthorized access and misuse, thereby effectively mitigating risks. This robust security infrastructure shields businesses from financial losses, safeguards reputation and minimize potential legal liabilities.

Wrapping Up!
NetSuite SuiteCloud is a versatile platform empowering businesses with tailored solutions. Incorporating NetSuite SuiteCloud equips businesses with a suite of tools that enhance decision-making, and customer service, while also reducing costs and bolstering security and compliance.
As businesses strive for efficiency and growth, NetSuite Customization services further enhance the experience, assisting in installation, tailored customization, integration, and ongoing support. In this dynamic world, SuiteCloud, coupled with customization services, equips businesses with the necessary tools to thrive in their industries.