NetSuite deployment requires a number of complicated procedures that must all work together seamlessly in order to get the greatest outcomes. The success of the implementation will depend on its correctness. In order to overcome the difficulties of implementing NetSuite, we must take into account several best practices. Before beginning a NetSuite ERP setup, it is crucial to familiarize yourself with the crucial components we will be working on.
The following are these essential components of NetSuite Implementation Best Practices:

Project planning - Using a process that has been clearly laid forth.
Resource management: Ensure that your team's implementation is flawless.
Understanding your data requirements and migration plan is important for data migration.
Testing - Conduct thorough testing prior to the go-live to guarantee appropriate operation and identify any faults that need to be fixed.
Training - Setting users up for success through training.
Support - Enough support to enable the development of a sound strategy and continuing support.
It is essential to comprehend the aforementioned components since they might independently impact the implementation process. In this article, we provide you with information on various best practices you may use when implementing NetSuite.
The firms are entirely converting their manual processes into a completely automated platform as part of the NetSuite deployment process. Therefore, there are a number of things to consider before choosing to move on with the NetSuite implementation strategy. The NetSuite implementation process is a complex procedure. As a result, it demands particular consideration.
5 Important Ways To Ensure A Systematic NetSuite Implementation Process

1. Select The Most Suitable NetSuite Partner
Work with a NetSuite partner who knows your company's objectives, financial constraints, necessary go-live date, customization requirements, and available capacity. Verify the track record of your partner's clients and verify if their Net Promoter Score is high. This will eventually demonstrate how knowledgeable and concerned your consultants are with a client's business and industry demands. A great partner will smoothly facilitate the NetSuite setup process and ask you the relevant questions.
2. Be Receptive To Fresh Perspectives
Your consultants are highly skilled professionals that spend their days interacting directly with NetSuite software. Make sure you're open-minded about various approaches to managing company operations since they know how it operates in its most efficient form. Using NetSuite's technologies, what worked on your prior system could be a rudimentary method to achieve anything.
3. Make The Implementation Group Answerable
Make sure you follow up appropriately and stay available in case your partner has any questions. You wouldn't just disappear as your contractors operated on your home if you were remodelling it, would you? Asking questions earlier in the process is preferable to doing so later. Put some serious money on your NetSuite deployment.
4. Follow The Implementation Ways
Getting a new system that can help your business function more smoothly is thrilling! Jumping ahead, though, will subsequently result in unforeseen problems. Have faith in your NetSuite consultants since they are knowledgeable about best practices.
5. Have The Right Questions Prepared
Pose some challenging queries to your buddy. What business functions fall inside and beyond the purview of this project, for instance? Will a system analysis be required? Any inquiries you have about the implementation won't surprise a NetSuite implementation partner with expertise.
7 Steps Of Best NetSuite Implementation Practices
We should stick to the steps before beginning the NetSuite implementation methodology procedures.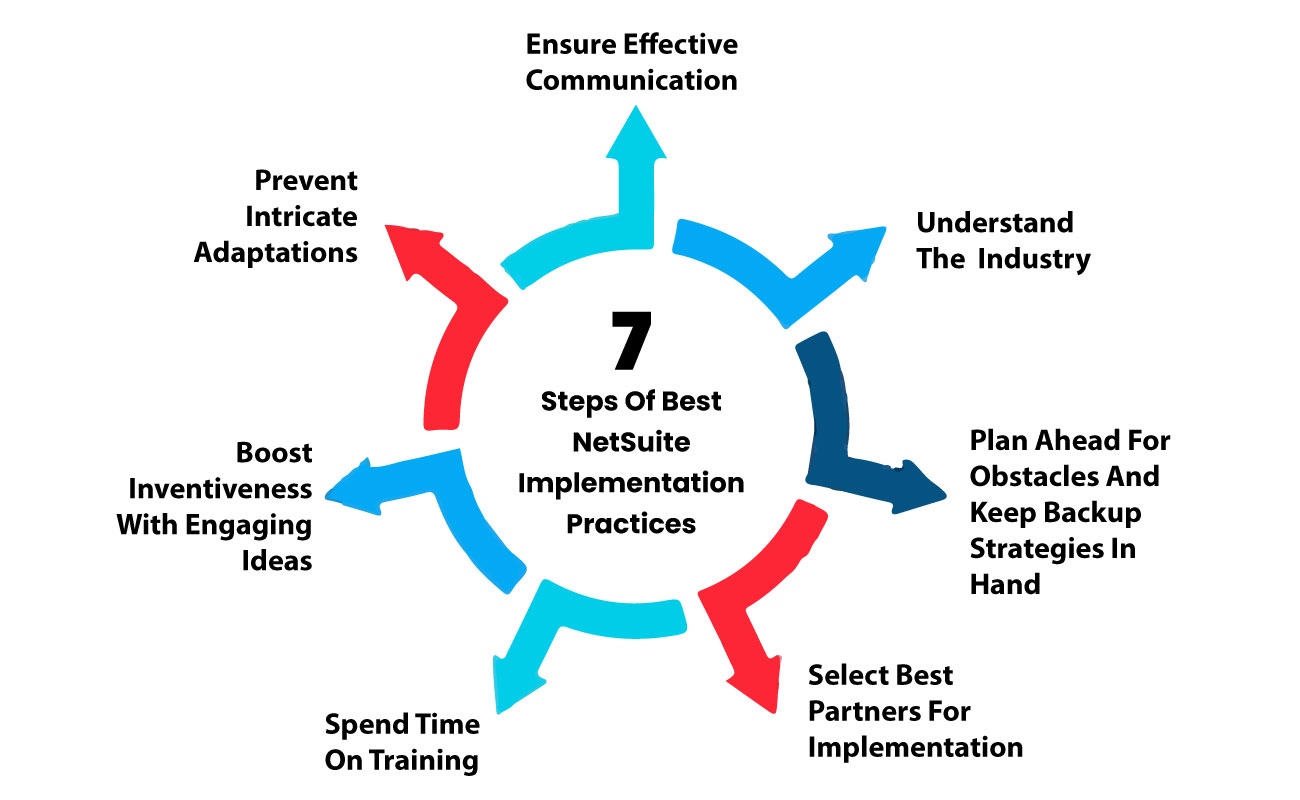 1. Understand The Industry
Prior to deployment, a better knowledge of company operations and procedures is required. We must produce thorough documentation outlining business procedures, highlighted functions, and other crucial details. It is essential since we intend to synchronize the entire company process with NetSuite, a more recent technology. Therefore, it is suggested that you fully comprehend the legacy business before transferring it to NetSuite.
Businesses must carefully review their implementation partners' correct and comprehensive project plans. They must ensure that every area is addressed and prepared for action.
2. Plan Ahead For Obstacles And Keep Backup Strategies In Hand
The project management team should always have ERP strategies to deal with problems before they appear. Before the issues occur, they need to be anticipated and prepared with alternatives. We must be well-prepared for the difficulties and available choices. Thus, this may simplify things and guarantee business operations go without a hitch.
3. Select The Best Partners For Implementation
You must choose the finest implementation partners to ensure that the entire implementation process runs well. Once this is done, you won't need to worry as much. Don't forget to have questions ready for your NetSuite implementation partners in India. This might assist you in making sense of any process-related ambiguity. Their demonstrated knowledge and inquisitive spirit will guarantee the success of your implementation.
4. Spend Time On Training
Training is a crucial component of implementation. To operate the services and procedures in NetSuite, your staff members need to be properly trained. Although NetSuite may be a whole new platform for your staff, you should spend significant time teaching them to manage the company because effective utilization will determine your company's success.
5. Boost Inventiveness With Engaging Ideas
Come up with creative ideas for effectively and correctly integrating NetSuite with your company. You need to think of better solutions to help you get a competitive edge by integrating your company with NetSuite.
6. Prevent Intricate Adaptations
Highly intricate customizing may have poor effects. Customizations should only be added when absolutely necessary. The lack of operational efficiency and speed of NetSuite's operation may have been caused by excessive customization. Customizations should only be made if NetSuite's default features can't accommodate the business process.
7. Ensure Effective Communication
We must make sure that the business representative overseeing NetSuite installation guidelines and the implementation partners are in regular contact. The right communication assures whether the system's procedures are operating flawlessly or not. Additionally, from a business perspective, they must make sure they are receiving accurate information and are able to provide ideas in keeping a record of the implementation process.
However, you should know a few things before beginning a NetSuite deployment. You should link yourself with the direct or partner NetSuite implementation partners who provide you with a stress-free environment. Make sure that your implementation is delivered as promised, on budget, and in accordance with the following highlights. Keep in touch with the project team and those who are implementing it to ensure the project's success. Finally, make sure you get assistance from your implementation partners once the project is completed.
9 Key ERP Implementation Best Practices
These best practices cover every significant stage of ERP installation, from specifying needs to imparting knowledge and offering assistance. They may assist in ensuring that your ERP implementation strategies satisfy your company goals, reducing the chance of cost and time overruns, and empowering staff to utilize the system proficiently as you complete your implementation checklist.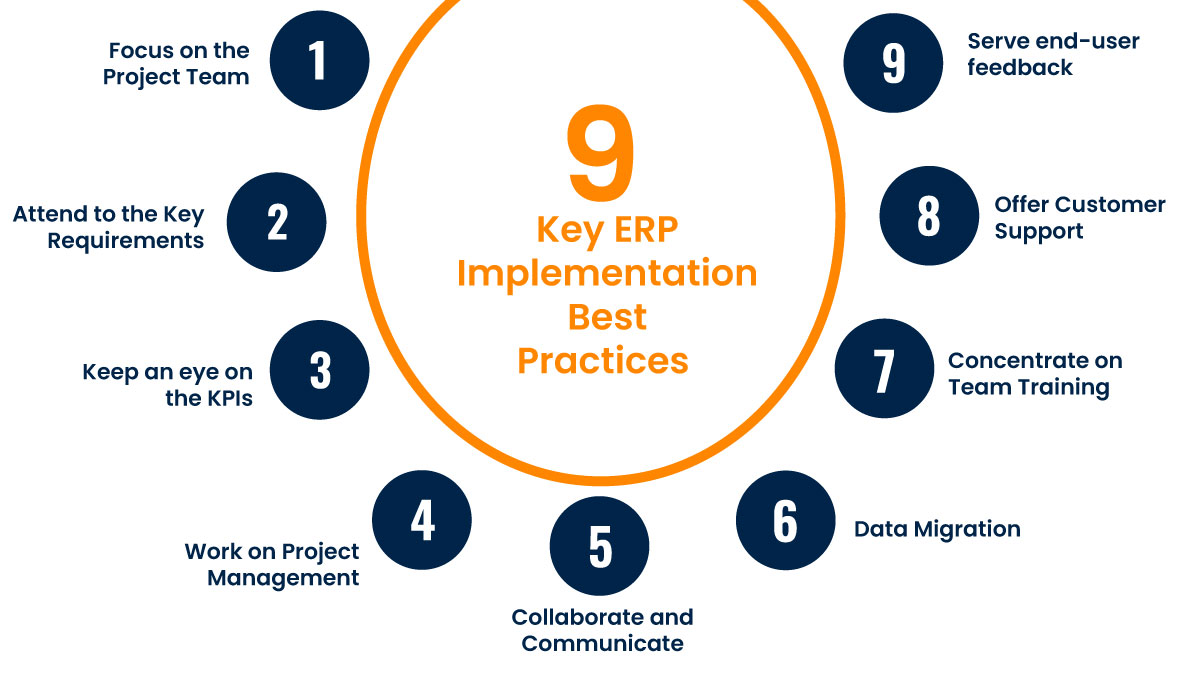 Focus on the Project Team
Building a solid project team is essential. An executive sponsor, a project manager, and representatives of the project's important business areas often make up an ERP installation team. Success depends on having an executive sponsor who can change corporate goals and bring in extra resources as necessary.
The team's duties include setting high-level objectives, specifications, and key performance indicators (KPIs); managing the project daily, including ensuring it stays on schedule and within budget; and evaluating outcomes. Less-resourced organizations may need the assistance of an outside consultant to solve these difficulties due to the level of expertise involved in the project management functions.
The team has to be skilled at mediating disputes across various organizational groupings throughout implementation. Depending on user feedback and input, it could also need to decide whether to make adjustments to the ERP deployment plan in the middle of the process. As a result, team members have to command a high level of respect inside the company.
Attend to the Key Requirements
Precise requirements must be established for each ERP project and should be connected to your company's objectives. These objectives can, for instance, include automating procedures to save time and money, enhancing your capacity to respond to clients, and facilitating better analysis throughout the whole organization.
Analyzing current workflows, systems, and crucial business operations, including accounting, talent management, relationship management (CRM), and inventory management, is part of the requirements collecting step. When implementing an ERP system, you have the chance to introduce a better process rather than just automate an ineffective one. Therefore, it's crucial to consider exactly what you want to achieve and how each process may be enhanced.
This NetSuite implementation guide should assist in producing a list of the most important criteria that your ERP deployment will need to satisfy. These specifications can call for cutting the time it takes for financial closure in half, providing real-time reporting, or automating the link between payroll and the main accounting system. Additionally, project teams must be prepared to modify current business procedures to accommodate the ERP system. ERP systems are frequently more effective than a company's current procedures or workflows because they include years' worth of best practices from many sectors.
It is feasible to determine specific KPIs with knowledge of important needs. These KPIs can serve as benchmarks to gauge how well your ERP deployment is doing. Manufacturing can wish to reduce expenses, downtime, order backlogs, cycle time, inventory turns, and demand forecast accuracy. Total sales, profit margins, sell-through rates, average purchase values, sales per square foot, stock turnover, and customer conversions are just a few KPIs a shop could use.
Work on Project Management
In large businesses, the deployment of an ERP might take three months to a year or longer. Establishing a project management framework is crucial to ensuring the success of your ERP deployment throughout the full implementation process. Project management should prioritize keeping the project on schedule, ensuring that important senior managers and other stakeholders can contribute, and aligning the ERP endeavour with business goals. A major issue with ERP installations is scope creep, which is the urge to keep adding capabilities as a project develops. Which improvements may wait till later and cannot be determined with strong project management.
The technical aspects of the ERP deployment should also be covered by project management, such as how to set up the system, modify particular business processes to benefit from the possibilities of the ERP system, address security and privacy concerns, and execute training.
Collaborate and Communicate
Establishing a clear understanding of the ERP implementation's aims and objectives is key to successful initiatives. Everyone must be on the same page, from the CEO to the end-users. Everyone must have a comprehensive grasp of the ERP deployment process, the business's motivations, the system's capabilities, and the advantages it will provide.
To achieve this knowledge, collaboration and clear communication are crucial. To highlight the significance of the initiative, the CEO and leadership group should be involved. Presentations, graphics, charts, and regular letters or blog postings from the CEO are all possible forms of communication. To coordinate efforts, pinpoint concerns and problems, and share achievements, it can be necessary to organize regular calls and meetings.
Since consumers, supply chain participants, and business partners may also be impacted by the ERP installation, it is a good idea to keep them updated during the process and make them realize how the changes may affect them.
A crucial phase of deployment, data migration to the ERP system, calls for thorough planning and preparation. Any migration has a risk of data loss or corruption, specifically if you are standardizing and combining data from several applications.
The decision of whether to migrate data manually or automatically using specialized tools is a key factor in an ERP installation. Each may have benefits. Manually importing data into a new system allows purging outdated information, such as suppliers who have closed shop and clients who haven't placed an order in years. On the other hand, automation may make the procedure considerably quicker and less tiresome. Regardless of the technique you use, it's crucial to check the data after migration to make sure it was accurately moved to the new system.
Concentrate on Team Training
Expecting employees to be expert users of the new ERP system right away is impractical. Users can more readily embrace the system and reap its benefits if they get targeted, continuous training that is tailored to their requirements and those of diverse groups and positions.
One strategy is to offer specialized material, such as videos and lessons, and let users, like workers, choose what is most pertinent to their tasks. Giving employees practical training is essential for assisting them in learning the system. According to some companies, the optimal technique is to pick a small group of users for early, intensive training and then utilize them to mentor other users by imparting their knowledge and abilities.
The launch date is a cause for celebration. But once users start utilizing the system, it's quite possible that they will run into problems and have queries. It is advisable to be ready by offering a variety of materials. The first thing that will be required is technical help. This may include support from a help desk, online forums, and a knowledge base to get users up to speed. The project team should also detect concerns and keep an eye out for possible issues. A system modification or more training may be necessary to remedy a problem if several people consistently make the same mistake.
Getting end-user feedback early on in the implementation phase may be quite helpful. Early on, it may assist you in developing a deeper understanding of how people function, connect with co-workers and customers and deal with challenges on a regular basis. These observations can aid in directing the ERP deployment to account for actual user demands. User input can then help a business discover issues as it deploys the ERP system and provides suggestions for additional enhancements.
Who Will Deploy NetSuite For You?
Implementation Immediately
If you purchase the software directly from NetSuite, their team will probably manage your implementation process. In other circumstances, they could enlist a partner of their choosing to carry out the implementation on your behalf. Since they are the program publisher, you won't experience product understanding or technical proficiency problems.
However, there are many more factors to consider while installing ERP software. Your implementation staff should be well-versed in your industry as a whole, not simply industries similar to yours. Since they have a more directive approach, you won't get the same depth from the NetSuite direct staff as you would from a NetSuite installation partner.
Developing a stronger relationship with a NetSuite implementation partner will benefit your company over the long run. As they thoroughly analyze every aspect of your company to develop a solution that perfectly matches it, your partner becomes an extension of your team. Additionally, NetSuite partners have a substantial edge over the direct model due to their equivalent technological skill levels.
Keep in mind that this is the central system that controls your company. It's crucial to have a partner that cares about your achievement. To establish a good match, you should choose your ERP partner with the same care as you do the program.
However, it is possible to implement NetSuite on your own; we do not advise it. Your project will fail unless you have committed in-house personnel with considerable NetSuite knowledge. Although there are several difficulties with self-implementation, small to mid-size businesses, typically lack the money, time, or knowledge necessary to properly deploy ERP on their own.
How Can You Select An Appropriate ERP System?
According to this NetSuite implementation guide pdf, you'll probably have a selection of ERP systems to select from, including cloud-based and on-premises options, depending on your firm's requirements and financial constraints. Many businesses choose cloud-based ERP systems since they might be quicker and easier to adopt and don't need to be purchased with cash. But how you put the method into practice and the product you pick will determine the outcomes you get.
Applying best practices all along the way, from requirements formulation through support, may assist in guaranteeing an implementation that is effective and adds the maximum value to your company.