Has your business recently decided to adopt NetSuite? Or have you accepted a new role that calls for NetSuite knowledge? Here, in this blog, we will cover all of those alternatives of NetSuite Training Resources that would enable you to step up.
Well, if it is a yes to these questions, brushing up on NetSuite abilities can be your ultimate savior! There are several inexpensive or free options to self-teach. let us first understand the importance of learning NetSuite:
Why should you Learn NetSuite?
The ability to set up NetSuite, build processes, or solve underlying problems that could impede the effectiveness of your NetSuite instance with your own is priceless. Your organization may save time and money by setting up business procedures internally and troubleshooting lesser issues.
For more extensive adaptations or complete installs, you will still likely need to work with a NetSuite consulting partner or NetSuite direct. However, you can reduce the expense of hiring an outside contractor by using these tools for self-training on the fundamentals of NetSuite. Here is how to learn NetSuite for free: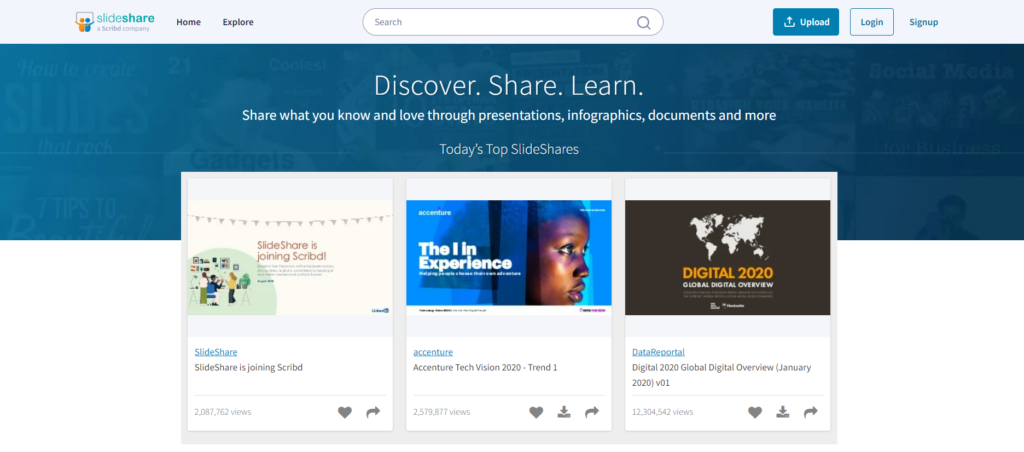 It's like getting your own private lecturer in the room with SlideShare. Actually, not quite. It is, however, a center of material with incredible PowerPoint-like presentations and how-tos. Since SlideShares frequently contain more images and less text than typical software documentation, understanding the content could be simpler.
ProteloNetSuite Tips and Tricks Blog
In order to specify critical information, apply filtering criteria, and extract the real-time data you want from your company, NetSuite offers a broad variety of search tools and customizations. Discover the most recent NetSuite techniques, limitations on formulas, and the significance of utilizing NetSuite's features to discover information rapidly. The blog offers a wide range of how-to articles and NetSuite training courses to help you start your training and build a successful company.
NetSuite User Group or Join a Forum
User groups for NetSuite combine training sessions, in-person gatherings, and online networking. The groups are either more informal groups of professionals interested in NetSuite or ones that NetSuite has "officially" approved. These groups are often searchable on LinkedIn by location (Protelo hosts one for NetSuite users in Northern California), and the majority also use their own NUG (NetSuite User Group) websites that are Google accessible.
You may access the official NetSuite users' forum or community using your Oracle NetSuite account on the Oracle website. Reddit also has an unofficial NetSuite forum to which you can sign up.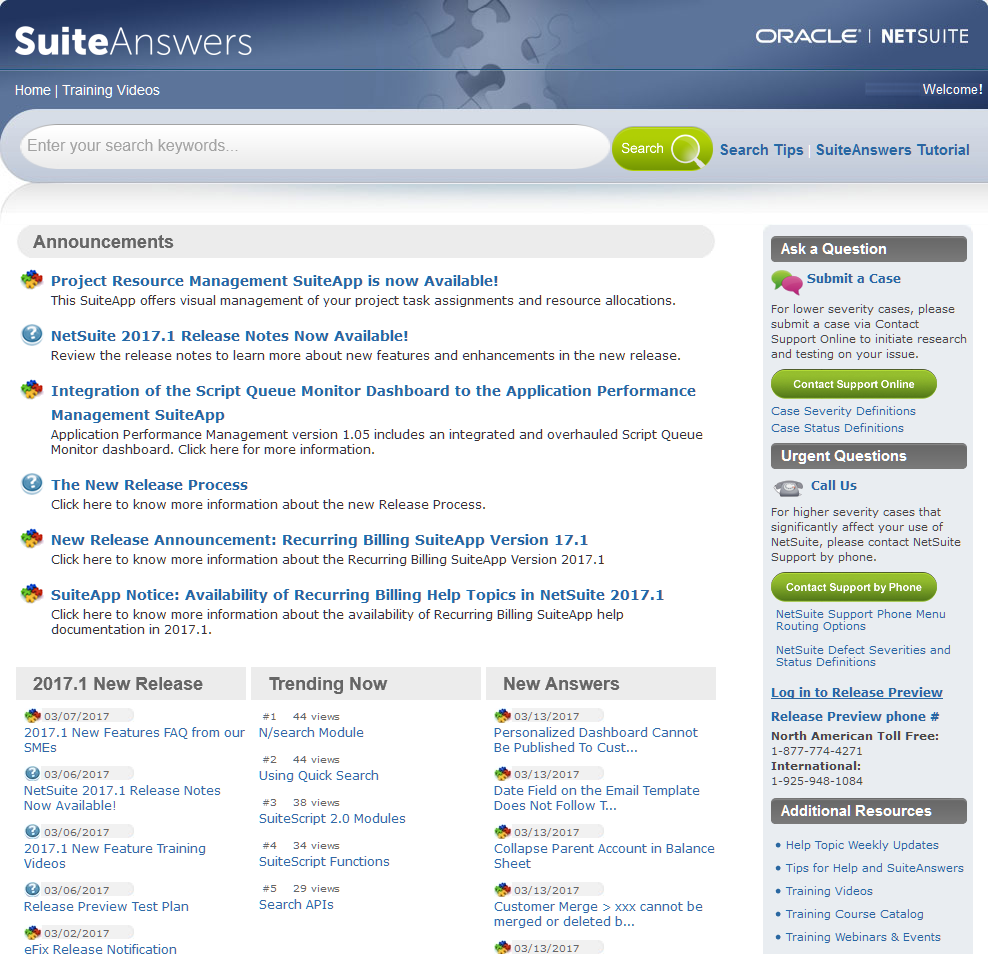 This one should go without saying, but SuiteAnswers offers more than simply articles. Many articles include flowcharts, infographics, videos, and more demonstrating how to do things. Simply choose the "Help" link from the top menu bar on your NetSuite screen if you're new to SuiteAnswers. SuiteAnswers opens assistance articles for the topic that correlates to the NetSuite page you are now on, but you may also conduct a standard Google-style search for a specific term or phrase.
In addition to NetSuite's own YouTube channel, several NetSuite provider community channels would provide tutorial videos, how-to films, and discussions on NetSuite in general. Here are a few excellent sources:
Although they are often not free, SuiteWorld offers discounted "early bird" passes. However, there are methods to obtain a free or discounted pass. If you already use NetSuite beginner guide, you might be eligible to apply for a speaking or breakout session that will provide you with a complimentary SuiteWorld pass. A less expensive "Discover" package gives you entrance to the exhibition, where you can find NetSuite assistance stations and a huge number of knowledgeable merchants, but it excludes the speaking sessions.
NetSuite Learning Cloud Pass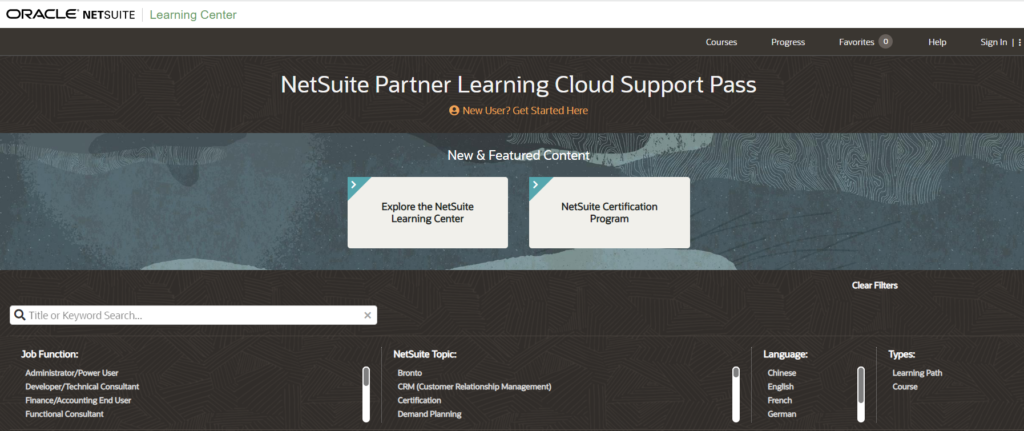 You may upgrade your NetSuite purchase at any time to include a NetSuite learning cloud pass. Although this is a premium membership, your firm may share the training (but only with one user at a time), providing it a practical option to teach a team or adopt a "train the trainer" strategy for NetSuite.
What is in the NetSuite Learning Cloud Pass?
Well, the NetSuite Learning Cloud Pass has numerous things to offer its users:
Presentations that have already been recorded
Student workbooks
One Demo Account for each Course with 90 Days of Full Access
Email assistance from the Instructor within One Business Day
You can obtain a Learning Cloud Pass module by speaking with your NetSuite partner offering NetSuite-end user training services.
Overview of NetSuite End-user Training
Because NetSuite wants your business to flourish, they don't believe in "one-size-fits-all" when it comes to user training. Standard NetSuite and OpenAir curricula are customized using a role-based approach to represent your company procedures, key terms, and system setups.
The NetSuite training and education sessions are jam-packed with hands-on practice opportunities and demonstrations to help your team become more comfortable with the new technology. Our objective is to quickly get your users fully operational so you can capitalize on their productivity.
It is Customized and Current
The functionality of NetSuite with OpenAir is a specialty of our Education Consultants. In order to effectively serve the members of your user community, NetSuite works with you and your implementation consultant to create and produce NetSuite training resources and schedules. NetSuite research the use cases for your application, research the history of your business, and concentrate our design efforts on your specially designed application.
It includes a training presentation that integrates critical vocabulary, process processes, and business objectives related to your organization's usage of NetSuite. Along with it, the users can also benefit from Quick Reference Cards (QRC) based on roles that record task-level information on how to carry out important end-user operations these essential task aids are yours to maintain and improve as procedures change and will help users long after training is complete.
It offers Versatile Delivery
Our NetSuite Education Consultants use the tried-and-true Tell-Show-Do method, beginning with a discussion of important business objectives and processes, moving on to a detailed presentation of application tasks, and concluding with an opportunity for your users to put what they have learned into practice. Along the process, the use of advice is emphasized to increase productivity.
Classes can be held on-site at the training location(s) of your choice, or online utilizing NetSuite's dynamic online learning environment. To optimize interaction and heighten the learning experience, class size is restricted to 10 individuals per session.
How can Hiring Expert NetSuite Consultants help you?
Your consultants are aware that happy customers translate into a prosperous business. These NetSuite experts may be reached directly through platforms like Protelo. It eliminates the need for call centres or chat lines. Whether you require a nearby expert or a NetSuite team to assist you in completing the go-live process without incident, it is a totally on-demand solution.
They can assist you with starting, maintaining, and supporting your NetSuite project right away.
Offer direct access to professionals
On-demand service
Pay-as-you-go invoicing
Zero upfront expenses or minimums.
Hiring distinguished NetSuite experts can help your team put NetSuite's solutions into use by configuring, customizing, and providing services to fit your particular business operations. To guarantee that businesses get a return on their investment, they also offer assistance, administration, and process improvement. The NetSuite professionals are here to help your business succeed, whether you're searching for a one-stop shop for all things NetSuite or just want answers to your inquiries!