Summary: In this post, we have explained NetSuite POS integration benefits and covered the following points:
Value propositions of POS systems

Key types POS systems

NetSuite POS module and its benefits
The entire evolution in the retail business scene is mostly tech-driven. Adapting to the digital era of our time has become the key condition to stay competitive, if not staying ahead. The so-called Point of Sales (PoS) systems at the retail counters happen to be the single most important thing to incorporate modern technology to the retail stores, much before mobility and ERP automation. In 2020, the market capitalization of POS software soared to $9.3 billion and the figure is estimated to reach $18.1 billion within 2027.
Now, these PoS systems no longer can afford to stand alone. They must be integrated with the ERP software used by the retail store and stay in sync with the entire business operation. Here comes the twist. POS eCommerce integration or integrating a POS system with traditional ERP will not produce many benefits. It is the Cloud ERP automation software solutions like NetSuite that can validate the importance of retail POS systems in a completely new way.
The NetSuite ERP system brought a completely new approach to POS integration. NetSuite POS integration can deliver an omnichannel shopping experience covering multiple devices and OS platforms and creating new marketing and sales opportunities.
Here we are going to explain how integrating a POS system with NetSuite retail ERP can benefit a business and what promises this integration offers. But before that, let's spare a few words on the basics of Point of Sale (PoS) systems.
Decoding the Point of Sale (POS) Systems
Point of Sale (POS) refers to the moment of a transaction by the customer for the purchases he made. A POS system comprising hardware and software makes this process faster, seamless and more secure. The POS systems can be integrated with the e-commerce platforms and retail ERP software. POS software is the application that helps the POS hardware device carry out transactions.
When integrated with the ERP system, the POS software can share the transaction data, customer and purchase information and can deliver several data-driven insights based on the transaction carried out through the POS system. An online store can choose one of the best POS and eCommerce integration services to avail of the benefits of e-commerce automation. An omnichannel POS software can streamline online and offline transactions and can process information from multiple storefronts and channels to generate data-driven insights.
The priorities for using POS systems across industries vary and a 2020 survey among North American retail businesses revealed the statistics like this:
59% of businesses use POS for integrating omnichannel capabilities

52% of businesses focus on making existing POS better

44% of businesses use POS for integrated eCommerce platform

44% of businesses use mobile POS

41% of businesses either upgrade or replace existing POS

30% of businesses upgrade POS hardware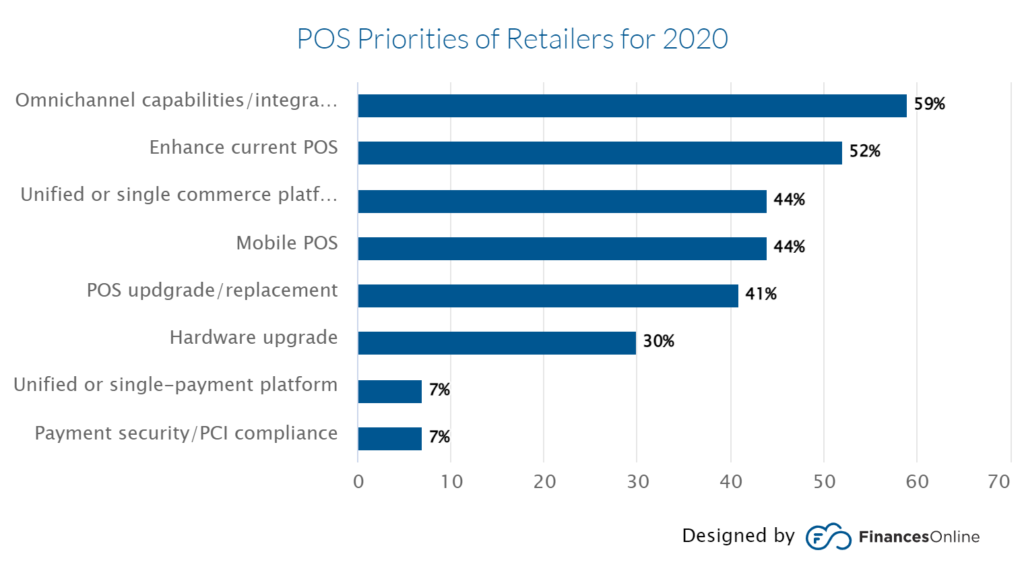 Two Types of POS Systems: On-Premises POS vs. Cloud POS
POS systems are of two types such as on-premise or local server hosted and cloud-based. Both types of POS systems are widely used and have their respective pros and cons. But as the world is increasingly getting connected, Cloud-based POS is gaining more popularity.
Let's explain both on-premise and cloud-based POS solutions.
On-premise POS is hosted locally in the server or data centre owned by the business. The company can either manage the software and the data centre with its own IT team or can hire a vendor to manage and upkeep the software. For running on-premise POS, the company may not need continuous access to the internet.

Cloud-based POS software connects the POS hardware at the retail outlet through the internet. Cloud POS software solutions are generally bought as a subscription-based service, often with an upfront charge for setup and configuration. The software is automatically updated from time to time over the internet. Cloud-based POS software needs unhindered internet connectivity for functioning. For integrating an ERP automation suite, you need a POS integration company having experience across several projects.

Introducing NetSuite POS Module
Since retail customers these days move across multiple shopping channels such as brick and mortar outlets, chain stores, web stores, mobile e-commerce stores, social media storefronts, etc, delivering a consistent and platform-independent shopping experience to the customers has become crucial. This is where the importance of POS integration with the retail ERP becomes apparent.
NetSuite as the leading cloud ERP platform by integrating retail POS solutions ensures retailers deliver a truly customised and seamless omnichannel shopping experience. Already trusted and tried by thousands of retailers all over the globe, NetSuite ERP easily integrates business transaction, purchase and customer data with the ERP analytics and reporting tools to generate data-driven insights on buying patterns, market trends and customer-specific insights that can be used by marketers for targeting and retargeting. Moreover, NetSuite integration solutions come inbuilt without any requirement of third-party integration tools.

NetSuite Cloud ERP thanks to POS integration can help detect productivity loopholes, transaction issues and operational bottlenecks and can guide the retailer to address these shortcomings promptly. NetSuite eCommerce module working in sync with the POS software can ensure streamlined omnichannel operation. NetSuite Cloud ERP also ensures round the clock visibility of transactions across the storefronts and channels and thus can detect irregularities and anomalies indicating fraudulent transactions.
Lastly, integration with NetSuite Inventory Management and order management modules help the retailers seamlessly fulfil orders. Finally, thanks to the POS integration, the reporting and analytics functionality of NetSuite is continuously fed relevant transaction data resulting in more relevant data-driven insights.
NetSuite POS Integration: Key Advantages
Any business having simultaneously physical stores, as well as web stores, consider getting a consolidated view of the entire stock movement across channels an important way to streamline operation and boost business conversion. This also gives businesses complete freedom from the chains of manual data inputs.
The NetSuite integration with the point-of-sale software unveils the scope of automation across multiple departments and processes. The data is synced as per the schedule across the channels and processes resulting in a higher level of operational efficiency and lower response time.
Let's have a glance at the key value propositions of NetSuite POS integration.
Manual Data Input is Replaced by Automatic Data Syncing
With the integration of the PoS with NetSuite retail ERP, you can get rid of the need for manual data input. You can also get rid of several software systems for accessing transaction data. There will be just one single PIS software to take care of all data inputs and data capturing. The new integration will connect POS data with the central database.
Real-Time Data-Driven Insights
Thanks to NetSuite PoS integration, all the stakeholders and authorised persons can get access to real-time analytics and data-driven insights corresponding to the sales patterns, market trends, specific sales triggers, irregularities and anomalies, etc. Access to these data-driven insights will help faster and more precise decision making.
A Sophisticated Sales Channel
The NetSuite PoS integration can turn your old POS software into a sophisticated sales channel as employees of the retail store can get access to the product catalogue through their handheld device screen and can get accept customer orders anytime anywhere. The NetSuite integration will allow the POS system to work in a location-independent manner.
Quick Inventory and Stock Updates
As the NetSuite PoS integration connects the POS data with the centralized database in real-time, the inventory and stock data are visible to all departments in real-time. Based on the real-time stock data, responsible personnel can take quick decisions to make stocks available for a particular retail outlet.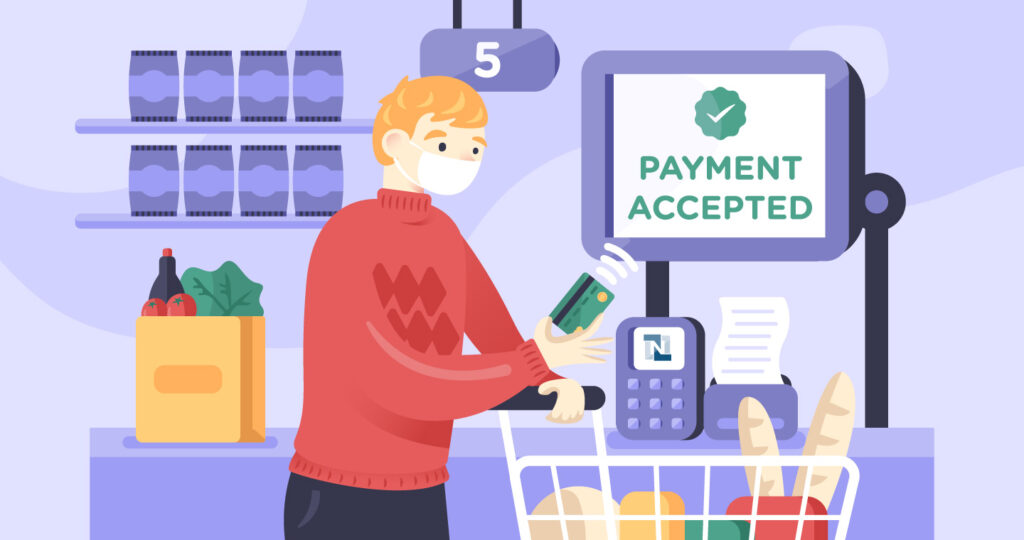 Future-Proof Retail Experience
NetSuite ERP integration with the existing POS software can open the door of a future-proof retail experience for both the retailers and the customers. Just like the mobile POS, in the coming years, the same real-time access to business and transaction data can also be available through smart wearable and other connected devices. NetSuite brought for the retailers a uniquely consolidated approach to have comprehensive control on entire business operations irrespective of channels. The future of retail automation is knocking at the doors thanks to NetSuite.
Parting Remarks
The NetSuite ERP integrated with retail POS offers a complete package to drive your business to new heights of growth. The NetSuite POS solution has already been embraced by thousands of retailers across all niches and the integrated solution played a great role in paving the way for consistent sales growth. The real-time access to transaction and sales data processed through POS software opened up revolutionary possibilities to create new growth stories for retailers.

VNMT is the leading NetSuite integration service provider with a long and successful track record in shaping the business aspirations of many retail startups and established brands. Through NetSuite POS integration we help you real the benefits of omnichannel retail automation. If you want to have a comprehensive idea about the roadmap to successful NetSuite POS integration for your retail store, just drop us an email.