The retail industry in recent years went through a seismic level of changes resulting in a consolidated and unified omnichannel paradigm powered by cloud-based ERP solutions. Particularly, NetSuite ERP for retail brought a power-packed range of features and capabilities for retail businesses and stores of all types and niches.
At a time when supply and fluid shopping experience overcoming the location, device, and medium constraint has become key to the success of retail brands, the NetSuite ERP system for retail business brought the promise of buying things any time, anywhere, and through any sales channel. This seamless omnichannel shopping experience is the biggest value proposition that draws retail brands to NetSuite.
These days retailers know the importance of embracing a dynamic and scalable approach to address all points of view corresponding to customer interactions and sales. Addressing multiple points of view ranging from the chosen software to the functional solutions delivered to customers and prospects, a Cloud-based ERP solution like NetSuite is capable of addressing all of them with befitting features and functions.
Here we are going to explain the powerful retail NetSuite ERP capabilities, features, benefits along with a few case studies.
What Is ERP In Retail?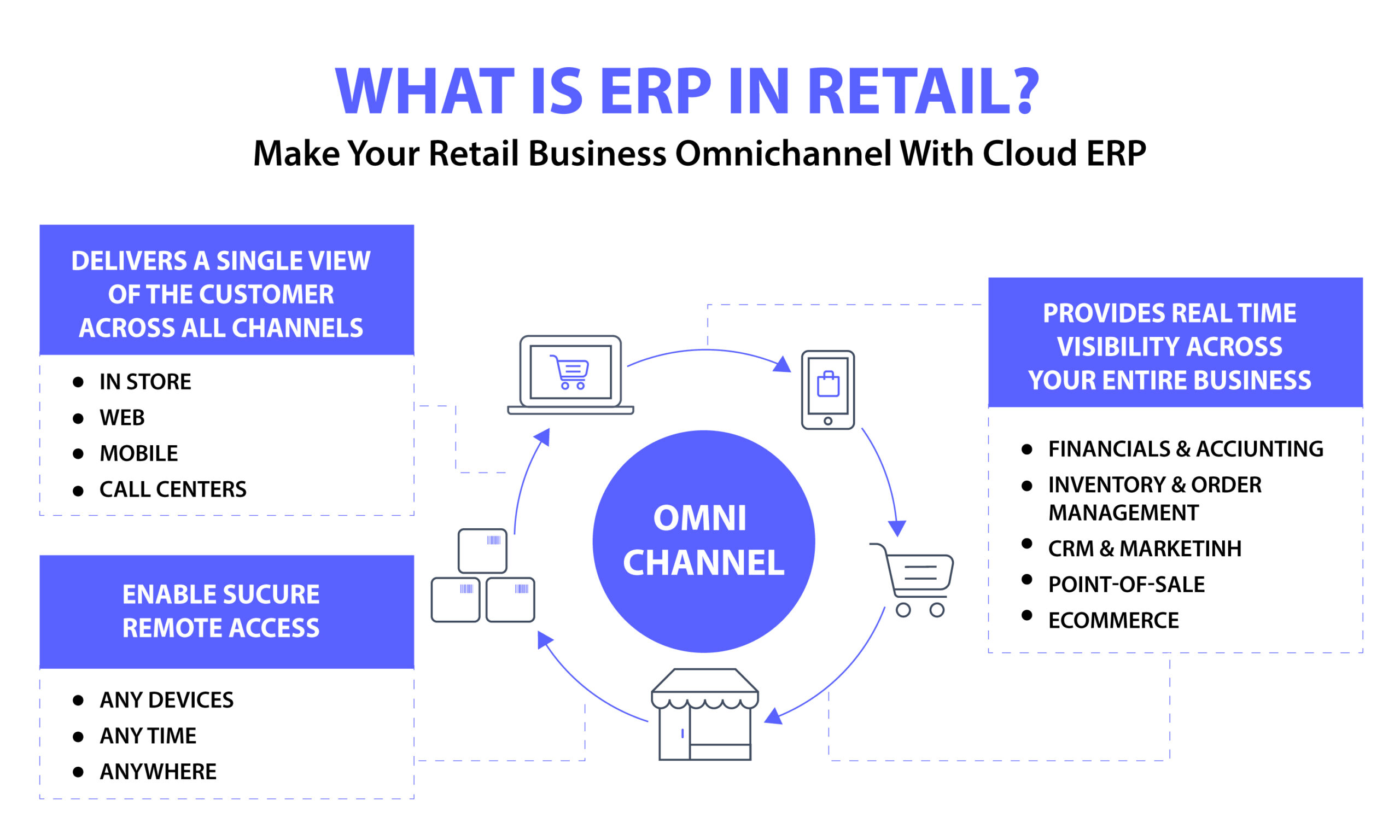 ERP is the abbreviation of Enterprise Resource Planning, a systematic and planned protocol and practice to consolidate all your functional business software applications within a single, unified suite of tools taking care of all the things a business requires to manage from one end to the other. In the context of retail stores, when an ERP system offers the same consolidated management approach to take care of all activities in a unified manner, we call it a retail ERP solution.
Thanks to retail ERP software, stores do not need to opt for piecemeal functional software for different purposes such as accounting, point of sale (POS), warehousing, inventory management, supply chain, and business intelligence (BI). All these features will be available through one single ERP software solution. A business doesn't need to use a separate retail shop accounting software or a standalone store inventory management system. All these will be built right in as the features of retail ERP software.
ERP used in retail stores irrespective of the business size and niche can easily do away with several individual software programs so that one comprehensive and consolidated toolset can take care of everything. On the other hand, this unified and consolidated approach also helps retail businesses address their customer demands across multiple locations.
Retail ERP software generally comes with the below-mentioned software tools.
Company principal operation
Accounting software or ledger system
Human Resource's (HR) management
Point of Sale (POS) management
Store Management
Warehouse and Supply Chain Management
Inventory Management
Customer Relationship Management (CRM)
Business Intelligence (BI)
Fortunately, the NetSuite ERP system for retail not only provides all these tools but also allows an awesome scope of customization for the entire ERP system. From the perspective of the retail managers and store admins, NetSuite simply takes away all the troubles and manual efforts required for managing different functional aspects across multiple store locations.
Is NetSuite Good For Retail?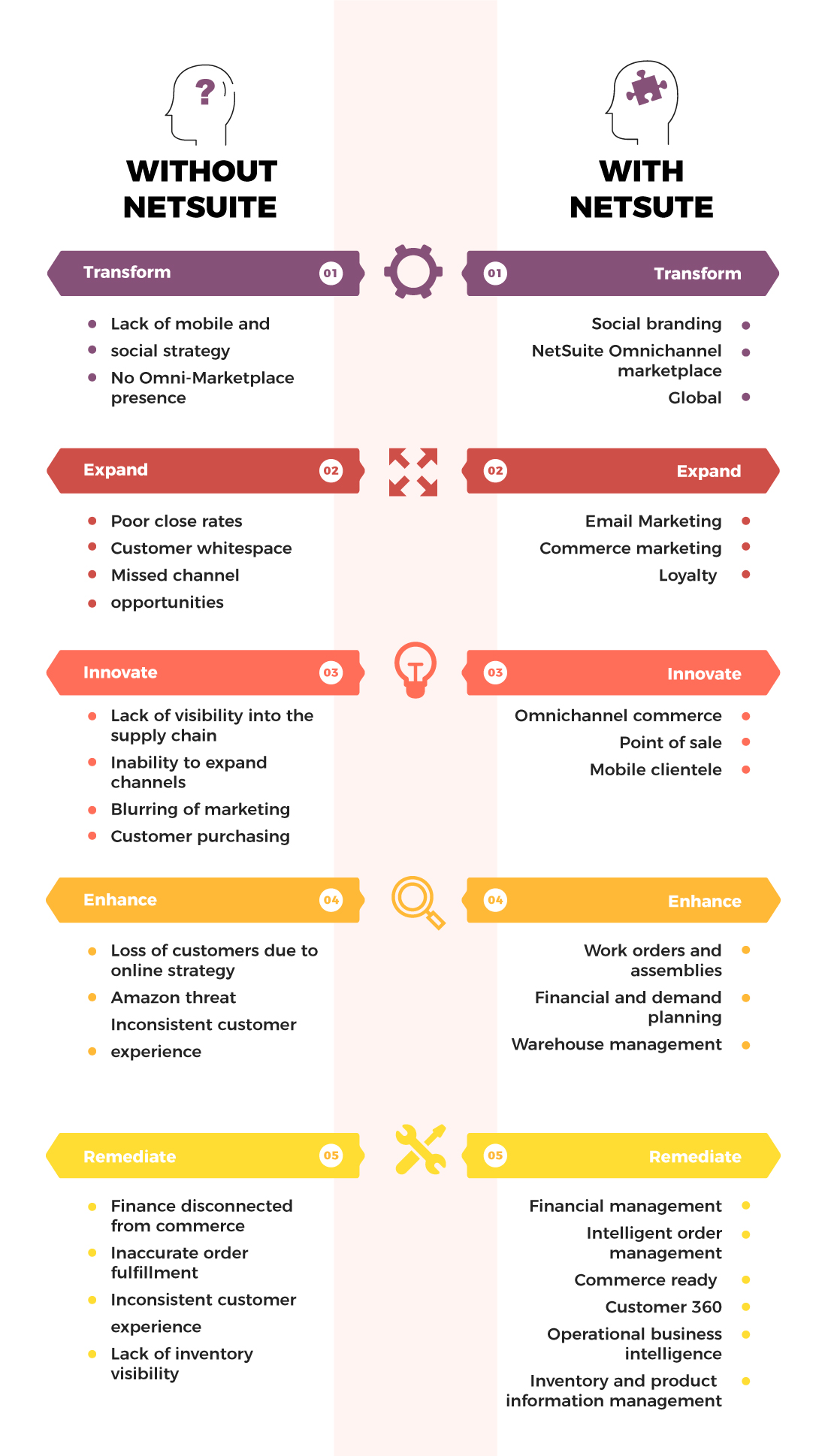 As of now, most small and medium business brands that have embraced NetSuite for their retail stores and business processes speak highly about this cloud ERP system. NetSuite ERP retail shop management system perfectly fits into store management and business process automation requirements with its unique ability to mix and match tools and extend capabilities through customization.
When you want to deliver an omnichannel customer experience to your customers, the retail shopping experience should be delivered consistently across multiple locations allowing optimum ease of access and shopping products when customers need and where customers need them. An omnichannel retail experience not just guarantees to allow customers to make purchases from different branded stores across locations, but it also allows customers to browse products in stores and buy online or do just the other way round.
To help retailers make omnichannel shopping a reality, NetSuite comes with a pool of robust software tools allowing a smooth and supple shopping experience across different stores and across online and offline storefronts. To make omnichannel shopping a reality NetSuite further ensures complete visibility of all the product movement and transactions across multiple locations and storefronts.
Key Features Of NetSuite For Retail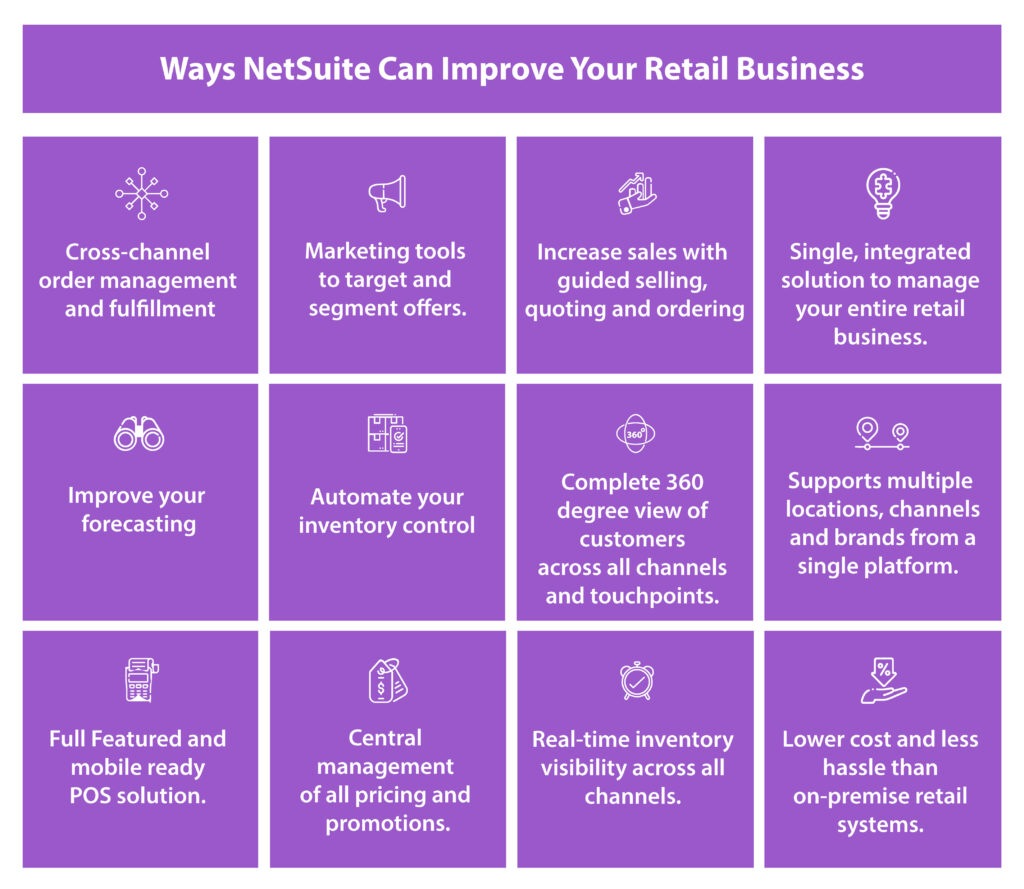 NetSuite cloud ERP can do wonders for retail stores in terms of improving business efficiency, operational efficiency, and sales output. Let us now explain these wonders and have a quick look at the key features of NetSuite for retail.
In-Store POS: NetSuite offers sophisticated Point of Sales (POS) systems allowing omnichannel shopping and improving customer retention.
Ecommerce: NetSuite ERP offers e-commerce management software to deliver a highly personalised and thoroughly consistent shopping experience to buyers across multiple OS platforms, devices and browsers.
CRM and Marketing: NetSuite ERP comes with a robust Customer Relationship Management (CRM) tool ensuring consistent and single customer view across multiple channels and different touchpoints.
Order Management: NetSuite offers a robust order management tool for retailers to help shoppers make purchases across locations and storefronts, fulfill orders anywhere and make return requests anywhere.
Business Intelligence (BI): NetSuite BI tool helps retailers in strategic decision making by providing real time data driven insights on different aspects of market trends and customer intents.
Inventory and Supplier Management: NetSuite helps retailers manage business stock and inventory very efficiently and manage the supplier of products to ensure smooth processing, procurement and delivery of items.
Financials: NetSuite ERP offers robust financial and accounting tools to help businesses get a comprehensive view of all the financial activities and evolving figures and metrics across multiple storefronts.
NetSuite - A Complete Solution For Modern Retailers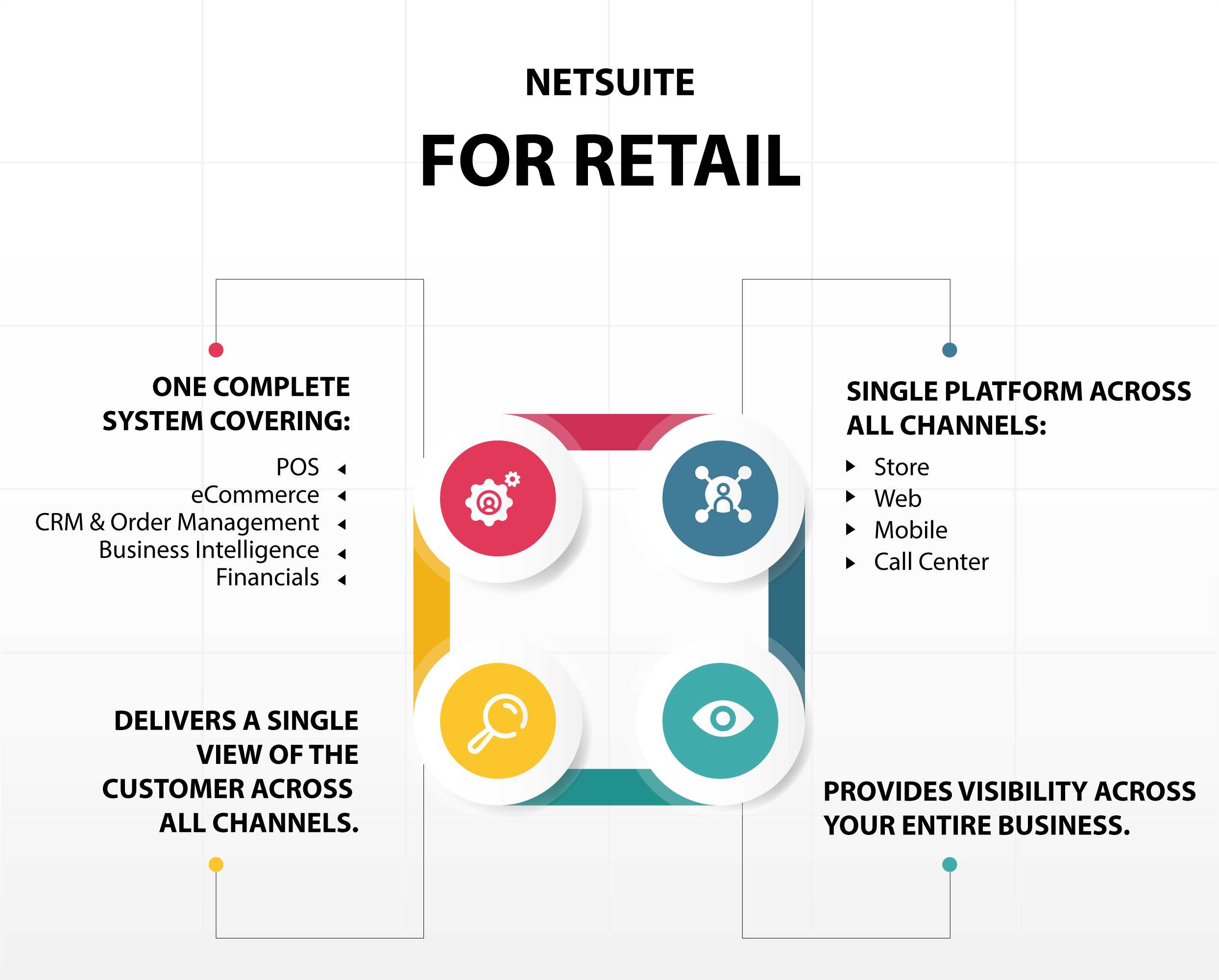 Let's face the question straight. Why should you embrace NetSuite retail ERP for your present business as you are running your business well with all your business processes under your complete control? Why should you invest in a new cloud ERP system when you are quite fine with your existing system? Well, the so-called fine experience that you boast of so proudly might be the result of your lack of exposure to market opportunities.
However good you are doing with your retail business or however satisfactory is the current state of affairs for your business, the NetSuite ERP system for retail can really transform your business operation resulting in never-before efficiency and output. Let's figure out here some of the reasons for your retail business to embrace NetSuite for retail.
More Efficient Customer Management Through NetSuite CRM
In today's retail space creating highly personalized customer experiences is of seminal importance and the drive to personalization Aline stays at the very heart of the shopping experience for any retail store. Delivering a personalized shopping experience is next to impossible without integrating highly personalized customer service, ensuring optimum customer loyalty, and pushing more customer-optimized marketing maneuvers. The NetSuite CRM is a conclusive answer to all these requirements.
NetSuite CRM solution offers a multitude of competitive advantages for any retail brand. Besides ensuring more personalization with all sorts of customer communication and marketing maneuvers, NetSuite ERP for retail helps boost business revenue by taking measures to target high lifetime value (LTV) customers.
Thanks to NetSuite retail anywhere, a business brand can enjoy the backing of a large number of brand loyalists who help address the right customer with the right product offering just at the right time. Even the cloud ERP marketing campaigns can be put to analysis to garner real-time feedback for improving and augmenting the campaigns for better results.
Meet Customer Expectations With NetSuite Order Management
The centralized order management system of NetSuite can tremendously boost the profitability of your business and help fulfill customer expectations better and in a timely manner. The database by offering a comprehensive and single view of the business inventory across multiple locations and business channels resulting in more streamlined supply chain management.
Thanks to the NetSuite Order Management system a retail business can meet customer expectations and even overreach the same just due to access to customer insights and customer history. The same database can give a boost to order fulfillment in an omnichannel retail environment and ensure far better profitability. The order management database also helps in optimizing the inventory with real-time syncing of order information.

Harness the Power of Metrics With Business Intelligence
NetSuite retail management helps you to handle the entire length and width of the retail enterprise by using key business metrics. These metrics by offering relevant data-driven insights help your business to come with more timely and factually correct decisions powered by robust analytics, dashboards, and detailed retail reports.
On top of this, the NetSuite Retail ERP system also allows you to get a complete view of all such data in actual time and get insights through the most relevant key performance indicators (KPIs), data graphic reports, graphic trend reports, and meticulous comparison of different KPIs with actual scores. Thanks to such multilayered visibility of data, businesses can easily detect various issues, trends, and underlying opportunities. No doubt, in the end, such data-driven insights help provide the reasons for taking actual steps or carrying out certain actions.
Transform your Finance Operations With A Streamlined Retail Management System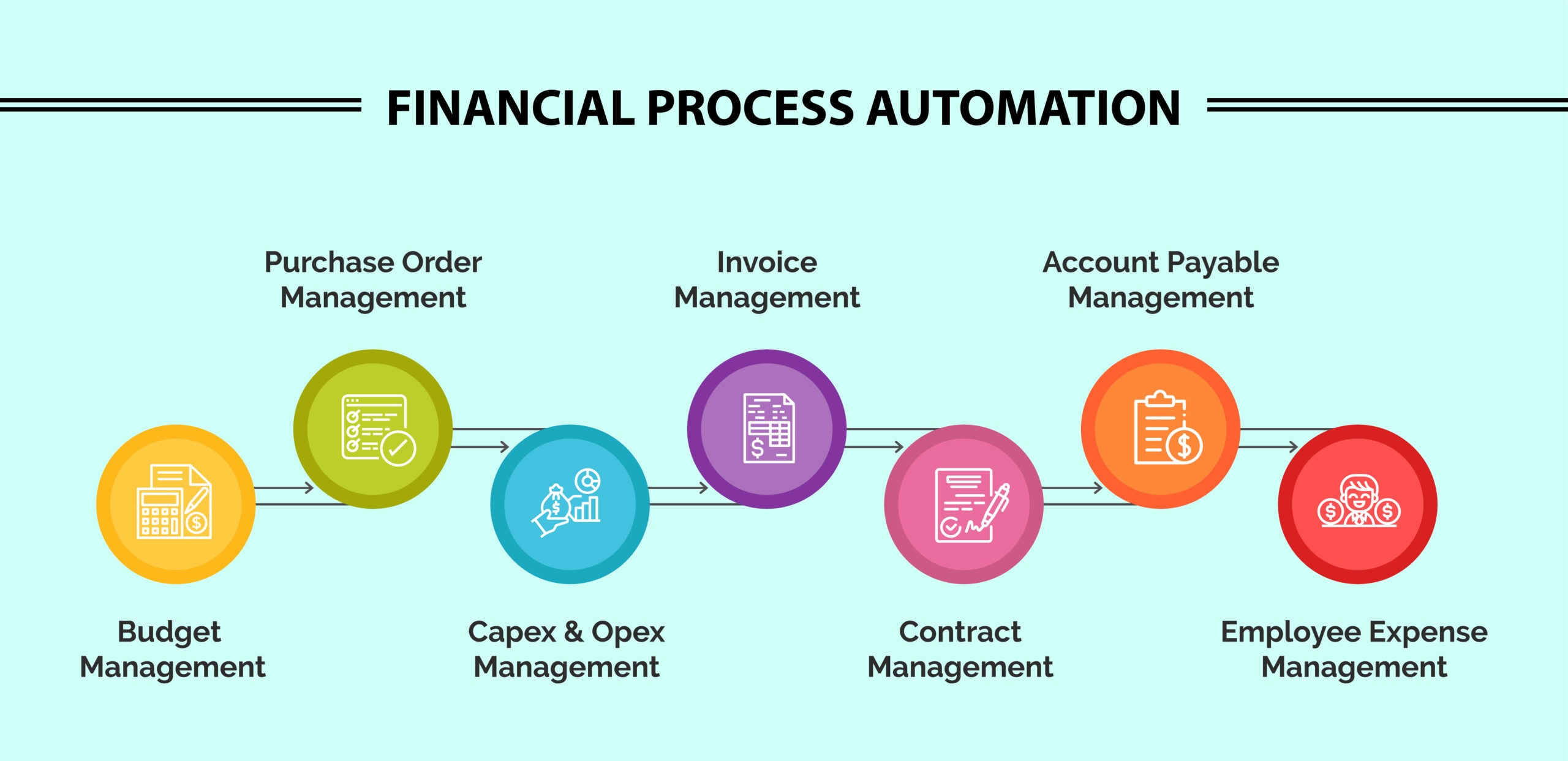 NetSuite retail ERP comes loaded with a fully functional financial management solution that constantly guides businesses to improve their organizational efficiency and business output and achieve continuous growth through exposure to in-depth business insights, systematic and streamlined operations, and adhering to risk management and compliance measures.
Using NetSuite, a retail business can enjoy real-time access to all the financial data, accounting data, and information corresponding to business operations for the particular retail enterprise. NetSuite ERP offers integrated financial tools that are tremendously precise in delivering the most accurate accounting figures.
The integrated financial tools help to automate the transaction flow and reduce the need for manual data entry. This obviously results in a drastic reduction of all accounting errors and ensures better utilization of resources and value creation. As an established retail enterprise, this automated financial and accounting management will also help you adhere to the relevant accounting standards of the industry and gain complete control over the financial and accounting processes through detailed audit trails.
Optimizing Inventory And Managing Supplier Relations
NetSuite retail management solution is preferred by retail enterprises of all sizes and niches because of the effective inventory and supplier relationship management. The ERP solution helps you optimize the inventory and enhance the efficiency of the supply chain resulting in higher sales, fast-paced delivery time, the enhanced turnaround time for inventory, and meeting customer demands more efficiently.
The NetSuite ERP for retail provides businesses access to crucial performance KPIs of vendors and suppliers in real-time and offers detailed scorecards for them to help better evaluate. This overtime results in more effective vendor output. This at the same time reduces the inventory carrying costs thanks to the better management of supplier relations.
Create A Cloud-Based Omnichannel Platform
Popular as a retail marketing strategy "omnichannel" allows incorporating a multitude of segregated sales channels into a single, cohesive, and consistent shopping interface that can meet retail customer expectations better. NetSuite's ERP system for the retail sector promises to offer a truly omnichannel retail experience for the customers as well as for the retail administration.
NetSuite's cloud-based omnichannel platform promises visibility into inventory data of multiple channels in real-time and ensures maintaining stocks adequately to meet the sales demands. Stores also get the power of centralized order management to ensure faster order fulfillment as well as streamlined purchase and returns of purchased items anytime anywhere. Thanks to a single consolidated view of customers across diverse channels and touchpoints, customers get consistent and streamlined customer service and support.
How NetSuite SuiteSuccess Benefits Retailers?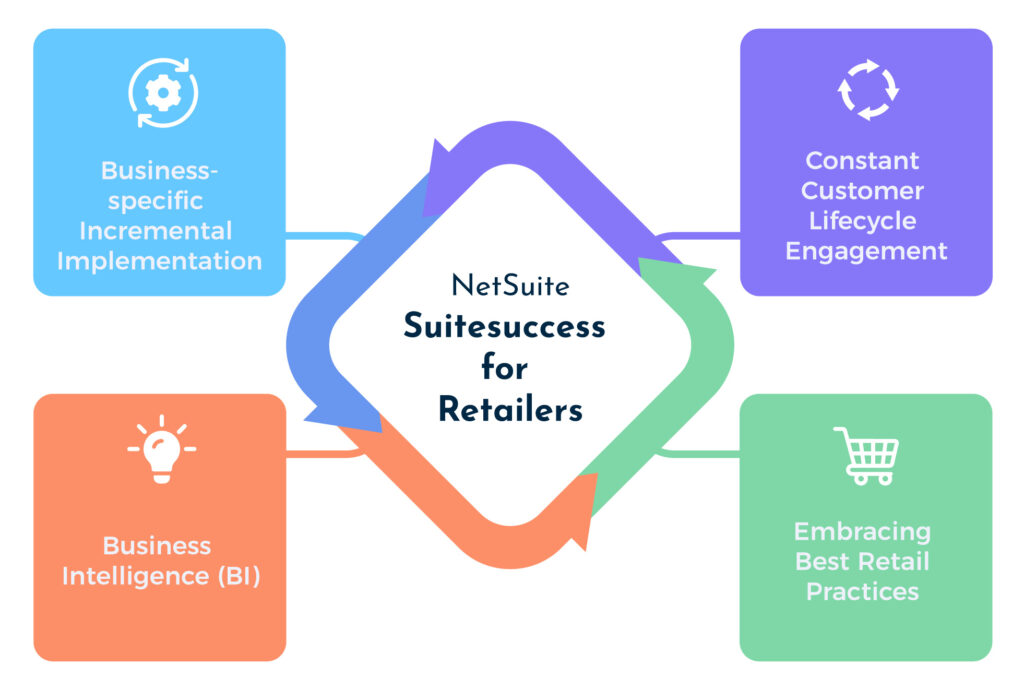 Having been implemented successfully tens of thousands of times across all types of retail businesses, NetSuite boasts of the best understanding of the retail business operation and the principal challenges such businesses need to face.
Based on this robust NetSuite ERP implementation experience across businesses, NetSuite with its SuiteSuccess module, a more focused NetSuite implementation methodology converging principal areas of importance such as the below.
Constant Customer Lifecycle Engagement
Embracing Best Retail Practices
Business-specific Incremental Implementation
Business Intelligence (BI)
NetSuite SuiteSuccess is a fine-tuned NetSuite implementation methodology to help deliver business-specific attributes. Let's shed some light on some of the key advantages of NetSuite SuiteSuccess.
A Single Comprehensive View
NetSuite SuiteSuccess ensures a single comprehensive view of the retail customers, orders, products, and inventory. The single view of all this data located at different facets makes the sales process more smooth and streamlined. No wonder, NetSuite SuiteSuccess as of now ensured at least a 2-5% increase in the sales for retail stores.
A 360° Shopping Experience
SuiteSuccess allows easily incorporating eCommerce or different omnichannel storefronts and functions for providing an enhanced and more sophisticated shopping and customer experience. Since today's buyers tend to buy online more or switch feverishly between different platforms, offering a 360-degree omnichannel customer experience ensures better business conversion and sales. No standalone retail shop accounting software can equal the comprehensive view of the business process offered by NetSuite.
Inbuilt Email Marketing Tool
NetSuite SuiteSuccess brings you an integrated email marketing tool that helps easily engage your target audience with the business website, e-commerce store, and social media pages. Furthermore, the NetSuite implementation company can fine-tune the promotional programs and ensure higher customer reach and sales conversion.
Integrated Marketplace
NetSuite SuiteSuccess also brings the power of social media brand positioning, global market exposure, and the opportunity to reach out to different marketplaces around the world like Walmart.com, Amazon Checkout, eBay, and any eCommerce marketplace of your preference. If you are a small store looking for retail software for small businesses that can give you awesome market exposure, NetSuite will be an unparalleled choice.
Centralize Order Management & Maximize The Efficiency Of Your Business
NetSuite offers a fully integrated and centralized software system that embraces multiple sales channels giving emphasis to the order processing irrespective of the source and location of the order. Thanks to prompt information sharing regarding the orders, customers can check in and the inventories in warehouses are adjusted and registered in real-time. This quick and smooth alignment of orders with the inventory ensures optimum efficiency in processing the orders in a timely fashion.
Today's retail customers always expect a fluid and seamless experience for easy and fast purchases of goods requiring less shipping time. This is where the abilities of NetSuite SuiteSuccess prove to be crucial in aligning different departments for a streamlined business process automation.
Green Rabbit Gracefully Managed Orders With NetSuite
Green Rabbit, starting as a candy wholesaler business and presently operating thriving chocolate and candy brand with expanding market presence, clearly tells how they have been able to shape their success story based upon real-time order management capabilities of NetSuite for retail. Since the brand deals with chocolate, a highly perishable item that requires quick delivery, the faster sharing of supply chain data from one process to the other was crucial for streamlined sales and order fulfillment. This is exactly where NetSuite ERP capabilities for retail proved to be really useful and relevant.
NetSuite For Advanced Inventory Management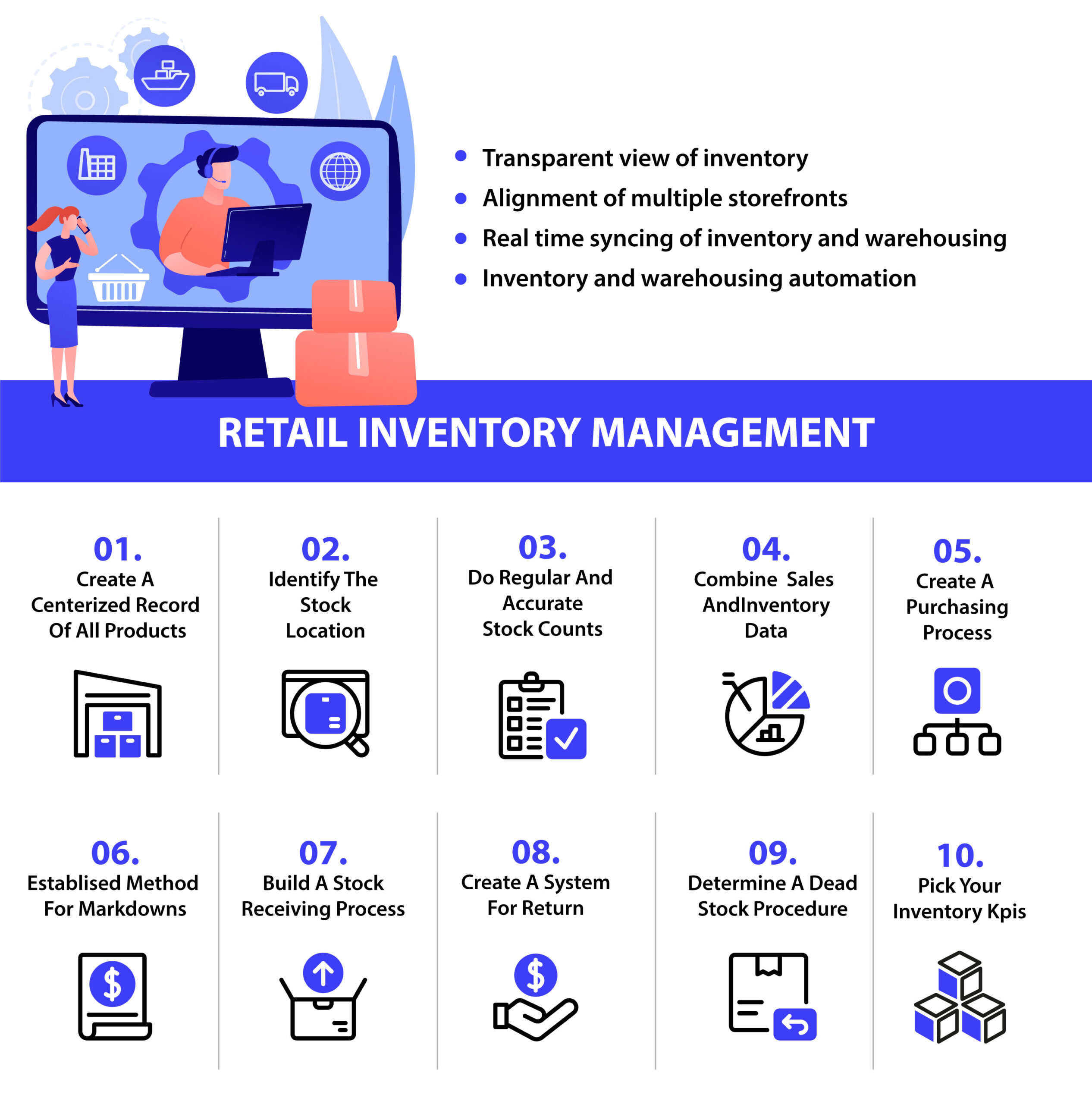 When a retail business works with multiple systems it generally suffers from the absence of a clear and transparent view of the inventory data. Often this non-transparency leads to bigger costs, lesser profit margins, and a lack of reliability in respect of fulfilling orders in time. On the other hand, a transparent process with a clear view of business data across different storefronts and departments can really do wonders in boosting efficiency and making the process smooth,
The lack of visibility of the inventory data can also result in issues concerning warehousing, store management, and handling third-party suppliers. Here the solution that proves to be effective in streamlining the entire process with real-time syncing of inventory, warehousing, and customer order data.
Because of such synced data across facets, retail businesses can easily stay away from common errors such as overselling, underselling, negative stock reporting, or excess stock reporting. Simply the real-time information syncing regarding orders and inventory status starting right from customer service to the social channel storefronts to physical stores to web stores will help a retail business garner maximum output utilizing the same resources.
University Of Oregon Duck Store Successfully Managed The Inventory Of 13 Stores
The University of Oregon Duck Store can provide here a befitting example of how inventory management data can be streamlined across multiple storefronts and store locations to ensure smooth order processing while ensuring quick updates on inventory status at all times. The aforementioned store has as many as 13 stores across multiple locations and updating the data of textbook and other general merchandise sales into inventory will need huge manual effort and working hours. This is where they found NetSuite ERP exceptionally helpful in automating the process with real-time data updates.
Market-Leading NetSuite Point of Solutions (POS) For Your Business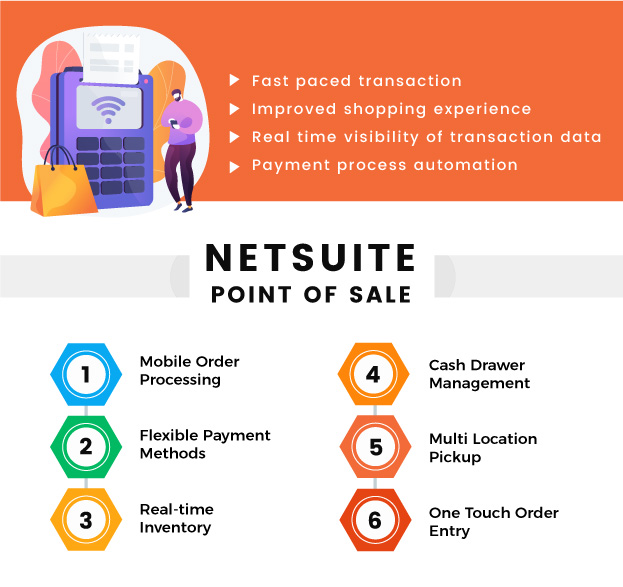 Another major challenge that modern e-commerce stores often face is to allow customers optimum ease of making purchases right in the brick and mortar storefronts. Many shops that started to bring in modern Point of Sales (POS) systems to make the buying process easier and streamlined and accelerate the transaction speed, now need to put extra labor and effort into utilizing the data fetched by POS systems. This is where the NetSuite retail pos solution for retail can really do wonders.
NetSuite software retail ERP ensures comprehensive real-time visibility of the inventory and a surrounding 360-degree view of retail customers and the enterprise operations, to help retail brands deliver an omnichannel shopping experience unifying different customer facets. The result is obviously a much-improved shopping experience, greater business conversion, and a boost in customer loyalty.
NetSuite retail ERP system also helps you to establish streamlined processing with automated syncing of front-end and backend processes and this can ensure absolute transparency for any business organization. The software can easily give strength to the sales team with a whole array of advanced tools and streamlined information updates required for pushing sales further.
TOV Furniture Improved Its Sales With Streamlined POS Solutions
The example of TOV Furniture in this respect can be enlightening to the very core. The brand well known for manufacturing colorful and trending furniture pieces already has a very appealing market presence. Since the company by the very nature of its product range phases out old items and brings new ones for customers, streamlining sales order data fetched from POS systems to the inventory management system in real-time is very crucial. This is where NetSuite retail ERP helps in syncing different data facets and helping the brand to engage in the reduction of items that came to the end of its sales phase.
Cost of NetSuite For Retail
The cost of NetSuite for the retail sector is widely variable and the final pricing for NetSuite implementation depends on customization, chosen tools, ERP configuration, add-on modules, the user count, and the duration of the contract.
The base license for NetSuite for retail costs $999 per month apart from the access cost that stands at $99 for every user, each month. But the actual pricing depends upon the variable factors as mentioned above.
Conclusion
Does NetSuite retail ERP have any alternative? If you have understood the vast repository of features and benefits provided by the NetSuite ERP system for retail enterprises, it would be very unlikely to compare NetSuite with any other ERP system in the market. No wonder, businesses that embraced NetSuite for their retail process automation, still find it immovable and indomitable.