If you notice carefully, supply chain disruptions became common in the past few years because of the decreasing predictability. The supply chain disruptions take a negative impact on the business and operational plans of a company. This also happens because some in the company's product line garner so much market demand that a company struggles to produce them quickly.
The question is how to avoid these disruptions? Well, intelligent automation has always been a great answer to situations where businesses need a data-driven and proactive response. NetSuite ERP software solution is already known for well-grounded and robust tools and practices for automating many business processes. Recently, Oracle NetSuite supply chain also announced several key supply chain enhancements allowing companies to be more agile, efficient, proactive, and collaborative. Leveraging these key benefits and the right features for your software solution becomes easy with the right NetSuite Development company.
NetSuite Autonomous Supply Chain Management: Key Features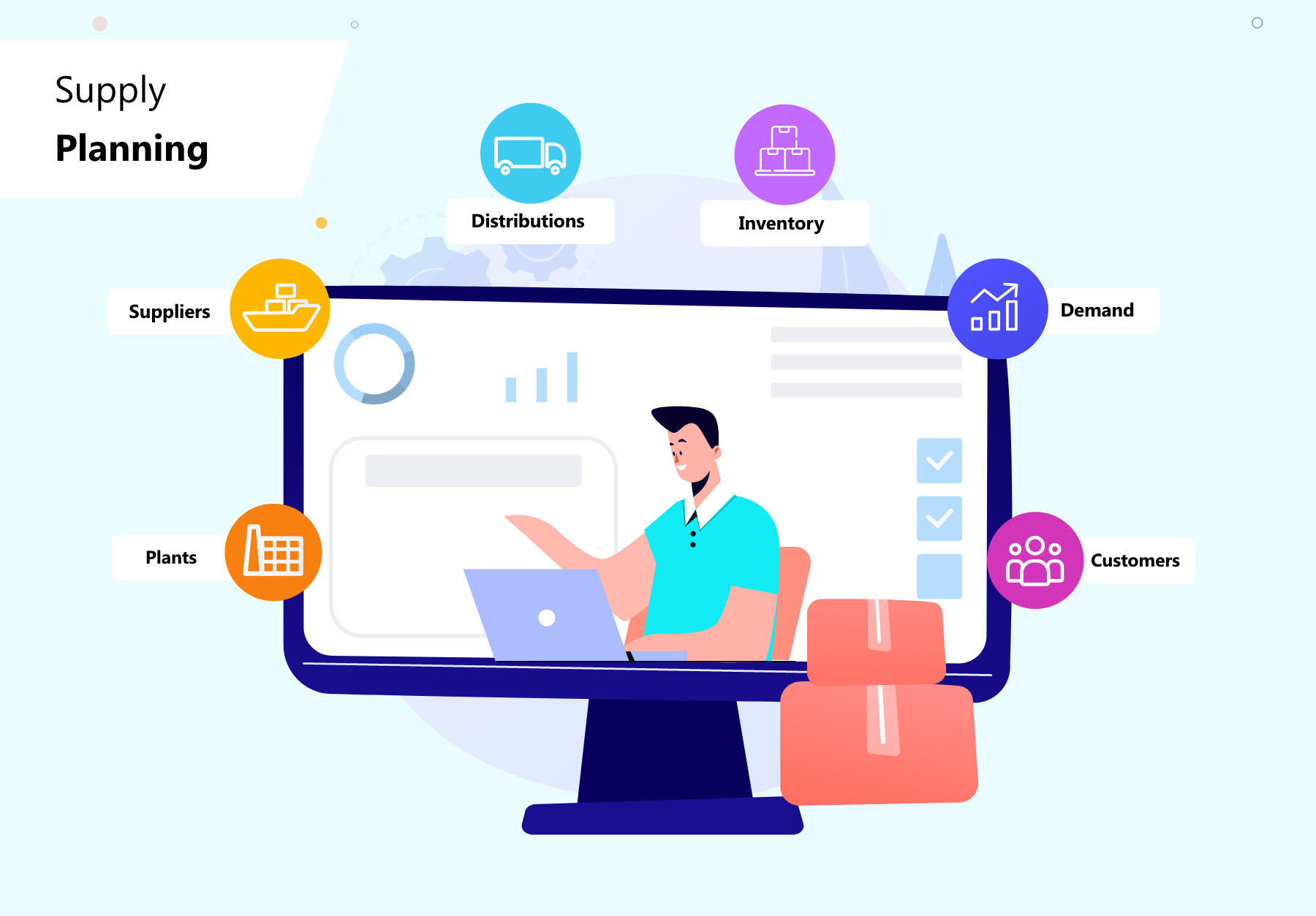 Since supply chain management is one of the most critical parts of a company's operation and is one of the most demanding and challenging frontiers for management, any suite of tools allowing maximum operational ease and scope of automation will be welcome. This is where the value proposition of the NetSuite autonomous supply chain stands out.
Any company with manufacturing facilities spread across multiple locations needs a more streamlined, smooth, and effective way to manage suppliers, distributors, partners, and manufacturers in the assembly line. NetSuite offers a comprehensive set of tools to handle these multifaceted communications in an efficient manner.
An experienced NetSuite implementation partner having solid exposure in the manufacturing industry can help you get the best of NetSuite supply chain management. Here below we explain some of the crucial NetSuite features helping with autonomous supply chain management.
Control Tower
To deal with the complexity in modern supply chain management, NetSuite is well equipped and offers easy controls for managing each and every aspect of the business.
You have a fully loaded control tower to track your present and current inventory with precision. The control power offers a phased view with timestamps of the inventory across multiple global locations.
This feature also allows tracking the projected inventory all through the demand or supply chain across locations and time zones. Thanks to these unified control features businesses can be in total control of all the crucial issues.
The key things that Control Power can do include the following.
Track the inventory, demand, and supply all through the global supply chain of a company.

Time-stamped view of the entire supply chain to keep track of issues and imbalances that are likely to appear over time.

Ability to filter the outcomes as per location, supplier, partner, or subsidiary.

Ability to track the exact transaction in question to address issues.

Ability to send an entire grid of inventory data to excel to facilitate deeper analysis of issues.
Demand Planning
NetSuite also comes loaded with a well-articulated and fully equipped demand planning module allowing us to calculate and predict demands on the basis of historical demands, open business opportunities, and sales predictions.
All sales forecasts and predictions can be evaluated and reviewed from time to time for precision-driven planning of demand. This feature allows you to forecast very precise demands based on sales forecasts.
Key things that this feature can do include the following.
Make historical analysis and evaluation of the demand.

Bringing in sales forecasts for precise demand planning.

Keeping the system updated by importing CSV Import or web services.

Supply Planning
After the demand planning is done and the specific trends corresponding to demand are all reviewed, the process of NetSuite supply planning takes over. The supply planning basically produces work orders, purchase orders, and transfer orders on the basis of the company settings and parameters written in records.
Key things that supply planning does include the following.
Reviewing planned against the actual orders

Supply planning across multiple locations

Managing vendors and suppliers
NetSuite: The Unsung Hero Behind Automated Supply Chain Operations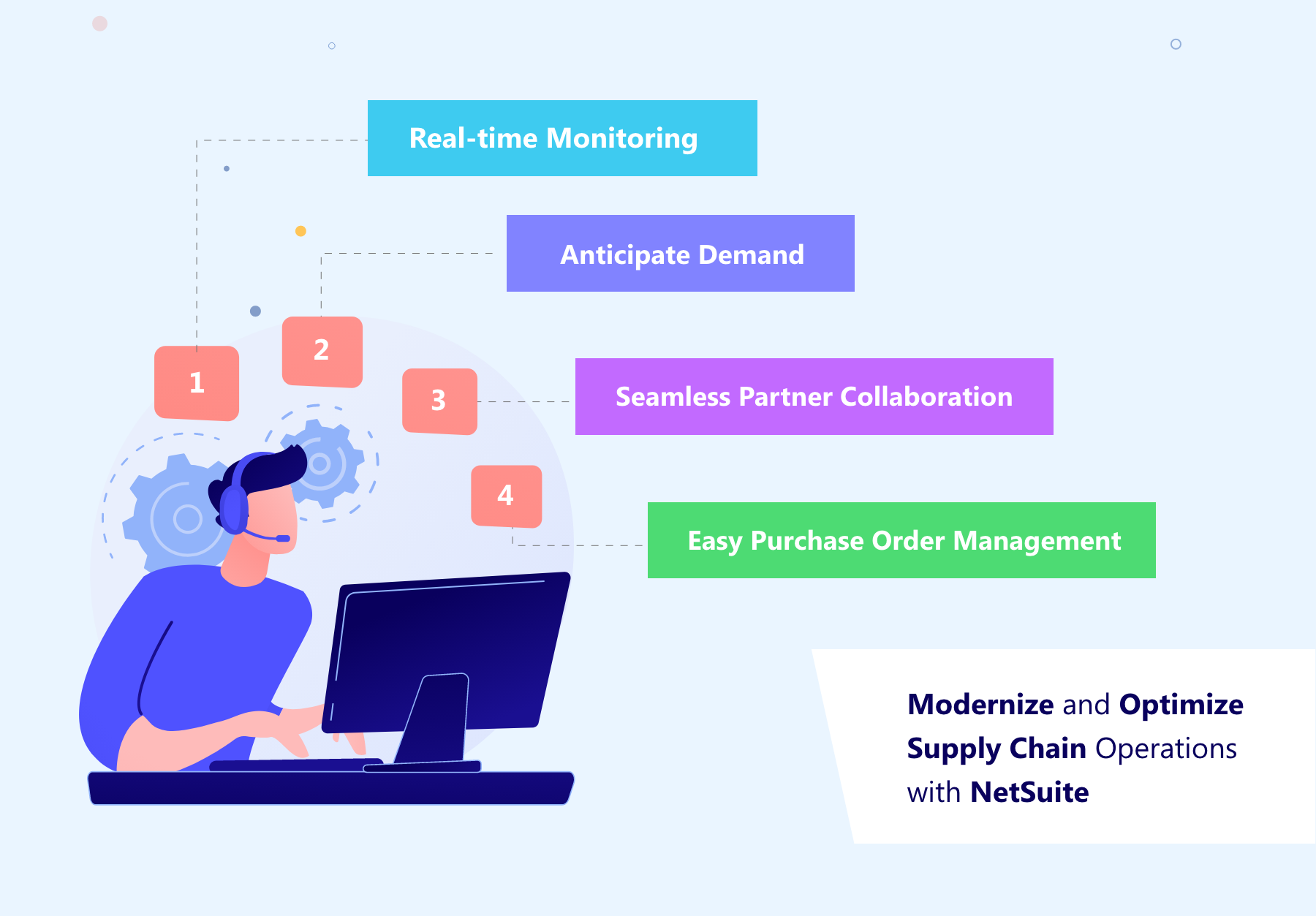 NetSuite supply chain automation tools offer actual-time visibility of the key metrics that are important for any business and thus make way for enhanced customer service thanks to well-planned delivery and minimum lead times. The NetSuite supply chain automation also helps in getting more controls and reducing costs to a great extent.
Here we briefly discuss some of the important benefits of NetSuite supply chain automation.
Real-time Supply Chain Monitoring
NetSuite allows you to have a real-time and comprehensive overview of the inventory, demand, and supply all across the supply chain of a company operating from multiple locations. The NetSuite Supply Chain Control Tower helps to detect issues quicker and takes proactive measures based on deeper analysis.
Accurate Demand Forecasting
NetSuite offers a comprehensive and robust demand planning module to forecast the accurate demands based on historical data corresponding to demand, the evolving business opportunities, and sales forecasts.
Frictionless Collaboration With Partners
Thanks to NetSuite automation tools a business can collaborate with other suppliers, vendors, and partners in a frictionless manner. You can easily update all product information on the web portal for everyone in the supply chain process to view.
Simplified Order Management
NetSuite helps you with a simplified system to integrate and manage vendors, handle all purchase orders, order receipts, and each and every aspect of transactions in a seamless and automated manner.
Automated Supply Chain Process
NetSuite provides a completely autonomous supply chain that is capable of taking business decisions on the basis of configured settings and data-driven analytics without needing human intervention. Thanks to this automated capability, businesses can act more intuitively and proactively to react to situations when it is necessary.
Integrated And Comprehensive Planning
NetSuite offers a whole range of supply planning tools addressing each and every aspect that requires prior planning in a modern manufacturing company. From the materials requirements planning (MRP) of the NetSuite ERP to the demand and supply planning, businesses are well equipped to address any evolving situation and disruptions.
Intelligent Inventory Management
NetSuite offers supply chain automation to ensure efficiency and customer satisfaction to the optimum level. NetSuite offers advanced order management that by utilizing a set of custom-configured business rules and parameters can easily automate the last mile process to ensure that the product reaches the customer at the right time.
NetSuite ensures smooth delivery to the end customer at the right time by selecting the most relevant fulfillment locations automatically for orders. This is done by tracking the available data of the inventory across geographic locations. In the case of priority orders, the same mechanism can also be used to reassign inventory by utilizing the reallocation functionality.
Streamlined Smartphone Access
NetSuite also offers mobile access and allows users to control access and get views of the inventory and orders right from their handheld devices. This instant mobile accessibility makes way for more precise data entry while reducing the time required for processing the pickups and shipment of items.
Thanks to the mobile functionality, business managers can update work orders straight from their mobile devices and make the processing more streamlined. To ensure data accuracy the mobile functionality of NetSuite supply chain automation tools offer prompts for user confirmation at each and every step.
Conclusion
NetSuite with a bounty of advanced capabilities and features offers the best in class automation suite for the supply chain management. NetSuite supply chain automation offers everything that a business needs while operating across multiple locations.