NetSuite, the global ERP solution leader now came with SuiteCommerce extension, an extended toolset to help marketers and eCommerce businesses in their design and development efforts. Thanks to NetSuite SuiteCommerce services even the so-called non-technical users will also be able to develop engaging online stores with great customer experiences in a quick time.
The new set of tools is going to make life easier for online stores and business websites easier in their constant efforts to address the customer wants and make them satisfied with an effortless and easy shopping experience. Just the way NetSuite ERP solution brought a revolution in the way various processes are integrated, streamlined, and automated, the NetSuite SuiteCommerce platform will do the same for eCommerce development.
SuiteCommerce: One NetSuite Solution Catering To All eCommerce Needs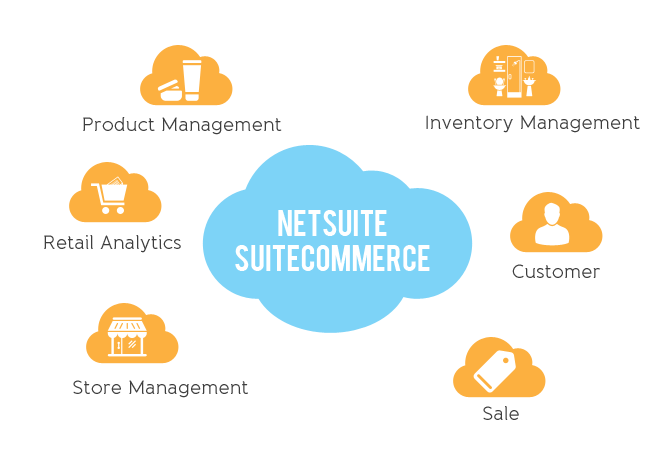 NetSuite SuiteCommerce is an extension from Oracle NetSuite to offer a whole range of tools for eCommerce development. This is probably the only eCommerce development solution with integrated ERP and CRM functions. The robust range of features helps NetSuite to provide a complete omnichannel suite of tools for eCommerce development and management.
Already several leading eCommerce companies are using the NetSuite eCommerce development tools including SiteBuilder, SuiteCommerce, and NetSuite SuiteCommerce Advanced for the sake of providing high-performance online stores and services to their target audience.
When you need to deliver the most sophisticated digital shopping experience without missing the scope of omnichannel marketing, NetSuite eCommerce tools come as complete, comprehensive, and fully equipped. The toolset is also capable of transferring the digital platform to omnichannel shopping avenues in a seamless manner.
On top of everything, NetSuite as a pioneering name in the eCommerce industry offers robust support for implementation with the help of several SuiteCommerce partners. NetSuite Suitecommerce coming with an advanced version along with the regular extension offers everything that businesses need for digitisation and omnichannel marketing. The extension with the cloud support helps seamless business operation.
The NetSuite OneWorld furthermore allows businesses to leverage the benefits of operations across multiple subsidiaries. The businesses can get optimum visibility of their regional, local, and state-level operations in real-time. For an omnichannel retail business with a considerable digital footprint and several retail stores, this real-time visibility is likely to ensure better performance monitoring.
A Never Before Experience For Online Retail
The SuiteSuccess from NetSuite represents a unique approach to develop eCommerce stores with less effort while ensuring maximum output in terms of design and the shopping experience. The toolset helps incorporate product catalogs, images, and descriptions in the store design through a simple and straightforward process.
NetSuite's team of SEO experts also comes to the aid of eCommerce websites in respect of providing guidance for maintaining web search ranking. This will help eCommerce businesses to ensure growth and visibility right from the start of their business.
Feature-Rich eCommerce Shopping Experience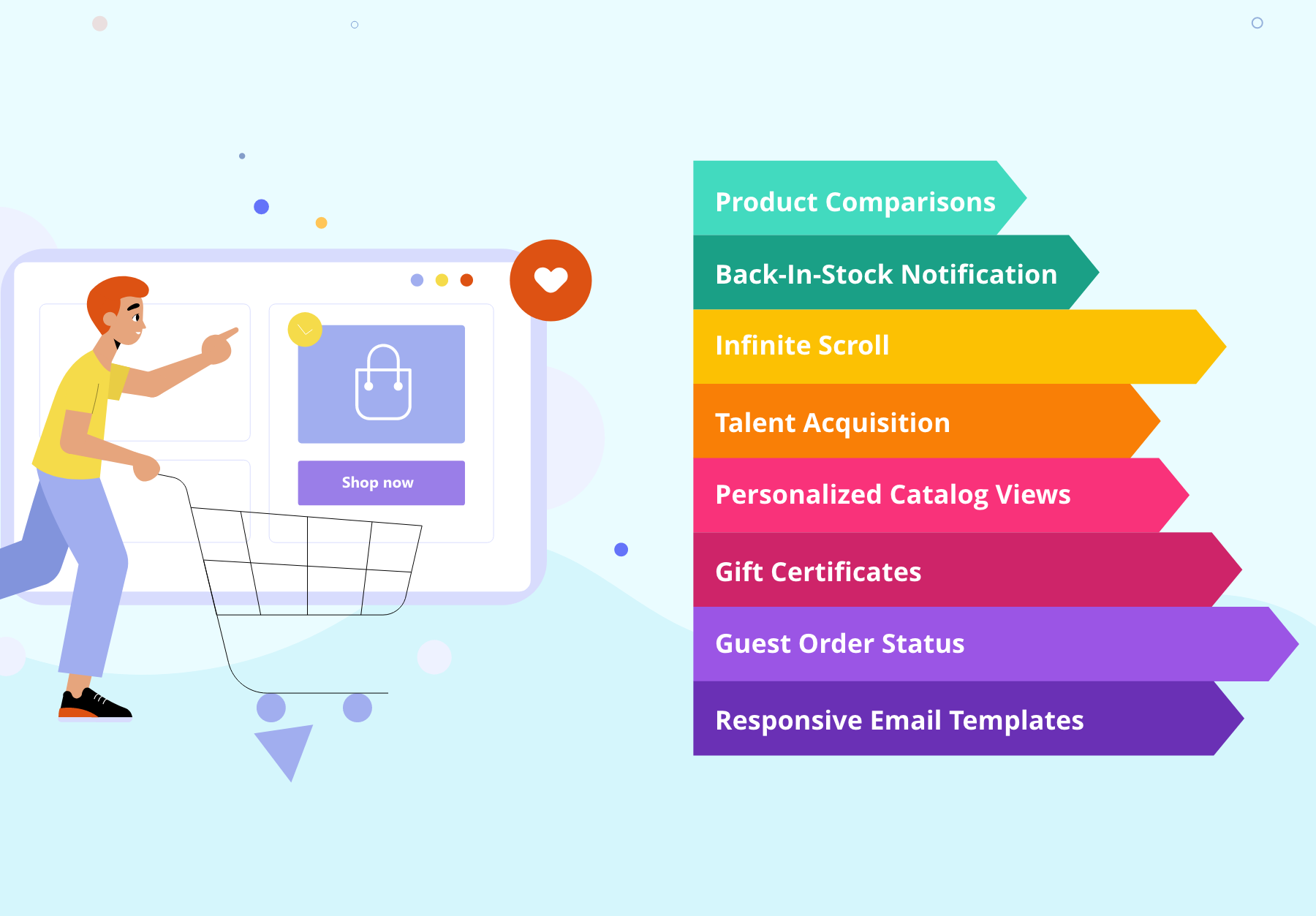 When it comes to the design of the eCommerce store, SuiteCommerce offers a whole range of inbuilt features and capabilities ranging from preconceived themes for responsive design, well-equipped website search function, easy website management tools, and several other key features. These features and capabilities ensure optimum engagement of shoppers, higher business conversions and bigger values with every order or purchase.
Apart from all the key capabilities of SuiteCommerce, for implementation, we also have SuiteSuccess that offers a lot of value-added features created to fulfill the requirements of the enterprise customers. Let's have a quick look at these key value-added features.
Product Comparison Chart:

You can easily offer a table of comparisons between multiple product choices that come close to one another.

Notification For Back-In-Stock Products

: Certain product stock can be temporarily exhausted only to return in a couple of days from the company's back in stock, You can actually send customers notifications when the requested product is back in stock.

Continuous Scroll:

Some online stores instead of presenting their products through pages, can actually allow continuous scrolling to offer results a streamlined and continuous flow.

Product Badges:

A visual badge along with each and every product on display can be another way to inform users about whether the item has just arrived or it is subject to any discount or offer or whether the item is new.

Personalized Product Catalog:

The tool will also allow personalizing the product catalogs, views, sizes and measurements and groups, and segments.

Guest Order

: A shopper without logging in can browse, shop, make transactions, and get a detailed order summary along with the balance sheet of their accounts.
Offering Continuous Support After The Store Is Live
When you have developed an eCommerce store by using NetSuite SuiteCommerce, the development of the store is not the end of the road. The enterprises after going live with their store will continue to get support. To begin with, any new online store built by Suitecommerce will get as many as 6 months of guided onboarding services.
The robust and comprehensive onboarding support will come equipped with store managers, sales professionals, e-marketers, and coordinators looking after order fulfillment. The enterprises will always get one-on-one assistance after building a fully-featured SuiteCommerce storefront.
Some of the key onboarding services provided by Suitecommerce include the following.
Onboarding experts

: NetSuite Professional Service team experts offer all know-how and key knowledge to guide the business users on the steps to take and the way to handle the store after implementation. The experts also carry out bi-weekly meetings to monitor whether the site experience is aligned with the business goals by reviewing key performance indicators.

Strategic guidance

: The NetSuite team of Suitecommerce experts also offers strategic guidance on various aspects such as app usage, configuration settings, optimization measures, and maintenance. The eCommerce store admin will also get day-to-day guidance on website management and the ways to utilize SuiteApps for extending the store features and experience.

Guided Support

: Customers also get easy guided support just by asking making queries in different contexts. They instantly get instructions in a step-by-step manner to get to the bottom of the problem and give solutions. For further escalated support on various issues, the NetSuite team can be contacted.

Most Competitive Benefits Of SuiteCommerce
SuiteCommerce has become the most competitive package of guided eCommerce development just because everything is taken care of by the experts making the development process easier while ensuring top-notch performance and an awesome shopping experience for the customers. NetSuite SuiteCommerce with robust design capabilities can ensure building an eCommerce store look and feel with an engaging customer experience.
Let's have a quick look at the most competitive benefits of SuiteCommerce.
Online Marketing
Suitecommerce offers easy protocols and tools to reach out to a wider audience by publishing content and product reviews across multiple social media channels.

You can get an array of tools corresponding to promotions and campaign management to boost sales.

Integrated marketing platform to reach out to customers through email, cart abandonment messages, and pop-up signup.
Customer Account Management
SuiteCommerce platform provides every customer with an account and an address book.

The users can easily track the order history online and check the order status.

To address business users, it can create quotations quickly.

Allows fast ordering from the personalized catalogs.

The users of Suitecommerce can track all their outstanding balances and make payments against online invoices.
Integrated Payment Solution
Suitecommerce offers a reliable and transparent payment solution to facilitate digital payment.

Allows all kinds of payment channels including credit cards, promo codes, and gift cards.

There is optimum flexibility for the users to use stay as guest users or as registered users.

There are HTTP integrated payment gateways and more secure Payment Card Industry Data Security Standard (PCI DSS) protocol compliance to safeguard payment processing from frauds.
Advanced Features
SuiteCommerce also offers capabilities like printing the labels and automatic tracking data for shipping.

Integrated business insights and analytics tools to deliver data-driven insights on store customers.

Highly customisable dashboards that can be configured as per the needs.

Allow integrating Google Analytics and Google Tag Manager.
Conclusion
For developing feature-rich eCommerce websites with great user experience, NetSuite SuiteCommerce literally provides everything developers need. With SuiteCommerce you have the best-managed eCommerce development toolset at your side.