Do you work on projects and often find it difficult to keep a track of time?
Well in the field of management, keeping track of time is very crucial to ensure efficiency and systematic execution. It influences billing, revenue, and progress reporting. Apart from these, it is quite difficult to input the time, specifically if, at the conclusion of the week, employees frequently give time entry the brush-off treatment. Some stragglers might even wait until they receive the reminder before entering the schedule for monthly billing.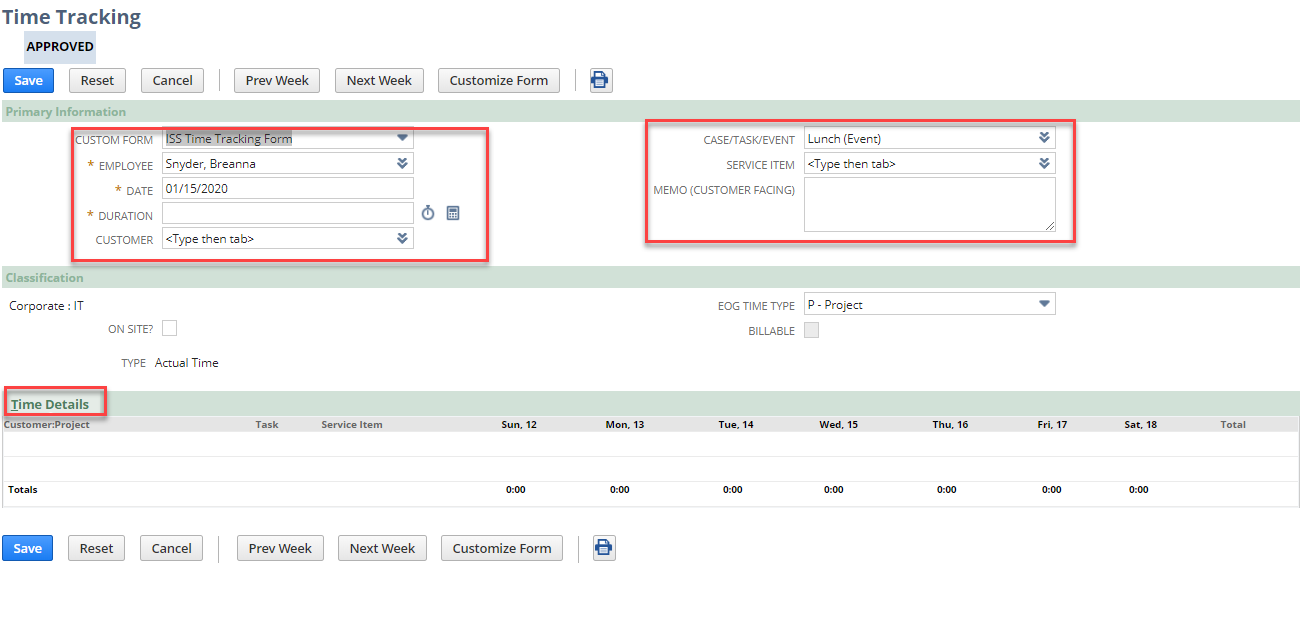 Now the methods and procedures for monitoring time are typically complex and onerous, which is why employees put it off. Businesses like yours require a time-tracking strategy for duties such as estimating the cost of time and material projects, monitoring the time employees spend receiving training and monitoring the profitability of your initiatives.
So, how can an app make things simpler?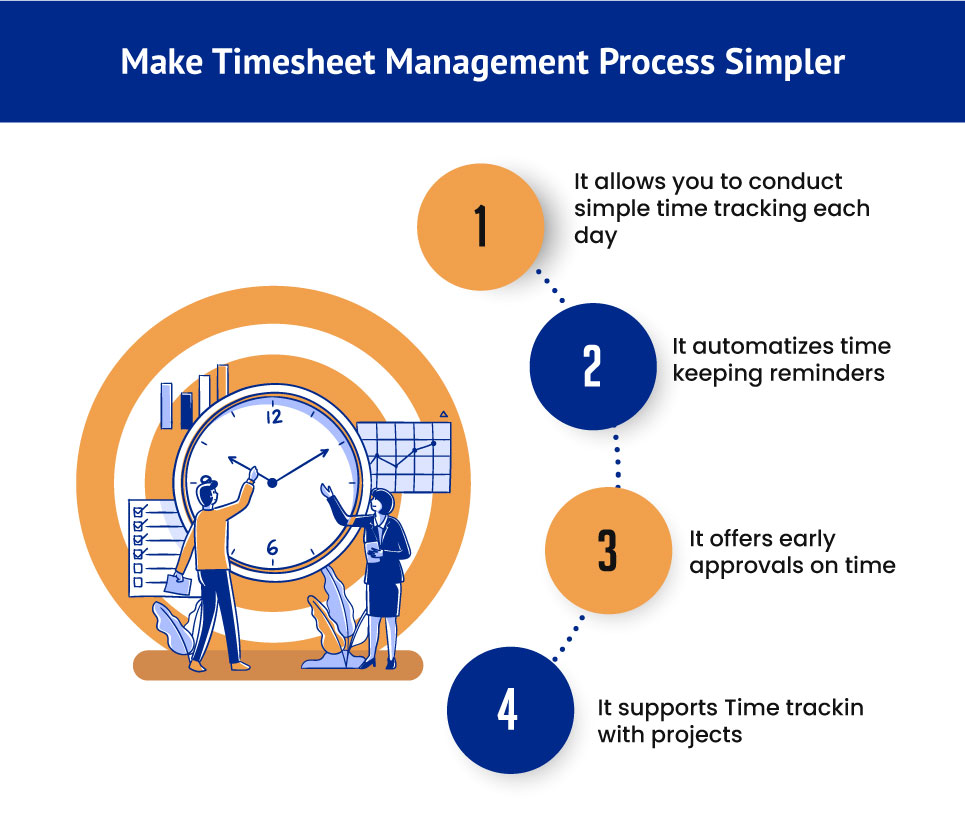 With an intuitive UI and expedited approvals, the Timesheet management system makes the entire process simpler for your team as a whole. Let us see how:
Simple Time Tracking Each Day
Accuracy can be increased by inputting time worked at the conclusion of each day. With a regular timesheet, they can complete from their computer or smartphone, NetSuite makes this incredibly simple. To avoid having to manually enter the same activities each week, they may just copy them from any prior week. The most crucial factor in this situation is the ease of use. As NetSuite's time tracking app is so easy to use, you'll have a better chance of persuading your team to stop using their calendar, spreadsheets, or notepad for time tracking.
It Automatizes Time-Keeping Reminders
Every staff would be at the pinnacle of their time entry in an ideal world. But a few stragglers will always remain. Approvers and admins may quickly identify who needs to be contacted by reporting missed timesheets using NetSuite. Additionally, you may configure alerts to notify the worker and their line manager when the required amount of hours has not been provided by the timeframe.
Early Approvals On Time
Each organization will have its own billable time approval procedures, but it can take a lot of time to examine and approve each and every time entry on a project. The more assignments you have and the bigger your team is, the more unrealistic it is to accomplish this manually. To save time, NetSuite enables authorizations to wholesale approve or reject time entries.
Additionally, they may add remarks to the rejection, reducing back and forth with the worker. Keep your project manager in the practice of evaluating and approving each week, just as your team should be doing. This will keep things going along without requiring a drawn-out review session at the end of the month, which will help your accounting department.
Time Tracking With Projects
For project-based organizations, simplicity is crucial. You want a single input that streams through to all other sections of the organization that depend on timesheet data since time is the most critical data you need to manage. Due to the direct connection between NetSuite Timesheet Login and projects, you are able to enter a scheduled time when a resource is assigned to a project.
While the actual time spent flows directly back into the project, allowing you to track progress, budget usage, utilization, and other project metrics, the planning information feeds into project planning and long-term resource management. The ability to limit which resources may track time against a project and who can approve time is another control that project managers have. Your projects' relevant materials are all in one location.
How Can You Enable Time Tracking For CRM?
Users may keep track of the time spent on tasks, calls, events, and cases with Time Tracking for CRM. By keeping track of how much time is invested in each of these operations, you can better manage your business.
Remember: Using Time Tracking for CRM necessitates both the Time Tracking functionality and the related permissions.
To enable Time Tracking for CRM, you must follow the following steps:
Step 1: Go to Setup > Company > Enable Features
Step 2: Next, click on the Employees sub-tab and select the Time Tracking for CRM option
Step 3: Finally, click on the Save button
You must uncheck the Show Projects Only for Time and Expense Entry setting found on the Time & Expenses subtab under Setup > Accounting > Accounting Preferences in order to monitor time for clients while simultaneously using the Projects functionality. When this setting is activated, CRM Tasks linked to a project record can have their time monitored.
How Can You Enable Weekly Timesheets?

Together with the current Time Tracking tool, the Weekly Timesheets feature provides a flexible way to record time entries on a weekly basis. It is crucial to highlight that using Weekly Timesheets needs both the Time Tracking functionality and the corresponding permissions.
To enable Weekly Timesheet, you must follow the given steps:
Step 1: Go to Setup > Company > Enable Features
Step 2: Go to the Employees sub-tab and tick the Weekly TimeSheet box
Step 3: Click on save
A further feature that provides a configurable way to log time on a fairly regular basis is called Weekly Timesheets. The Weekly Time Tracking page in the Time Tracking feature may be used to manage records on a weekly basis and it requires no further modification. Weekly Timesheets, if enabled, will replace the built-in Weekly Time Tracking.
Why Should You Choose NetSuite Time Tracking App?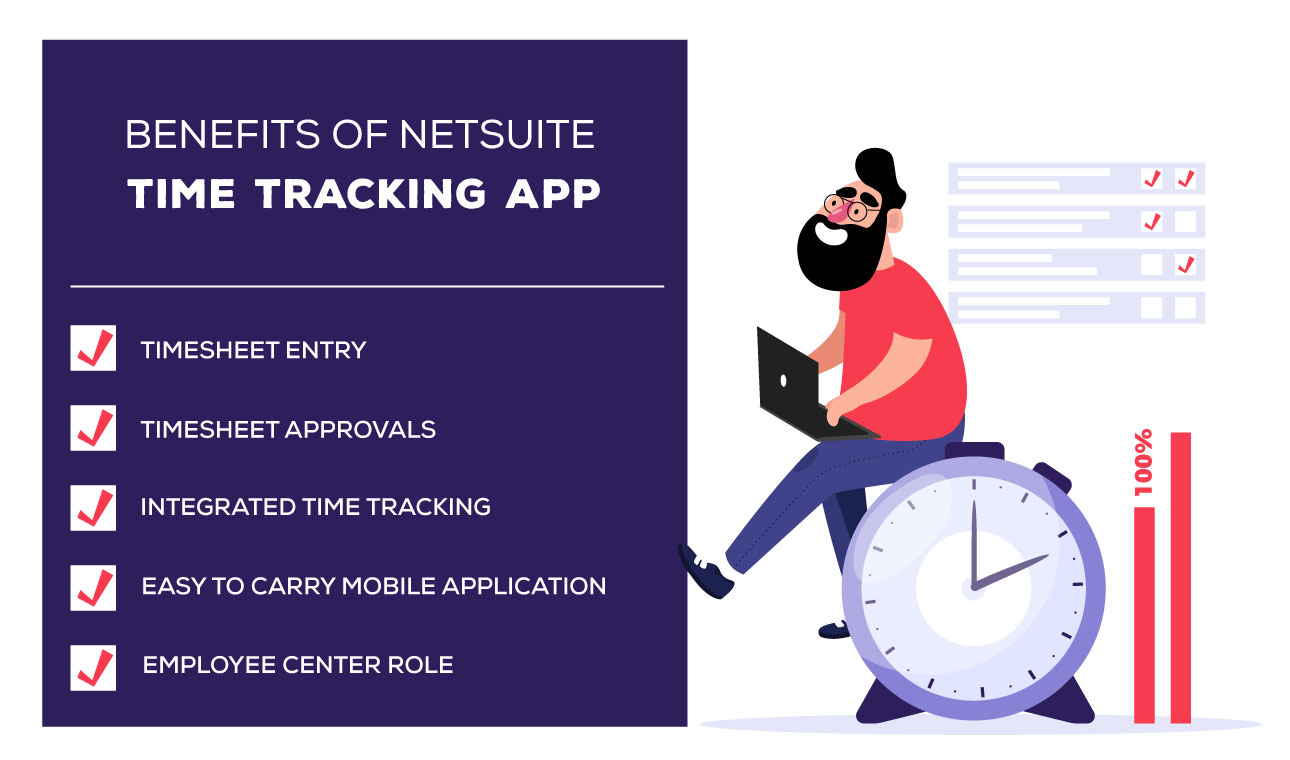 The company's timesheet management system allows users of NetSuite may easily enter their time/hours completed on a weekly or biweekly basis. If you merely want to monitor time by the entire program, that is also doable because timesheets may expand along with your business. It is also feasible to get more specific if you decide you need to a year from now.
Here are a few benefits of why it is important to adopt NetSuite's built-in timesheet capabilities:
Timesheet Entry: Users of NetSuite may tailor time input to match their specific company needs, enter time for several projects on one timesheet, and input and submit time in bulk.
Timesheet Approvals: Users of NetSuite can specify user- and project-level approvals, modify previously accepted timesheets, deny time entries, and submit for re-approval through NetSuite timesheet approval.
Integrated Time Tracking: For the majority of NetSuite instances, INTEGRATED time tracking is included out of the box and does not call for a separate module. It is completely integrated into all aspects of your NetSuite system and keeps track of the time spent on tasks and projects.
Easy-to-carry mobile application: The mobile application for NetSuite makes it simple to add time to projects and tasks from any location and on any device.
Employee Center Role: Personnel, who must input time, submit financial documents, or input vacation time can use the "Employee Center Role" license from NetSuite.
In a nutshell, it is much simpler for NetSuite customers to add their daily or biweekly working hours with the help of the NetSuite timesheet. Companies can easily utilize timesheets in a variety of ways since they are flexible and allow users to track time by program.
According to NetSuite solution providers, here are a few more factors and benefits that make NetSuite's Timesheet interface a top recommendation for our clients.
It may be used by managers, executives, as well as time approvers.
Occasionally, you can lock the timesheet
Administrators have the ability to disable the ability to modify documentation for a certain accounting period, perhaps weeks, or months.
Specifies the minimum and maximum hours that users must declare in order to submit time. Instead of rejecting requests, a warning is shown.
If a period does not meet the given min/max requirements, an authorization may be refused.
Includes a copy of the weekly report
The user has the option to select which parts of timesheets from a prior week they want to duplicate.
Cost Of NetSuite Time Tracking Management App
Businesses of all sizes, from early-stage startups to those that are expanding quickly, have switched to NetSuite. Looking for a more effective approach to operate your company but concerned about the price?
Users can pay an annual licensing cost to the NetSuite consulting company. The three primary parts of your license include the number of users, the optional modules, and the core platform. For the first setup, there is additionally a one-time implementation cost. The advantage of cloud software is that you can quickly activate additional modules and add users as your company expands. Also, the NetSuite SuiteProjects module comes with timesheet management features.
Wrapping Up!
With all work-related events in one location thanks to NetSuite implementation solutions, you can create time monitoring reports for customers, projects, and activities. You'll get better visibility into performance metrics and more accurate timesheet data. The professional services automation (PSA) systems from NetSuite automate sales, financial administration, and service delivery.
VNMT Solutions is the go-to company for PSA and ERP solutions since we are your NetSuite solution supplier. We collaborate with expanding professional services organizations to provide tailor-made PSA solutions that free them up to concentrate on expanding their businesses.