While NetSuite offers both CRM and ERP systems, this latest comparison stacks NetSuite against a CRM powerhouse known as Salesforce. With a NetSuite CRM consultant, it becomes easy for companies to implement various types of functionalities. One should note that a direct comparison is not possible because NetSuite is an ERP with CRM.
While Oracle NetSuite CRM and Salesforce have some similarities, they also have stark differences. And in case you don't know, CRM is the fastest growing business software. Here is a data from statista on how a CRM software can impact on business revenue.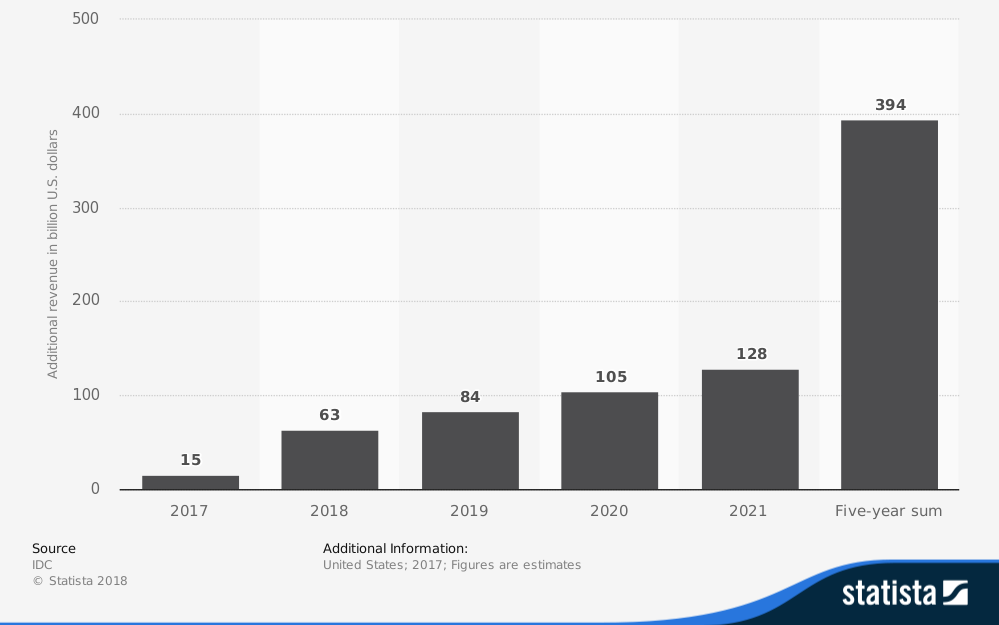 You would come across a large number of CRM software platforms that can perform core functions on behalf of the organization. From analyzing data to managing customer information, CRM can do it all. With these things in mind, let's compare NetSuite vs. Salesforce CRM. At the end of this comparison, you would come to know about the salient features of both these software platforms.
NetSuite & Salesforce Companies History
NetSuite was founded only months before the official release of Salesforce in 1998. The founder of NetSuite is Evan Goldberg. Quite interestingly, both organizations shared an early transformative view of what the cloud and SaaS model solutions can achieve. NetSuite has the unique accreditation of being the first software company to emphasize cloud computing.
In its initial years, NetSuite targeted small and mid-size businesses with its ERP modules. Oracle eventually purchased NetSuite in 2016. The acquisition was quite interesting given the expertise of NetSuite with the cloud architecture.
NetSuite was developed from scratch as a complete ERP, which includes the CRM functionality too. From email marketing to real-time dashboards, you can avail it all with the help of NetSuite. That's why you will need a NetSuite specialist to address the issues related to the deployment of the ERP.
Salesforce primarily focuses on CRM. The company's customer 360 platform provides a source that connects the data of the customers across various systems. Quite impressively, Salesforce emphasizes cloud, social, analytics, and AI.
The expertise of Salesforce on the latest technology platforms allows it to provide practical solutions to companies irrespective of their size. Salesforce also enables third parties to utilize its platform. It comprises a wide variety of developer-friendly tools.
The users of Salesforce usually rely on its sales offerings to store data and monitor leads. It also assists the customers in resolving the routine issues associated with predictions and recommendations. NetSuite CRM implementation, when compared to Salesforce, usually requires more expertise.
Platform Comparison: Lightning vs. SuiteCloud
Is NetSuite the same as Salesforce?
This is a common question asked by many organizations. There are differences when you are comparing these two based on platforms. The lightning platform of Salesforce allows the Salesforce partner ecosystem to develop and provide solutions via the App Exchange Marketplace.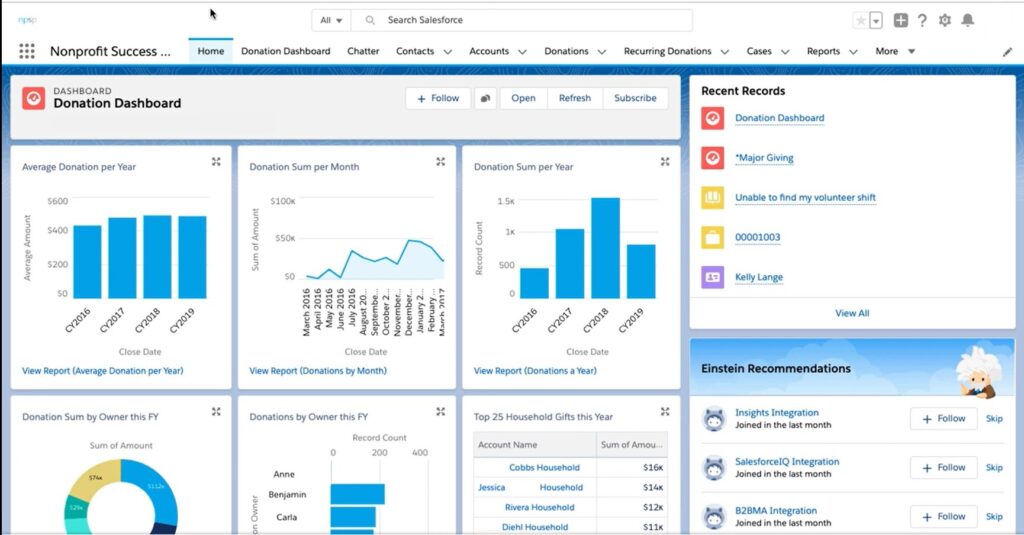 Note that the Lightning platform of Salesforce comprises more than a thousand vendors. The Salesforce platform also offers a comprehensive variety of extensions and plugins available to users. On the contrary, SuiteCloud, the dedicated forum for NetSuite, has its own App Exchange version.
This version is often known as SuiteApp. But when the context is about versatility, the SuiteApp platform of NetSuite lacks extensions and features when compared to the medium of Salesforce. Moreover, the SuiteApp platform comprises fewer partners and apps when compared to Salesforce.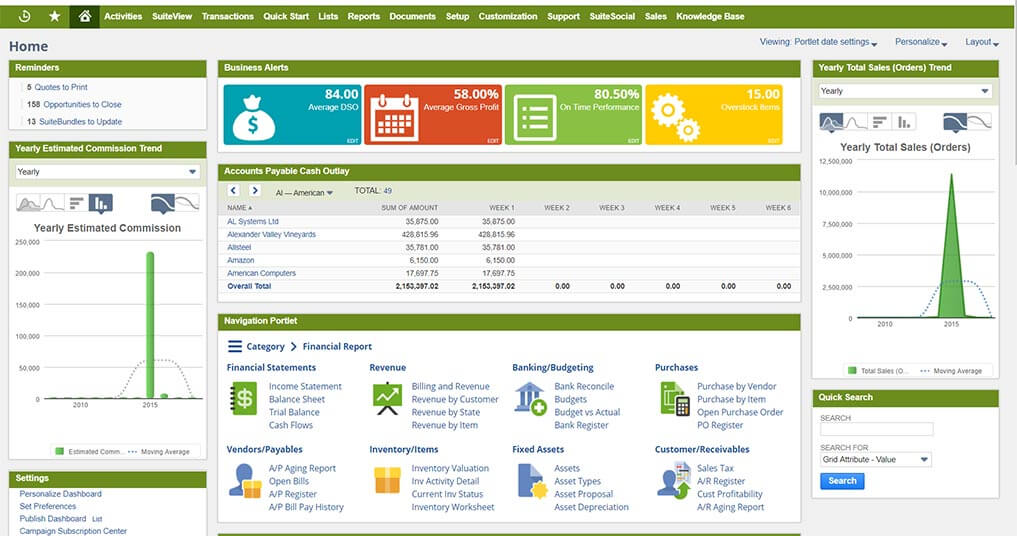 People usually wonder about NetSuite CRM pricing when opting for it. But remember that SuiteApp lacks features and functionalities because of the nature of the NetSuite solution. We all know that NetSuite provides an all-encompassing ERP and CRM function across multiple software segments.
On the contrary, Salesforce only specializes in providing CRM solutions. It often requires a large number of third-party extensions to integrate with your existing IT infrastructure. But at the same time, both these platforms are adept in providing users with a large number of personalization and extensions that exude practicality.
ERP Software Comparison: FinancialForce vs. NetSuite
FinancialForce is a series of products sitting on top of the Salesforce platform. As the name suggests, it offers a range of financial management and PSA products aimed at service-based organizations. Always remember that FinancialForce is not a sub-division of Salesforce. But it relies heavily on the Salesforce platform.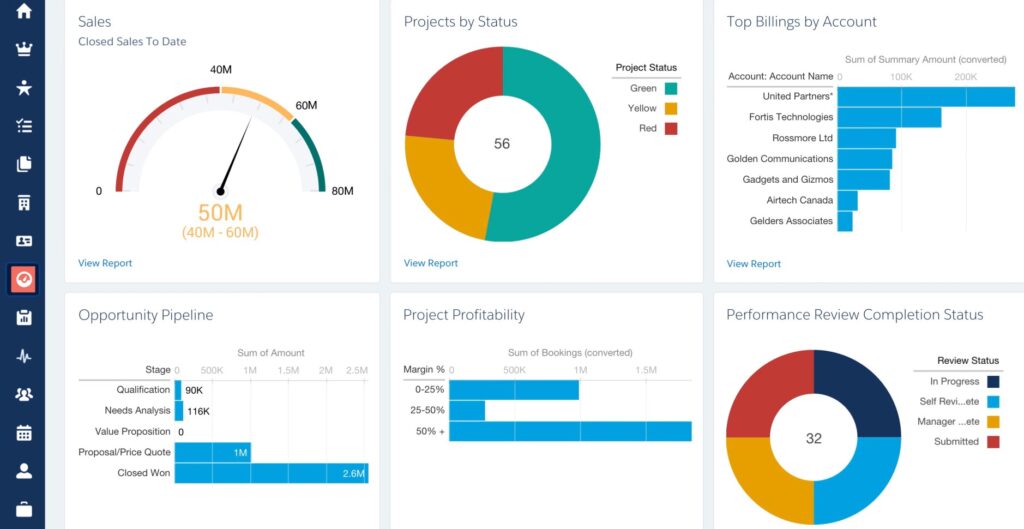 Which is better, NetSuite or Salesforce?
This is a common question asked by many users. Note that FinancialForce is ideal for large and professional organizations that already have implemented Salesforce. But at the same time, it works well for small businesses too that don't have extensive requirements. In reverse, NetSuite can serve the needs of both small and large companies.
To be precise, there exist few ERP platforms that can offer the same scalability as NetSuite. Quite impressively, the investment you make in the fully integrated NetSuite environment is ideal for financial management, supply chain, human capital, PSA, etc.
Is Salesforce an ERP or CRM?
Salesforce is a CRM solution used by a large number of companies nowadays. And as a large number of companies are using Salesforce and NetSuite, there is no way one can take their popularity.
CRM Software Comparison: Salesforce vs. NetSuite
When the context is about CRM, there is no denying the popularity of Salesforce. In recent years, Salesforce CRM has established itself as one of the most popular solutions to facilitate customer relationship management. Often people go through NetSuite CRM review to understand its capabilities.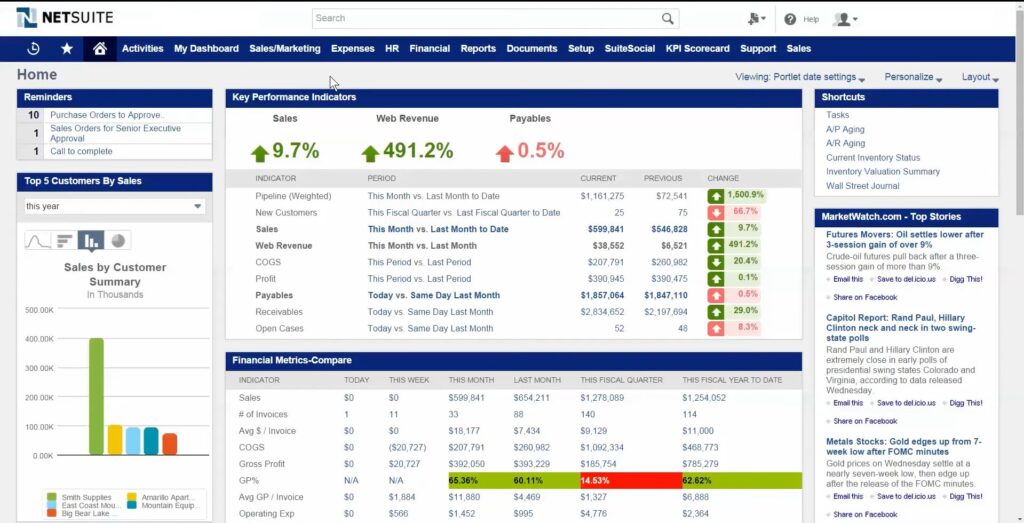 The CRM platform of Salesforce offers an intuitive UI along with a deep feature set. It also comes equipped with an analytics and reporting platform. With a versatile and robust provider of third-party integrations and extensions, Salesforce should always be on your top priority list as a versatile CRM platform.
While NetSuite CRM is an ideal option for small and mid-size companies, you cannot deploy it in large organizations. But if you are someone who loves to run your business from a single application and dashboard, then you cannot ignore NetSuite CRM.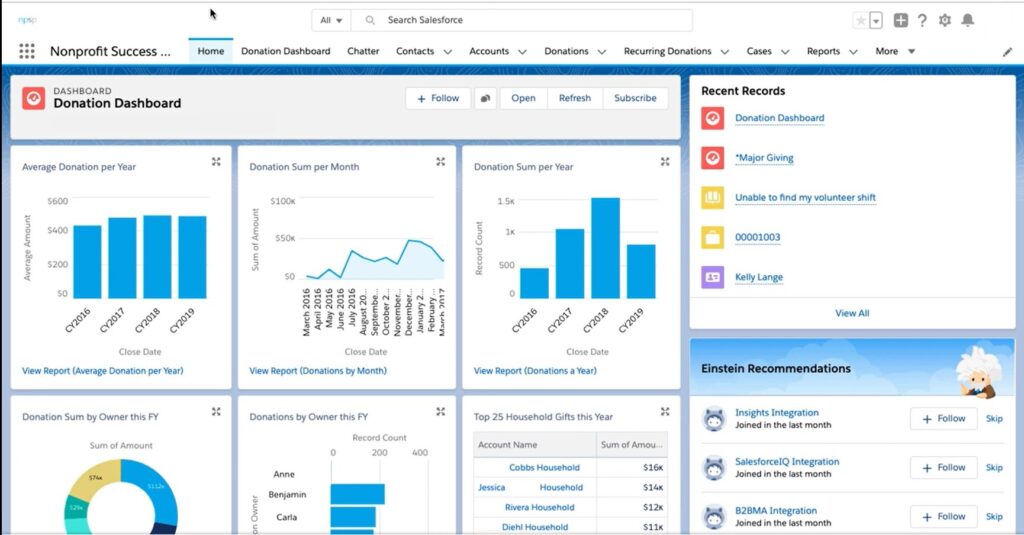 With NetSuite CRM, you would be able to switch between support cases of the customer, buyer history, along with tracking of real-time inventory. Hence, with the proper integration tools along with partners, the NetSuite CRM has got the ability to outperform the CRM of Salesforce. Both NetSuite Salesforce integrations should require immense expertise.
NetSuite CRM vs. Salesforce: how much does it cost?
The Oracle NetSuite vs. Salesforce comparison based on pricing is quite interesting. The price of NetSuite is customized based on each user's preferences. It is also predicted on a set of given terms that includes ERP configuration. The base license for NetSuite ERP costs $999 per month with access costs of $99 per user and per month.
The NetSuite license usually operates as a subscription model and may be renewed annually or over longer intervals. On the other hand, Salesforce has various types of pricing. For instance, Lightning essentials usually cost $25 per user and per month. It allows up to five users. The Lightning professional costs $75 per user per month.
The Lightning enterprise costs $150 per user per month. Moreover, the Lightning total costs $300 per user per month. Salesforce has a separate pricing structure for its service cloud too. For service cloud:
Oracle NetSuite vs. Salesforce- Pros and Cons
Pros of NetSuite:
It provides your organization access to streamlined information across the customer lifecycle.
You can increase the sales performance because of better forecasting and upselling.
Cons of NetSuite:
NetSuite doesn't use personal AI assistants.
It doesn't allow the integration of productivity tools.
Pros of Salesforce:
You can use Salesforce as a strategic advisor.
The service cloud of Salesforce has proved to be a great success.
Cons of Salesforce:
The migration process and its implementation can be lengthy.
Smaller enterprises wouldn't be able to opt for Salesforce as it is costly.
What do the CRM Experts Say?
When the context is about deploying either one of the software platforms, you have to rely on feedback. Let's discuss the feedback of NetSuite first. NetSuite CRM is powerful, and it resides in the overall NetSuite ecosystem. In other words, it eliminates the requirement of paying for the operational expenses for two platforms.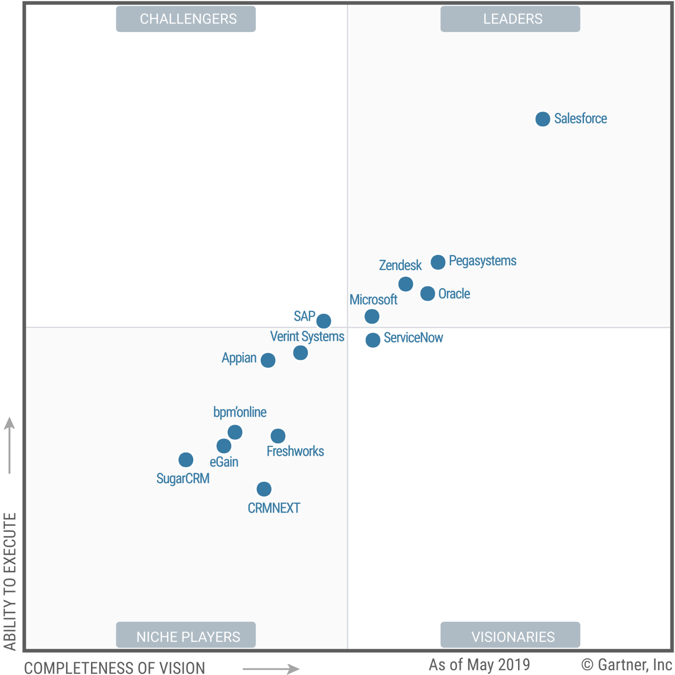 Oracle NetSuite has gotten a deserved "visionary role" in Gartner's ERP magic quadrant. Its CRM module has now no longer attain an equal role withinside the CRM magic quadrant. NetSuite CRM is identified as a strong and sturdy CRM solution. It consists of capability inside advertising automation, income automation in addition to patron service.
Moreover, it supports a wide variety of customizations and integrations. On the other hand, Salesforce has a lot of loyalty from its user base. The platform is quite powerful and relatively easy to use. It is also incredibly extendable. Moreover, the customer service of Salesforce is top-notch.
Who Wins the Battle of CRMs?
When the context is about the battles of CRMs, NetSuite has got a definitive edge. With a wide variety of customizations and integral functionalities, NetSuite can be your best CRM on any given day.
On the other hand, Salesforce is a practical CRM platform for those businesses who are working on a limited budget. To realize the advantages of both these platforms, it is recommended to opt for free trials of both of them.
NetSuite Integrations
NetSuite integrations should be done by a certified NetSuite integration specialist. If your business deals with complicated and configurable products, you need an expert service provider to deploy NetSuite in your company.

Salesforce Integrations
For integrating Salesforce, you need an intuitive product integrator that can be provided only by a specialist. With the help of brilliant upsells and cross-sells, integrator services will help you to learn about the various features of Salesforce.
Languages Supported
NetSuite supports 27 languages which include English, French, Japanese, etc. Salesforce also supports a wide variety of the major languages of the world.
Always go for NetSuite CRM implementation to get the best services. If you have a small to midsize business, go for NetSuite CRM. On the other hand, if you have a large organization, opting for Salesforce would be better.