The value propositions of the NetSuite ERP platform are already well-known to the industries. Over the years, NetSuite has emerged as the most powerful cloud ERP solution for enterprises of all niches and sizes. NetSuite is not only comprehensive and robust, but it is also highly modular, extensible, and customizable as per enterprise needs and budget. If you are considering NetSuite Implementation, it is important to carefully evaluate your needs and requirements so that you can choose the edition and NetSuite pricing plan that is right for your business.
Organizations opt for NetSuite for comprehensive management of all key business processes in a single system. The spectacular aspect of using NetSuite's services is, it does not have any hidden charges. You don't have to
1. Pay large license fees
2. Pay any fee upfront
3. Pay any maintenance fee too
Companies these days opt for NetSuite as it reduces operational costs. Moreover, the competitive advantage over their product or service counterparts is strengthened by cloud-based automation.
The NetSuite pricing plan is as robust as its services. As the software can be used for diversified businesses, the package might differ from business to business. At the same time, NetSuite is not just for large enterprises. Even a start-up with very few employees can still utilize the services as it allows them to focus on core business areas. This article will help you understand the price plans available with NetSuite. Additionally, you will also learn about the implementation cost involved to choose a specific package.
NetSuite is an undivided simple system that does not confront any software or hardware challenges for its customers. NetSuite helps organisations of any size and niche. Ideally, it helps organisations to
1. Manage inventory system
2. Track accounts and finance
3. Maintain CRM
4. Host e-commerce stores
Understanding NetSuite Price Plans
For you to thoroughly understand the price plans, there are a few terms you must be familiar with. These terms shall help you gain insights into the flow of action as we discuss the NetSuite pricing options.
NetSuite Suite – This is the base package. You can choose the package depending on the size of the organization
NetSuite User License – This is required for every user depending on their tasks on the NetSuite System
NetSuite Module – This is an add-on feature or service that you require which the base package that you have chosen does not offer.
NetSuite Implementation – The process involved in understanding the business and implementation of the cloud-based system for managing key business processes for your organization.
Here we are going to present the most comprehensive and detailed guide on Oracle NetSuite pricing and licensing. From the pricing of different NetSuite solutions here we are going to explain the cost of NetSuite implementation and NetSuite small business pricing.
NetSuite Pricing Based On Suite

This will be the first step your consultant might suggest to you. The base package called a Suite can be selected depending on the size of your organisation. The customer base is not required for this selection. NetSuite offers packages for businesses that are of any size. NetSuite suites come in three editions such as NetSuite Limited Edition, NetSuite Mid-Market Edition, and NetSuite Enterprise Edition. NetSuite ERP pricing depends primarily on these three choices.
NetSuite Limited Edition: NetSuite Limited Edition is priced for small businesses and is ideal for enterprises not requiring more than 10 user licenses and enterprises with less than 50 staff.
NetSuite Mid-Market Edition:

NetSuite Mid-Market Edition is priced for mid-category enterprises not requiring more than 10 licenses and has one or more legal entities.
NetSuite Enterprise Edition: NetSuite Enterprise Edition is priced for large companies requiring more than 1,000+ licenses.
You can select the Suite as per the number of user licenses. Or with the size of the organization, you can determine which package to opt for. All the 3 packages that you find are similar to one another in two aspects
1. Basic Codes
2. Deployment
This means to say, you can be flexible with your package. You can upgrade at any time as the licenses or the size of the organization increases. All you have to do is, change the subscription and you shall get to see a seamless transition in this process.
Also, one need not worry about migration in terms of systems as well. If the package changes, only the pricing changes and nothing else.
As said earlier, the features and functions remain the same in all three editions.
Let us see what functions these packages offer you.
NetSuite Customer Relationship Management Contains
1. Partnership Relationship Management (PRM)
2. Case Management Services
3. Marketing Automation
4. Salesforce Automation (SFA)
The NetSuite Enterprise Resource Planning Contains
1. A General Ledger
2. Receivable and Payable Accounts
3. Credit Cards, ACH and EFT Acceptance
4. Management of Banks and Reconciliations
5. Multi-currency as well as Multi-Language Support
6. Inventory Management
7. Basic Project Management
8. Order and Purchase Management
9. Employee Center
General Ledger in the ERP tracks down all the financial transactions. If you are planning to generate financial statements for your organization, then this is the one that does the task. Right from the Income statement to the Balance sheet, the GL has several blocks that help generate the statements in quick time.
Let's Check How to Setup NetSuite in the Right Way
Step 1: Choose the right package for your business
NetSuite User License Pricing
It is a usual practice by the ERP development services to always have either concurrent user licenses or named user licenses. NetSuite opts for the latter. A user license is required if you are
1. Master Controller
2. Director
3. Manager
4. Customer Service Executive
Ideally, if you are a department head, you will need the user license. Especially, the finance team would require the licenses.
Every Suite in NetSuite requires user licenses to transact with the system. There is a full user license that is given to the resources who transact regularly. At the same time, depending on the tasks, the user licenses can be customized too. Like restricting a few access and so forth.
Similarly, Employee self-service licenses are also given. This license can be given to employees at the office who have limited tasks. This is to document the project expense, target achievement and time tracking. This can be given to the employees as the full user gives access to the specific employee to do a certain relevant task.
The user license works on the subscription model. The minimum period is 1 year and you can increment or renew the subscription on a timely basis.
You can always share the licenses, however, it is suggested to subscribe for a separate license if one is planning to be the master admin. Master support is required when changes are made to the system.
Recommendation: It is always better to go for a longer-duration subscription, be it the base package or the license. As the longer duration finance terms involve, discounts and financial support too.
The reports that NetSuite generates can be exported to an Excel file. These files can be shared among employees who do not need a license to access the tool. Also, the reports can be exported to any other third-party applications as well. The best part about the reporting nomenclature is, it generates automatic reports and is distributed among the employees in various formats; Excel, PDF Or MS Word.
Step 2: Choose the Number of Licenses for the Package
NetSuite Customization Price Plans – Advanced NetSuite Module Pricing
Just corresponding to the unique characteristics of the company, one may require more or less than the standard NetSuite CRM and ERP software features. The base package that you have chosen will have the maximum features that support most of your business processes. At the same time, one must also understand that the cloud-based system is applicable to any type of business. So, the companies may require a few features added to the existing base package.
This is where the advanced modules come in. NetSuite provides too many advanced modules that can be added against separate licensing costs.
Adding such modules to your package will customize your NetSuite system completely. These modules come with a separate cost and the price plan works the same as the user license subscription model. Again, depending on the base package, the module's licensing cost differs.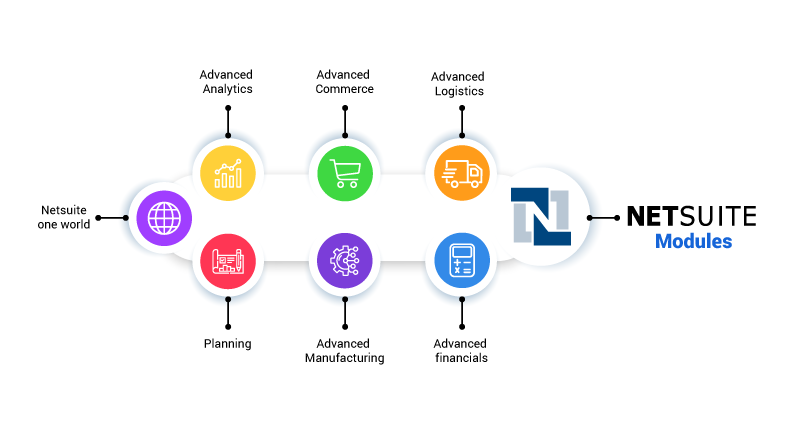 These modules are available as pick-and-choose types. Also, NetSuite can bundle all the advanced modules and make it an Industry Suite package for you. These are pre-planned packages that are made for the specific industry set-up. For example, manufacturing, healthcare etc.
The NetSuite can be highly customized depending on your company's requirements. You can select a manufacturing industry suite and blend it with specific Advanced modules to make it extremely useful for your organizational purpose.
You can subscribe to any Advanced module at any time during the subscription. But, in NetSuite One World, it is not the same case. This requires you to subscribe right from the start as large enterprises who opt for this package have multiple legal entities. You can remove the modules at your convenience, however, you need to wait for the contract period to get over for that to happen. This modular approach is highly flexible, as you can add or remove the modules depending on the necessity.
NetSuite advanced modules come with "à la carte" pricing, though you can always take them together just as an Industry-specific suite of tools. The pricing of NetSuite advanced modules and industry-specific suites fluctuates and depends upon the chosen edition such as Limited, Mid-Market, and Enterprise.
NetSuite offers a very open architecture with a modular licensing model to provide a lot of freedom and flexibility to make additions and alterations of modules as necessary.
The list of Advanced Modules that you may require is given below.
Financial Management System (FMS)
1. Fixed Asset Management
2. NetSuite OneWorld
3. Advanced Financials
4. Advanced Revenue Management
5. Multi-book Accounting
6. Suite Billing
7. Planning and Budgeting Cloud Services 9PBCS)
Inventory Management and Manufacturing
1. Advanced Inventory
2. Advanced Procurement
3. Warehouse Management
4. Work Orders
5. Assemblies
6. Manufacturing WIP and Routing
7. Advanced Manufacturing
8. Demand Planning
Service Resource Planning
1. Project Management
2. Resource Planning
3. Job Costing
Human Capital Management
1. Premier Payroll Service
2. SuitePeople
Retail Management and E-commerce
1. SuiteCommerce Standard
2. SuiteCommerce Advanced
3. Suite Commerce Instore
4. Advanced Order Management
Step 3: Identify the requirement of Advanced Modules for your business
Suite Commerce – Pricing
NetSuite offers businesses three comprehensively integrated solutions for E-commerce related services.
1. NetSuite Site Builder
The best part of these three solutions is, they are not distinct. That means to say, you need not get these products as a stand-alone entity. It is connected to the ERP as you subscribe for any package. It is not only connected to the ERP but also the CRM.
SuiteCommerce Site Builder
This is the pioneer of E-commerce solutions. It came into existence even when mobile devices did not have appropriate applications for online shopping. The product is in the market for over 10 years and right now it is not suggested to use the same. In fact, NetSuite by itself does not recommend this product. Mainly because it is not SEO friendly and the product is getting obsolete.
SuiteCommerce Standard
The product that replaces the Site Builder is SuiteCommerce Standard. Ideally, if you have a limited product and a simple catalogue, this is highly recommended for its excellent interface and easy checkout process. It is a SaaS-based solution that is connected to the CRM as well as ERP solutions in the NetSuite. One may also notice that the SuiteCommerce Standard has limited features and customization factors are pretty few. It is quite obvious that one may want to upgrade to SuiteCommerce Advanced if prolific customisations are required.
SuiteCommerce Advanced
This is an ace solution for E-commerce based solutions. You have numerous customization features. A customer can sell through many channels and use different currency transactions too. This is an advanced version and completely SEO-friendly too. If your product catalogue is more complex and has different categories, this would be the ideal platform. At the same time, you can also offer your customers customized checkout options as well. Experience matters for the customers and SuiteCommerce Advanced is a powerful platform for the same.
Read More: How to Select Right NetSuite eCommerce Platform for Your Business
NetSuite Open Air – Pricing
Open Air is a complete platform for Professional Service Automation. This is widely accepted by many customers as you can automate every process in your organisation when it comes to task force management. Open Air offers
1. Accounting of the Projects
2. Project Management
3. Resource Management
4. Time Sheets
5. Expense Sheets
This is also integrated with the NetSuite base package and it has pre-enabled connectors with
1. SAP
2. Oracle
3. Microsoft Project and
4. SalesForce
NetSuite Open Air has a different look and feels as compared to the SRP. As such, SRP is an indigenously built product while Open Air is an acquisition.
Recommendation: Please connect with an Open Air expert and check if your organization requires such services to be used in the first case. The pricing depends on the functionalities and it is recommended for curbing wastage of funds.
Read More: A Comprehensive Guide To NetSuite Modules
NetSuite Service Resource Planning – Pricing
Both Open Air and SRP are cloud-based. They are quite similar to each other in functionalities yet differ in key areas, they are
NetSuite SRP has the following advanced modules
1. Project Management
2. Resource Planning
3. Job Costing
One must also understand that the base package already has a Project Management tool, however, the features are far more limited compared to the one offered in SRP. Also, you can subscribe to each module separately.
This is not integrated with NetSuite. That means to say, you need a connector to integrate it. A few Products are not integrated and require a connector, one of those is NetSuite SRP.
One more difference between Open Air and SRP may help you decide which one you would like to subscribe for. Open Air is a platform designed for large corporations and complex transaction features. While SRP is constructed and designed if your professional service automation does not require robust options. If you are planning to run automation services on a single platform, then SRP must be your choice.
NetSuite Pricing Per User
As for the licensing cost per user, NetSuite pricing models come as either concurrent licensing or named user licenses. For end-users, NetSuite offers the "named user" model.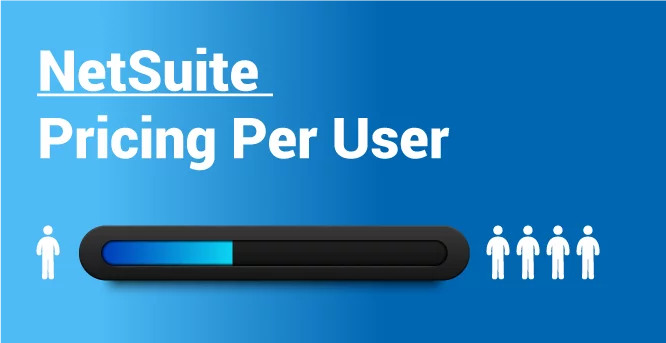 A specific user license is needed for several enterprise roles like Operations Head, Controller, Sales Manager, Customer Support Professional, etc.
Any user using the NetSuite system on a regular basis needs a full user license. Apart from this, there are also user licenses for people carrying out limited tasks.
NetSuite Pricing For Small Business
The story in the past was different when only large enterprises opted for NetSuite. The smaller players did not encourage the services as it was expensive. But the trend has changed. With the price getting a lot more cost-effective and the features being extravagant, small businesses are nonchalantly looking for NetSuite's services.
As such, NetSuite was offering services to Small and Medium-sized Businesses in the beginning. It was called Oracle Small Business Suite then. The package offered was low and sold to organizations that had limited needs. The customer base increased, and the product upgrade and versatility attracted large corporations. This happened between 2012 and 2016. So, as per the product upgrade, the price also started increasing which made the SMBs voice out that it was expensive. However, when Oracle acquired NetSuite, the game plan changed. The price came down and the product was developed to be customized for the niche.
Earlier small businesses used to stay away from NetSuite because of the expensive price tag and offerings that are targeted mostly to large companies. This scenario was changed when Oracle took over NetSuite and came with a specific small business suite packaged with solutions and priced accordingly.
NetSuite continued to come up with lucrative packages for emerging enterprises and small businesses. NetSuite also came up in recent times with a multitude of starter packages with befitting price points and flexible options.
The exclusive small business package like the starter package with incredible features is of top class. The flexibility in bringing in customization with any amount of advanced modules makes the Suite the most sought-after.
Contract Duration
NetSuite works in contract mode. As with any subscription, there is a timeline involved in the services. Be it the package, the license or the module. All must be included in the contract with a specific timeline. The base package is the foundation, so the other licenses must have a time frame lesser or equal to the duration of the suite.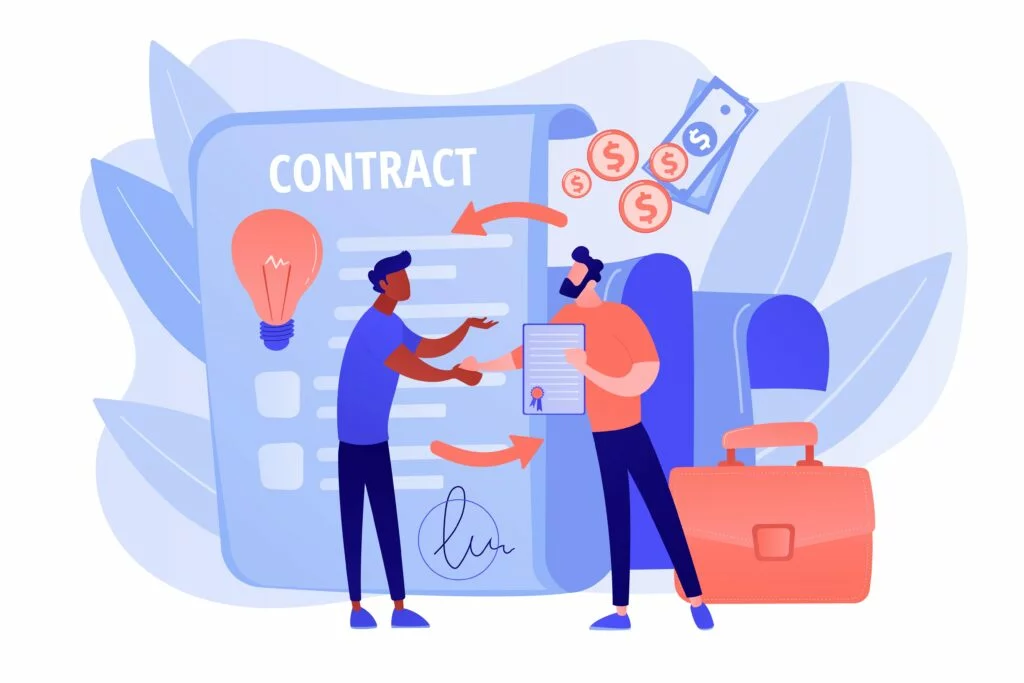 Step 4: Choose the Contract Period
The preliminary tasks of setting up NetSuite are over. Now, comes the major part of the journey which is called the implementation phase. This incurs separate costs depending on the requirements, business complexity, time duration and any other operational challenges while setting up the system for your organization.
NetSuite Implementation Cost
There are several stages in implementing NetSuite for your organization. Each stage has its time frame and involves clinical tasks to identify and provide automated solutions for the business challenges that you would have faced earlier.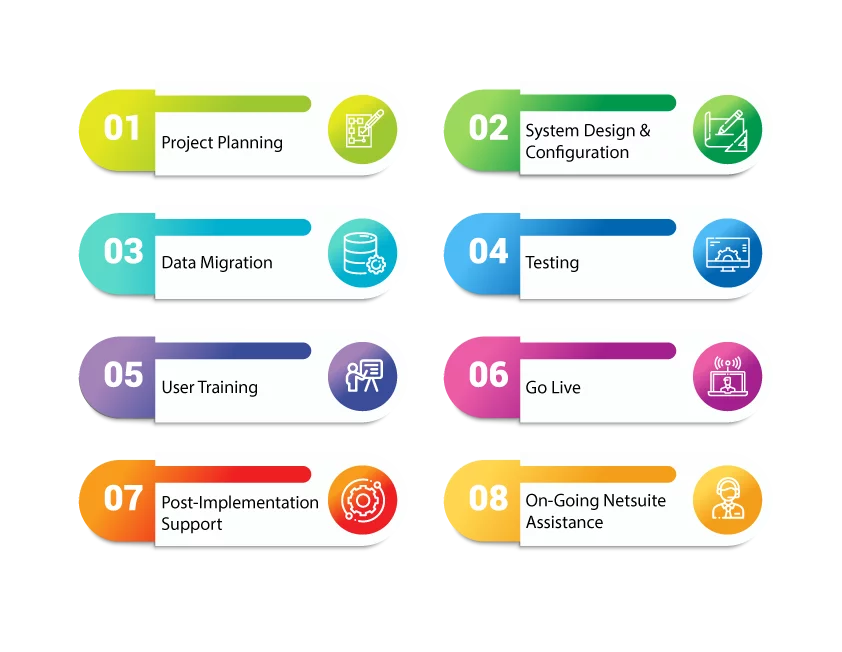 Stage 1: Requirement Discovery
The scope of implementation is identified only in this stage. The time duration for analyzing the processes differs from business to business. The experts shall perform an in-depth analysis of every segment of the process to gain more insights. This helps them offer you the right solution. This team is called the implementation team which works with your existing team closely. They shall also get familiar with the business while doing so. Also, a requirement checklist will be generated. This will be filled by your organization to understand the requirements.
Read More: Top 11 Considerations For Choosing A Netsuite Implementation Partner
Stage 2: Design and User Acceptance
This is a crucial stage and it is recommended to spend a lot of time with the implementation team during this period. This is the step that helps the team configure the requirements and offers solutions with various advanced modules too. This is the stage where your requirements meet the solutions. Also, the testing of the configuration happens. Only after the user acceptance, the process goes to the next stage. You may also have the training to get familiar with the tools and understand their functionality as well. Any type of customization is done during this stage and also tested alongside.
During the design process, you may require customisations to happen. This is of paramount importance for you, as it addresses the prime gaps that NetSuite has in offering services to your organization. You can talk to the consultant to build the custom automation for you. As such, NetSuite offers services to a particular business need too. NetSuite approaches this in two distinct ways
SuiteScripting: If you are looking for a completely new application to automate a particular process, the developers will help you get that done.
SuiteFlow: This is for non-tech people who would like simple drag-and-drop automation services without any coding involved in it.
Recommendation: Allocate extra funds for this customization process. Though NetSuite is comprehensive and robust, different businesses have different needs and challenges to be addressed. That requires customization and it happens through professional help and it does not come for free.
Stage 3: Integrating the ERP Platform
The system is integrated with your workforce. Appropriate training would be offered department-wise. Hands-on experience with the tools can be of immense help. At the same time, full user licenses and critical licensees are given separate training. While this happens simultaneously, the data migration process happens. That means to say, as you complete your training, the system is ready with all the features and your company is under NetSuite's guidance and support for most of the key functionalities.
You must also be aware that training is an ongoing process and every time there is an upgrade, training must happen.
Recommendation:
1. During the Requirement and Discovery stage, you will have NetSuite Consultants either visiting or connecting with you virtually to understand the business. They may ideally charge anywhere between $150 to $250 per hour. The rate largely depends on the expertise of the consultant. If you find anyone charging less than this, you may right away understand that the consultant is not as experienced as the one you wanted.
2. You can also cut down on requirement and discovery costs by talking to the consultant about a turn-key approach for your organization to implement NetSuite. This might save a lot of money and time.
Custom Implementation
NetSuite offers a lot of scopes for customization and they are very helpful for automating the processes and breaching the gaps with standard NetSuite features. In terms of NetSuite customizations, customers generally have two broad options such as SuiteScripting and SuiteFlow.
SuiteScripting helps developers to develop flexible and highly customised business logic for tailor-fit NetSuite implementation as per specific business needs. SuiteScripting helps to automate business processes or to program completely fresh new apps for the business.
SuiteFlow on the other hand helps users without a technical background to create easy-to-interact workflows that allow drag-and-drop and point-and-click actions and gives complete freedom from coding.
Most industry experts suggest that companies should set aside a considerable budget for customization. Though NetSuite is all-encompassing and comprehensive enough for the vast majority of companies, there are many instances where business-specific needs can only be addressed with customization.
Step 5: Implementation Process
Cost for Integration
NetSuite can be readily connected with any leading application. Thanks to the design style right from the beginning as extensibility was the prime motto behind the construction of the platform. The three major options one can connect NetSuite with other applications are:
1. SuiteScript | Suite Talk
You can connect legacy services with NetSuite. SuiteTalk enables the integration of Web 2.0 tools that help in adding blogs, maps or even messaging services. Though it is available with any basic package, there is a cost involved in designing, building and maintaining the services as per the requirements.
2. NetSuite Connectors
There are ready-made applications available for you to connect any application to NetSuite. The application functions in a plug-and-play mode, which makes it ideal for any business to use even if you do not have technical knowledge. Moreover, these connectors are offered by third-party vendors and you can get them for monthly or yearly subscriptions. It may cost you a few hundred for such plans to be subscribed.
3. IPAAS - Integration Platform
1. Dell Bhoomi
2. Celigo
3. Jitterbit
Depending on the complexity of the integration, the solution can be subscribed.
This is the most robust integration method and is expensive too. The NetSuite space has the following solutions:
The flow of action is seamless and you can sign the contract just after Stage 2 of the Implementation process. As that is the stage where both the teams can come to a mutual consent as to what is required and what is not. By then, you could have selected the number of licenses as well as advanced modules too.
Total Implementation Cost
With all your requirements identified, built and customized, which includes data migration as well will cost you anywhere between $25,000 to $75000.
Additional Services Offered by NetSuite
You can consider these options if your business requires such services.
24/7 Technical Support:
NetSuite offers free customer support, if you are planning to convert that into 24/7 support, then you may have to upgrade the plan. NetSuite Support price depends on the contract value. Alternatively, you can also connect with the service provider for your technical needs. Of course, there is a cost involved for that too.
Funding Initiatives
NetSuite Service providers offer finance options for subscribing to any NetSuite package. Of course, the credit history of your company must be healthy for the service provider to take the request. You can also negotiate on the monthly payment plans and continue using the services offered by NetSuite.
Suite Success
It is a product offered for businesses to run live with NetSuite. The product comes with loaded KPIs, and reports, that are customized for your business. You can check with your consultant if your organization requires this product.
Different Service Tiers
Especially for large corporations, NetSuite offers exclusive services in terms of database storage as well as flexibility in receiving updates. To gain greater control and if you are looking at scaling at a massive rate, one can opt for NetSuite Premium tier plans. It is divided into 4 types and you can opt for the best-suited plan.
1. Tier 3
2. Tier 2
3. Tier 1
4. Tier 1+/0
Additionally, if your business always has high traffic, then go for the SuiteCloud Plus license.
Billing Norms
NetSuite subscription ranges from 12 months to 5 years, where we recommend the longer duration package. The bill is generated as due for the year and submitted at the end of the year. If you have paid the full cost to avail discounts and offers, then the bill shall be generated if there was any additional license that you have purchased or the modules that you have integrated. The finance options can be made a monthly payment too. The terms of the subscription as well as payment norms can always be negotiated. The best part about the contract is, even if you sign the package with a vendor, the software agreement is valid for NetSuite as well.
Implementation, Optimisation and Customisation of NetSuite are completely based on your requirement. At the same time, the automation of critical and non-critical tasks will save a lot of time and energy. Also, the employee productivity and incredible inventory management along with a finance tracking system make the software the most needed one. Every step in this article requires you to give deep thought as it involves cost. The duration, contract and discount factors need to be pondered upon to arrive at the right cost structure.

Conclusion
We only could explain the pricing attributes briefly here and provided an outline for the different cost components. With a tremendously modular platform, NetSuite is really helpful in lowering the overall NetSuite cost corresponding to licensing and implementation.