Summary: We explain here the key-value offerings of NetSuite ERP for fashion and retail businesses such as:
Comprehensive Omnichannel retail management system
Seamless order management
Single window inventory and stock management
E-commerce management
Integrated POS solution
Multichannel CRM solution
Product information management

The phenomenal popularity and penetration of enterprise resource planning software across the industries are growing at a rapid pace. According to a Statista report, the global enterprise resource planning (ERP) market volume is estimated to cross 100 billion U.S. dollars by 2025. Two leading cloud software companies Oracle and SAP are leading the ERP automation market in the world, Oracle NetSuite for retailers has particularly evolved as the most preferred ERP system irrespective of business sizes and niches.
The fashion and apparel industry is stepping in the path of business process automation through cloud ERP systems. Thousands of fashion retailers and manufacturer brands all over the globe have embraced the NetSuite ERP system for their business processes. While using NetSuite fashion and apparel brands experience a high level of customisation specific to their industry, frequent value additions through updates and highly modular architecture to suit the evolving business need.
How NetSuite experience is propelling the growth for the fashion and apparel industry can be understood best by explaining the components and features that address the specific constraints and requirements of the industry. NetSuite as the most customisable ERP system is continuing to add value to the fashion retail and manufacturing businesses by streamlining various processes and by delivering an omnichannel e-commerce solution covering point of sale (POS) systems, marketing, financials, warehousing, inventory, order fulfilment and order management.
Since many retail apparel and fashion accessory brands also work as the manufacturers and wholesale distributors of their products, the ERP systems need to address the requirements of both the retail and manufacturing industries through a single suite of modules. The fashion and apparel industry players also need to address a variety of customer preferences across diverse retail channels. Moreover, the legacy software systems used by fashion brands often need to integrate with NetSuite for a streamlined operation. The modularity of NetSuite in accommodating a variety of third party software systems is a key value proposition for the fashion and apparel industry.
Here through the length of this blog post, we are going to explain how the entire NetSuite product family comprising different software modules help fashion and apparel businesses to streamline their operation resulting in increased customer satisfaction and sales.
Key Reasons For Fashion & Apparel Brands To Prefer NetSuite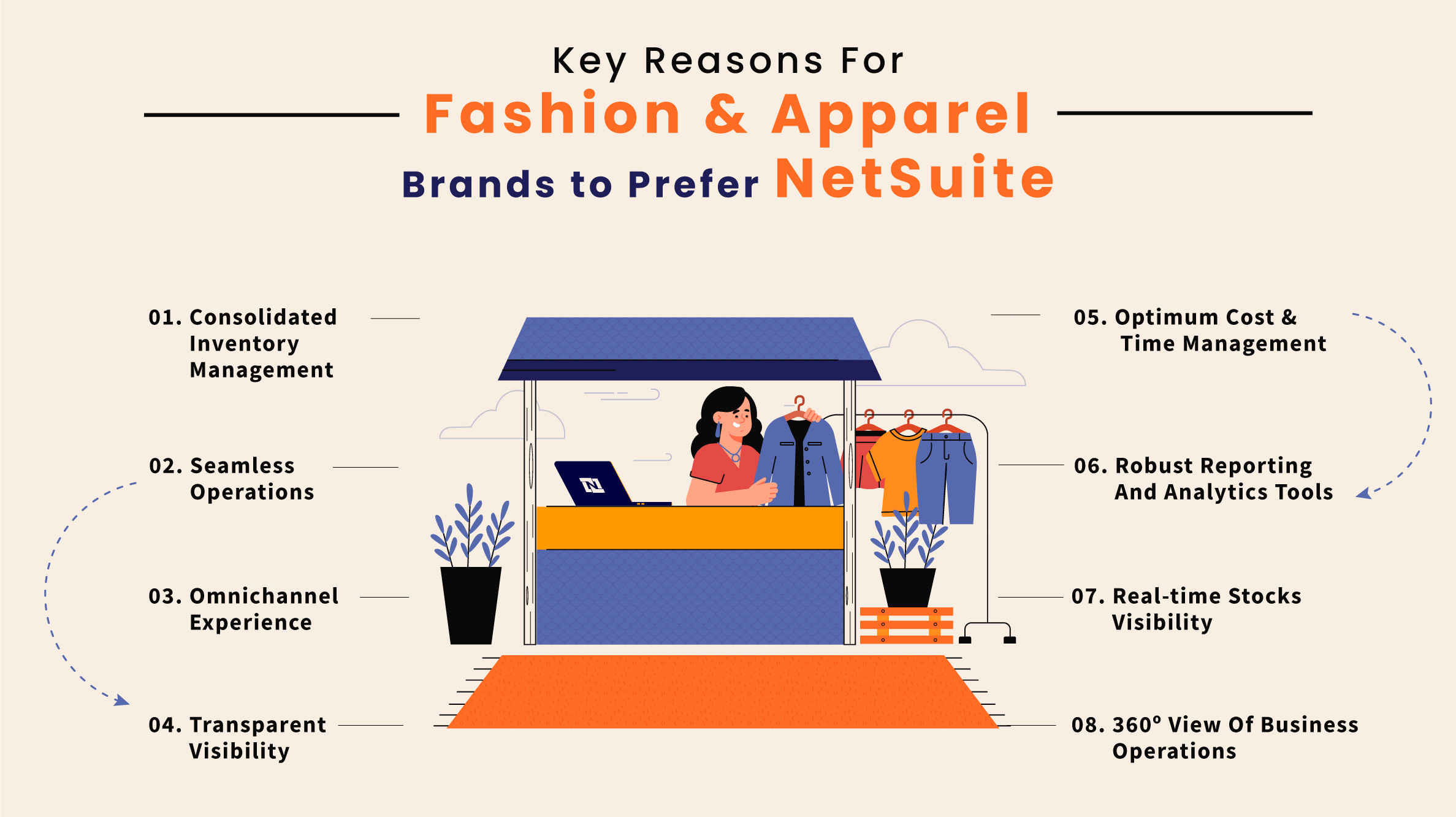 Several key value offerings made NetSuite for apparel and fashion brands the most preferred ERP system. Let's have a quick and brief glance at these NetSuite offerings.
The consolidated inventory management system allows the business to get a complete view of the inventory so that it can be made available from nearby stores when needed.
All the core functionalities for business operation such as products, services and third-party tool integrations are managed seamlessly by the NetSuite ERP system.
Consolidated, transparent and instantly trackable system of NetSuite ensures delivering a true Omnichannel experience to the customers by allowing them to purchase, return, get a refund or fulfil orders anytime and from any location.
Businesses get transparent visibility of the cost components and financial indicators throughout the business process covering financial attributes such as cost of goods and raw materials, taxes, shipping and transportation cost, and various fees.
Thanks to optimum visibility of the entire business operation and neat controls over every business process and component, NetSuite ensures optimum efficiency regarding cost and time management resulting in a higher return on investment.
NetSuite offers robust reporting and analytics tools to help businesses get complete control mechanisms involving different dashboards, reports, business-specific KPIs and metrics.
NetSuite also integrates existing third-party software systems and their data ensuring consolidated data access and seamless operation. For example, an apparel business can connect NetSuite to Excel sheet data for better utilisation in the business process.
NetSuite ensures real-time and clear visibility of stocks across all business channels to ensure refurbishing of stocks in time and making stocks available smoothly across all selling points.
NetSuite helps business managers in the fashion and apparel industry with a robust mechanism for faster and more informed decision making. Business managers get a real-time 360º view of all key business operations through a consolidated dashboard to take quick and informed decisions.
NetSuite ERP system for fashion and apparel brands ensures enhanced business conversions across online retail channels by streamlining digital customer interactions, dynamic product galleries and catalogues, customer reviews, ratings and promotions.
NetSuite also reduces the overhead costing through unifying a variety of features and capabilities dealing with entire business operations including inventory, sales, and order management.
NetSuite has empowered many retail and manufacturer brands in the fashion and apparel industry with a streamlined cloud-based ERP automation ensuring optimum visibility and traceability of goods, materials, stock and inventory data, operational metrics, financial indicators, market KPIs and pretty much everything in between. No wonder, NetSuite apparel customers range from large global business brands to promising startups to small and medium businesses operating locally all over the globe. With NetSuite, businesses can manage their entire operation through a single, consolidated, multilayered and highly customisable platform.
Now, let us explain the key software suites offered by NetSuite for the fashion and apparel industry. Before you hire any of the leading NetSuite integration partners, it is important to have an in-depth understanding of these NetSuite modules useful for the fashion and apparel businesses.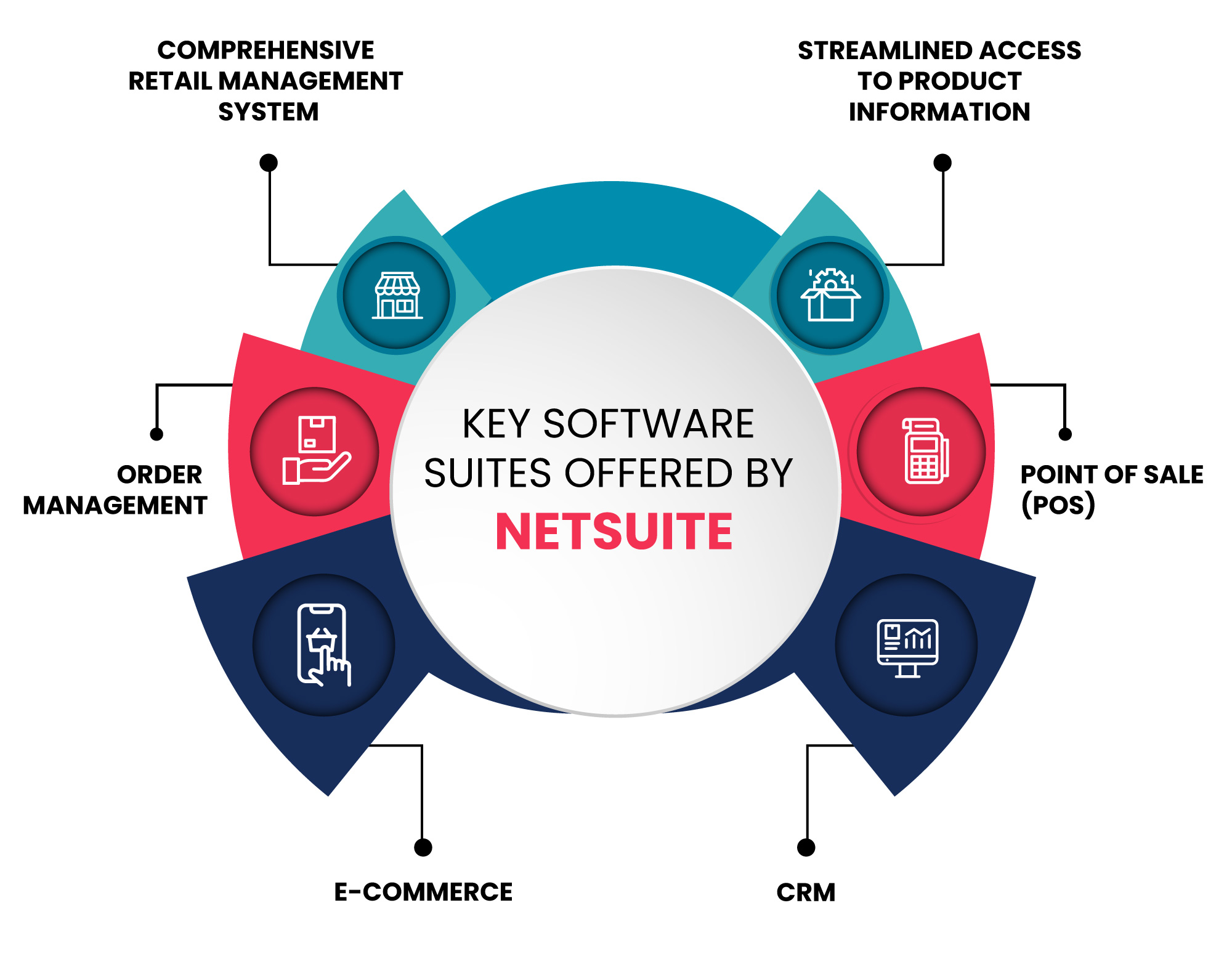 Comprehensive Retail Management System
NetSuite offers the most comprehensive cloud business ERP system accommodating every business process and step of a retail business operating across multiple channels and locations. NetSuite offers the most complete retail management system covering all aspects of the operation including Point of Sale (POS), eCommerce, customer relationship management (CRM), marketing, inventory management and order fulfilment, accounting and financials.
As a consolidated retail management system, NetSuite offers real-time visibility of the entire retail business operation ensuring access to business information and metrics anytime anywhere. Thanks to NetSuite, fashion and apparel retailers get a unified single view of the business operation across multiple locations and channels. Retailers by hiring custom NetSuite implementation services can further reap the advantages of different modules for retail management. With NetSuite. all information starting from POS to order management to inventory to CRM to financial processes remain updated and accessible to all stakeholders. Managing your retail business operations and making informed decisions extremely easier thanks to NetSuite's robust retail management system.
Order Management
NetSuite allows you to manage all your orders across different channels including in-store orders, online orders, call centre queries, mobile e-commerce orders and orders received through kiosks and third-party sellers. You can manage orders from all these channels across multiple locations just through one place.
Moreover, order fulfilment becomes extremely easier thanks to real-time visibility of the stocks and inventory data. With NetSuite, retailers can ensure purchase and fulfil anywhere experience for customers as retailers can make the stock immediately accessible from the nearest store and fulfil orders with ease. This faster order processing ultimately results in a more satisfactory customer experience with a reduced cost of operation.

Streamlined Access To Product Information
NetSuite allows you to manage all product information including both structured and unstructured product details just in one place and keep all channels and retail locations on one page regarding the product details. This results in improved customer experience across multiple channels and a consistent brand presence. Any change corresponding to the product details or content instantly becomes updated across all channels and locations leaving no scope of confusion.
Point Of Sale (POS)
NetSuite apparel and fashion ERP by offering a robust and dynamic Point of Sale (POS) system helps streamline the entire sales process. NetSuite also allows integrating existing third-party POS software systems to reduce frictions for NetSuite implementation. The NetSuite POS management is geared to meet the demands of the omnichannel shopping experience resulting in enhanced customer loyalty and sales.
E-Commerce
NetSuite ERP comes with integrated support for eCommerce and online retail operations for both B2C and B2B segments. The flexible and customer-centric features of NetSuite ensures flexible B2C business operation with interactive and personalized consumer experience. On the other hand, the robust business process automation allows B2B brands to fulfil their client requirements with several unique features and value-added support.
CRM
NetSuite offers an integrated and robust CRM solution that can bring together multilayered customer data across channels within a single unified repository ensuring a comprehensive view of all customer data across the channels and interfaces. This consolidated and transparent CRM allows business managers and marketing heads to stay informed about the evolving customer preferences, behaviour and interactions, market trends and transaction types.
With meticulous details of each customer journey and interaction, the CRM helps create complete customer profiles that can be used for loyalty programs, personalized marketing, retargeting, merchandising and customer-specific promotions.
Conclusion
NetSuite is vast, robust, exceptionally customisable and flexible to meet the industry-specific requirements to automate business operations. Since the fashion and apparel industry requires robust cross channel capabilities, NetSuite with its diverse modules, consolidated architecture and single-view access to data comes as the most appropriate ERP system for the industry.