Every business needs to stay informed concerning the opportunities for generating more revenue and managing the revenue sources more efficiently. This is why revenue recognition and management remain always important for any growth aspiring business irrespective of niches. But revenue recognition becomes complex as the financial measurements and benchmarks continue to evolve at a rapid pace. This is where the revenue recognition software plays a crucial role by streamlining financial tasks and by generating mission-critical data-driven insights. These software solutions also play a key role in meeting industry-specific compliance and regulations.
Several popular ERP solutions in the market are less equipped to streamline financial operations to reduce errors, generate data-driven insights, ensure real-time data visibility, and reduce risks of non-compliance. In contrast, NetSuite revenue management provides all these under the hood of the NetSuite ERP system. The global revenue management market is estimated to grow at a yearly rate of 9.6% and will grow from $14.1 billion in 2019 to $22.4 billion by 2024. This growth is likely to be achieved due to these modern capabilities such as financial process automation, real-time financial insights and inbuilt mechanisms for compliance.
Source: MarketsAndMarkets
With so loud buzz going on around the latest NetSuite Advanced Revenue Management (ARM) module, it is important to take a closer look at all the capabilities, features and benefits it offers to the businesses. Here we are going to explain all these in detail.
What Exactly Is The NetSuite Advanced Revenue Management (ARM) System?
NetSuite Advanced Revenue Management (ARM) comes as a value-added and optional module that NetSuite ERP users can use for revenue recognition and management. The module comes with key capabilities and features such as streamlined revenue scheduling, revenue allocation and revenue reporting. Moreover, every business based upon its particular needs can roll out particular rules for recognising revenue generated by each business product or service. These rules further linked with particular customer contracts can result in complete revenue recognition automation of the entire process. Lastly, the advanced revenue recognition in the NetSuite system adheres to the popular and acclaimed compliance standards such as ASC 606, IFRS 15 and others.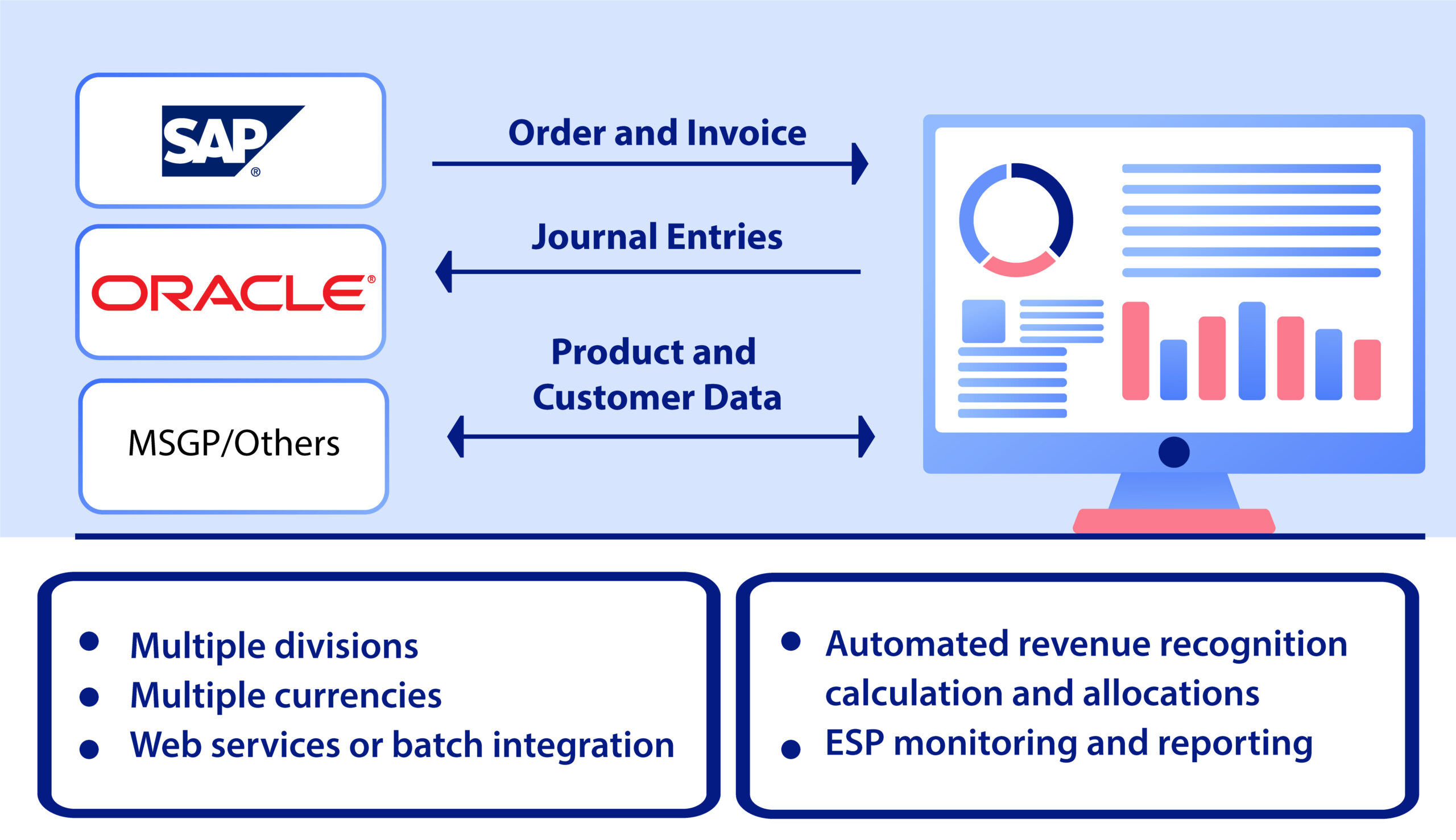 Before you reach out to a reputed NetSuite ARM implementation company for guidance regarding this module, let's have a look at its key capabilities.
A stand-alone process for revenue recognition other than billing & invoicing.
Streamlined and integrated workflow allowing recognition in parallel with billing.
Facilitating both single time and repeated billing mechanisms for recognising revenue of subscription-based as well as maintenance services.
Revenue recognition for global companies dealing with multiple currencies and having multiple subsidiaries.
Real-time access to financial insights and reports.
Why Is The NetSuite Advanced Revenue Management System (ARM) Needed?
NetSuite revenue recognition in many ways helps finance teams to carry out their tasks more efficiently. Traditionally, finance professionals often depend upon complex spreadsheets making productivity suffer resulting in a lack of data visibility and frequent errors. These challenges are common for all other ERP systems and this is where NetSuite provides us with a very efficient solution for streamlined and effortless revenue recognition.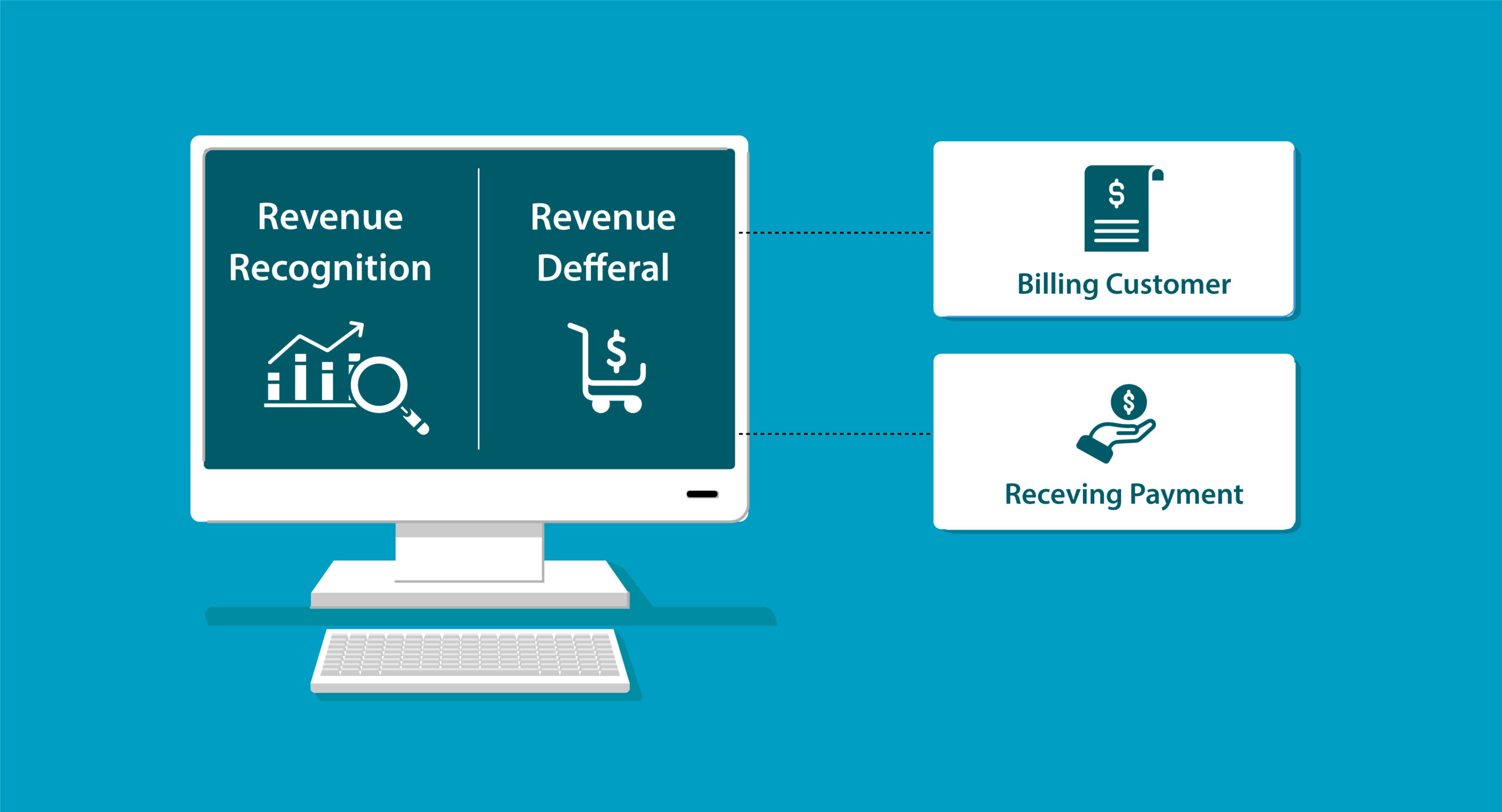 Some of the key reasons for which NetSuite ARM implementation is needed by businesses include the following.
Automating the revenue recognition and management processes.
Streamlined updates synced with all the important regulatory and compliance standards.
Seamless real-time visibility of financial processes and data-driven insights.
Integrated access to this advanced module along with the most popular ERP automation system called NetSuite.
Expressly Developed To Meet The Industry-Specific Needs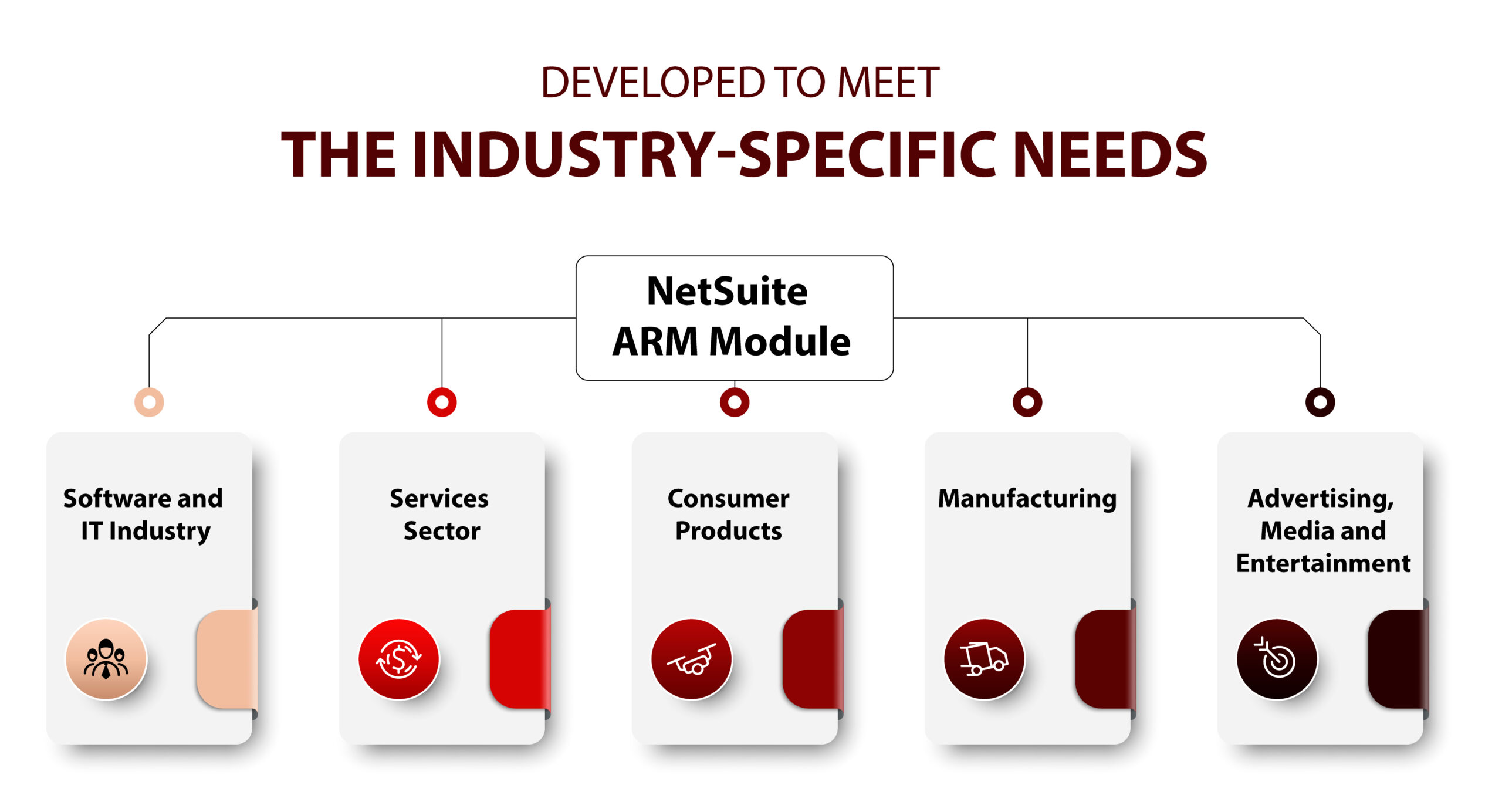 This NetSuite revenue recognition module working alongside NetSuite accounting software, billing and invoicing processes meet a whole array of industry-specific requirements. The module meets the needs of requirements of various industry niches ranging from software and IT, manufacturing, retail, service sector, advertising, media and entertainment and many others. Let's have a look at some of the industry-specific challenges that can be solved by this module.
In recent times major changes are undergoing in the software and IT industry and standards such as VSOE, TPE, and ESP are being eliminated creating a large scale impact on the way tech companies fix prices for transactions. The advanced and real-time insight based revenue recognition capabilities of NetSuite ARM here can make a significant difference.
In the service sector bundling software solutions and hardware with services has already become an established practice. According to the demands of these software-based services, businesses need to ensure uncompromising performance. The automation capabilities of this module in streamlining financial tasks can play a crucial role in fulfilling these performance obligations.
The retail and consumer products market for staying competitive in the market needs to roll out customer-loyalty programs and a variety of programs boosting sales. These market-focused measures make a considerable impact on the revenue generation of any company. NetSuite ARM module is all equipped to accommodate these evolving revenue streams across the business niches.
In the manufacturing industry now the new ASC 606 standard allows recognising revenue generation within the process instead of following the traditional approach of recognising revenue at the time of delivery. NetSuite ARM is fully compliant with this latest revenue recognition standard.
Advertising, Media & Entertainment
In the media, entertainment and advertising industry also the latest practice of recognising revenue through intellectual property (IP) rights of content has become popular. The new NetSuite ARM system ensures continuous revenue recognition instead of waiting for the specific time of publication.
NetSuite ARM: 4 Key Modules Under the Hood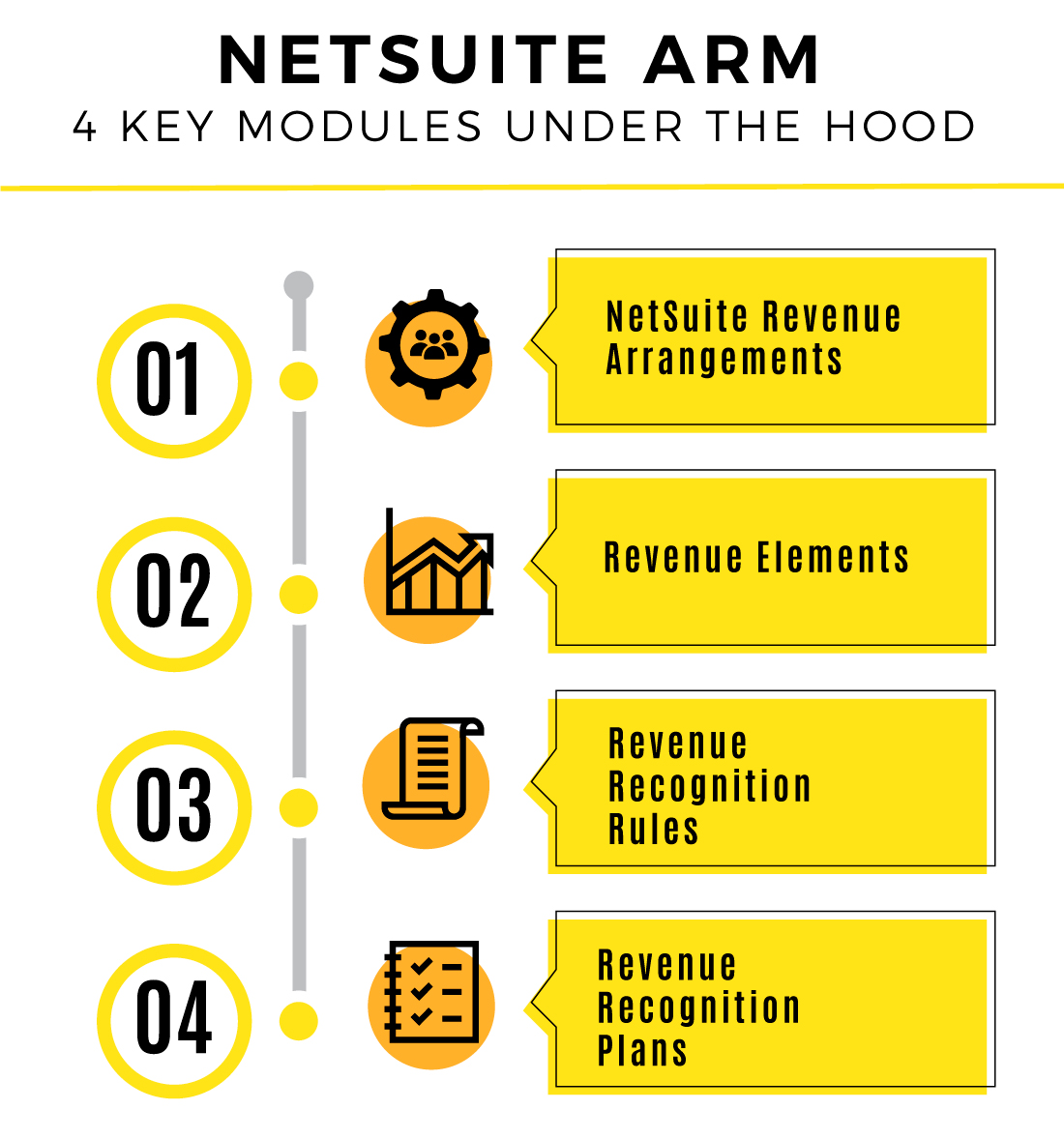 NetSuite Advanced Revenue Management (ARM) system offers 4 key modules. Let's explain them one by one.
NetSuite Revenue Arrangements: This is the module responsible for handling the specific attributes and details corresponding to the customer performance. The module also deals with the responsibilities and obligations for recognising and allocating revenue. The best thing about the module is that it automates the process of allocating and arranging revenue streams.
Revenue Elements: This ARM module is responsible for storing all the revenue recognition data along with information on particular revenue sources and streams.
Revenue Recognition Rules: This ARM module is there only to store information required to recognise all specific revenue streams. The module offers comprehensive data about the recognition method, the entire sequence of data sources, etc.
Revenue Recognition Plans: This module of NetSuite ARM deals with the preferred forecasting methods and the way revenue recognition information is stored through the database entries.
All the above-mentioned modules of NetSuite ARM provide full support to all types of sales and business transactions happening at different points of time and correspond to various revenue recognition milestones across business transactions.
Key NetSuite ARM Features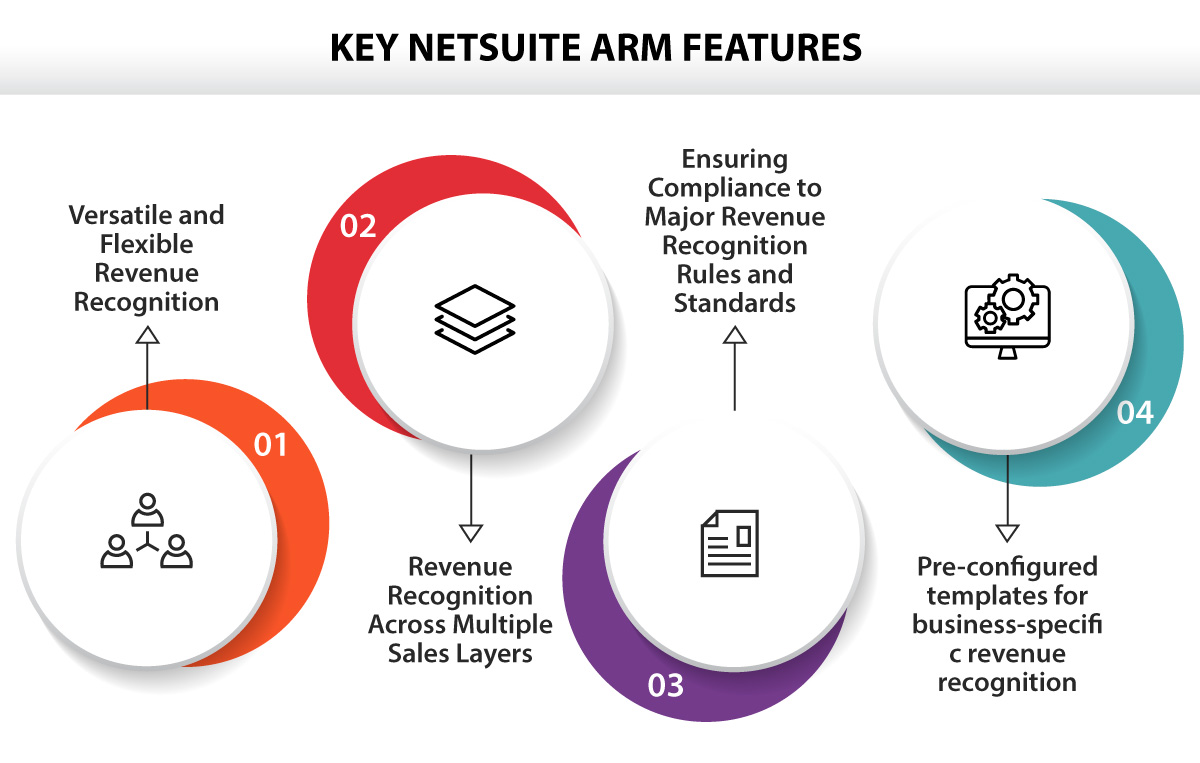 Now that we have a comprehensive idea of what roles the NetSuite ARM system plays and its variety of modules, it is important now to have a closer look at the key features of the system.
Versatile and Flexible Revenue Recognition
NetSuite ARM by offering comprehensive support for all revenue recognition schedules covering a multitude of transactions and sales across industries provides the most versatile and flexible revenue recognition solution. This flexibility stands out with the following capabilities.
Can cater to multiple industry needs without compromising on performance.
Offers real-time notification just when revenue is about to be recognized.
Meeting global business management requirements through multi-currency and multi-subsidiary support.
Accommodating simultaneous workflow for both revenue recognition and billing.
Ability to recognise revenue through a standout process other than billing.
Efficient Revenue Recognition across Multiple Sales Layers
NetSuite ARM also comes with the ability to recognise revenue for multifaceted sales processes involving several layers and stages. Let's go deeper into this feature.
NetSuite ARM can compare the estimated selling prices with that of actual prices by providing detailed reports comparing the scope of revenues with both. This ensures higher precision in revenue recognition.
NetSuite ARM provides full support to different units of accounting and sales prices for different elements arranged following protocols such as VSOE, ESP and Third-party Evidence(TPE).
NetSuite ARM also helps financial experts to monitor and manage Estimated Sales Prices (ESPs) against the actual prices across different business channels.
NetSuite ARM ensures optimised flexibility to create business-specific schedules based on each item to ensure streamlined order value reallocation for every item in the order line.
Ensuring Compliance to Major Revenue Recognition Rules and Standards
Another key NetSuite ARM feature is inbuilt support to adhere to the latest revenue recognition rules and standards. This feature keeps businesses free of worries regarding compliance issues.
It follows the suitable and appropriate method for streamlined revenue recognition across different lines of products and services.
ARM offers full ESP management and support.
It is equipped to adhere to the compliance requirements for all latest revenue recognition standards such as Vendor Specific Objective Evidence (VSOE).
Pre-configured Templates For Business-Specific Revenue Recognition
The new ARM further automates the NetSuite revenue recognition process by providing a variety of templates befitting particular business niches and scenarios. Let's go deeper into these templating capabilities.
The pre-configured templates of the Advanced Revenue Recognition NetSuite ERP system cover almost all the common revenue recognition methods.
These pre-configured templates can further be customised to the particular revenue recognition goals.
These revenue-recognition templates can easily be applied to every line item in the invoice.
NetSuite ARM Benefits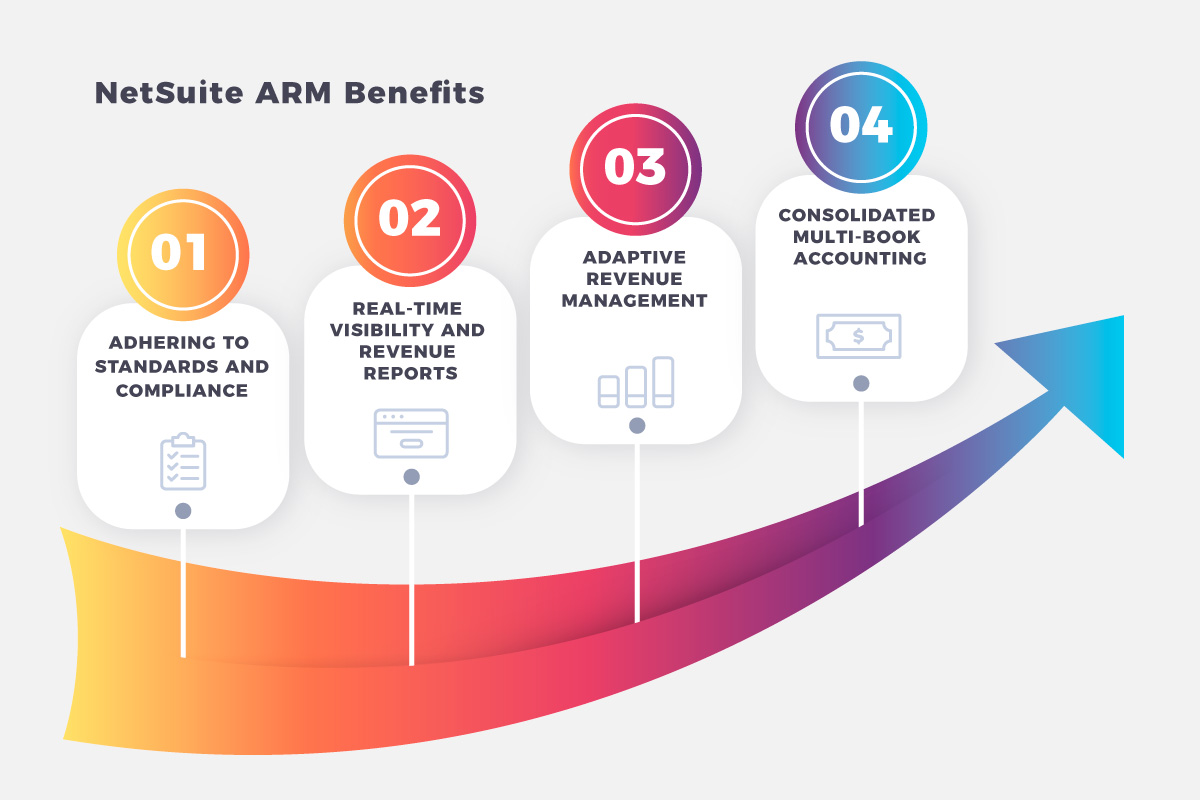 Now that we have explained the modules, features and capabilities of NetSuite ARM in detail, it is time to give attention to the particular benefits industries can reap from these features. Here are the key benefits.
Adhering to Standards & Compliance
The revenue recognition process needs to adhere to certain industry standards and compliance rules. These standards and compliance rules also evolve continuously creating more challenges for revenue recognition. NetSuite ARM is fully equipped to meet these compliance requirements.
Real-time Visibility and Revenue Reports
NetSuite ARM also ensures real-time visibility of revenue data and access to real-time revenue reports along with revenue forecasts for different time frames in the future. From one-time sales to complex and multilayered transactions involving several different deliverables, NetSuite ARM can dig out data-driven insights and prepare comprehensive reports.
Adaptive Revenue Management
NetSuite ARM is highly adaptive to adjust to the variety of revenue elements within different revenue arrangements as per the industry requirements. The flexible revenue management of NetSuite ARM can flexibly accommodate various revenue rules, revenue recognition timeframes, revenue allocation amount across different revenue performance benchmarks and metrics.
Consolidated Multi-Book Accounting
The NetSuite Advanced Revenue Management (ARM) systems can work alongside the multi-book accounting capability of NetSuite to help register every single transaction under multiple accounting books while accommodating multiple currencies and corresponding fluctuations in the currency exchange rate.
What Are The Key Issues Solved By NetSuite ARM?
For businesses, NetSuite ARM offers a range of solutions for different issues. Let's have a look at the key issues solved by NetSuite ARM. Here we explain the key issues.
NetSuite ARM as an inbuilt NetSuite feature completely streamlines revenue management tasks and thus reduces process complexity.
NetSuite helps businesses completely do away with the expensive auditing and prevents error-prone and inconsistent manual allocation of revenues.
Through real-time revenue data visibility and recognition of revenue triggers NetSuite ARM helps businesses to do away with siloed reporting.
Through easy modification of revenue plans to accommodate evolving scenarios like postponed projects, late shipments, etc NetSuite ARM gives businesses better controls on uncertainty.
NetSuite ARM through real-time reporting and access to data-driven insights helps remove revenue forecasting difficulties.
What Does NetSuite ARM Cost?
NetSuite ARM is available as a value-added module for NetSuite ERP clients. NetSuite ERP is already popular worldwide as the most comprehensive, flexible, scalable and customisable ERP automation suite offering every different software application and tool for businesses of all sizes and niches.
You need to purchase a NetSuite license against a subscription fee and based upon your needs can opt for NetSuite ARM as an additional module. NetSuite Advanced Revenue Management (ARM) module comes as an updated and value-added version of the standard NetSuite revenue management module.
Why VNMT?
VNMT is a leading Oracle NetSuite Alliance Partner with proven expertise in the field of financial modelling and revenue recognition. At VNMT we have a dedicated team to look after the modules of the financial vertical. We are sought after as a custom NetSuite implementation company to leverage diverse NetSuite modules and solutions as per business needs. If you need to consult on NetSuite ARM implementation for your business, our experts are here to reveal the way one can reap the advantages of this NetSuite module.
Final Note
NetSuite is arguably the only ERP system making such a prolific range of value additions and feature set for every industry vertical and business niche. Every subsequent enhancement of existing NetSuite modules ensures great value propositions for business clients using NetSuite ERP. The new Advanced Revenue Management (ARM) module just offers another example.