Do you want to multiply the satisfaction level among your customers? Do you want the ability to manage the integration of customers' interactions in one place without leaving your desk? Zendesk and NetSuite integration can help you out.
Undoubtedly, every company wants to enjoy all these benefits with the lowest efforts.
So what's the strategy being followed by your company? Is it using NetSuite? Or Zendesk?
Nowadays, every company prefers to work on either of them. But do you know the retrospective effect that you and your company can enjoy by integrating Zendesk and NetSuite?
Integrating Zendesk with NetSuite will make you realize how easily you can simplify the twisted threads of the entire system. In fact, Zendesk's integration offers innovative customer experience solutions that can help your business to improve customer interactions. Running a business is a challenging task with a system that takes hours to reach out to customers. But this statement doesn't hold well with integration.
Let's first understand how Zendesk NetSuite integration can help you with your customer experience:
How Do Zendesk And NetSuite Integration Help In Enhancing Customer Experience?
One of the modules of NetSuite is customer relationship management (CRM) software that integrates easily with Zendesk. Besides, NetSuite provides an easy way to link your Zendesk account with your company's existing invoices and billing systems. It gives customers a platform for contacting you, requesting support tickets, and viewing their account information. Plus, all your customer support interactions are automatically coordinated between Zendesk, and your company's other support channels (e.g., Chat, Twitter, Facebook).
Sometimes, finding the time to do even the simplest of tasks can be challenging. In such a scenario, discussing, and coordinating multiple programs and software applications is a next-level thing. This is where Zendesk NetSuite integration services can be a customer relationship management (CRM) software utilized to enhance the customer experience in 8 different ways.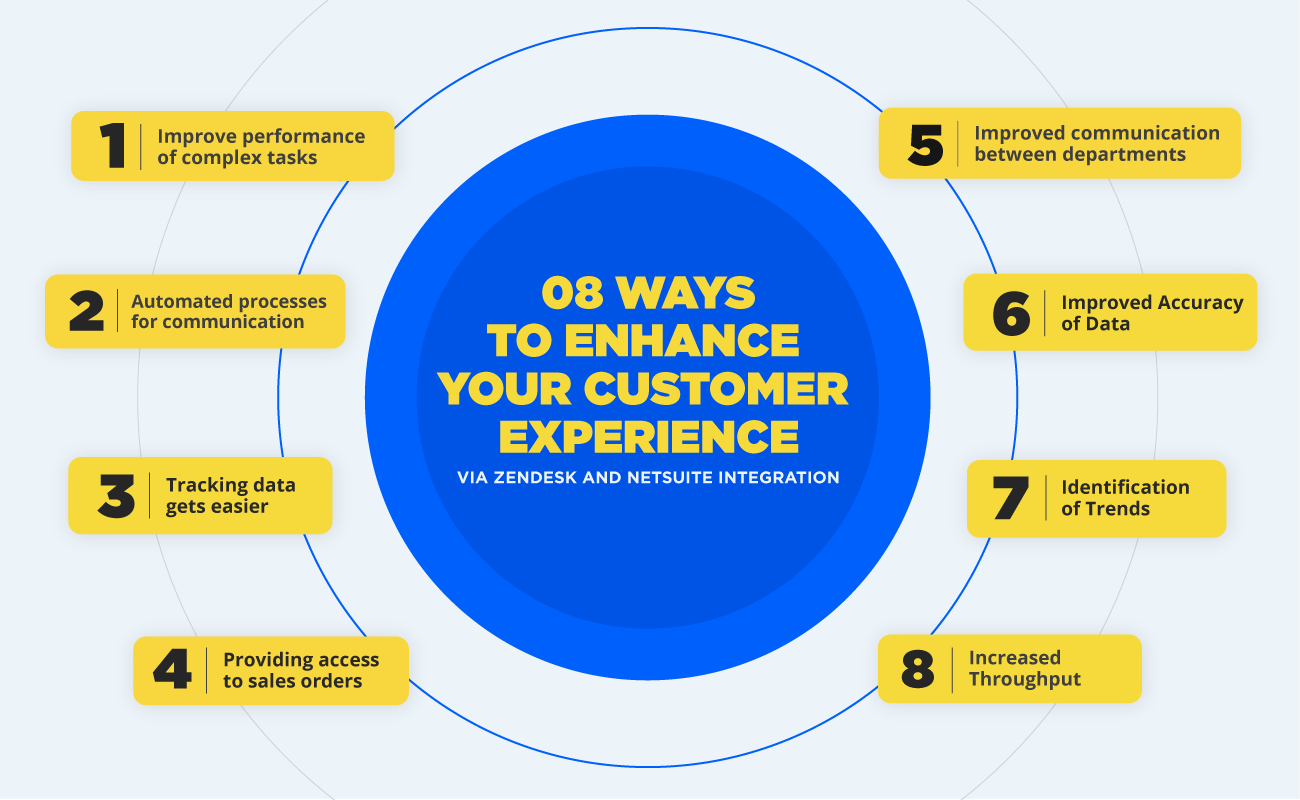 1. Simplifies Complex Tasks
With their ability to automate tasks like email marketing, lead capture forms, and social media outreach, you'll save on time and resources. Consequently, having all your customer data in one place will make managing your customer relationships much more accessible.
Not only this, you can streamline your customer information by consolidating all the data at a single location, including past chat history, customer experiences, and like. All thanks to the Zendesk NetSuite integration whereby you can save a lot of your precious time in looking for things and utilizing the same time for further improving your customer experiences.
2. Automation Of Communication Processes
Zendesk NetSuite integration can help you to eliminate or reduce human involvement without hampering the customer experience and satisfaction level. In fact, you can multiply your customer experience by adding the element of accurate and timely responses to their queries by automating FAQs. Moreover, such integration works as a self-service tool for your customers with the help of FAQs chatbots, converting your customers into happy ones.
With this integration, you can also automate your customer relationship management process. These involve leading, nurturing, and automated shipping notifications. Moreover, this will allow you to focus on other tasks while keeping your customers on top of your mind. It also helps to reduce time spent on support requests.
3. Easy Track Of Customer Interactions
You can review your average customer interaction by integrating Zendesk and NetSuite. This will ultimately help you to improve your customer experience (CX) strategy and offer a more valuable, pleasant shopping experience. And the more enjoyable the interactions become, the more likely it is that customers will become loyal to your company.
It can also help you identify insights on customer behavior and trends in your customer data to make informed decisions about your business. Further, it allows for real-time communication between employees and customers.
4. Improved Communication Between Departments
Did you know? You can now enhance collaboration between your sales, marketing, finance, CSR, and other teams by easily integrating NetSuite and Zendesk. Such a collaboration which is made possible with the integration can help your company and team to teach the aspects of consistency and a more personalized experience to the customers.
When Zendesk and NetSuite are integrated, it can also facilitate incident resolution, faster and improve coordination between various teams. In fact, all the data can be made available on a single platform to make decision-making easier and quicker for you.
5. Measure Customer Experience
Customers have high expectations, and if your company fails to meet them, they will go to your competitors. Without measuring customer experiences, a company may lose customers without knowing why. Examining that data can reveal communication gaps, familiar occurrences that drive customers away, and other poor practices.
Now it has become quite easy to examine such data and measure metrics for your customer experiences such as Net Promoter Score (NPS) and Customer Satisfaction (CSAT). All thanks to the integration of Zendesk and NetSuite. In fact, one of the most important initiatives your company can undertake is measuring the customer experience. This is because when properly collected and acted upon, feedback may be utilized to refine your marketing message, enhance your products and services, inform your sales strategy, and much more.
6. Improved Accuracy Of Data
With normalized data, businesses can quickly identify inaccuracies and inconsistencies in the customer's data. Additionally, it leads to better decisions about marketing efforts and product development. This further allows service reps to access their customers' contact data so they can resolve issues more quickly.
7. Manage Customer Feedback
A customer feedback process is designed to identify "pain points," or things that especially infuriate and offend the user. Of course, this is a tricky task since you do not know what more negative feedback you will receive. However, without a customer feedback process, you risk missing out on essential comments and opinions. You can use real user experience to determine which components or aspects need to be improved or removed entirely.
All this is possible to manage by integrating Zendesk and NetSuite. Such integration not only helps save everything in a centralized system but also categorizes and prioritizes them to multiply the customer experience.
8. Increased Throughput
Integrating ERP systems helps businesses process data faster and ensure accurate forecasting. This leads to improved decision-making because actions can be taken based on insights. These insights come from the data instead of assumptions or gut instinct alone.
Further, this improved data collection from customers to help improve the overall effectiveness of sales and marketing efforts. You can provide them with even better services later on in the future for their better experience. Over and above, this integration gives customers the ability to control their contact information across all channels.
Conclusion

NetSuite Zendesk integration can help businesses manage customer interactions, communication, and data. This integration can help companies to save time by automating everyday tasks, such as collecting contact information or keeping track of employee assignments. Plus, it can prevent potential breaches in customer data by automatically sending notifications when changes are made to a customer's account. If you're looking for a tool to help your business operate more efficiently, give NetSuite Zendesk integration a try! You can also contact NetSuite Integration partners in Australia to make things very easy for you and your company. By accessing customer data from one platform, companies can provide a better customer experience by automating tasks and providing helpful tips.