Have you heard about the launch of Celigo Cloud Extend? Celigo Cloud Extend Outlook for NetSuite is their newest application extension that provides users with enhanced productivity and flexibility. It's hugely beneficial when it comes to working with cloud-based applications.
On top of that, the customers of NetSuite can use Celigo iPaaS (Integration Platform-as-a-Service), which offers an entire integration platform. It's intended to link corporate applications and automate business processes swiftly. Moreover, doing this may save time on manual data input and manage using spreadsheets and emails. In addition to it, it can resolve the costs associated with data silos.
Some Key Advantages of Cloud Extend for NetSuite Users
Access to files and applications from anywhere
Integration with social media and communication tools
Improved collaboration through groupware features
Real-time access to company data
Advanced filtering capabilities
Efficient file sharing across devices
Secure access to sensitive information
Case study: 
Celigo Cloud Extend Outlook for NetSuite is a cloud-based information technology (IT) management solution. It provides centralized visibility and control of IT resources across the enterprise. Else, businesses can quickly deploy applications, allocate computing resources, etc. Additionally, they can manage bandwidth allocation and optimize costs.
The case study on Gateway Products Pty Ltd is about how Celigo Cloud Extend helped them to automate and streamline their business processes using NetSuite. Gateway Products is a company that provides hardware and software solutions for the industrial automation market. They were facing challenges in managing their inventory, orders, and customer data across different systems.
By implementing Celigo Cloud Extend for NetSuite, Gateway Products was able to automate the integration of their e-commerce platform with NetSuite. This allowed them to seamlessly transfer data between the two systems, such as customer and product information.
As a result, they were able to improve their inventory management and reduce manual data entry errors. They also were able to increase their sales by automating their order processing, which increased their efficiency and allowed them to take on more customers.
Source: This case study is originally published on celigo cloud extend
Top Features of Celigo Cloud Extend - Enhance your NetSuite's User Experience
Celigo Cloud Extend is NetSuite's official add-on for businesses and gives users access to essential data and resources.
Here are some key features of Celigo Cloud Extend that enhance the NetSuite user experience:
1. Integration with Google Drive
The first feature is that it provides integration with Google Drive. Also, it will automatically sync files between NetSuite and Google Drive. In the bargain, it is beneficial for companies because they do not need to worry about the expense of hiring employees. They can manage their file storage system without them.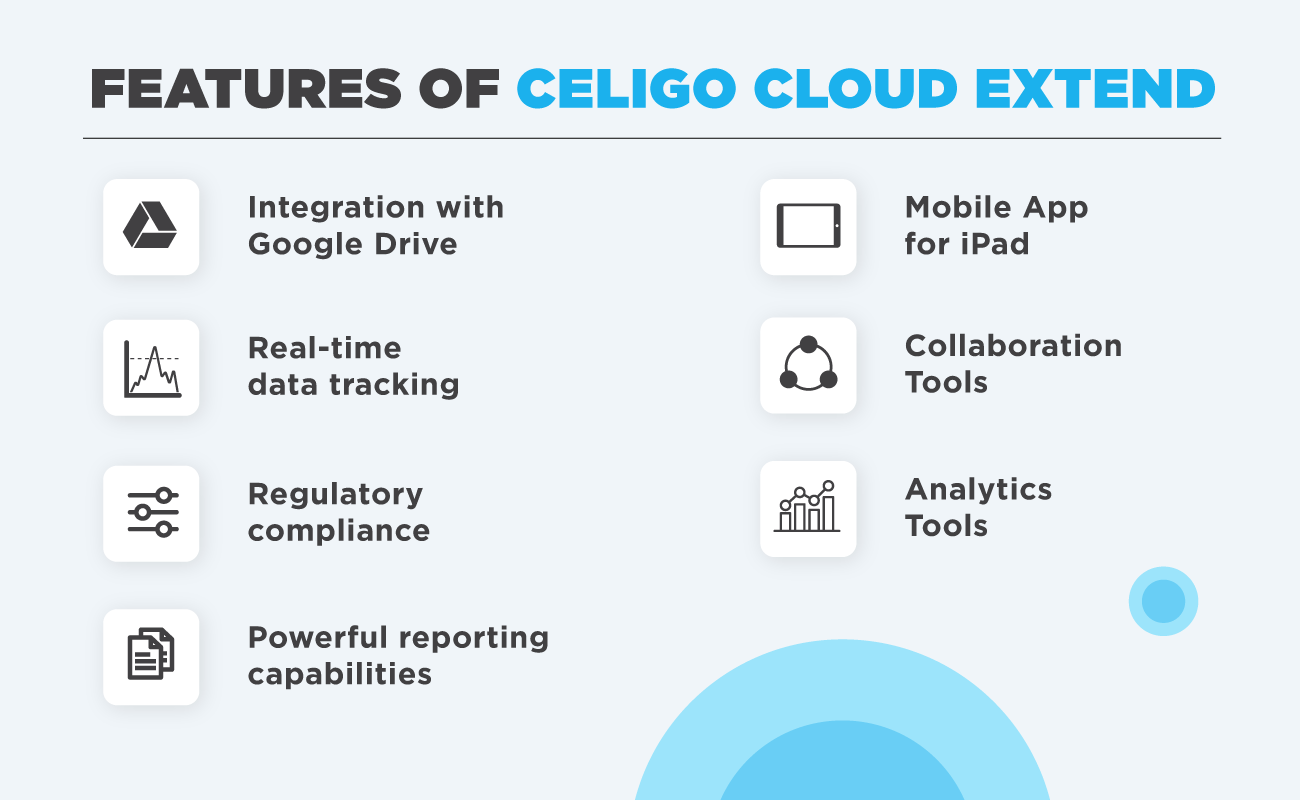 2. Real-time data tracking
It captures real-time data from product sales to greenhouse operation performance. This information is then accessible from NetSuite, allowing users to track progress and quickly make informed business decisions.
3. Regulatory compliance
Due to the complexity and diversity of state laws, it is essential for businesses operating in this market to maintain compliance with all relevant regulations. Also, it can help companies navigate these regulations by providing critical data and resources. These are required for regulatory compliance.
4. Powerful reporting capabilities
Reporting is an essential part of any business operation. It offers powerful reports covering many areas, including product sales, customer contact data, cash flow, and more. This information can be used to analyze performance and make informed business decisions.
5. Mobile App for iPad
Another great feature is its mobile app for iPad. This allows people on the go to access their files from anywhere they are and easily share them with others in the company. The mobile app also has a document scanner, allowing users to scan and upload documents into the cloud. Over and above, it's done without having to use a desktop scanner or fax machine.
6. Collaboration & Analytics Tools
The collaboration tools allow users to work together on projects. Forbye, they will enable them to share files and documents in real time. On the other hand, the analytics tools provide insights into how well your audience receives your content, what they like and don't like about it, etc. In addition, they provide insights into what kind of content they would like you to produce for them in the future. Ultimately, it will enhance your NetSuite experience.
How is Celigo Cloud Extend better than other integrations?
Celigo Cloud ExtendCeligo is the best integration because it is intuitive and easy to use. Also, it integrates with many of the most commonly used tools, such as Growmaps and Plantprospector. Thereupon, NetSuite integration using Celigo makes it easy to find information on plant health, watering habits, and fertilizer requirements.
It allows for real-time notification of vital signs like the CPU and humidity in your greenhouse. Additionally, this is so that you can make informed decisions about how you are growing your plants.
It is

a cloud-based integration

that helps integrate Salesforce with other applications. Furthermore, it can integrate Salesforce with Google Apps, Outlook, Office 365, and many more.
It allows customers to use their data or third-party data. Further, it's to create a custom, in-context content experience.
The Celigo Cloud Extend service integrates Celigo's proprietary machine-learning algorithms and web crawlers with existing enterprise content management systems (CMS) and marketing automation systems.
Customers can use their own data or third-party data to create a custom, in-context content experience for their customers. Besides, It provides an end-to-end integration to help enterprises integrate and manage their business data across any system.
Further, it integrates with more than 100+ CRMs, ERPs, and other systems to create a unified view of your customer data. In addition, this helps you find, engage with, and sell to your customers in one place.
How to integrate Celigo Cloud Extend with your NetSuite system?
Cloud Extend Celigo NetSuite integration services can streamline your workflows, improve performance, and enable more secure collaboration. If you are looking to integrate Celigo Cloud Extend with a NetSuite system, here is an outline of the necessary steps:
Fir

st, create an account with NetSuite, and register for a Celigo Cloud Extend subscription.

Now, navigate to the Celigo Cloud Extend section of the NetSuite interface and click on the "Connect" button.
At this point, enter your Celigo Cloud Extend credentials and then opt to click on the "Connect" button. You will now be able to view all of your Celigo Cloud Extend data in the NetSuite interface.
Now, to share data between NetSuite and Celigo Cloud Extend, opt for navigating to the "Dataflow" section of the NetSuite interface. At this point, click on the "Share Data" button.
Enter your Celigo Cloud Export credentials and click the "Share Data" button.

Now, you can download all your data from Celigo Cloud Extend into a .csv file in NetSuite.
Conclusion
NetSuite is the leading cloud-based business system, and NetSuite Integration experts can help businesses grow and scale.  All thanks to the possibility of Celigo Cloud Extend. It offers businesses a powerful platform to manage their operations, data, and compliance needs. On top of that, businesses can also optimize their systems for speed, accuracy, and compliance with state and other federal regulatory requirements.
Over and above, you can easily manage and automate your email campaigns to ensure an effective NetSuite deployment with Cloud Extend Gmail for NetSuite. This will help you fine-tune your marketing efforts to achieve the desired results. With Celigo Cloud Extend, you can get the most out of your analytics tools to improve the accuracy of your data and optimize your processes for maximum growth.