NetSuite modules known widely for their capability to boost operational efficiency helps business teams to spend more time on productive and value-driven work. Thanks to these capabilities, enterprises by using NetSuite can easily automate the manual business activities while collaborating with different business departments and verticals through one intuitive and comprehensive system.
While manual work often leads to a lot of human committed errors through streamlined modules this can be avoided. NetSuite software ecosystem guarantees lean and clean business processes through facilitating clear guidelines, rules, best practices, and automated notifications in every step of approval, document submissions, and real-time monitoring of the work.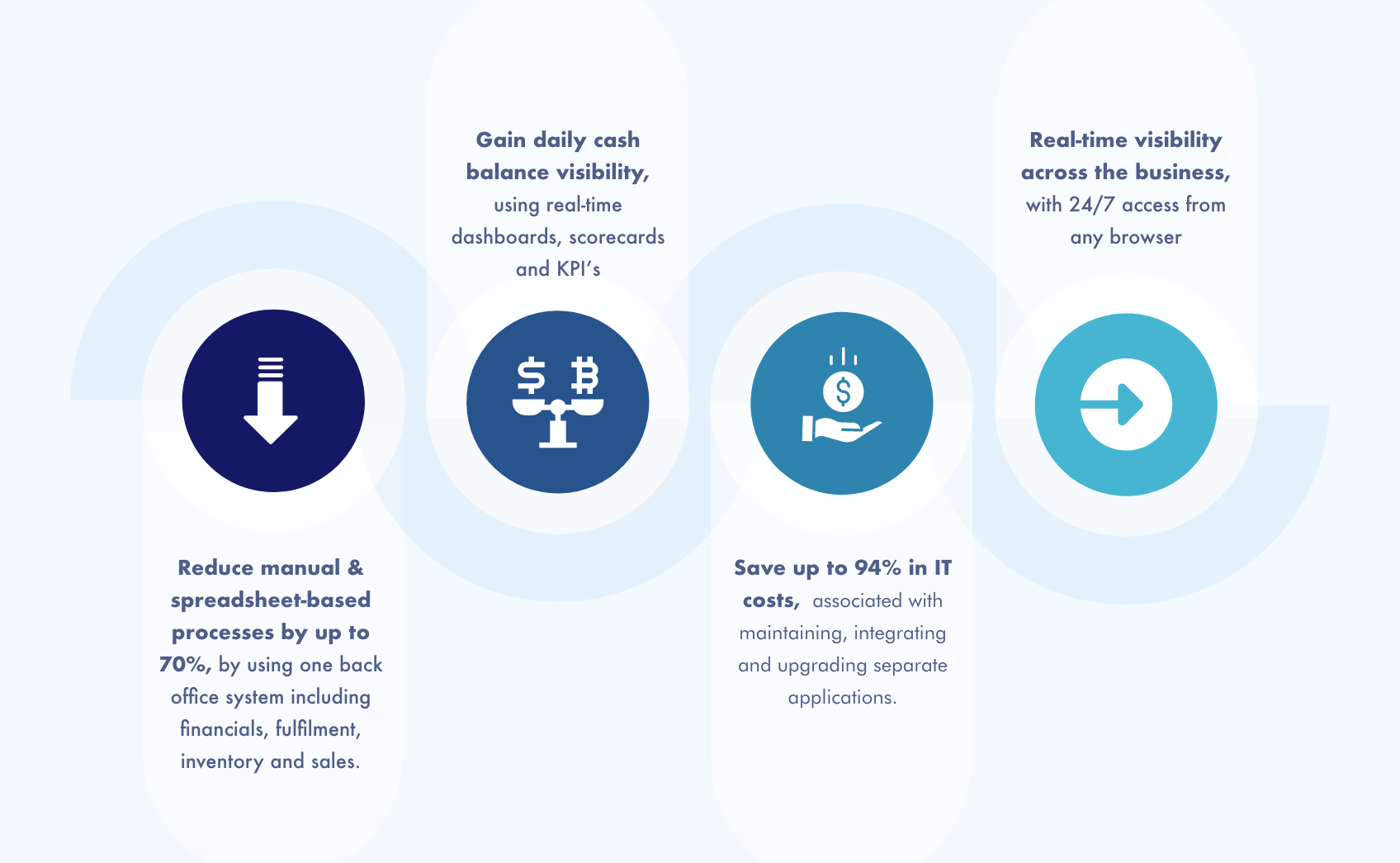 The use of NetSuite modules also helps in improving productivity to a great extent by simply providing real-time reports corresponding to team performance, goal and objective setting, and sharing and collaboration on business information.
On top of everything, the centralized information management through NetSuite modules helps easier accessibility through one system, easy and continuous syncing, preventing double entries and delivering a total 360 view of operations to the users.
What Exactly Are The NetSuite Modules?
NetSuite is the leading cloud-based ERP system is already well-known and offers a complete, robust, and highly intuitive feature set. It also offers a great scope of customization and allows you to build an ideal business-specific ERP system environment as per particular enterprise needs.
NetSuite platform comes loaded with several modules and every module offers a set of features to solve certain business problems. From offering custom fields, custom forms for workflows to a variety of protocols and best practices make every module unique and different.
What Are The Advanced Modules?
Though NetSuite offers several different modules, all of them are categorized based on the tasks they are responsible to accomplish and the complexity they deal with. Advanced modules in the NetSuite ecosystem are basically referred to as the upgraded versions of the existing modules after adding new features to meet the needs of complex enterprise processes.
In spite of these value-added features, advanced modules cannot be considered as better versions of the original modules. Advanced modules just come loaded with additional features to address complex business processes when the base module seems to be less capable for the purpose. You always need to take guidance from a NetSuite implementation partner to decide whether you need advanced modules or the base version.
What Are The Leading NetSuite Modules?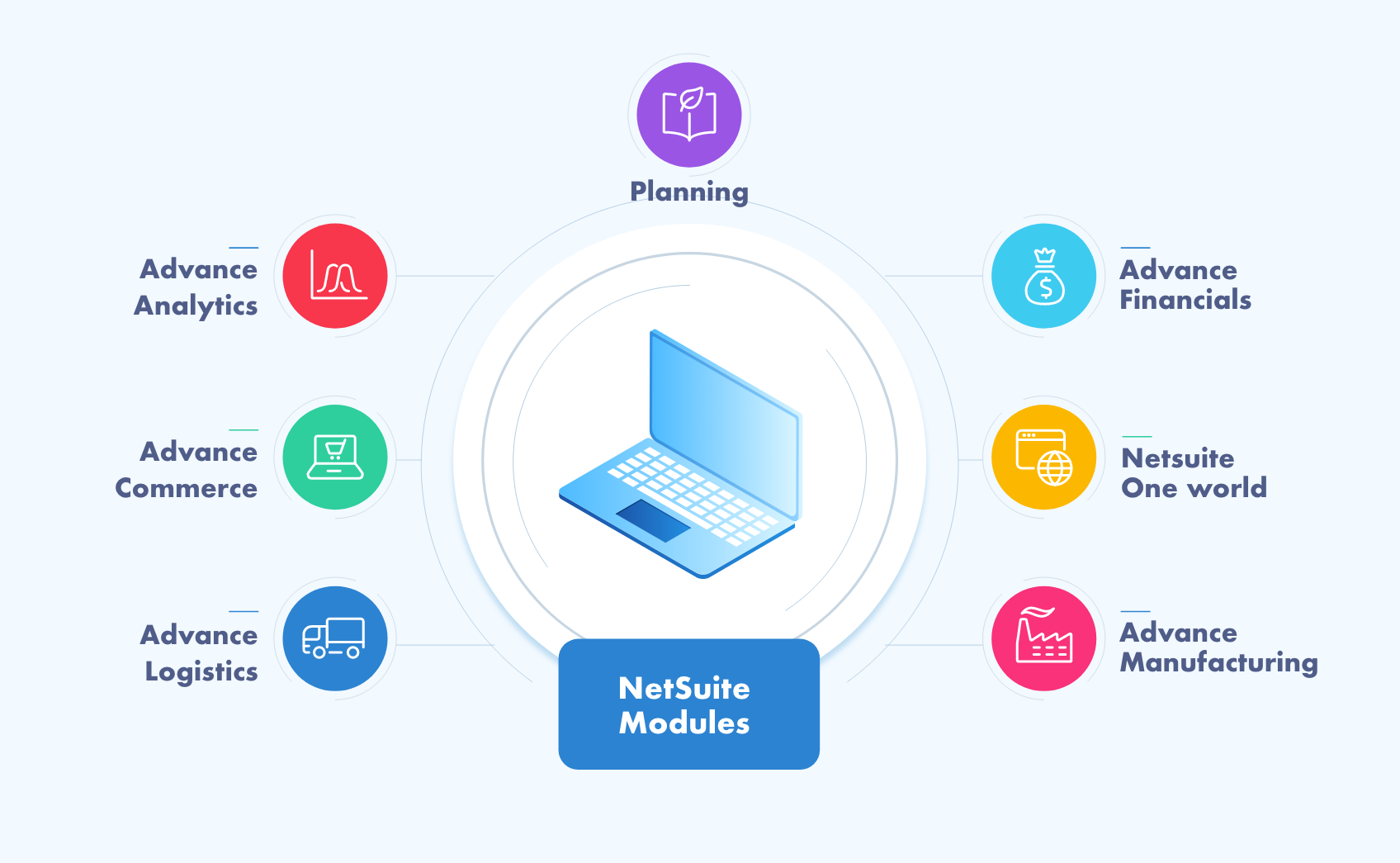 Now that we have explained the basics about NetSuite modules, let us provide here a list of NetSuite modules that enterprises of all niches will find useful.
The NetSuite financial planning module is suitable for expense management, making a budget, and flexibly handling billing tasks. The module comes with statistical accounts feature to make dynamic calculations regarding allocations easier.
This module is used by enterprises to meet the needs of recurring billing. The module also helps you to take care of needs corresponding to revenue recognition.
It is a great module for businesses dealing with a variety of contract types based on subscription.
This module apart from helping enterprises budget and make financial planning also offers a range of important financial insights and analytics.
This module helps to consolidate multiple spreadsheets for tracking different assets and allows easy-to-use dashboards to control both non-depreciating and depreciating assets.
This module is there to help enterprises with the prediction of inventory requirements as per the fluctuating demands. The module in forecasting demands relies on sales forecasts and historical demand analysis.
This NetSuite module is just the advanced version of the old procurement module. It can now consolidate a lot of requisitions within a few purchase orders and thus can reduce cost and efforts with every transaction.
NetSuite Advanced Inventory
The NetSuite advanced inventory module helps to manage inventory by connecting multiple business locations and thus can help better order fulfillment while reducing shipping, warehousing, and procurement costs to a great extent.
This robust module helps the process of the inventory control, manufacturing, and picking mechanism through the use of features such as UPC codes, task management tools, and inbound reversal.
NetSuite CRM module
allows a business to connect the ERP to the customer information and allows tracking customer activity in real-time to understand the customer pain points.
This powerful module helps bring together both digital and physical shopping experiences within a single platform and allows optimum visibility of customer and inventory data.
NetSuite Quality Management
This module is precisely directed to improve product quality through facilitating best quality standards, best practices, policies, and benchmarks.
NetSuite Advanced Revenue Management
NetSuite revenue recognition module basically helps in the revenue recognition process for all industry niches. It allows creating flexible revenue contracts powered by dynamic and fair pricing to ensure optimum operational control.
NetSuite Professional Services Automation
This powerful module widely known as NetSuite PSA helps enterprise teams to develop independent projects with custom rules to offer automation-driven customer service.
This module precisely meant for the manufacturing industry basically helps companies to create and establish highly productive workflows. The module addresses all steps in a production process irrespective of the manufacturing niche.
This module is for Human Capital Management in all companies and it addresses all HR management needs whether on an individual or collective ground. The module offers all HR-specific features including attendance management, productivity control to invoicing, and salary.
This powerful module offers comprehensive visibility of all the financial transactions and data in real-time and thus ensures optimum transparency with streamlined monitoring and approval processes.
What Is The Cost Of Each NetSuite ERP Module?
The cost of NetSuite ERP modules basically depends upon several factors including the specific industry niche, business size, users, chosen modules, and needs. On top of that, every module is priced individually. An expert NetSuite alliance partner can always guide you to save cost with these modules by customizing the implementation as per your business requirements.

Conclusion
There can be hardly any doubt that all the NetSuite modules are crafted with the objective of optimizing specific business processes. You need to choose modules based on the particular business requirements and the needs of your operational team. Based on these needs you also may need additional customization help and there the role of your chosen NetSuite implementation partner can prove to be important.