NetSuite's popularity and install base is on the rise, with hardly any signs of slowing down. Thus, having a NetSuite certification is increasingly helpful for your team as a business or your CV as an employee.
But what makes NetSuite's different certifications so important?
The NetSuite certification program is a terrific way to stay current on market changes. It enables the individual to set themself apart from non-certified co-workers and broaden their career options. It does not end here. Certifications indicate companies that you are familiar with industry best practices and can apply your abilities to the job.
So, how to become NetSuite certified?
Here, in this blog, we bring you a guide to help you walk through the process of seeking NetSuite certification for a better tomorrow.
How is NetSuite Certification Beneficial?
Why is everyone obtaining certification? It is because there are benefits from NetSuite certification for everyone- including people, companies, and NetSuite partners. Let us see how and which certifications are right for you: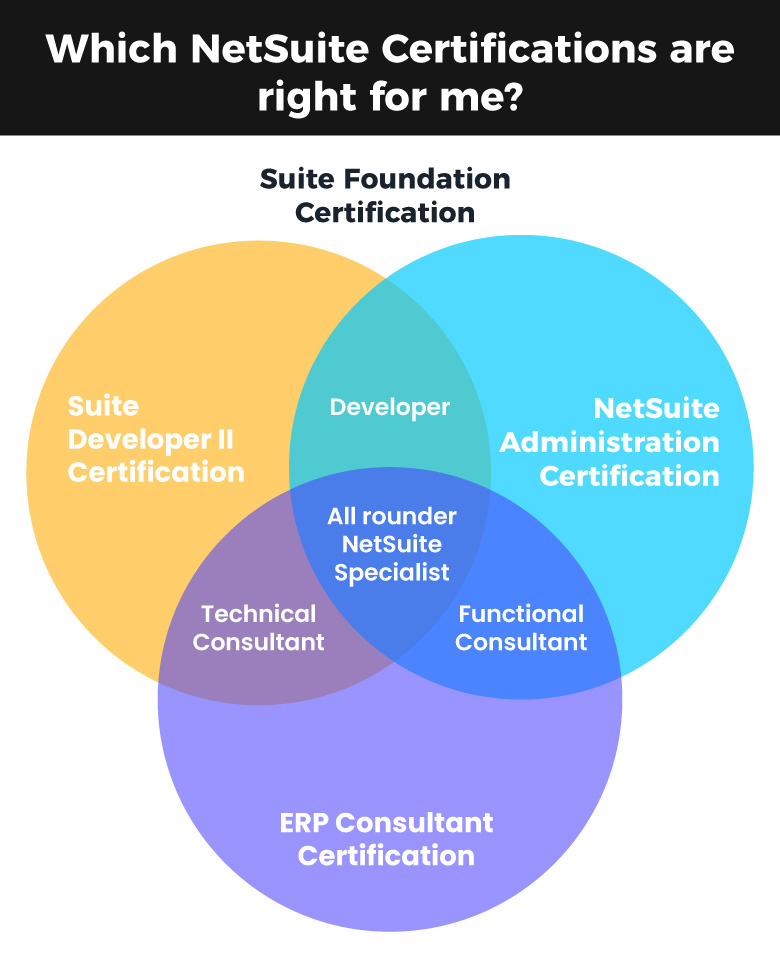 · Individuals:
Businesses want evidence that you possess the necessary abilities to operate with NetSuite. Your job objectives will be easier to reach if you have a certification. You become a member of an exclusive group of NetSuite experts and receive certification letters for your website and business cards. Additionally, you may get a 30% discount on various planned NetSuite training courses.
· Service-based Organizations:
Make sure you recruit people with the best skills and knowledge if you want to get the most value out of your NetSuite investment. You'll gain new confidence in your staffing, hiring, and promotion processes when you compare opportunities and workers to a recognized standard. You also get training discounts for staff members who have earned their NetSuite certification, which lowers the possibility of an incompetent worker making a mistake.
· Partners:
Solution Providers and Alliance Partners may be able to give prospective clients evidence of a partner's proficiency with NetSuite. Partners in the 'Built for NetSuite' verification program guarantee that teams can quickly produce Suite Apps that meet the program's standards. All collaborators have access to subsidized continuing education for NetSuite-certified personnel.
What Are The Different NetSuite Certification Programs?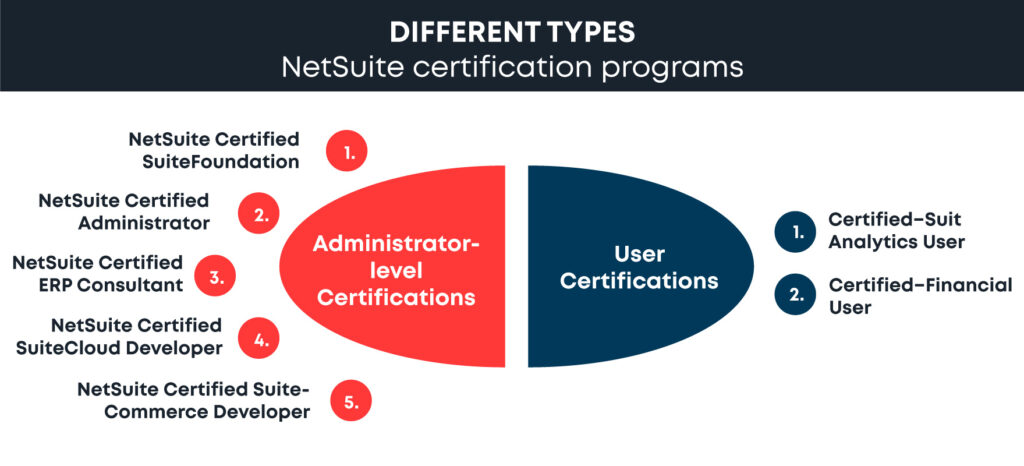 Well, you can choose from Seven types of certification programs. Let us understand each one of them closely.
1. NetSuite Certified SuiteFoundation
This certified test would allow you to maneuver inside the NetSuite ecosystem and comprehend basic NetSuite functionalities. Additionally, you will also become fundamentally aware of the following features:
· The Functions and basic modules like CRM and ERP
· The preferences of businesses and individual users
· Connections between users, roles, and permissions for access
· Dashboards to keep track of reports, and searches
· Standard record types and their structure
· NetSuite product release process along with user interface customization possibilities
The course prerequisite for NetSuite administrators is between three to six months of administrative experience or an equal level of understanding. This 80-minute test for this certification comes with 66 multiple-choice and matching questions, which you must excel in to pass.
2. NetSuite Certified Administrator
If you are looking forward to becoming a NetSuite Certified Administrator, you need to qualify for the Administrator test and the SuiteFoundation exam. The responsibilities of a Certified Administrator include administering the application to satisfy the demands of the business. An individual needs to cover the below-mentioned areas and have ample knowledge in them to pass this test:
· SuiteAnalytics
· SuiteBuilder
· SuiteCloud Platform
· Setup and Administration
· Data Security
· Working with NetSuite
After qualifying for this test, you can indulge yourself in assisting users in comprehending advanced features, choices, and capabilities, as well as business processes and accounting procedures.
3. NetSuite Certified ERP Consultant
Like the Certified Administrator credential, being a Certified ERP Consultant requires passing two tests. You must qualify for the SuiteFoundation test and the ERP Certification exam.
An ERP consultant certification will enable you to:
· Ability to match NetSuite ERP solutions to a company's needs
· Offer guidance on how to alter typical ERP procedures
· Employ scripting tools to address organizational requirements
· Broaden use through connectors.
This specialist can explain the consequences and advantages of NetSuite setup choices. According to NetSuite, A qualified applicant will have performed 5-10 medium-sized or 2-3 enterprise NetSuite ERP deployments. This is approximately comparable to at least two years' worth of NetSuite implementations in a consultant-related job.
4. NetSuite Certified SuiteCloud Developer
You may choose to pursue the NetSuite Certified SuiteCloud Developer certification if you have a solid foundation in the following areas:
· SuiteScript (pre-2.0)
· SuiteAnalytics
· SuiteFlow
· SuiteTalk
· SuiteBundler
· SuiteBuilder
· Design Fundamentals.
The SuiteCloud Developer exam and the SuiteFoundation test are the two examinations required for this certification.
5. NetSuite Certified SuiteCommerce Developer
The SuiteCommerce Developer Certification requires one test, contrasting to the above certificates. There are 77 multiple-choice and matching questions in the 120-minute test. It covers the following areas:
· SuiteCloud
· APIs and Services
· Account configuration and setup
· SuiteCommerce advanced apps
· Design fundamentals
You can develop, expand, and execute NetSuite commerce apps if you pass the SuiteCommerce Developer test. They'll be able to meet the customer's needs, which can involve workflow, scripting, or interfacing with an external system.
6. NetSuite Financial User Certification
According to Oracle NetSuite, passing the NetSuite Financial User Exam verifies that a person possesses the fundamental knowledge required to use the NetSuite system and comprehend its basic accounting and finance features. The NetSuite Financial User Exam does not grant permanent certification to those who pass it. The following areas are covered:
· Subsidiaries, Classifications, Chart of Accounts
· Accounts Receivable, Billing Schedules, and Accounts Payable
· Banking and Payment Processing and Journal Entries
· Budgeting as well as Expense Allocations
· Financial Reports and KPIs
· Period and Year-End Close
The NetSuite Financial Management course as well as three months of experience in a finance and accounting function is required for candidates to take the NetSuite Financial User Certification Exam.
7. NetSuite SuiteAnalytics User Certification
Passing the NetSuite SuiteAnalytics User Certification Exam allows a person possesses the knowledge and abilities required to comprehend and utilize the dashboard capabilities, inquiries, and reports of NetSuite. Passing this test does not confer permanent certification to candidates. Users of NetSuite Certified SuiteAnalytics must follow specific procedures to keep their certificate:
· Reports & Searches (Including Dashboards, Saved Search, Roles & Permissions)
· Report Builder
· Advanced Searches
Companies wishing to recruit NetSuite experts may anticipate seeing this level of experience from persons as the exam apparently evaluates for this level of understanding.
How Much Does NetSuite Certification Cost?
The NetSuite certification cost is $250, and retakes are $150. Your NetSuite career and professional income will likely grow faster if you succeed. Numerous companies and organizations also pay for their employees' certificates.
You may network with other professionals in the field and keep up with industry news by joining a private LinkedIn community after passing a NetSuite Certification. Additionally, you will receive a 30% discount on any additional training or certifications.
Conclusion

VNMT is a leading NetSuite consulting company for NetSuite support and consultancy, offering everything from NetSuite evaluation to deployment. We strive to be a long-term extension of your team with a reputation for developing solid customer relationships. There is no need for long-term support agreements with us because it is simple to work with us on each project.