With increasing technological efficiency and entrepreneurs setting up new start-ups daily, competition has become even more difficult. In such a scenario, enhancing the efficiency level of your business with the help of NetSuite and Outlook can be one of the best decisions you can make. Let's see how NetSuite outlook integration can elevate your business effectively and efficiently:
NetSuite Integration with Outlook
NetSuite Outlook integration provides you, within the app, the opportunity to do everything from banking to credit card-related transactions and file transfers. In fact, NetSuite can fetch all the emails directly from where you stored them, as Outlook Integration allows you to attach the data to NetSuite. Additionally, NetSuite Office 365 integration will not only track all business transactions, deals, emails, and calls but also help to enhance the customer-dealer relationship.
Core Features & Capabilities - NetSuite Outlook Integration
With more businesses growing daily, NetSuite Outlook integration has become the need of the hour. Such integration helps speed up your business's growth by assisting in storing the data, tracking the financials, managing the inventory, and handling large amounts of business transactions. All thanks to the core features and capabilities, which are as follows: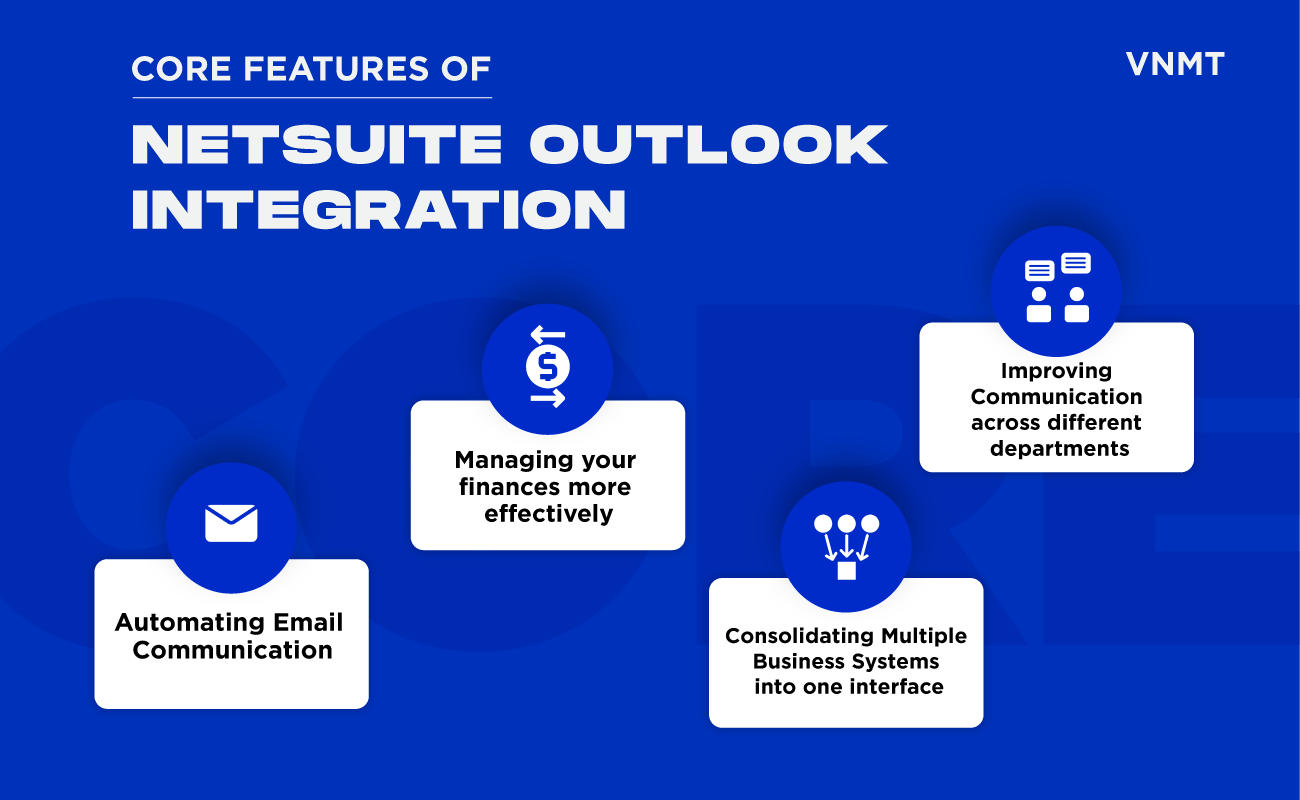 1. Automating Email Communication
By integrating NetSuite Outlook with your company's email system, you can have all your essential emails automatically sent to your NetSuite account. This is especially useful if you have a complicated and complex email system. Moreover, a business will never get stuck, and the transactions will be completed smoothly as the email system will be simplified.
2. Managing your Finances More Effectively
Using NetSuite integration services with your accounting software, you can more easily track all your expenses, profits, and other financial data. Further, you can keep the complete financial operations in check. This not only helps you keep better track of your business finances, but it can also help you prepare financial reports for management and investors.
3. Consolidating Multiple Business Systems into One Interface
With the integration of NetSuite Outlook with other business systems, such as Salesforce or Microsoft Dynamics, you can merge all your data into one organized interface. Furthermore, this can save you time and money by making tracking your business information easier.
4. Improving Communication across different Departments
By opting for NetSuite integration with Outlook to messaging systems such as Slack or Yammer, you can increase communication efficiency within your company. This will help to update the employees and project leaders to get the update within minutes and execute the changes as soon as possible. Hence, it increases work efficiency and coordination among the employees within the business.
How does NetSuite Outlook Integration Work?
A connector needs to be added in the first place to integrate with Outlook on the web. Then to link NetSuite to Outlook, you need to enable the features, set up the company and its general and customer preferences, and finally, "NetSuite for Outlook." You can use NetSuite integration services to get your integration done to gain an edge over your competitors.
How does NetSuite Outlook Integration Benefit Businesses?
Today, the NetSuite integration with the outlook system works more efficiently to manage companies by helping them manage critical business processes. It does this using a complete unified system that is cloud-based. This whole thing involves e-commerce, CRM, inventory, enterprise resource planning of a firm, other financials, etc. Therefore, NetSuite Outlook integration can improve the efficiency and productivity of businesses in a variety of ways, including: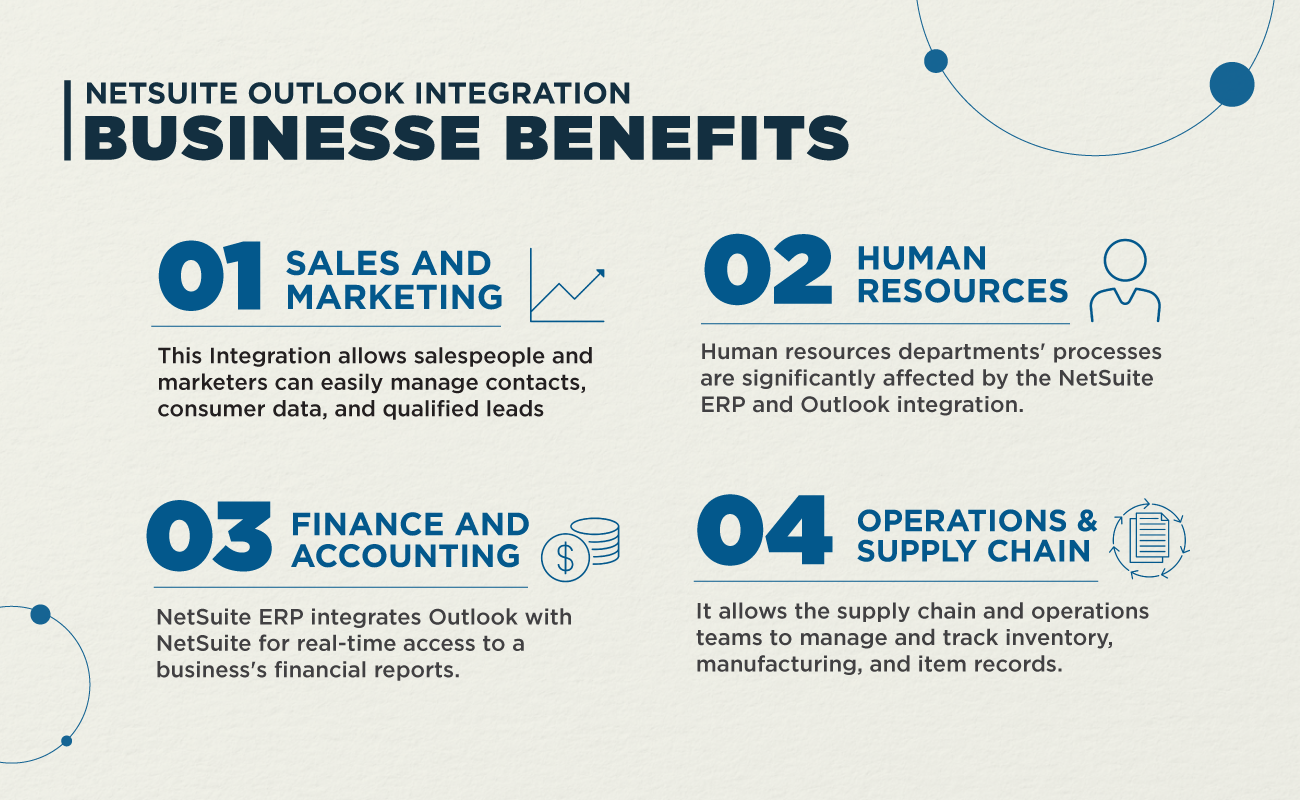 1. Sales and Marketing
By integrating Outlook with NetSuite ERP, the marketing and salespeople can manage and track contacts, consumer data, and qualified leads very well. The sales and/or marketing team gets access to data in real-time. In the same way, every process that occurs has optimum accuracy and speed, whether it's the data entry or responding to the consumer efficiently.
2. Finance and Accounting
Finance and/or accounting teams get real-time observability into a business's financial reports via the integration of Outlook with NetSuite ERP. This access quickens the process of transactions related to finance, reduction in budgeting, and more.
3. Human Resources
With the NetSuite ERP and Outlook integration, every human resources department's process gets impacted hugely and conclusively. The human resources team also gets access to financials, payrolls, and more. This way, data accuracy is revamped and decisions made become finer.
4. Operations and Supply Chain
The integration of NetSuite ERP and Outlook provides the supply chain and operations team to manage and track item records, inventory, and manufacturing data. The team further gets access to receiving and purchasing data and can put the same to use efficiently for accuracy management.
In a nutshell, NetSuite ERP's integration with Outlook assists businesses in every department by offering a streamlined and centralized system, resulting in improved accuracy, efficiency, effectiveness, and decision-making.
Ways to do NetSuite Outlook Integration
NetSuite's Outlook Integration offers businesses a unified view of their financial data, enabling them to make better decisions faster. By consolidating a business's finances in one place, it is easier to see trends and access key information quickly. This integration also makes it possible to connect to external systems, like Oracle or Salesforce, which can help streamline business processes. You can get the maximum out of NetSuite ERP and Outlook integration via: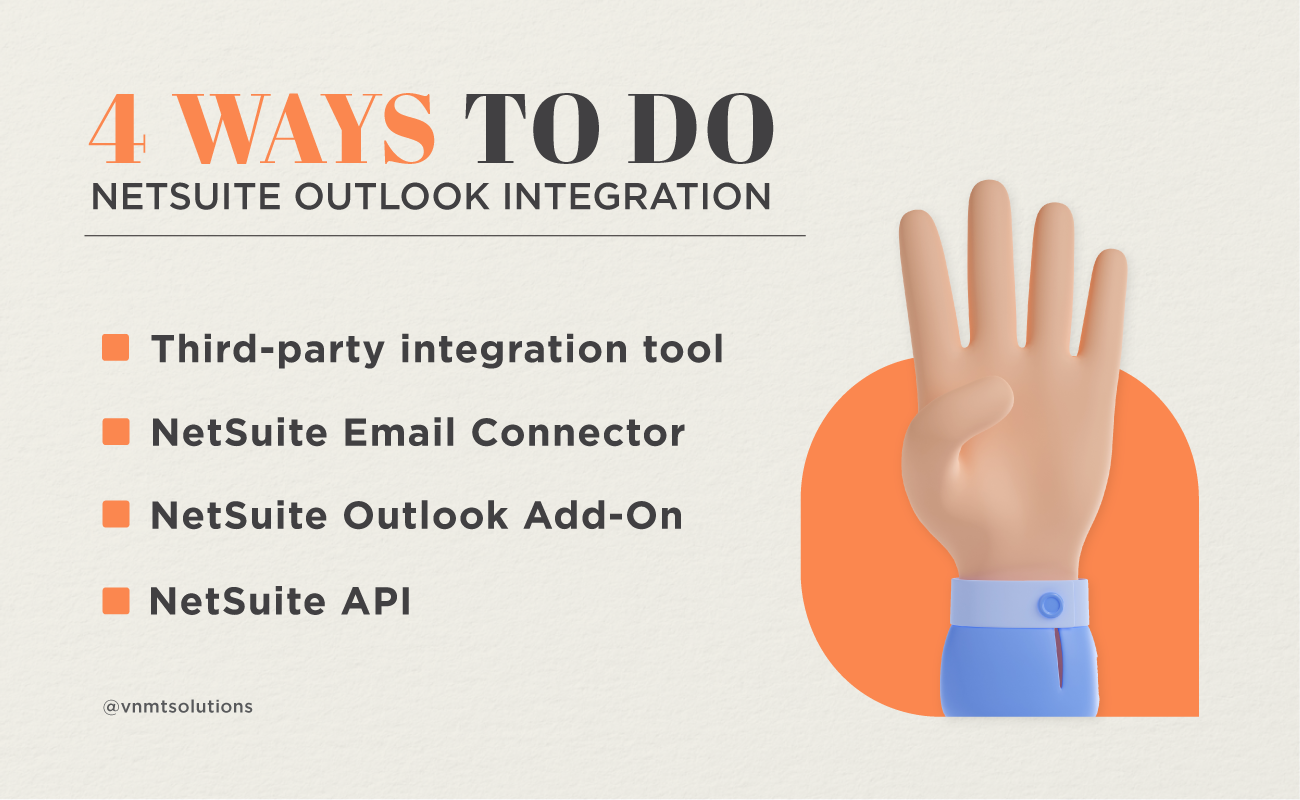 1. NetSuite Outlook Add-On
Using this NetSuite Outlook Add-On plugin, users can receive and/or send emails and locate opportunities and tasks. They are also able to access calendar events and contacts. Hence, it helps its various users by giving them access to their accounts on NetSuite, which is from within Outlook.
2. Third-party Integration Tool
The third-party integration tools provide users with many customization options and access to the latest features. All that you require doing is setting them up and keep them maintained. However, these tools provide advanced features accompanied by customized options, which demand additional setup and maintenance.
3. NetSuite Email Connector
Using the NetSuite email connector, the users can sync their Outlook account with NetSuite. This way, they can access calendar events, tasks, and more. Further, they can receive and/or send emails from their NetSuite account directly.
4. NetSuite API
This API by NetSuite helps the users with the automation of the processes between NetSuite and Outlook. It further allows them to create custom integrations meant for those with advanced technical skills.
Wrapping Up!

In today's world, you can now save enormous dollars and time by automating your day-to-day activities. All thanks to the Outlook integration that allows you to connect with NetSuite. In fact, integrating NetSuite with Outlook gives you access to powerful tools such as accounts receivable, marketing automation, revenue tracking, payroll processing, and much more. Additionally, you can achieve a range of benefits, including improved efficiency and smooth operations, by integrating NetSuite with Outlook.
With VNMT's outlook integration, there happens a synchronization between NetSuite and Outlook. With this, you cannot just synchronize your events, tasks, contacts, phone calls, etc. but also opt for the attachment of emails, i.e., directly to the NetSuite records. Therefore, VNMT solutions are your true companion. They can help provide ERP implementations, optimization, and support for many administration services globally. It helps streamline your business, and you can do hassle-free NetSuite integration using Outlook with authorized partners.