Are you ready to take your business to the next level in 2023?
One important aspect you can't afford to overlook is choosing the right accounting software. Accounting software is a computer program designed to assist bookkeepers and accountants in maintaining accurate and organized financial records for businesses.
Trust me; it can make all the difference! But with so many options out there, how do you make the right choice? Don't worry; we've got you covered.
In this article, we're going to explore the exciting world of accounting software and show you how to choose the perfect fit for your business.
We'll discuss everything from online versus offline options to data security, features, user-friendliness, scalability, exit strategies, hidden charges, and post-sales support.
Sounds interesting, right?
Let's get started:
1. Importance Of Selecting The Right Accounting Software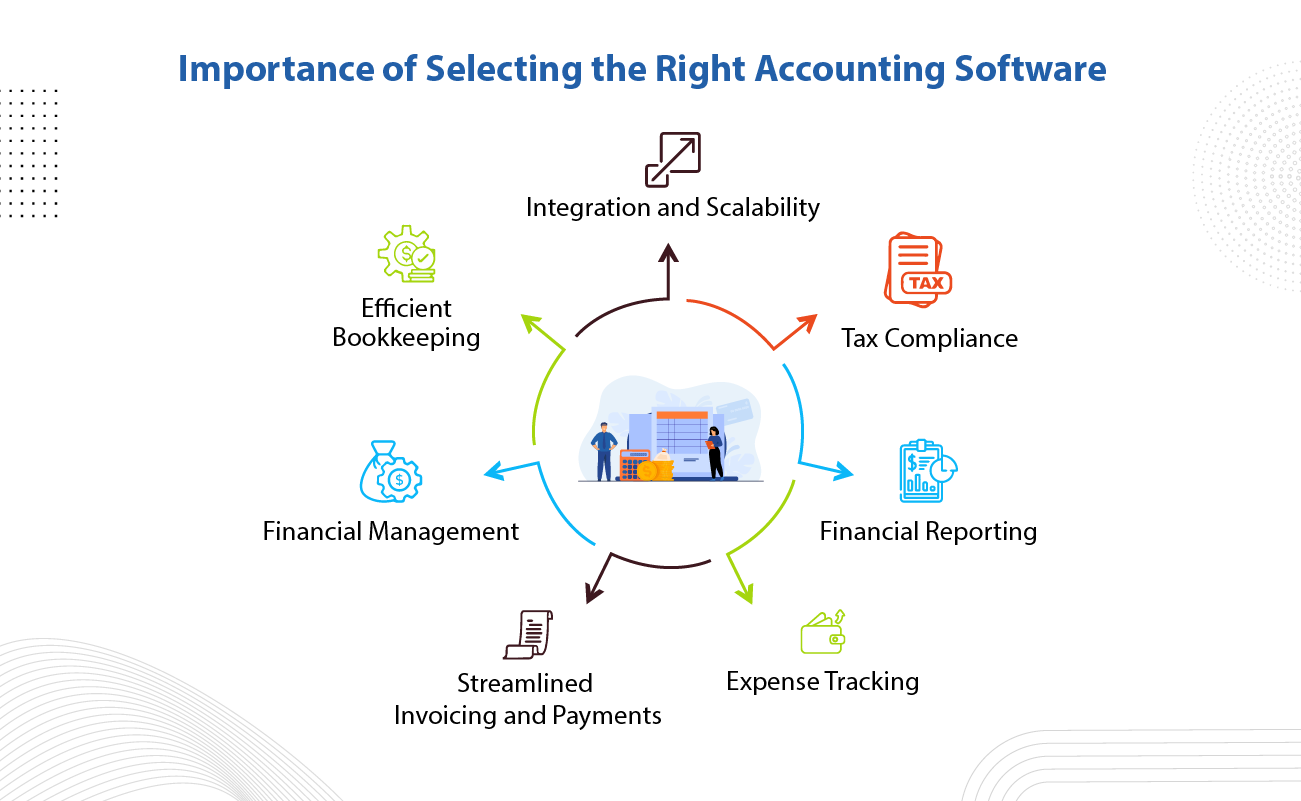 Accounting software offers numerous benefits and plays a crucial role in helping businesses streamline their financial processes and make informed decisions. Here are some key ways in which accounting software helps businesses:
Efficient Bookkeeping:

Accounting software automates manual bookkeeping tasks, such as recording transactions, organizing data, and generating financial statements. This saves time and reduces the risk of errors, allowing businesses to maintain accurate and up-to-date financial records.
Financial Management: It provides businesses with a clear overview of their financial position. It tracks income, expenses, assets, and liabilities, enabling businesses to monitor cash flow, identify trends, and make informed financial decisions.
Streamlined Invoicing and Payments: It simplifies creating and sending invoices to clients or customers. It also facilitates online payment options, automates payment reminders, and tracks receivables, making the invoicing and payment process more efficient.
Expense Tracking: Accounting software allows businesses to track and categorize expenses easily. It enables the recording of expenses in real-time, tracks receipts, and generates expense reports, simplifying the management of business expenses and ensuring accurate reimbursement and tax deductions.
Financial Reporting: It generates various financial reports, such as profit and loss statements, balance sheets, and cash flow statements. These reports provide valuable insights into the business's financial health, enabling owners and stakeholders to assess performance, identify trends, and make strategic decisions.
Tax Compliance: Accounting software helps businesses stay compliant with tax regulations. It often integrates tax calculations and assists in generating accurate tax reports, simplifying the process of tax preparation and filing.

Integration and Scalability:

Many accounting software solutions integrate with other business systems, such as CRM or ERP software, enabling seamless data sharing and streamlining overall business operations. Additionally, accounting software can often accommodate the needs of growing businesses, allowing for scalability as the business expands.
Here Are The Factors Which You Should Consider Before Choosing Any Accounting Software
2. Understanding Your Business Accounting Needs
When evaluating accounting software for your business, it's crucial to consider your specific needs. Factors to consider include the size and complexity of your business operations. Larger businesses with intricate financial transactions may require more advanced features and scalability. Additionally, consider any unique requirements or tasks specific to your industry or business model.
For example, if you deal with inventory management or have specific compliance regulations, ensure that the software you choose can accommodate these needs. Understanding your business requirements will help you select an accounting software solution that aligns with your goals and enhances efficiency in managing your finances.
3. Common Accounting Features Required For Your Business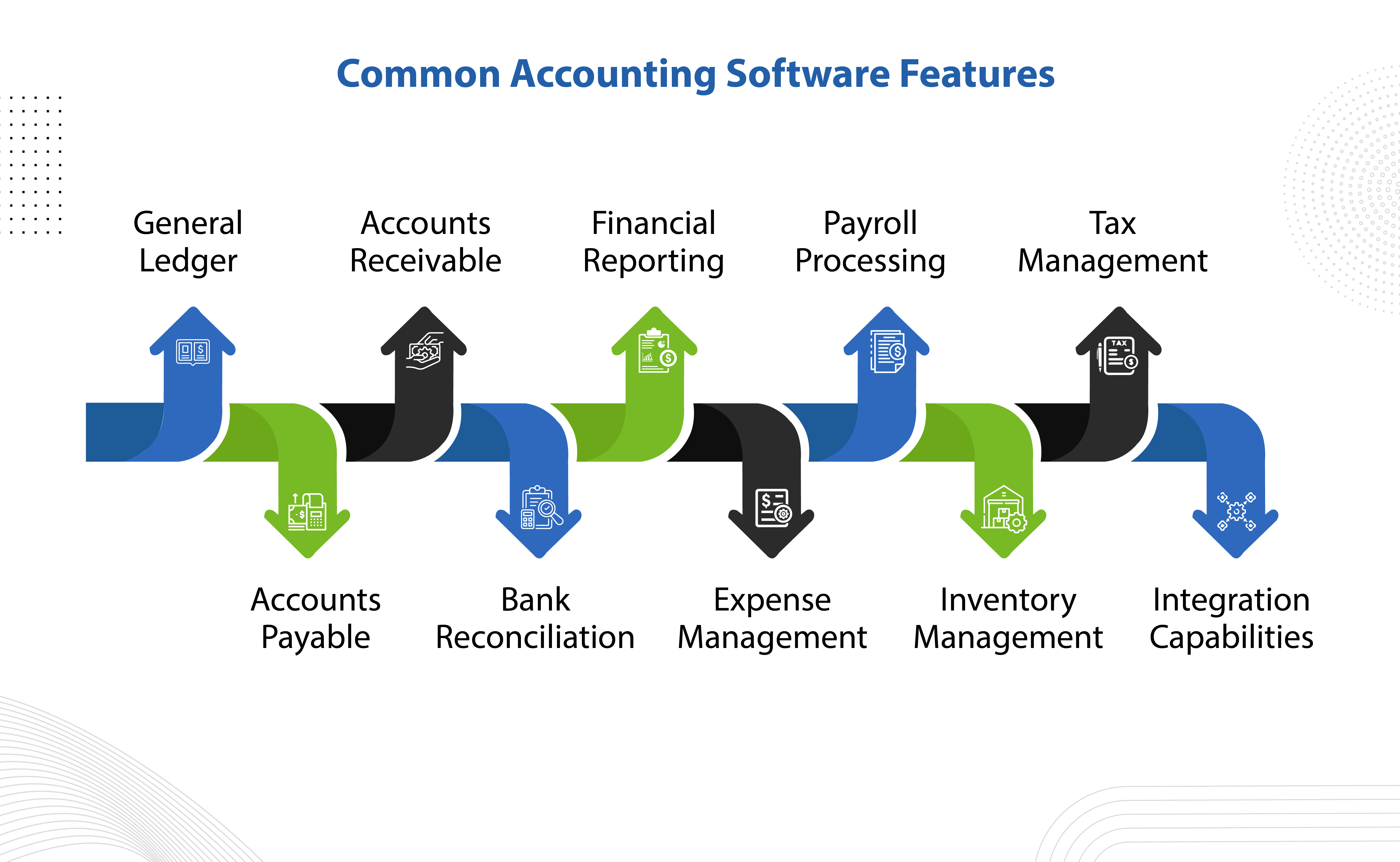 When considering any accounting software, the features you need will depend on the requirements of your business. However, here are some common accounting features that businesses find beneficial:
General Ledger: A central repository that tracks all financial transactions and provides a comprehensive view of your company's financial position.
Accounts Payable:

Manages and tracks money owed to vendors and suppliers, including invoice processing, payment schedule, and expense management.
Accounts Receivable: Tracks customer payments, generates invoices, manages customer balances, and helps monitor cash flow.
Bank Reconciliation: Matches your bank statements with your accounting records to ensure accuracy and identify discrepancies.
Financial Reporting:

Generates financial reports, such as profit and loss statements, balance sheets, and cash flow statements, to provide insights into your business's financial performance.
Expense Management: Helps track and categorize business expenses, simplifies reimbursement processes, and enables expense reporting.
Payroll Processing: Automates payroll calculations, tracks employee compensation, deducts taxes and benefits, and generates payroll reports.
Inventory Management:

Tracks inventory levels, manages stock movements, and provides real-time visibility into inventory valuation.
Tax Management: Assists with tax calculations, facilitates tax reporting and filing, and ensures compliance with tax regulations.
Integration Capabilities: Ability to integrate with other software systems, such as CRM, project management, or e-commerce platforms, to streamline data flow and enhance overall efficiency.
There are certain factors that must be considered while choosing accounting software. The most important ones include:
4. Your Budget
When selecting accounting software, it's important to consider your budget. Evaluate the pricing models of different software options, whether they offer subscription-based plans or one-time payments.
Further, look beyond the initial cost and consider the total cost of ownership, which includes any additional modules or add-ons that may be necessary for your business. Compare the features and pricing of different software providers to ensure you're getting the best value for your investment.
5. Cloud-Based vs. On-Premises Accounting Software
Choosing the appropriate accounting software is a critical decision for businesses, regardless of size. To ensure an informed choice, it is essential to consider various factors.
The first consideration is whether to opt for online or offline (desktop-based) software.
When is offline accounting software preferable?
While cloud-based software has gained popularity due to its numerous advantages, certain circumstances make desktop-based accounting software more suitable. For instance, if you operate a retail store and require quick invoice creation at the counter or if internet connectivity is limited or unavailable at your business location.
When is online accounting software preferable?
It is crucial to compare cloud-based accounting software with traditional accounting software to determine which is easier to use. Online software provides automatic backups and maintenance from the software provider, data synchronization across multiple offices, and seamless integration with other cloud-based applications. Online accounting software also enables convenient financial management by granting access to financial data at any time and from anywhere.
6. User-Friendliness And Ease Of Implementation Of The Accounting Software
For small business owners who may not have an accounting background, it's crucial to choose accounting software that is user-friendly and accessible. Even if you have an accounting department, you should have access to and a basic understanding of your financial records as a business owner. Additionally, ensuring that the accounting system is easy for your employees to learn and use effectively is important.
When searching for accounting software, prioritize options that offer features and functionalities that are intuitive and easy for everyone on your team to understand. Look for software with a clean and simple user interface that is not overloaded with unnecessary features. A clutter-free interface allows for better focus on essential tasks and can reduce the learning curve for you and your team.
Consider software that offers user-friendly features like automated data entry, intuitive reporting tools, and clear navigation. The software should provide a seamless user experience, making it easy for non-accounting professionals to manage financial tasks efficiently.
Furthermore, look for accounting software that provides comprehensive support materials, such as tutorials, guides, and training resources. These resources can further assist your team in understanding and utilizing the software effectively.
7. Vendor Reputation And Support
When choosing accounting software, consider the reputation and support provided by the vendor. Research customer reviews and testimonials to gain insights into the experiences of other users.
Ensure that the vendor offers reliable customer support channels, such as phone, email, or live chat, in case you encounter any issues or need assistance. A reputable vendor with excellent support can provide peace of mind and timely resolution to any concerns that may arise.
8. Integration Capabilities: ERP, Other Modules, Third Party
Consider the integration capabilities of accounting software with other third-party apps and services. Determine whether the software can seamlessly connect with your existing tools, such as CRM systems, project management platforms, or e-commerce platforms.
Integration streamlines workflows reduces manual data entry, and enhances overall efficiency in managing your business operations.
Integration With Your Bank
Selecting an advanced accounting billing software Module that seamlessly integrates with your bank can do wonders for your business. The compatibility between the software and your bank can result in remarkable improvements. By establishing a connection between the software and your bank, you can save valuable time and effort. With the ability to directly download transactions from your bank, you can streamline various processes such as bill payments and cash flow monitoring. Thus, it is crucial to verify whether the accounting software you are considering supports your online banking activities.
When searching for accounting software, prioritize options that offer bank feeds or direct integration with your financial institution. This functionality enables you to connect your bank account directly to the software, facilitating automatic synchronization of transactions. You can effortlessly download and import bank statements, reconcile transactions, and maintain an up-to-date overview of your finances without the need for manual data entry.
9. Security And Data Protection
Ensure that the accounting software company prioritizes security and data protection. Look for features such as data encryption, secure credential tokenization, and regular software updates to address potential vulnerabilities. Consider the vendor's data backup and disaster recovery processes to ensure the safety of your financial information.
Moreover, review their privacy policies and compliance with industry regulations such as GDPR or HIPAA, depending on your business's geographic location and industry. Robust security measures safeguard your sensitive data and minimize the risk of unauthorized access or data breaches.
10. Other Points To Consider While Selecting Accounting Software
Consider Your Accounting Skills
When choosing accounting software for your business, it's important to consider your accounting skills and expertise. Especially if you own a small business or a start-up, financial management might not be your area of expertise. While numerous options are available in the market, selecting software that aligns not only with your business needs but also with your capabilities is crucial.
Even if you don't have a dedicated finance department, you still need to stay on top of your company's accounting as a business owner. Accounting software can certainly simplify bookkeeping tasks, but it's essential to understand your finances and determine what functionalities you require from the software.
Scalability
Selecting accounting software that can scale your business is a crucial aspect. It is essential to avoid choosing software solely based on your current needs, as your business is likely to grow and evolve. Migrating to a different software down the line can be a cumbersome and time-consuming process.
To future-proof your accounting software choice:
1. Look for options that offer scalability.
2. Seek software that provides an entry-level version suitable for your current business needs.
3. Simultaneously, ensure that the software also offers a feature-rich version that can accommodate the expansion of your business model.
Easy Exit Options
Considering exit options is an important aspect when selecting accounting software. It's essential to anticipate scenarios where the software provider discontinues their operations or when issues arise with the software itself. In such situations, having the ability to export your data seamlessly becomes crucial.
When evaluating accounting software options, prioritize those that offer a data export feature. Ideally, the software should allow you to export your data in a widely compatible format such as Excel. This ensures that your financial information can be easily transferred and imported into alternative software solutions if needed.
Any Hidden Charges
When selecting accounting software, it's crucial to be aware of any hidden charges that may arise. Some software providers may impose transaction fees or charge a percentage of sales for processing payments through their platform. It's important to clarify if such charges apply and evaluate their impact on your business's financial operations.
Integration costs are another aspect to consider. Many businesses utilize multiple software solutions, such as customer relationship management (CRM) or project management tools, to manage their operations. If you require your accounting software to integrate with these other tools, verify if there are any additional costs associated with these integrations. Hidden integration fees can impact your budget and the overall cost-effectiveness of the software solution.
Most Popular Accounting Software Companies
When it comes to top accounting software, businesses have a range of options to choose from. These solutions offer advanced features and capabilities to streamline financial processes. Here are some of the top accounting software options available.
NetSuite
NetSuite is renowned for its comprehensive automation capabilities, offering robust financial management, inventory, and order management features, making it ideal for businesses looking for end-to-end automation.
Zoho Books
Zoho Books is a free accounting software that offers essential features like invoicing, expense tracking, and financial reporting, making it a budget-friendly choice for small businesses and freelancers.
Read More: NetSuite Cloud Accounting vs Zoho Books
Intuit QuickBooks
QuickBooks is well-suited for self-employed individuals, providing easy-to-use tools for invoicing, expense tracking, and tax management, helping simplify financial tasks for sole proprietors and freelancers.
MarginEdge
Designed specifically for restaurants, MarginEdge streamlines inventory management, recipe costing, and accounts payable processes, offering a specialized solution to enhance operational efficiency in the food service industry.
Sage Business Cloud Accounting
Sage Business Cloud Accounting caters to micro-businesses needs, offering user-friendly invoicing, expense tracking, and financial reporting features, providing a simplified accounting solution for small-scale enterprises.
Future & Beyond
Accounting software trends in 2023 indicate a significant shift towards cloud-based platforms, driving the growth of the global accounting software market. The market, which reached $11.9 billion in 2020, is projected to reach $70.2 billion by 2030, fueled by a compound annual growth rate of 19.6 per cent throughout the decade.
Another major trend is the integration of artificial intelligence (AI) by the top accounting companies. AI-powered automation tools are streamlining accounting processes, reducing manual tasks for finance teams. Acquisitions and mergers within the accounting sector can also shape the software landscape.
These trends highlight the continuous evolution of accounting software driven by cloud technology, AI integration, regulatory updates, and industry acquisitions.

Wrapping Up!
Choosing the right accounting software for your business in 2023 is a decision that shouldn't be taken lightly. By considering factors such as online or offline functionality, data security, features, user interface, scalability, exit options, hidden charges, and post-sale support, you can make a well-informed choice that aligns with your business needs and goals.
In today's digital age, the shift towards cloud-based accounting software is evident, offering benefits like seamless bank connections and 24/7 accessibility. Additionally, the integration of artificial intelligence is streamlining processes and enhancing customer support. With these, you can take your accounting to the next level! If you need further help or clarification with NetSuite Accounting Services, you must reach out to experts.