From using calculators to spreadsheets to Tally and QuickBooks, accounting over the years continued to advance with new technologies and tools. Now, cloud accounting has emerged as the latest facet for managing accounting and financial tasks. The recent hype over cloud accounting solutions is justified considering the huge benefits it provides. When you compare traditional accounting systems vs modern accounting systems, most differences offer us a positive view of the latter.
When posed against the traditional accounting practices the cloud accounting software benefits clearly stand out. Accounting tasks powered by cloud storage and cloud computing can give a company a lot of flexibility, robust control, and smooth operational ease. Before we show you the differences between cloud accounting and traditional accounting practices, let's start by defining cloud accounting.
What Exactly Is Cloud Accounting?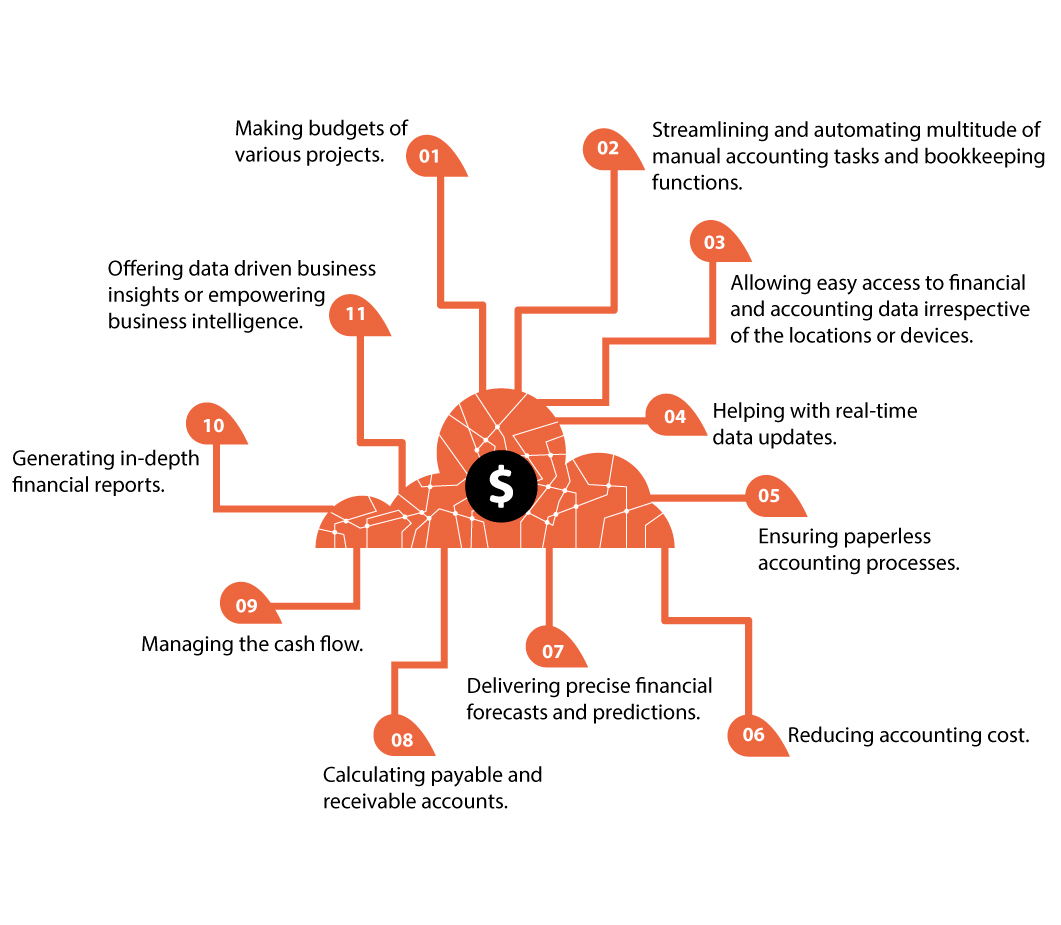 Cloud accounting software tools can perform the same types of accounting tasks as the traditional accounting software but can ensure more ease of access, more flexibility, and ease of operation by hosting and maintaining the accounting tasks across multiple servers. Thanks to cloud accounting users can store accounting data remotely on different servers and can access them for accounting tasks across several devices.
Over the years, cloud accounting software continued to rise in popularity representing a model for enterprise software deployment. Coming loaded as part of major ERP ecosystems such as NetSuite and equipped with a whole array of sophisticated accounting features and capabilities, cloud accounting software tools provide answers to the financial management requirements of enterprises of all sizes and niches.
Some of the key things for which cloud accounting offers help include the following.
Making budgets of various projects.
Streamlining and automating multitude of manual accounting tasks and bookkeeping functions.
Allowing easy access to financial and accounting data irrespective of the locations or devices.
Helping with real-time data updates.
Ensuring paperless accounting processes.
Reducing accounting cost.
Delivering precise financial forecasts and predictions.
Calculating payable and receivable accounts.
Managing the cash flow.
Generating in-depth financial reports.
Offering data driven business insights or empowering business intelligence.
Cloud Accounting Vs. Traditional Accounting: An In-Depth Comparison
Traditionally accounting software solutions were hosted by the local computers and their storage drives. This is where cloud accounting offers relief from dependence on local hosting and storage. In complete contrast to traditional accounting software that involves considerable initial infrastructure and maintenance costs, cloud accounting maintains a low footprint and requires no infrastructure and big maintenance costs.
Cloud computing revolutionized many traditional enterprise software deployments simply by delivering software functions relieved from big upfront as well as licensing costs. Maintained centrally by the Software as a Service (SaaS) companies they enjoy more professional maintenance and control and thus offer relief to the business users from support cost. Thanks to this cost advantage, cloud software solutions also reduced software pirating or plagiarism.
The difference between traditional accounting and cloud accounting can be surmised through the differences between cloud-based SaaS software models and the On-premise software models. Financial teams in any business prefer cloud accounting services for retrieving data in real-time, and to collaborate instantly on their handheld devices. The best thing is, cloud software can be updated instantly in any sort of world.
NetSuite financial management suite is a great example of how cloud accounting software tools became part and parcel of modern ERP automation. As ERP automation has already helped companies modernize their business operation and hack huge growth opportunities, cloud-based accounting automation and financial management tools will only prosper and grow in influence.
Let's now begin our comparison of traditional accounting and cloud accounting.

Infrastructure and Maintenance Cost
Traditional Accounting: Traditional accounting requires having on-premise hardware and IT infrastructure and this involves huge initial cost and considerable IT maintenance cost. As the demands scale up or the software goes outdated, traditional accounting software needs more powerful hardware and support and maintenance costs.
Cloud Accounting: Cloud accounting managed remotely through servers doesn't need specialized hardware and IT infrastructure as all the data and accounting tasks are hosted offsite through the cloud. You just need to subscribe to a cloud accounting service and all your software updates and maintenance requirements are taken care of.
There can be hardly any doubt that cloud accounting in this respect stands far ahead of traditional accounting in terms of cost.
Ease of Access
Traditional Accounting: Traditional on-premise accounting software solutions stores the data locally and one cannot access the data through other devices or touchpoints.
Cloud Accounting: Just with the registration and login credentials anyone over the internet access cloud accounting data and the tasks in real-time irrespective of the location and the device in use. Cloud accounting also offers robust mobile access across many devices.
Cloud accounting definitely wins here by offering seamless accessibility anytime and anywhere.

Real-Time Data Collaboration
Traditional Accounting: When it comes to traditional accounting software tools, they need to be updated from time to time by either downloading the updates from the internet or by incorporating updates from an external memory device.
Cloud Accounting: In contrast, cloud accounting software tools update all changes and data additions in real time and this data can easily be tracked across connected devices and touch points.
Apart from allowing seamless access to real time data cloud accounting ensures easy and seamless collaboration.
Saving Energy
Traditional Accounting: Through the use of local hardware that needs to be replaced periodically, traditional accounting software consumes more energy and on a larger scale creates a negative environmental impact.
Cloud Accounting: Cloud accounting requiring no specific hardware or standalone IT infrastructure saves a lot of energy and has negligible impact on the environment. Users can use their same old office computers or handheld devices to carry out cloud accounting tasks.
Cloud accounting also gives comprehensive relief from traditional paperwork and paper-trail management. In all possible ways, cloud accounting helps to save the environment through low footprint energy utilization.
Safety And Security
Traditional Accounting: By storing the accounting and financial data locally in the designated on-premise devices, traditional accounting software remain vulnerable to major security risks and safety threats. Any damaging incident or data breach can just destroy accounting data from these devices.
Cloud Accounting: Since all your accounting data is hosted by remote servers, no calamity or data breaching efforts at the local level can damage your data, and can stop accessing the data whenever and wherever you need them.
One of the biggest advantages of cloud accounting is this awesome security and safety ensured by remote hosting.
Cloud Accounting Software vs Traditional Accounting: What You Need And When?
The difference between the traditional and modern approach of accounting can always be surmised by the advantages offered by cloud computing platforms. Let us now have a quick look at the particular contexts when you need cloud accounting most.
Facing Problems With Accessibility
While financial data needs to be instantly accessible whenever managers and designated professionals need them, traditional tools because of their local data storage prevent such anytime-anywhere access. This is where cloud accounting software solutions come to your rescue.
Security And Safety Concerns
Sometimes, professionals simply fear that their old computers can crash leading to the loss of mission-critical financial data. Malware threats, hacking attempts, and human errors within the organization can also lead to loss of data causing havoc on the financial management. Thus where Cloud accounting can completely provide relief by storing the data securely in remote servers and making the data accessible whenever and wherever you need them.
Paperless Accounting Operation
Some companies spending havoc on releasing financial reports can find cloud accounting tremendously helpful to do away with the paperwork and streamlining the entire accounting tasks. The manner NetSuite ERP platform offers robust cloud accounting and financial suite is a nice example of this.
NetSuite Cloud Accounting: Where It Stands Apart?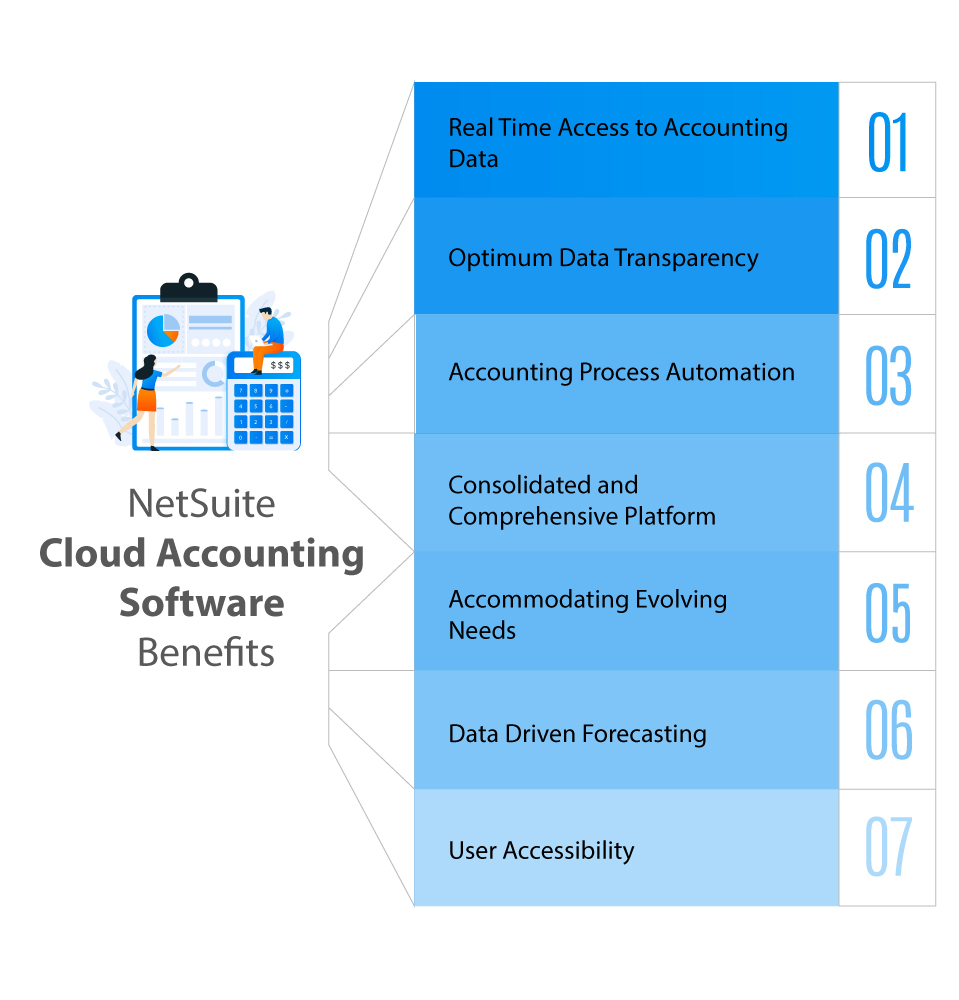 When it comes to depicting the benefits of cloud accounting software, NetSuite comes to the forefront. NetSuite is the world's leading cloud ERP solution that comes packed with a multitude of software solutions that modern enterprises need including obviously cloud accounting and financial software.
Let us describe here the key benefits offered by NetSuite cloud accounting software.
Real Time Access to Accounting Data
NetSuite with its robust cloud support ensures real-time visibility and access to accounting and financial data. This allows businesses to monitor financial processes and accounting tasks in real-time. Real-time data access results in more operational efficiency, better control, and transparency in processes.
Optimum Data Transparency
For any organization giving priority to the credibility and integrity of its processes, maintaining data transparency is of supreme importance and this is where NetSuite with its real-time data visibility, robust and in-depth reporting, and sophisticated controls can ensure optimum data transparency for the end-users. Thanks to this data transparency, businesses have more accountability than ever before.
Accounting Process Automation
NetSuite has appreciated the world over for its robust and comprehensive ERP automation suite comprising cloud accounting and financial software. With NetSuite, an enterprise can easily enforce automation for all its financial and accounting tasks and other business processes. This simplifies the business operation and reduces the operational bottlenecks to the minimum.
Consolidated and Comprehensive Platform
NetSuite operating through a single consolidated platform offers comprehensive software functionalities pertaining to all types of business processes ranging from accounting and financial management to supply chain management to CRM to warehousing and inventory management to many others. Thanks to this unified software platform all accounting figures and tasks can easily be cross-checked and remain in sync with other processes. NetSuite cloud accounting pricing is also highly flexible to accommodate the budget and needs of different enterprises.
Accommodating Evolving Needs
NetSuite is a highly scalable ERP platform with a highly customizable cloud accounting software solution that scales up capabilities with the business growth and increasing brand outreach. By bringing together all fragmented accounting and financial activities ranging from budgeting to billing, cost management to revenue management, NetSuite accommodates evolving business accounting needs efficiently. And if you are looking for more, our NetSuite accounting software solutions can further customize the accounting software as per specific business requirements.
Data-Driven Forecasting
NetSuite cloud accounting based on data-driven insights helps to deliver precise insights and forecasts on the future market dynamics, demand, and sales opportunities. The streamlined accounting data filtered through an analytics engine helps a business stay ahead of the competition through data-driven forecasts. This obviously gives a business an immense competitive edge.
Fixing Accountability
By streamlining the accounting tasks and all financial processes NetSuite ensures delegating resources where it's due and fixing accountability where it is required. By fixing the accountability NetSuite ensures faster course correction and error handling when required.
Conclusion
Business accounting has been hugely benefited by cloud-based accounting software solutions. This literally expanded the software market and groomed many traditional accounting software brands into cloud SaaS platforms. On the other hand, consolidated cloud ERP platforms like NetSuite also incorporated accounting software solutions resulting in sophisticated financial and accounting process automation.