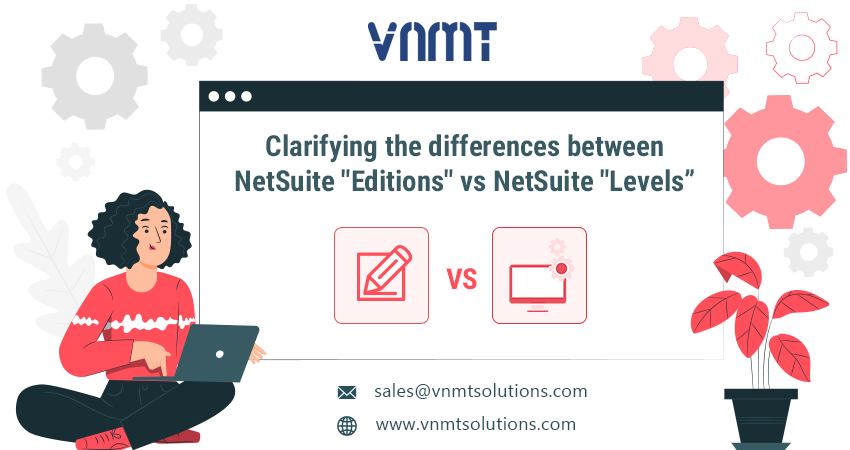 NetSuite is an online service that enables companies to manage their business processes through a single platform. One of the great things about this service is that it involves no hardware, no large license fees or hidden maintenance fees associated with hardware or software, and no complex set ups. That's why it's become quite a popular name among many businesses across the globe.
One big confusion businesses face when considering about NetSuite is the difference between its various editions and levels. Many people consider them to be the same, and it's understandable as they sound quite the same. However, that's not the case. In this article, we're going to outline the fundamental difference between the both so that you can make the right choice for your business. Let's get started!
Here's the Difference between NetSuite Editions and NetSuite Levels
Sometimes, the words can be quite tricky to play with, especially in the world of technology. All your life you think of a word in a certain way, till someone comes and tells you a totally different thing. Same things is about to happen as we're about to tell you that NetSuite editions and NetSuite levels are two totally different things, however similar they may sound.
NetSuite, as you know, offers various business process solutions. These products differ in terms of their functionality and their offerings. These products are termed as NetSuite "Editions." This includes NetSuite Products such as NetSuite CRM (customer relationship management) software, NetSuite Standard edition, NetSuite Enterprise Resource Planning (ERP) software, NetSuite OneWorld, NetSuite OpenAir, etc. All these different products differ in terms of their features and functionality. So, an organization needs to choose as per their needs.
NetSuite levels, on the other hand, is a totally different thing compared to NetSuite editions. NetSuite "levels" refers to the scale of the NetSuite software your company is going to need. The levels are classified into three categories: light edition, mid-market edition and enterprise edition. These levels (not editions) are categorized based on the number of users/employees they allow you to use.
Major NetSuite Editions
Majorly, NetSuite offers three editions (products). These are: NetSuite CRM, NetSuite ERP and NetSuite OneWorld. Let's learn about each in brief.
1. NetSuite CRM
NetSuite CRM offers you complete customer relationship management, fromcustomer lifecycle management, marketing and opportunity management, to order management, customer upsell, cross-sell, renewal and customer service.
2. NetSuite ERP
NetSuite Enterprise Resource Planning (ERP) is a modern, scalable solution to run all of your key back-office operations and financial business processes in the cloud.
3. NetSuite OneWorld
NetSuite OneWorldis an integrated and unified platform that seamlessly handles multiple currencies, taxation rules and reporting requirements across business' multinational and multi-subsidiary operations.
NetSuite Levels
Depending upon number of employees in an organization, NetSuite editions can be classified into three levels: light, mid-market and enterprise.
NetSuite Light
The Light Edition (LE) is built for small companies with maximum 10 users and 50 employees.
NetSuite Mid-Market Edition
There's no lower limit of employees/users as far as NetSuite mid-market edition is concerned. It's designed for companies having maximum 1000 employees. It's an ideal option for mid-sized companies.
NetSuite Enterprise Edition
NetSuite enterprise edition is exactly what it sounds like. It's the most extensive level and it's designed for companies having more than 1000 employees.