No doubt, the workplace today boasts of various modifications which suit the needs of modern-day businesses as well as employees. But at the same time, having the right technology is quite imperative for your business to achieve its objectives. Although there are disadvantages of using NetSuite, you still cannot deny the versatility and scalability it offers to your company.
This is because it provides several departments or business components a clear view of their KPIs. NetSuite is that middle ground with which the developer has struck a balance between financial management and business intelligence. With NetSuite, you would also avail of order management tools that would speed up the various key functions of order processing.
In other words, you would be availing a perfect balance between fulfillment and sales. Users would also get a 360-degree view of the workflows related to production. So with these things in mind, let's take a look at Oracle NetSuite's pros and cons.
Advantages Of Using Oracle NetSuite ERP
You just cannot deny that Oracle NetSuite is one of the most powerful ERP tools out there. What's more impressive is the fact that it encompasses the single functionality of your business processes which provides you with a clear view. So here are some of the advantages of NetSuite ERP that you should be aware of.
Provides You With A Complete View Of The Supply Chain
One of the primary advantages of using NetSuite ERP is that it provides a complete view of the supply chain. So for those who are often left in the dark when the context is about supply chain management, NetSuite is a fairly good option. NetSuite has modules in the form of inventory, manufacturing, and purchasing management which ensures increased supply chain efficiency. This tool also boosts vendor-customer relationships which aid in better collaboration.
Read More: Keep The Competition Away: Modernize Your Supply Chain Strategy With Cloud Erp Tool
Flexibility
Customary to the benefits of enterprise systems, NetSuite ERP also ensures utmost flexibility. In other words, you would have the ability to integrate NetSuite with any third-party system easily. And as we all know, integrations enhance the performance of a business to quite an extent. In short, you would have access to practical solutions which would increase the efficiency of your business in the long run.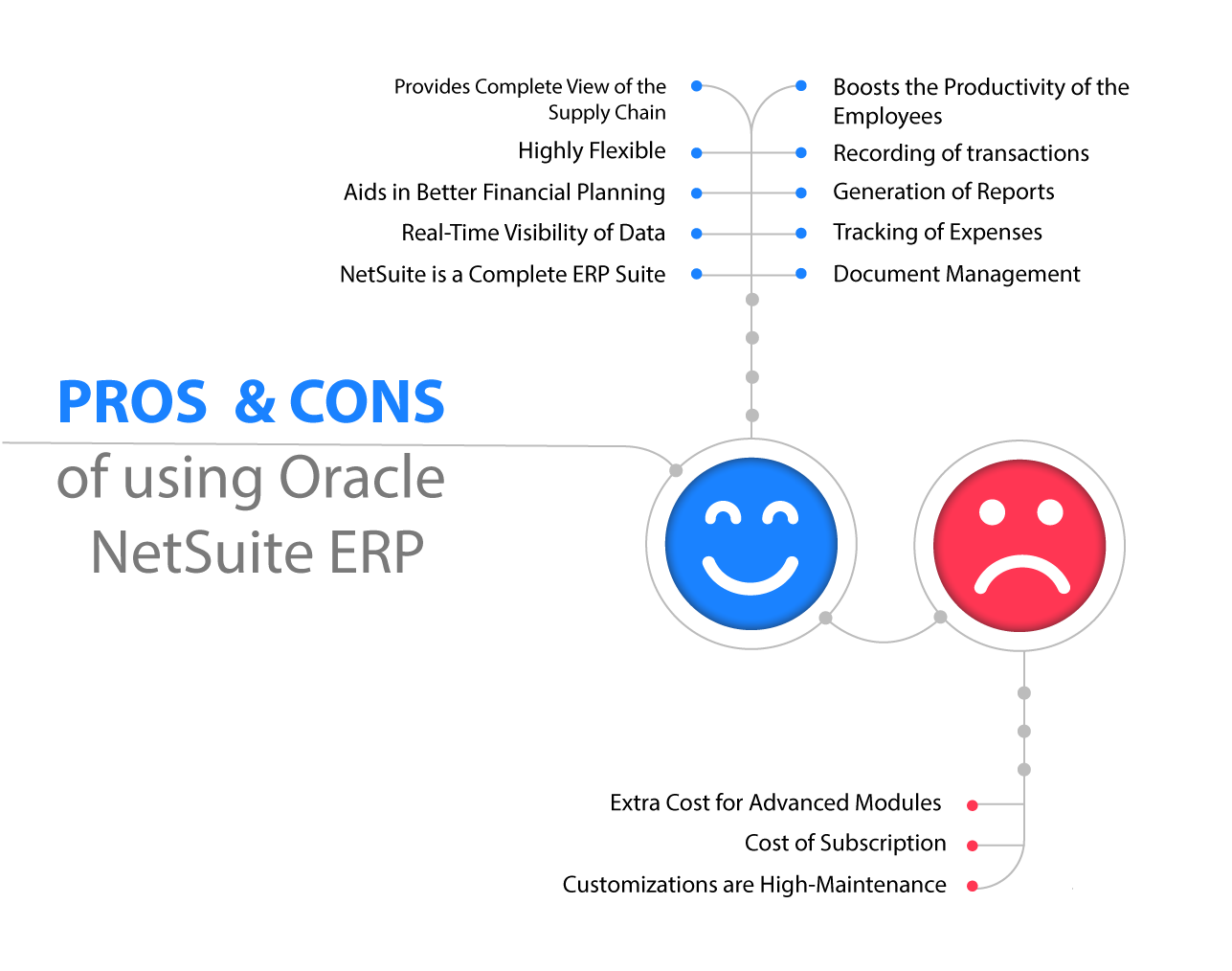 Aids In Better Financial Planning
Another key highlight of NetSuite ERP is its ability to help with financial planning. In other words, your business would be able to come up with an accurate budget with the insights derived from NetSuite ERP.
With NetSuite, it becomes fairly easy to adapt to the profitability of the organizations and changes in the industry. You would be in a better position to track annual profit targets. So as you can see, NetSuite would actually help you by narrowing the gap between insights and actual figures.
Read More: The Promise Netsuite Offers For Financial Management Teams
You Get Real-time Visibility Of Data
NetSuite ERP provides you with a 360-degree view of the data processing. With the help of this feature, companies can track their customers along with their buying behavior from any part of the world. As a company, you would be able to assess the fundamental contact information related to buying history. With real-time data visibility, you would be able to implement informed decisions which is a big advantage.
NetSuite Is A Complete ERP Suite
There is no denying the fact that thousands of businesses depend on NetSuite ERP. It comes equipped with much more functionalities than financial management. As it is a feature-rich ERP, you can fine-tune the various processes of your business.
What's more impressive is the fact that this software platform allows you to generate invoices and even make payments for the bills. Here is the list of some other features to look forward to in NetSuite ERP.
Recording of transactions

Generation of Reports

Tracking of Expenses

Document Management
Boosts The Productivity Of The Employees
Apart from boosting your organization's efficiency, NetSuite ERP also has the ability to bolster the productivity of your employees. You would be able to maximize staff productivity while decreasing the total expenses related to HR management.
And with the expansion of your talent base, you can scale up, and opt for more sophisticated HRM modules. In short, you wouldn't have the need to invest in another system with the expansion of your employee base.
Disadvantage Of Using NetSuite ERP
While it is true that with proper NetSuite consulting service you can adapt to its features faster, you also cannot deny some of the cons of using this advanced ERP platform.
Customizations Are High-Maintenance
To be precise, the process of customization in NetSuite ERP is quite costly and complex. NetSuite partners make sure that the system functions flawlessly without any issues. So if you want to customize your NetSuite ERP platform, you have to opt for a specialized consultant or partner which is not always possible.
Cost Of Subscription
Note that NetSuite ERP is a cloud-based platform. This is the reason NetSuite has yearly subscription plans for its users. But as your demand increases, it is quite normal that you have to opt for higher resources which ultimately increase the cost of maintaining NetSuite. So unless you are a large-sized organization, opting for NetSuite can be a costly affair.
You Have to Pay Extra For Advanced Modules
Well, if you want to opt for extra and advanced modules, you have to pay accordingly. So you have to maintain your budget accordingly to be able to afford NetSuite in the longer run. If you are on the lookout for a higher growth perspective, NetSuite ERP is a great choice. However, you have to pay extra which can seem like a burden in the longer run.
Read More: A Comprehensive Guide To Netsuite Advanced Modules

Conclusion
NetSuite ERP is a comprehensive and highly scalable ERP platform that can cater to the demands of organizations. What makes it unique is that NetSuite comes equipped with all the features and tools to execute procedures like billing, inventory, and financial management. Note that large organizations stand to benefit most from this tool.