How NetSuite Order Management System Works And Adds Value To A Business?
Order management is a crucial business discipline that ensures keeping track of the sales process and resulting impact across the supply chain processes and operational stages. Order management cycle basically looks after the complete transaction path, starting from the sales request pertaining to the order to the delivery of the product. Order management has a big impact on the customer experience and the perception of the customers about the business brand. 
When it comes to an omnichannel business environment, most customers look for a seamless and streamlined experience. As per seamless experience customers making orders online, can actually fulfill the order or make queries through a physical store or a call center. For any problem, they can reach out to a physical store while getting informed and communicated through emails. 
These days, this seamless customer experience happens to be the very basis of strategic business process automation and it is already being the most persistent factor for most business brands. NetSuite order to cash process flow in this respect plays a great role by streamlining your entire sales and supply chain process that in turn contributes tremendously in improving the customer experience. 
Throughout this post, we are going to explain the key value propositions of advanced order management NetSuite ERP offers. 
Understanding NetSuite Order Management
It becomes extremely easier for the daily business operation by integrating different processes such as quote to cash and order to cash cycle in NetSuite order management processes. On the other hand, NetSuite also allows customisation of the order management to perfectly fit the typical customer order processing needs of a business or industry. 
[embed]https://youtu.be/Lts_ypBUxx4[/embed]
In this respect, it is advisable to opt for custom NetSuite implementation so that you can improve Order Management process efficiency by facilitating well articulated structure for every aspect such as accounting, inventory, employee management, customer management, etc. The Importance of order management through NetSuite ERP is exemplified through these components.
NetSuite also allows you to change the forms, form fields, and processes to meet the specific needs of Order Management. NetSuite offers 4 standard forms that encompass all the business scenarios in regard to order management. Here below we mention these forms. 
The standard sales order is the basic form that specifies all the key attributes such as invoice, cash sale, billing terms, and payment method.

Cash Sale form is the type of form addressing cash sale transaction needs. 

An invoice is the type of form created for sales processes requiring to produce invoices.  

Progress Billing is the form for sales in which orders are billed at intervals as per the progress of fulfilling orders. 
Apart from all these, NetSuite allows you to create and implement customised order firms as per your requirements. NetSuite custom development always offers you a whole array of means to customize ways to manage orders. 
How Does NetSuite Order Management Work?
To understand the way NetSuite order management works, one needs to have an understanding of the various steps in the process. In NetSuite order management there are basically 4 steps. Let's have a quick look at these steps.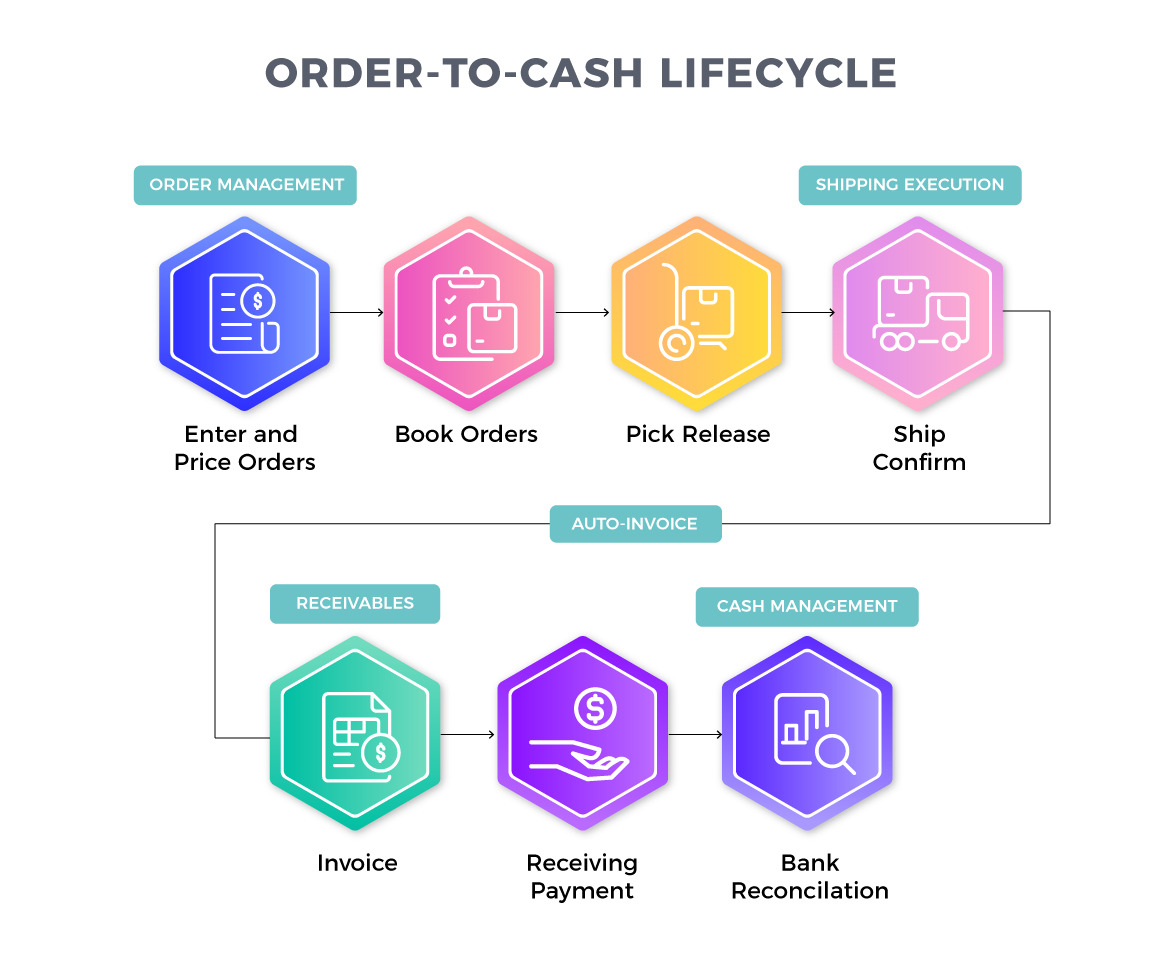 Order Placement
This is the first step facilitating the placing of the order by customers. Through the integrated order management software of NetSuite, businesses can enjoy immediate access to all important transaction records and details of client's orders. Some key attributes of the orders that NetSuite provides include the following.
Sales Quote: The sales quote makes it easy for communicating the pricing. 

Sales Estimate: In the case of sales where ascertaining an exact price tag becomes difficult, an estimated cost is calculated through this form. 

Sales Order (SO): The final sales order is created to establish the agreement between both parties, respectively the buyer and the seller. 
Order Fulfillment
This step is particularly important for all businesses dealing with the physical products involving pickup, packing, and shipment of the items. The order fulfillment is closely followed by involving and collection of payment from clients.
The order fulfillment step directly impacts the account ledger by giving a push to the receivable amount while pulling down the inventory level. 
Inventory Management
The third important step in the order management process is inventory management. It reflects the decrease in the inventory level following the order fulfillment. 
NetSuite ERP Inventory Management
integrated within the Order Management process helps to track sales and order data extremely easier.
Read More: How Netsuite Strengthens The Link Between Inventory Management And Supply Chain Management?
Order Management Reporting
Finally, it is the detailed reporting about each and every order that makes NetSuite so popular as a robust ERP and sales process automation system. NetSuite comes with robust reporting features that can further be customised for specific business needs and as per the business structure. 
NetSuite reporting tools offer a whole array of classification features including classes, locations, departments, subsidiaries and other custom classification elements. Every specific reporting classification offers deep insights to help with forecasting and planning.
A few standard reports offered by NetSuite Order Management include the following.
Sales Order 

Return Authorization 

Open Bills 

Open Invoices 

Shipping 

Transaction Detail 

Profit and Loss 
Conclusion 
The biggest value proposition of NetSuite is the extreme ease of use that it offers business users in respect of shaping an order management system as per the specific needs and constraints. NetSuite offers a robust range of modules helping to address all kinds of order management needs with a single ERP system.

The best thing about the NetSuite order management system is that it reduces manual work, minimises mistakes, offers a comprehensive view of the business performance, and streamlines the entire process. Well, these benefits still are too less compared to the entire value propositions of NetSuite ERP and order management system. Over the years, NetSuite has really helped enterprises across the niches to revolutionise finance management across businesses.