It is about numbers everywhere- be it a small business or a multi-million company. Whenever it comes to financial management, it is observed that most companies still rely on worksheets for data reporting. There is hardly a doubt that spreadsheets have been and will stay a standard tool for budget management even for the foreseeable future. However, this does not rule out the possibility of upgrading fundamental software to make financial reporting easier.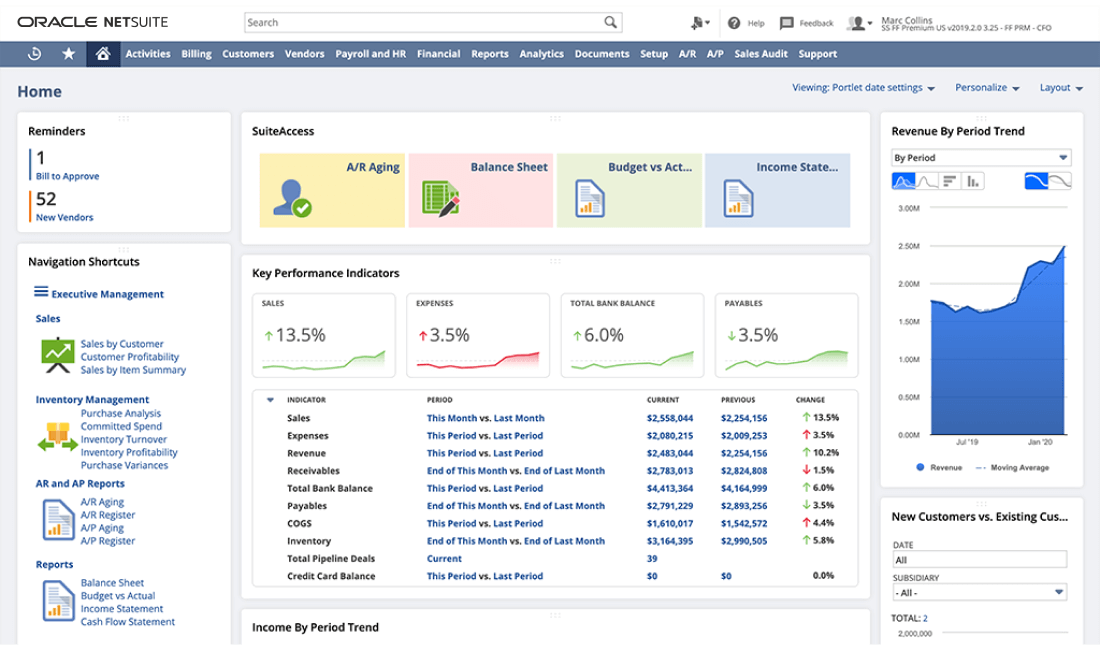 Thinking how?
Well, NetSuite ERP is financial management software that brings together the critical data from a company's essential activities in one place. It has become a major Cloud enterprise resource planning (ERP) product for the financial industry because of its ability to automate and interact with a variety of third-party apps.
The software is designed to extend beyond any typical financial management tools with unmatched functionalities. It is an all-in-one system that allows the user to have access to everything, starting from the accounting software, and book management to global business management including supply, chain, inventory, and storehouse management portals. In other words, NetSuite Financials works as an ultimate management system that allows businesses to function smoothly, with zero errors in operations. You can use it to keep a track of profits as well as your business's financial performance on a regular basis.
Here, this blog brings you an overview of the NetSuite financial management software that can assist you in running a smooth and efficient business.
NetSuite Financial Management- What Is All The Fuss About?
An organization's financial procedure is complicated. There are numerous operations that need to be taken care of by an expert financial team including Bank reconciliation, asset management, accounts receivable, accounts payable, and revenue management. These tasks become a chore without a good ERP in place. Manual procedures, erroneous data input, a lack of compliance, and data inaccessibility all have a negative impact on sales, profitability, and the firm as a whole.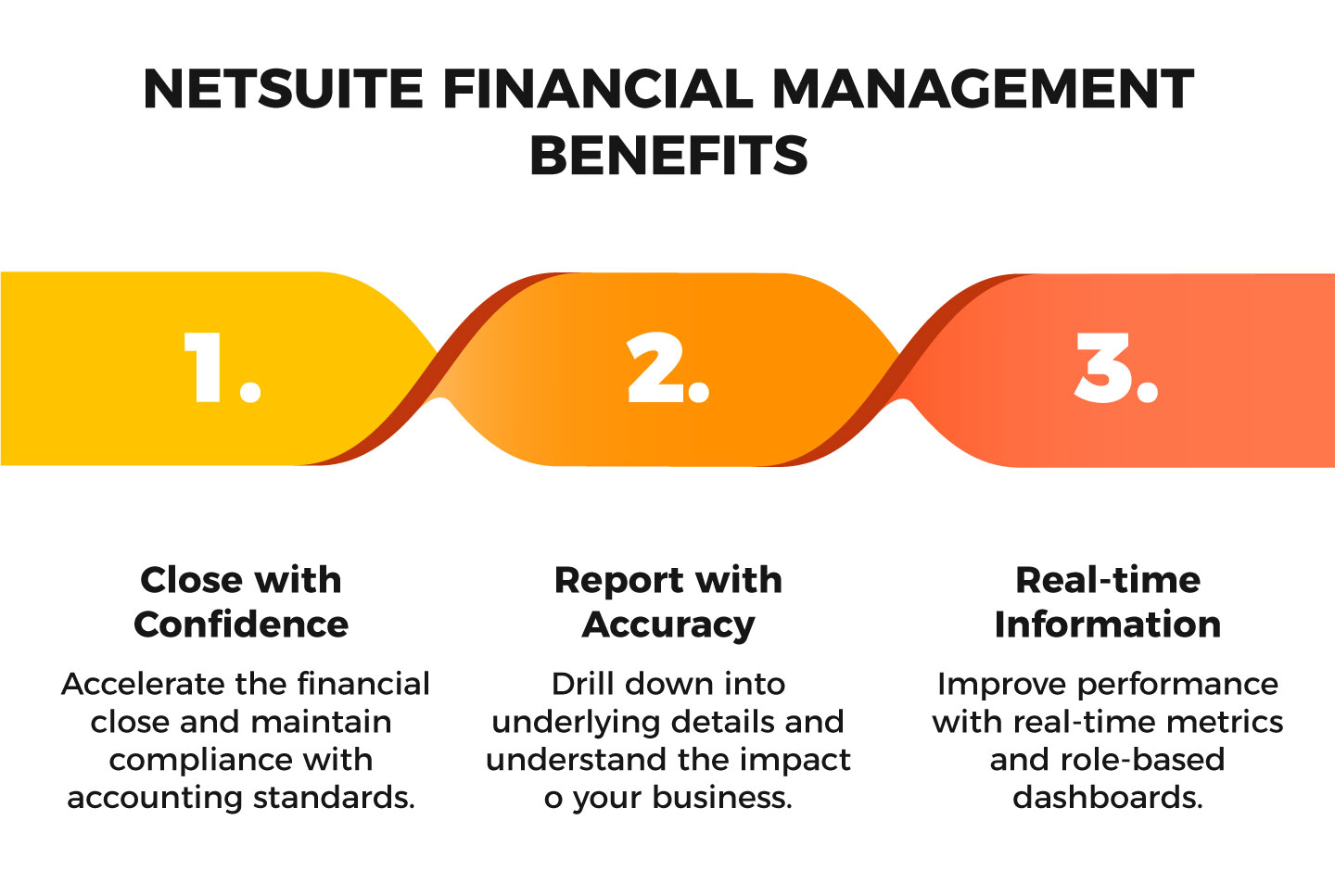 This is where the ERP software, NetSuite financial planning comes as the ultimate. It offers a list of benefits including a significant reduction in the budgeting and forecasting cycle times with faster daily financial transactions, and financial closure compliance. Users may not only utilize NetSuite anywhere and at any time because of its Cloud accessibility, but they can also view a company's financial performance down to specific individual transactions.
NetSuite financial modules automate all these operations, making operational data easily available, and delivering rapid budgets and projections. Instead of grumbling about each approaching "chore," the finance department will extol the expedited financial closure, ensure compliance, provide correct reports, and deliver real-time data to the company. All of these will boost productivity and lead to continuous growth.
Financial Management Solutions
There are several sub-tiers behind every NetSuite ERP that are tailored to meet the demands of each department. These categories were created specifically for the finance sector to help with day-to-day operations. NetSuite financial management software contains seven financial solutions for your ERP platform.
With real-time access to an organization's finances, handle essential accounting responsibilities such as trade receivables, accrued expenses, tax management, capital equipment, and more.
With streamlined invoicing, computerized procedures, and periodic invoicing with scheduled extensions, you may avoid a potential follow-up contact for missing payments with NetSuite advanced financial management software.
It is the ultimate NetSuite budgeting and accounting solution. Workflows and reports may be approved across departments using this adaptable and integrated solution.
Time is money for business owners. The ERP Revenue recognition regulations are based on standards like ASC 606 and IFRS 15 which are simplified, regardless of the kind of obligation to ease and speed up the process.
NetSuite financial solutions in NetSuite give you a sharp perspective of your company. Financial reporting and statements follow compliance and accounting standards that provide role-based dashboards, reports, personalized KPIs, and extensive insight into corporate performance for key decision-making.
The consolidated financial system automates accounting operations, reporting, and data. Using it, you can avoid human data entry like the plague. Even if your company has several subsidiaries spread across the country.
Risk, Compliance, and Governance:
You do not have to be concerned about regulatory and risk mitigation audits or human errors. NetSuite financial accounting software provides solutions for a company's governance, risk, and compliance processes.
Different Financial Models Of NetSuite Financial Management Software
This finance software for small businesses as well as large organizations provides a unified and staged approach with five distinct financial modules:
The NetSuite financial planning module is designed for all responsibilities in the accounting department, and it manages different budgets as well as formulae to apportion expenditure reports depending on location and department.
It is a simplified and automated approach that includes an easily accessible dashboard with payment information. This is critical for reducing the number of mistakes caused by human data entering.
You can integrate wealth management with bookkeeping to stay abreast of a company's fixed assets and eliminate the need of several spreadsheets, which typically leads to human mistakes.

Compensation for Incentive
You may keep track of your earnings from bookings and invoices, and you can choose to pay out as soon as the money is received. You may also keep track of how much money each member of your team has made without wasting time on manual calculations.
You can reorder your worldwide business's financials, from taxes requirements to different currencies. With accessibility to funds, clients, and records from all subsidiaries, you'll have total insight across your company.
How Does NetSuite Management Software Work?
According to the NetSuite consulting companies, this software is a premium choice for clients who want to thrive in this competitive market and scale their businesses.
Let us see how the system works:
Step 1
It primarily deals with delivering a single view of customers, orders, items/SKUs, and real-time reporting capabilities. The basic goal is to get a business on a cohesive plan so that all mediums operate from a single base. Customers may quickly go live on this phase by leveraging NetSuite's configurations and tools.
Step 2
The platform's accounting and finance features will be expanded in the next stage, which will improve reporting and automation capabilities. You can work on international growth, enhance financial capabilities, gain more efficient procurement procedures, and stricter buying controls. This stage is usually implemented after around 100 days of usage.
Step 3
They may then break free from the confines of their old systems and take on increasingly sophisticated financial difficulties, such as integrated growth, project management organizations, worldwide operations, bookkeeping, and enhanced compliance needs.
Step 4
Finally, more new and advanced tactics such as brand management increased customer engagement through self-service, and omnichannel integration is being considered.
Is NetSuite Management Software Really Effective?
Many technology solutions talk about 'roles,' but NetSuite developer provides all of the necessary tools from the first day, allowing anybody to get back in operation fast with the correct workbench. All positions standard treatment with all of the KPIs, reminders, analytics, and value-driven displays that thousands of employees in comparable roles have used in the actual world.